MG History.
William Morris and Morris Garages
William Morris (later Lord Nuffield) built and sold motorcycles for some time before turning to four wheels. The First Morris car, the Oxford, was built at Cowley and had White and Poppe 10hp 4-cyl engines. More than 1000 units were sold prior to WW1.
Post war the rounded radiator shell that had given the car the nickname "Bullnose" now hid a 1495cc 11.9hp 4-cyl Hotchkiss engine.
Morris became the patron saint of the new class of popular motorist which had grown during the inter-war years, establishing his own 'Morris Owner' magazine, providing the first hire-purchase scheme in conjunction with U.D.T., and setting a 'scale of repair charges'.
MG Car Company and range of cars.
The M.G. Car Company got its name from Morris Garages, which began producing its own customized versions to the designs of Cecil Kimber, who was promoted to general manager in 1922, a position he held until 1941 when he fell out with Lord Nuffield over procuring wartime work.
Cecil Kimber
..... was born in London and educated in the North of England and can be considered as the father of M.G. At first he was employed in his fathers printing ink business and bought a REX motor-cycle with his earnings and this fostered his interest in motorised transport. On a borrowed motorcycle he was involved in an accident with a car and seriously damaged his right leg. After many months and several operations he could use the leg again but it resulted in it being two inches shorter than the other and a transfer of his allegiance to four-wheeled transport via a Singer car bought with his compensation money.
Deciding to follow a career in the motor industry he worked for AC cars and for a component supplier in Birmingham before being taken on by William Morris in 1921 as sales manager of Morris Garages, William Morris' retail outlet for his cars and personally owned by him. Cecil Kimber died in 1945 in a railway accident.
The first cars that could be attributed to Kimber and Morris garages were built in 1922 using the chassis and running gear from the Morris Cowley 'Bullnose' car and with special bodywork, they sold for about the same price as a more fully equipped Morris Oxford car. Kimber's scheme was to order standard Cowley chassis, lower the suspension and fit a 'Chummy' body of his own open two-plus-two type design. These were more 'sporting' than the Morris cars and sold extremely well known as Morris Garages Chummies.
In 1923 production was transferred to a mews workshop in Alfred Lane, Oxford, this also provided more space for the Morris Garages fitters to service Morris cars and prepare new vehicles for sale. Foreman, Cecil Cousins and two men worked 80 hours some weeks collecting chassis from the Morris works, modifying them at the new workshops, delivering the chassis to the coachbuilders, Carbodies, collecting them, and finishing them off back at Alfred Lane. Incredibly, production sometimes reached 20 cars a week!
Kimber headed a team that converted the 11.9 hp Morris 'Cowley' engine to a pushrod OHV unit running in a light and simple frame, also made from Morris components. This car was used experimentally and performed very well in endurance trials and winning a gold medal in the London-to-Lands End Trial.
Kimber exploited the sporting successes by ordering six two-seater bodies from Raworth of Oxford for fitting to modified Cowley chassis. These had a raked windscreen and yacht style scuttle ventilators; Boating was another Kimber interest. However, they cost twice the price of a Morris Cowley and sales were slow. These were the first cars to be known as M.G., the full Morris Garages name being thought too cumbersome by Kimber.
Cecil Kimber became managing director of the M.G. Car Company and it had been his choice to use the letters 'M.G.' within the octagonal boarder. It is thought to be in recognition of the part his employers, Morris garages, had played in the previous few years success and it seems reasonable to believe he would do so, especially as the first reference to M.G. within the octagon badge actually appears in an Oxford newspaper of November 1923. One should not forget though, that William Morris was the major shareholder in this new company and it would have been perhaps a little rude to come up with a new name and forget what had gone before.
Old Number One.
The Hotchkiss OHV engine interested Kimber who acquired one in 1925 and fitted it to a Cowley chassis with a skimpy two-seater body. It was purely a competition special and gained him another Lands End Trial gold medal, before it was sold to a friend. That was the last the works saw of it - until it was found by an employee in a scrapyard in1932 and returned to Abingdon in 1933.
Restored it was heralded as 'The first M.G. built in 1923!' Not only was the date wrong, but it was not the first M.G; nevertheless, it has been known ever since as 'Old Number One'.
The Octagon Badge
1924 saw the first production cars to bear the famous Octagon badge, alongside Morris badges too. These were elegant versions of the 13.9hp Morris 'Oxford' with aluminium Bodies. The Oxford was capable of about 55mph, the M.G. 14/28 'Super Sports' could just touch 65.
MG became the ordinary man's sports car, affordable fun for the 'man in the street'. Very much echoing the Morris ethos it seemed, though this was by now a separate company altogether.
M.G. on the move and at the Motor Show
In 1927 MG moved to a separate factory in Edmund Road, Cowley, near the main Morris factory, and for the first time a production line could be used.
In October 1928 the MG Car Company Limited made its first appearance at the London Motor Show. They displayed two of the new MG Midgets. Production of MG cars tripled with the MG 'M' type Midget accounting for more than half the company's production.
This required another move, this time to a new factory and works in Abingdon in 1930. Abingdon, in Oxfordshire, remained the home of MG cars until production ended there in 1980.
The first was the 18/80 model, entirely different from anything that had gone before. Only the engine remained Morris, and even this was a 2468cc six-cylinder ohcm design produced at Hotchkiss with MG in mind! It was also intended for use in Morris Light Six, Six and Isis models of the late 1920's, but these cars all suffered from a poor chassis and road holding and were perhaps not deserving of the new motor.

For use in MG's, the Morris engine was tuned up and fitted with twin SU carburettors; while "Rudge-Whitworth" centre-lock wire wheels were used for the first time on a MG. There would be a total of 736 Mk. 1 & 2's manufactured up until 1933. But 1928 is perhaps better remembered as the year MG released the car that would instigate large scale production and ultimately ensure the success of the marque - the all-new "M-Type" Midget.)
1930 also saw the founding of The MG Car Club, for owners and enthusiasts of MG cars. The MG slogan of "Safety Fast" was born around this time
1933 MG K3 Magnette
1/32nd scale Airfix kit
Regarded as one of the greatest MG's ever produced. The K3 can claim a deserved place in the history of British motor racing. In the early 30's the International Racing scene was dominated by foreign cars (Bugatti's, Maseratti's and Alfa-Romeo's). Cecil Kimber decided to attack the 1100cc International class G racing series with a new car, the MG K-series. The new "Magnette" 1100cc range was launched at the London Motor Show of October 1932 and sat nicely between the 847cc Midgets and the 1271cc Magnas.
The Range comprised the road going K1 (four-seater) and K2 (two-seater), as well as the sports racing K3.
1934 MG K3 Magnette
1/24th scale SouthEastern Finecast kit
MG also came close to an outright win at le Mans, until their second placed K3 retired due to an accident. However, another car driven by Charles Martin and Roy Eccles won the 750-1100cc class and finished 4th overall. The best result ever achieved by an MG.
Since the K3 could be bought for £795 many privateers came forward to take MG K3s into a variety of races, particularly as MG would often help with maintenance and preparation. They took part in many regional hill-climbs and rallies winning many times and bringing much prestige to the marque.
The war years saw more disasters than the bombing and loss of skilled personnel. Cecil Kimber had been head of MG from 1922, but in 1941 he fell out with Lord Nuffield, over procuring wartime work. This led Kimber to review his position, a position that had seen him create a new niche in the motoring market, nurture a new brand and establish an image for that brand that would make it world renowned. His decision was to resign.
Sources closer to Lord Nuffield say that He had long wanted rid of Kimber. A man who was hugely Charismatic and, despite Lord Nuffield holding majority shares in MG and Morris motors, made MG "his" Marque. Nuffield was not exactly envious, just annoyed at repeatedly being ignored. When he saw that Kimber had taken on a contract to repair tanks without Lord Nuffield's approval the opportunity to sack Kimber presented it self, and Lord Nuffield took it.
Cecil Kimber was pretty distraught after leaving MG and had great difficulty settling into new work, his reputation always preceded him, suggesting the later story to be true.
Kimber took a position with an Engineering company in London in late 1942. In February 1945 He was required to go to Peterborough for a sales meeting. Not having enough petrol coupons to drive his MG he took the train, and died in a railway accident, never knowing the impact MG was about to have on the world.
1945 MG TC.
1/24th scale Revell kit, superdetailed.
With the war over MG was anxious to return to making sports cars, and set to work upgrading the TB.
Largely based on the 1939 TB, the TC had a few subtle differences. The body was wider and the interior more modern. The spring mountings were changed from shackles to sliding trunnions. Importantly the XPAG engine remained and actually proved to be so enduring it remained in production, virtually unchanged, until it was replaced in the MGA series cars by a twin-cam' unit.
1945 MG TC Chassis.
1/24th scale Revell kit, superdetailed.
The TC was very successful - 10,000 had been built before it was replaced in March 1950. 6,592 were exported - 2,001 to the United States. The design did well, despite the fact they were all right hand drive cars, but in America there were "freeways" and long smooth roads, and they liked a softer ride. A redesign would be called for if the Marque was going to build on this export success.
1945 MG TC
1/32nd scale Matchbox kit.
Exports to the U.S.A. Had begun in back in 1947 and greatly influenced 'Detroit' to enter the sports car market five years later with the Chevrolet Corvette and the Ford Thunderbird. In fact the Sports Car Club of America blossomed from one branch of the M.G. Car Club!
As the US customers had more money to spend on entertainment or luxury than those in the UK had, the Nuffield organisation made some changes to the car to appeal to the American market. The 1949 MGTC was fitted with front and rear bumpers, twin horns, turn signals and dual tail lamps.
1952 MG TC
1/32nd scale Matchbox kit conversion.
In May 1952, at a place called Norman, Oklahoma, Carroll Shelby beat the other MG's, his first road race, his first win! If proof were needed that he was an outstanding driver talent it would come a little later the same afternoon. Shelby went out for a second race and beat a field of much higher class Jaguar XK 120s. The wry Texan's back-to-back victories led to one of the most historic careers in motorsports, and to the legendary Shelby Cobra, and Shelby Mustang.
1950 MG TD
1/32nd scale Aurora kit.
The TD replaced the TC in March 1950 and was even more successful than the TC had been. In four years 29,644 were produced, including about 1700 Mk II models, and once again many were exported, 23,488 of them to the US alone. In 1952, 42 TD's were sold abroad for every one in Britain.
A contemporary road-test report of 1950 described the new TD as "most striking", the changes having resulted in a "transformation...in the comfort of riding".
Later in 1950 a MKII version was introduced (primarily with the export markets in mind) to run alongside the standard car. It featured a more highly tuned engine with an increased compression ratio of 8.0:1, this improved the power output to 57 bhp (43 kW) at 5500 rpm. Twin fuel pumps would also have helped even the fuel flow, while revised dampers and a higher rear-axle ratio helped the sporty feel of the car.
Behind the scenes the formation of the British Motor Corporation, in 1952, was about to have an impact on the MG marque. BMC was the result of merging the Austin and Morris companies, inheriting other brands, such as MG, Riley and Wolseley, too.
The launch of the Austin-Healey 100 hit sales of the MG TD heavily but Leonard Lord, in his capacity as Chairman of BMC, decreed that MG should not introduce a new model in 1953. He reasoned that the newly formed BMC did not need two new sports cars.
In 1951 George Phillips Asked MG for a special streamlined body for his MGTD. The reason being an entry in the le Mans race for that year. MG TD EX172 was driven By George Phillips and Alan Rippon although engine failure led to their retirement, why mention this then? Well the body work inspired the look of the next range of MG sports cars.
In 1955 the MG A was launched and it was a large step away from the familiar look of MGs past. This car was up to date and belonged to the new era of car designs.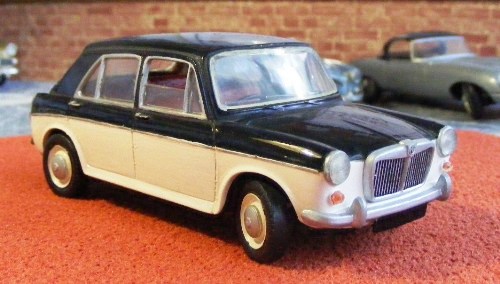 1960 MG 1100
1/32nd scale Airfix kit.
Today the vast majority of the world's saloon cars are driven by their front wheels from engines that are transversely located across the car, thus providing the maximum amount of space for the occupants. It has not always been so. For the first 80 or so years of the passenger car's history, most were pushed along by their rear wheels driven from front-mounted, in-line engines.
The vehicle that brought about the design revolution is Alec Issigonis's Mini, introduced by the British Motor Corporation in 1959. Next step after the mini, code ADO15 was the ADO16 ("Amalgamated Drawing Office project #16"), generally known as the '1100'.
Badge engineering saw the introduction of Austin, Morris, Wolseley and Riley versions of the '1100', in two and four door forms. The MG 1100 was launched in 2-door form as this was felt to better fit MG's sporty image.
The 1100 was quite revolutionary being referred to in the promotional literature as "the most advanced MG of all time!". Badge engineering is seldom popular and diehard MG enthusiasts were not convinced, but it appears they were in the minority.
In 1962 MG replaced the MGA with the iconic MGB. A car that was intended to have a production life of seven or so years. The first of the line rolled out the factory in June 1962 bearing chassis number G-HN3 101 and, apart from the introduction of black impact resistant bumpers from 1975 (mostly to suit American law changes), the cars looks changed very little. Given that the design shape had been tested and proven in a wind tunnel one supposes there was little need to spoil the smooth flowing lines that allowed a top speed of over 105mph, and looked equally good standing still.
1967 MG B
1/24th scale Aoshima kit.
All the MGB's were driven by a 1798cc 4-cyl' engine which hid behind an upright grill, most evidently different to that of the sloping grill on the 'A', allowing space for a bigger radiator and larger engines if needed later. The B series engine had been stretched, by boring out to 80.26mm x 88.9mm, to it's limits but with all sorts of technical changes, including raising the compression ratio to 8.8:1, it was now giving 95bhp @ 5400rpm with 110 Ib/ft of torque @ 3000rpm.
1968 MG B
1/32nd scale Revell kit.
The MGB was, in truth, more of a high-speed tourer than a sports car. Two people could be accommodated in comfort and there was room for two small children on a ledge behind the seats, the generous internal dimensions were a product of the unitary body and chassis structure. In the end the MGB was shorter than the 'A' but had more passenger compartment, and luggage, space.
Another new idea in the MGB chassis was the introduction of controlled crumple zones, designed to protect the driver and passenger should an accident occur, wind up windows were a welcome improvement on the MGA's side screens.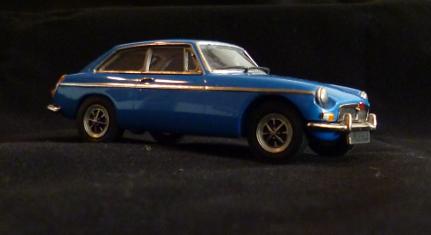 1970 MG B GT
1/43rd scale K&R Replicas kit.
While the MGB was to be one of the longest model runs in MG History the MGB-GT is to the version that captures the imagination.
The ground-breaking 'greenhouse' design of this sporty "hatchback" was produced by
Pininfarina. It combined the sporty feel of the MGB, with the utility of an estate car and the flexibility of the 2+2 passenger layout.
No wonder it is reviered by it's fans.
The turmoil that successively engulfed MG's parent companies (originally produced by the British Motor Corporation, followed in 1966 by British Motor Holdings, finally by British Leyland Motor Corporation from 1968), meant that the 'B' was destined to remain in production for no less than 18 years with it's manufacture ceasing in 1980.
As well as all the parent company transitions this had also been a time of political pressures on the motor industry, new safety and emissions requirements meant the factory at Abingdon kept adding parts until a car that in total weighed around 2,000 lbs. became a 2,800 lbs by the time of the last version in 1980.
But that was not the end of what had become Britain's best loved sports car. Incredibly, in 1982 its spiritual successor, the limited edition MG RV8, appeared and went on sale for a further two years.
MG was in continuous production as a car manufacturer for 56 years after its inception (excepting the WWII hiatus). The Marque survived BMC, who's competition department, also based in Abingdon ,eventually forced the closure of MG's own factory in the autumn of 1980. MG survived British Leyland, and the 1980's badge engineering of the "sportier" versions of Austin Rover's Metro, Maestro and Montego ranges by the Rover group.
The MG RV8 kept the MG marque going, just, until 1994 saw the Rover group, along with British aerospace bought by BMW. BMWs recovery plan for MG-Rover saw heartbreak for some and uncertainty for others, but it also resulted in the MGFs arrival in 1995 and it sold well. In fact it sold better than any two seat sports car since the 1970s.
MG was grabbing the public imagination again, just as it had done during the companies formative years. Production continued but losses were incurred so when BMW sold off its interests in MG Rover it was bought for a nominal £10.
In May 2000 MG passed to the Phoenix consortium. MGs losses for the initial period of the Phoenix consortium's takeover were around £400m, but an air of optimism prevailed. MG Rover sold over 170,000 cars in 2001, their first full year of business.
2001 also saw MG return to their motor sport heritage with a campaign to cover the 24 Hours of Le Mans with the MG-Lola EX257, and an assault on the British and World Rally Championships (as well as establishing the MG Independent British Rally Championship) using the MG ZR. Between 2001–2003 the MG ZS were raced in the British touring car championship by MG Sport+Racing as a proper works team.
The MG TF, launched in 2002, sold well, despite being developed on a shoestring budget it was still a car that carried forward thinking elements and was a real "MG" in it's appearance and performance.
Sadly MG-Rover never made a profit and although having reduced the companies losses to around £80m in 2004, sales were dropping and confidence was ebbing away. The company finally ceased trading on 8 April 2005 and went into administration after a proposal to join with Chinese company SAIC failed to go ahead. At the time the MG TF was the best selling car in its class in Britain.
Not only was MG gone, and the racing heritage lost, but so had a lot of money! Many workers felt they had been betrayed by the Management consortium (that had made themselves rich) and this sense of betrayal was made worse when Chinese carmaker Nanjing Automobile bought the rights to the MG brand and the assets of MG Rover in July 2005. Then, to add insult to injury, SAIC took over from Nanjing Automobile in December 2007.
On the plus side a privateer rally team survived in WSR without major sponsorship until RAC stepped up in 2007 to join forces and launch Team RAC. in 2007. The team ran an MG ZR for Luke Pinder who, despite having never tested the car before the race, won class N1 on the British round of the World Rally championship that year. The drive was Luke's prize for winning the 2007 BRC 1400 Championship and he grabbed his chance to shine.
Currently (2012), SAIC operate a UK subsidiary called MG Motor UK Ltd and produce several cars, including the MG3 and MG6. For the most part this production consists of kits of parts shipped in from China before final assembly is undertaken at Longbridge, which also hosts a major research and development facility.
On the sporting side Triple Eight Race Engineering run a pair of works GT models in the 2012 BTCC season under the MG KX Momentum Racing label. Jason Plato and Andy Neate are upholding MGs sporting honour by winning races.
MG may not be the company it was, or be totally British, but it is alive, and it is making sporty cars at reasonable prices.
That is at least true to the company's heritage