The Museum is a free standing display of hand built model cars that can be taken to all manner of events where a solid floored, undercover, area exists. It is 13' long and preferably needs 6' of depth. For more than two decades the Museum has displayed these museum quality, hand built, models at hundreds of scale model shows around the Midlands of Britain, including some of the largest model shows in the world at the NEC and TIC, shown their models, and given motoring talks, at classic car and steam shows, museums, schools, community centres and even Churches.
Unique in the UK, and as far as we know the world, the Motor Museum in Miniature display presents the cars in an appropriate setting the viewer can easily identify with. This makes us not only entertaining, but memorable too and people come specifically to see us at all manner of events.
The secret is that with over 500 model cars between them Rod and Ian can tailor the display around specific marques, events or personalities. It is never the same twice!
The Museum collection consists of more than just cars, some of these items can be seen below, it tells more than just the story of the motor car. The history of roads, the garage industry and biographies of famous designers, drivers and personalities also feature in the museum's range of fascinating 3D illustrations.
If you would like to get a real look at the Museum in perspective then, thanks to Hyperscale and Testors, you can. This is
our display at the 2011 IPMS (UK) "
Scale Model World" show.
Our thanks to Brett Green @ Hyperscale for permission to bring you a link to their video, captured by
Joe Brown, then of
ADH Publishing.
Another independent video of our display was made by DeeEss, "the plastic Mechanic", @ 494 Garage for his YouTube Channel. Our first, and so far only, meeting occurred at the 2018 IPMS (UK) "Scale Model World" show, and it what a great show it was!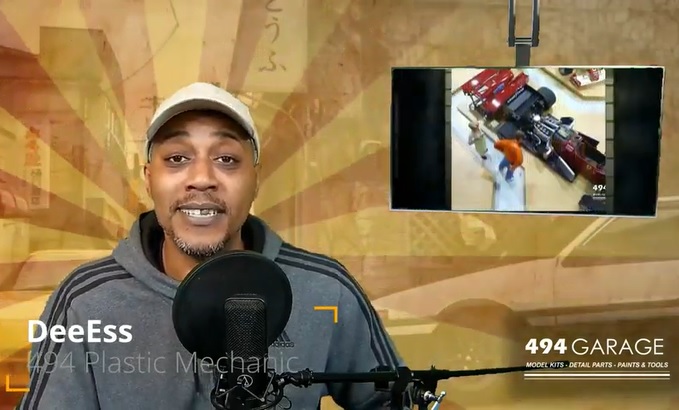 Our thanks to DeeEss for permission to link his video on our site and we urge to take a look at this, and his other videos.
Announcement
As of 7th of February 2020 the Motor Museum is reluctantly withdrawing from displaying, with the exception of a few special guest appearances from time to time circumstances allowing.
"I had a long chat with my family this afternoon and between our various illnesses and problems we reluctantly came to the conclusion that we can no longer exhibit the Motor Museum in Miniature at model shows and events. We are very sorry for any inconvenience and disappointment caused. Thank you very much to everyone who has helped us over the years. Please pass on our thanks to all the committee members, club members and volunteers, who have organised things to make life easier for us over the years, we will miss the exhibiting side of the shows very much.
For almost 25 years we have been honoured to display at many shows and events; we are very grateful for the opportunity to have done so. We have met many wonderful people and made lots of very good friends, talked for many hours on automotive and modelling topics and, occasionally, bored some unsuspecting person with our endless stories and unknown facts from the distance past.
We will continue to support our local shows and events through IPMS Stafford club and several IPMS Special Interest Groups. Our Website and facebook page will remain as before and our models will still be seen at shows on various displays, just not in our large museum setting.
We give grateful thanks to the organisers who have done so much to help us get all our display into, and out of, shows, to the many friends who have come and helped us set up and get the car packed again at the end of the day, and to all those who have donated models and other useful items to museum. These will still be seen through the website and facebook page as we won't stop making models until the angel of death offers us a display space in the great hereafter.
Our disappointment at not being able to carry on the 'mobile' museum display can't be expressed; we have enjoyed talking with so many people over so many years that it seems impossible to think of a time when we weren't displaying. It is equally difficult to think of a show that we are free to wander around without worrying about getting back to the display so as not to leave each other alone too long.
However, age and infirmity have forced the issue. Both Rod (Dad) and I have treatments and operations pending so it seems the time has come to accept our situation and move into a new era.
Thank you all, again, for your time and considerations and all the wonderful shows we have shared together in the past."
Kindest regards,
Rod and Ian
The Museum display consists of three "halls", one for Rod's road car, one for Ian's competition cars and a hall in between where they can combine their models around a common theme.
A view of Hall 1 showing some of Rod's road cars.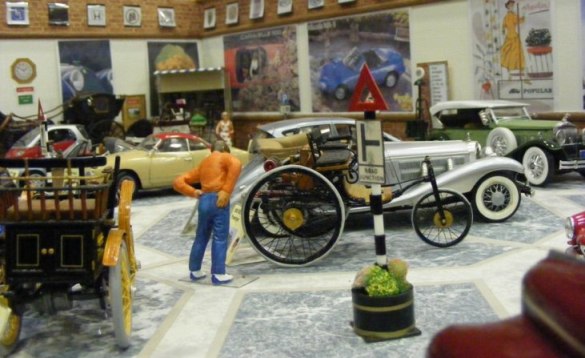 The centre hall, Hall two, shown here featuring the Bugatti marque giving both Rod and Ian the oppertunity to show together and create another area of interest for the viewer.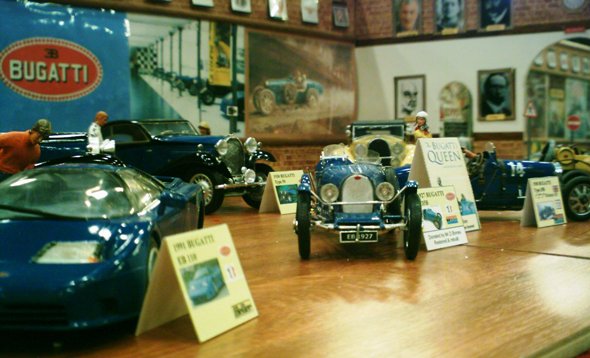 Hall three, where some of Ian's race cars are on display.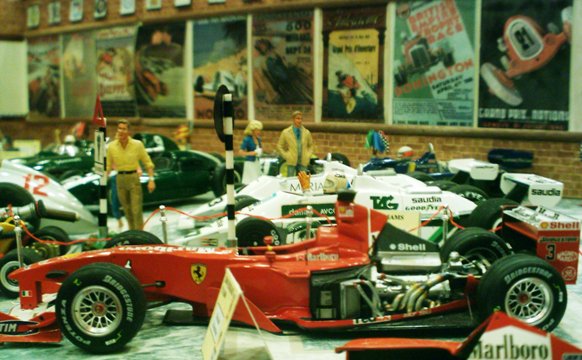 Below are photos of the Museum display as it has evolved and showing how diverse an exhibition can be put on show when given the space to do so.
Here are four photo's from the full room display we put on for the "Cloverlands Model Car Museum" on their first Mayday extravaganza. Our usual 13' museum display was augmented with models and dioramas of many different scales and motoring genres.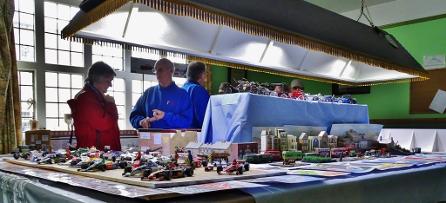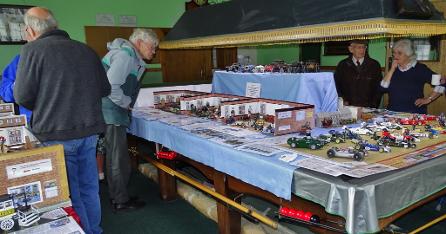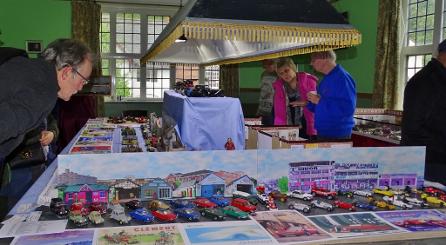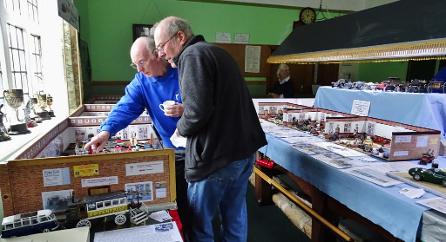 We are passionate about entertaining and educating visitors, through this site and wherever we are displaying.
"Cloverlands model car museum" described us as.....
"two very special and knowledgeable people who are justifiably known and respected."
and after their event sent us an email saying that......
"Everybody who saw it [our display] was captivated by it and by the skills you both have in assembling such interesting models.".
Below are earlier examples showing how the Motor Museum in Miniature display has evolved and some of the locations we have displayed at.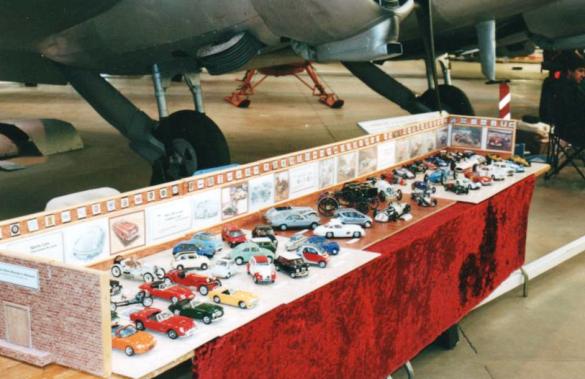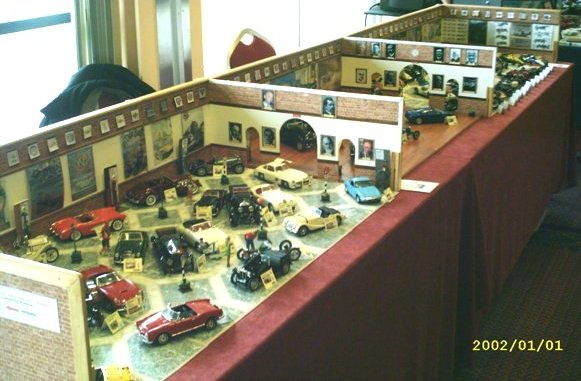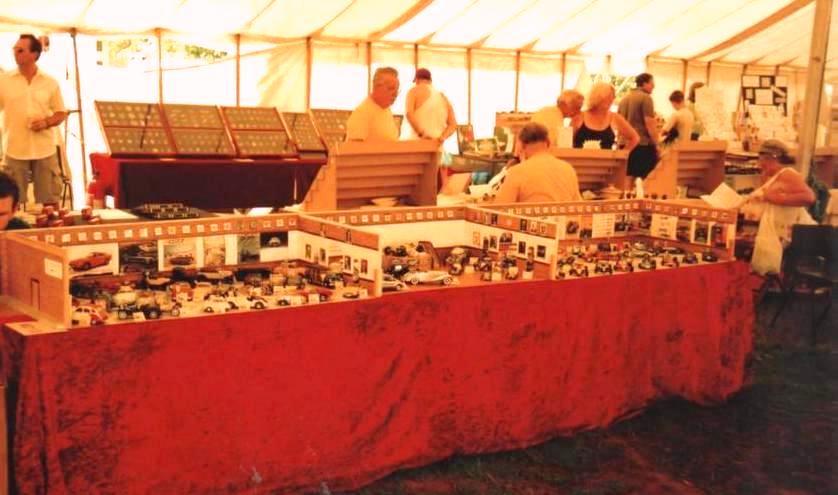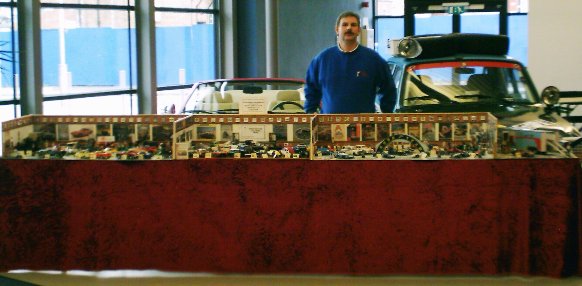 Here is one of our early displays at the 'Shropshire modellers society' show held at the RAF Cosford museum. This is before we had the dividing walls that make the three halls of the current museum display.
This display, from 2001, is when we were at the Model wheels event. A model show especially for builders of automotive models, some times it's nice to be amongst those who are only interested in cars, trucks, motorcycles etc. No military models at all!
For several years through the middle of the "naughties" we were guests of "the British association of transport modellers" in their marquee at the Stoke in steam event.
Being held in the grounds of Trentham gardens this annual steam show became a huge event that encompassed militaria, historic transport, hobbies and all manner of steam engines both static and automotive!
This association has recently been rekindled with our guest attendance at the Eccleshall Show.
The motor museum as a guest of the Coventry museum of transport. A superb museum of all manner of vehicles made in and around Coventry. From bicycles to busses if it rolled out of Coventry it's probably rolled into this museum again now. (and it's free entry too!)
There are also a large number of special interest displays through the museum. Some stand together while others will be spread out amoungst the cars helping give some atmosphere to the display.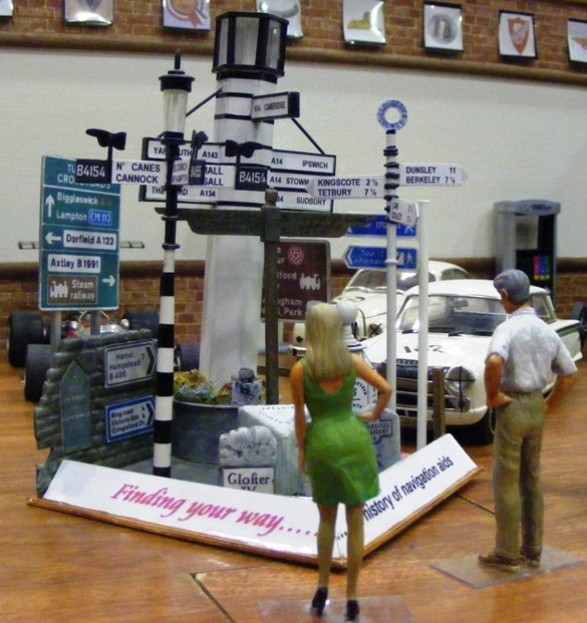 The story of navigation aids, from milestones to finger posts, destination signs to sat nav's. Many of these are examples from our local area and most are still doing their job to this day!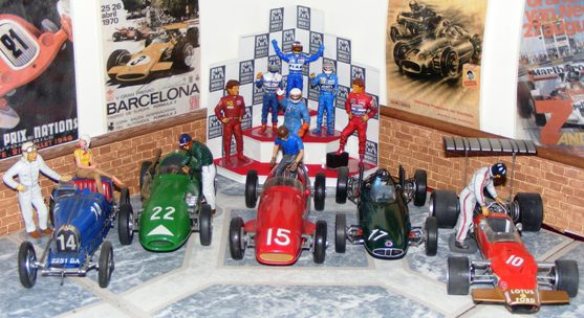 From cloth cap and shirt sleeves to Helmet and fire retardent overalls, they all feature in our collection of racewear.

Air cooled or water cooled, twins, flats, straights or V's. A car won't go far without an engine!
...and without fuel the engines don't go either. We have a collection of scratch built fuel pumps from the early days of motoring up to the present day.
The museum is constantly evolving.
New exhibits and displays will make their way into the museum collection each month so please visit regularly to see whats new.
If you would like to have the museum display at your event near Stafford, Staffs', please contact us by e-mail at.......
rodian-mmim@hotmail.co.uk
.......to see if we are available