This tractor-trailer combination allows the museum to go out and pick up "barn finds" then bring them in for restoration. Some of the cars are in better condition than others so the trailer is fitted out with a variety of tools and equipment to facilitate the recovery of rare cars.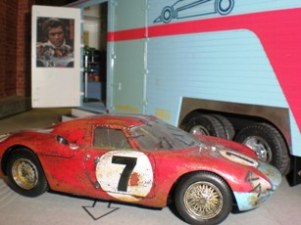 Barn finds come in all shapes and sizes. This car is in need of a lot of tender loving care! It was Graham Hill and Jo Bonnier's 250LM Ferrari, the Rhiems 24hrs race winning car from 1964. 1/24th scale Acedemy kit.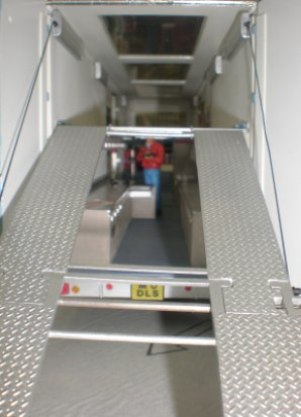 The top level carrying deck is a clever way of making maximum use of the space. Natural light is brought in through the large roof windows, backed up by flourescent lighting for late night work.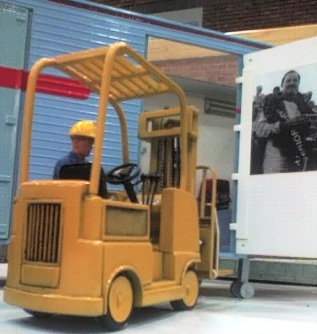 1/24th scale S.E.L. resin kit. A lovely model that gives another dimension to the museum. As at all museums a lot of work goes on behind the scenes, Why should our museum be different.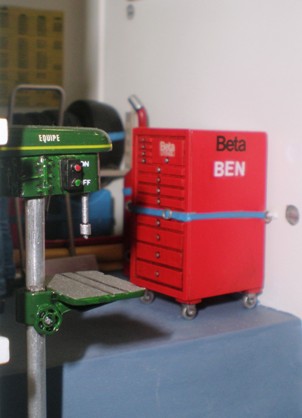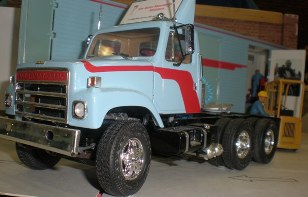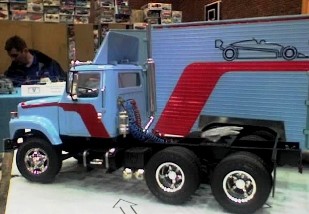 The Tractor unit is a 1985 International S series F2575. It prodives drive and power to move and operate the workshop.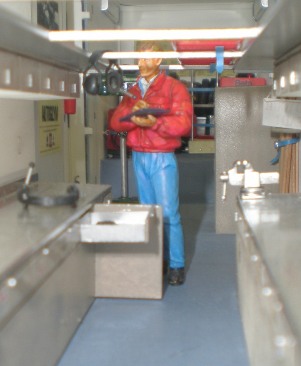 There's plenty of room for spares and tools. Work top space and bench top equipment is available so most jobs can be tackled by our experienced crew. They are backed up by hi-tech communications systems to ensure safe operating procedures can be followed whatever the task. After each trip out all the stock and equipment is checked, serviced, replaced or replenished as neccessary.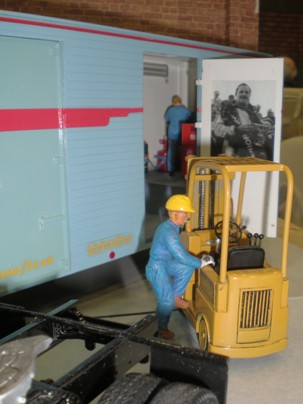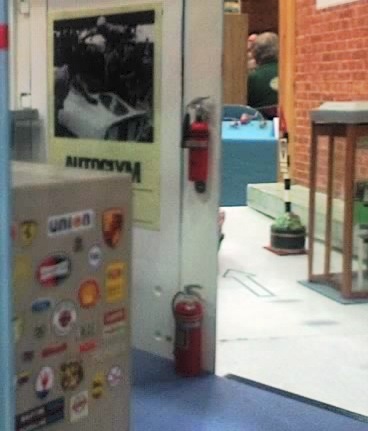 The lads have 'decorated' the truck with posters and stickers. One of them even has his boys name on his tool chest.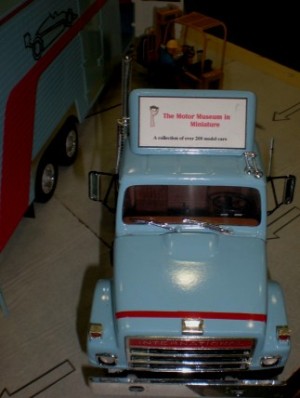 ERTL provide the 1/25th scale kit. The Trailer comes from an AMT 1/25th scale Indy car trailer kit.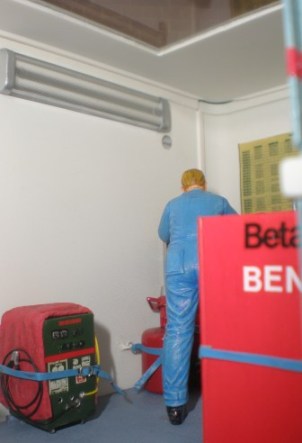 An electric welding set, with protective fire retardent blanket, is part of the standard equipment. It allows quick jobs to be undertaken in the field as needed.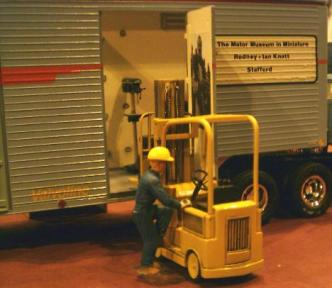 Our forklift truck helps with all the heavy work at base, Health and Safety you know!, even if it has to work under floodlights.
The driver figure was converted from a Fujimi mechanic figure, the helmet is scratchbuilt..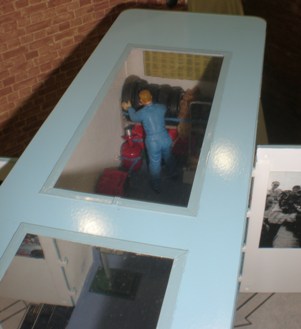 The trailer carries a stock of tyres in case they are needed to help move a vehicle. Specialist sizes are required so careful management of the stock must be maintained.