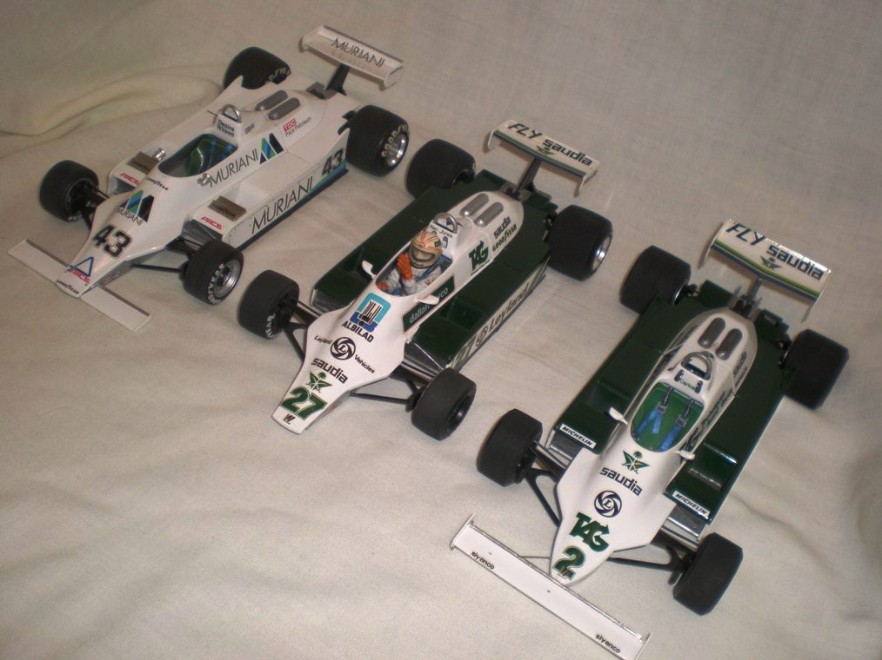 Frank Williams had struggled in F1. He had run a number of customer cars and even had some specials with his name on but he never achieved the level of success he wanted. That was until he managed to land a sponsorship deal with Saudi. Money was available and Williams Grand prix engineering was set free to design it's own car. Patrick Head had joined Williams when he broke away from Walter Wolf and re-established himself as an independent team owner and it was Head who penned the FW06 for 1978 season. It was quick straight out the box. Williams team joy lasted only a short time as Lotus rendered all other cars obsolete when it put the Lotus 78 on the track. Would Williams ever get a break?
The Williams FW07 was Williams response to the ground effect Lotus 78. Designed by Patrick Head, using the same wind tunnel at Imperial College London as the Lotus 79 had been developed in, of Lotus' ground breaking car. It may have seemed to be a copy but although having some similar features in the design concept it stands alone as a design. The FW07 had clean lines, was strong and very light, Head appears to have had an even better grasp of the principles of under car aerodynamics than even Colin Chapman.
Powered by the Ford Cosworth DFV the car was good enough to give Williams their first win in the 1979 British Grand Prix driven by Clay Regazzoni. Alan Jones then won 4 of the next 5 races but reliability problems early in the season had already given Ferrari's Jody Scheckter a lead in the title that Williams and Jones couldn't overcome. 1980 would be a different affair.
Ian originaly built the Tamiya FW07 kit in 1991 but it wasn't very good. Then when he came across the Murjani decal sheet he saw the opportunity to renovate the model. During research for this car he can across pictures of the 1980 Monaco car and wanted to do that one too, then the 1981 car..... and he wants to go back and do a '79 team car as well as some of the other colour schemes ran by privateers.
The individual conversions are detailed on each page, click on the photos for more details.
RETURN TO -