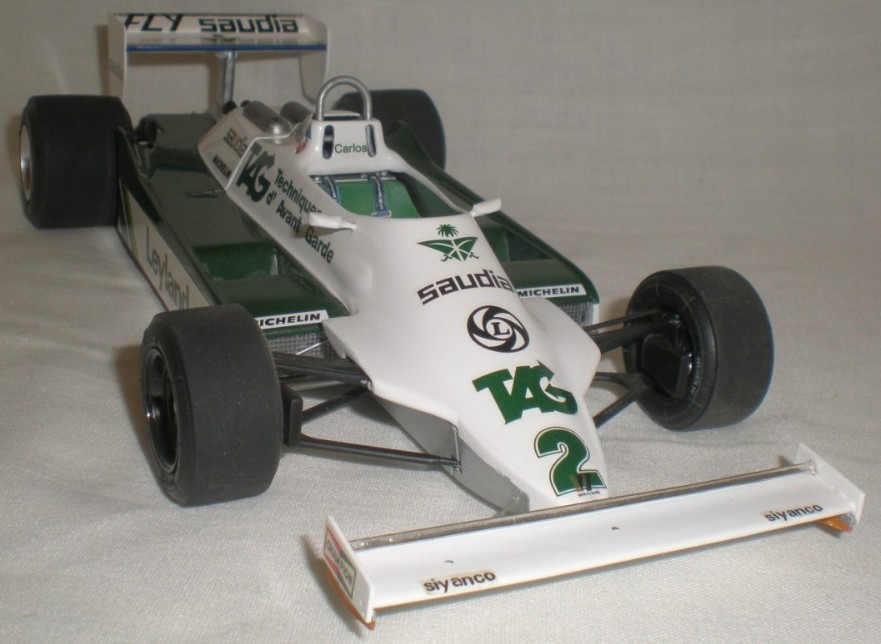 The 1981 season saw more changes to the Fw07 now in it's 'C' Variant. Alan Jones was partnered by Carlos Reutemann again and the pair won two races a piece providing Williams with their second constructors championship in a row.
For Monaco Williams had a short courtship with Michelin rubber instead of Goodyear. This season saw several different configurations of nose and front wing as well as the return of the deflectors in front of the rear wheels albeit faired in more tidily. The airflow around the front suspension was tidied up with new shaping of the fairings. Further improvements were made for the oil cooler radiator and ducting. A new mounting and positioning of the rear wing occurred and the rear wing end plates were extended further.
Carlos Reutemann was a supremely talented racing driver. Exceptionally smooth behind the wheel and untouchable when at his best. He could reduce a field of the worlds best F1 drivers to mere bit players. He was also an enigma that could just as easily slump to a performance of overwhelming mediocrity.
After finishing second to Ronnie Peterson in European F2 series in 1971, Carlos made a sensational Formula One debut in 1972 by putting his year old Brabham on pole position. 1973 saw Carlos establish himself as a consistent front runner and '74 saw him leading the first two races, until mechanical problems intervened, and then winning the third. Then he cooled off for half the season before storming back to the front late on and winning the Austrian Grand Prix in brilliant style, and again from pole at Watkins Glen. After more two up-and-down seasons Carlos joined Ferrari for 1977, Lauda outclassed him. For 1978 Gilles Villeneuve moved into the 2nd car at Ferrari and Carlos was back to his best, four wins that year, was only 2 less than champion Mario Andretti in the Lotus 79. A move to Lotus for 1979 was thwarted by the new Williams FW07 being the class of the field and Jody Scheckter sneaking through the field to take the drivers championship by dint of reliability as much as anything else.
In his first year at Williams Carlos backed up Alan Jones for his 1980 title, but in 1981 he was going for the title himself. For much of the season he looked certain to tie up the championship well before the end of the year. He was on the podium 7 times including two wins, Brazil and Belgium, but he also had the almost inevitable slump.
Carlos' ability to fall on his own sword was never more apparent than at the end of 1981. Poised on the brink of the drivers title and having taken pole in brilliant style, he dropped back through the Caesar's Palace field to finish in eighth place, this in a race in which he only had to place ahead of Nelson Piquet to take the drivers championship for himself.
Williams score for the season was a constructors championship winning 95, 34 points ahead of 2nd placed Brabham. Reutemann's 49 points meant he finished second to Nelson Piquet, who scored 50. Jones, 3rd, had 46.
Unable to stand the atmosphere at Williams any longer, Carlos retired from F1 after two races of the '82 season.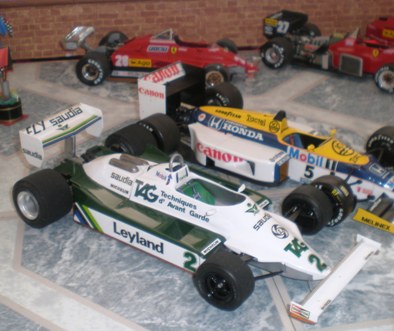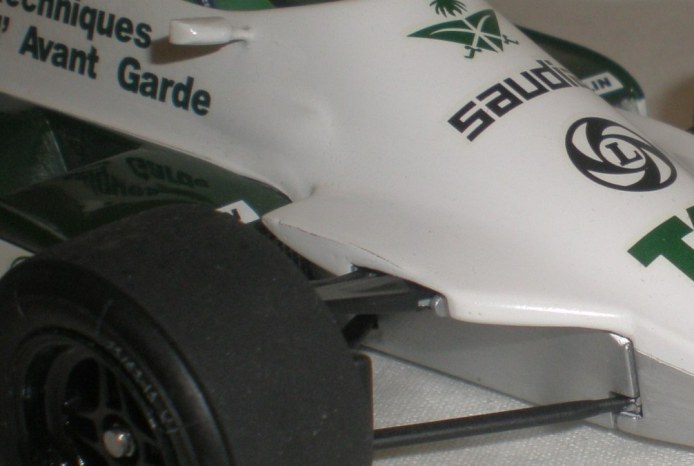 1/20th scale conv'.
Built by Ian.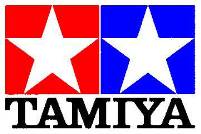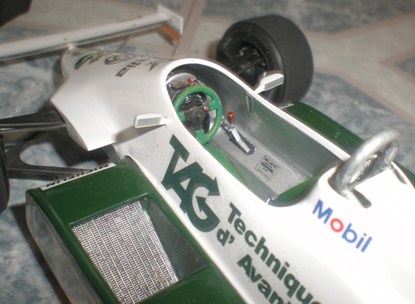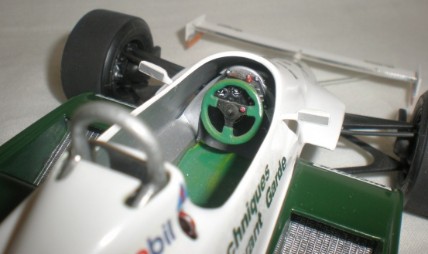 Tamiya first released kit # 2014 in 1980 and it is a great kit for it's time. Well engineered and moulded it has good detail but is straightforward to build. Ian was a novice when he first had a go at this kit, around 1991, but with more than 10 years experience to call upon having a go at this conversion, and the FW07b, was well within his ability. Using a stock kit and working out how you are going to do things takes time and some experience.
The hardest part of any conversion or scratch building project is summoning up the confidence to have a go, once the commitment is made the work usually sorts itself out.
Started around 2004, along side the FW07b, this conversion was not finished till 2008 either. It was a much harder job than the other FW07 conversion requiring extensive changes to the body work, most noticeably the nose but also the suspension covers and side pods. The side pods have been reshaped moving back towards the original FW07 design and the radiator outlets further modified. Slots had to be cut into the area behind the drivers head along with some further reshaping of this bodywork. The gearbox oil cooling radiator is adjusted again and a new duct put into the rear deck. A new scratch built front wing had to be made, even longer rear wing end plates and the redesigned rear wing mounting scratch built. The Michelin tyres were 'borrowed' from Tamiya's Renault RE30B kit.
Once again it was painted with Halfords car paints and detailed with citadel acrylics.
RETURN TO -