Only five women have raced in Formula One, only one has won! Desiré Wilson.
South Africa by birth she worked hard at her driving and had many successes in her native country. Moving to the UK, via Holland, to pursue her racing ambitions further she attracted support from the Brands Hatch circuit racing school.
1980 saw her take part in the British Aurora F1 series and became the only woman to win an F1 race when she won at Brands Hatch in a year old Williams FW07. This encouraged her to accept backing to enter the car in that years British Grand prix.
On arrival at the circuit she was expecting to drive the car she had tested 2 weeks before. That car belonged to Emilio de Villota, though neither he nor she new about this at the time, the car was great in that test session and Desiré was 9th fastest of 21 cars that day. Very impressive when you consider it was her 1st time in a ground effect car.
When it came to the GP it was Eliseo Salazar's recently crashed Aurora FW07 that was put together for her to drive. The car was not handling correctly, in her words "The car was evil!". The qualifying rubber was mounted on wheels that wouldn't fit the cars uprights so she had to try to qualify on race tyres, and the issues just went on and on. Desiré has since said "I will never forget that awful weekend and will never forget the con job. A lot of very good people were hurt in many ways on that weekend".
She failed to qualify (neither did Jan Lammers or Keke Rosberg, both of whom went on to have distinguished racing careers). Without a doubt Desiré was held back by a sexist outlook which has hampered many women in motorsport but her talent was probably greater than any other woman F1 has ever been graced by. As a mark of respect for her achievements Brands Hatch has named a grandstand after her, not many people of either sex have such honours.
Desiré made one further F1 race appearance in the 1981 non-championship South African Grand Prix, spinning off after 52 laps. Mostly she raced in sports cars were She scored two overall victories in FIA World Sports Car Championship races at Monza and at Silverstone in 1980. She drove more the 135 different types of race car during her career.
Desiré's interesting helmet design started off as blue with a yellow stripe simply because she admired the look of Ronnie Peterson's helmet. Then while driving in the Aurora F1 series the press sometimes called her the "African Queen". So the yellow crown on the blue helmet evolved.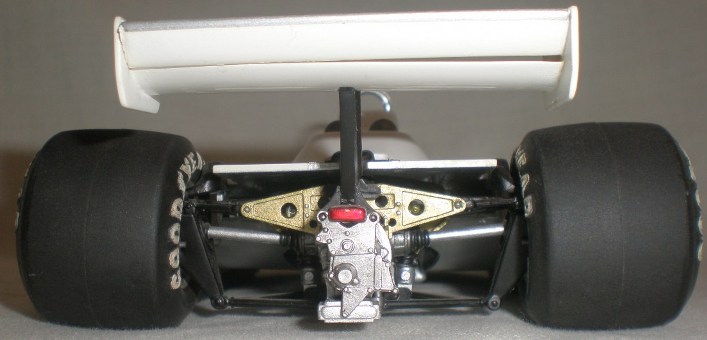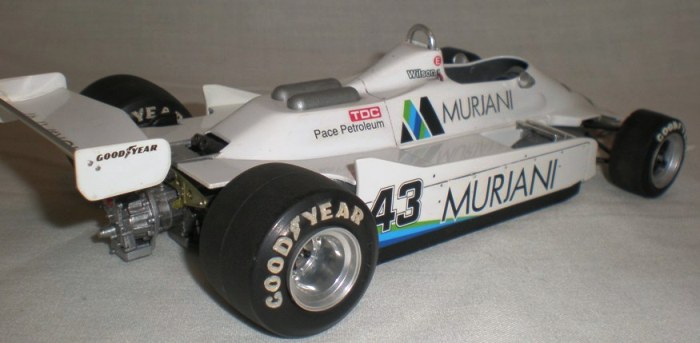 1/20th scale kit.
Built by Ian.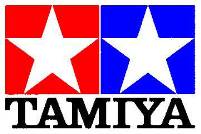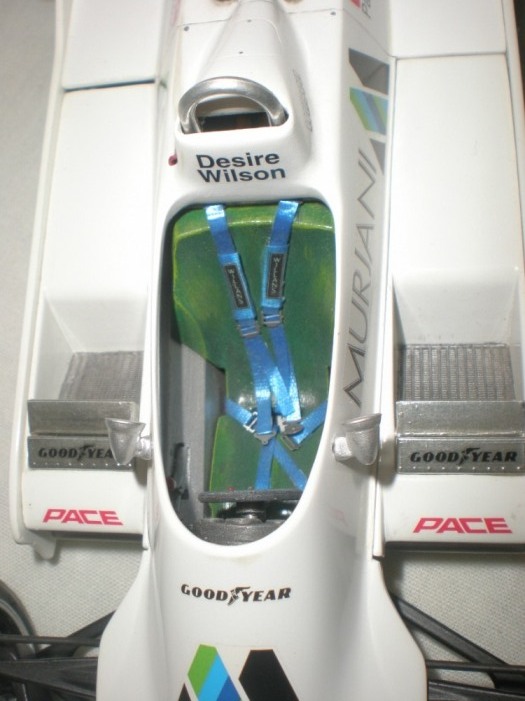 Ian originally built this model in the early 1990s, it was one of his earliest cars.Tamiya kit, # 2014, is a great kit for it's time (first released in 1980) and is straightforward to build. Ian was a novice when he first had a go at this kit, around 1991, and as a novice car model maker he didn't do a great job of it. Brush painted all over, as he didn't own an airbrush, it soon lost its lustre and the poorly applied decals where cracking and falling off by the time Ian finally decided the model had to be renovated. The model was restored in 2003 and the decal conversion set for Desire Wilsons car was applied. The model is straight from the box, painted with Halfords car paints and Citadel acrylics.
Although a much nicer model now a small part of Ian's model making history is lost for ever, the debate around restoring models continues, but this is a very popular kit and hard to come by at a reasonable price these days. At least the original driver figure has remained in its 1991 form and sits in our FW07b model.
Tamiya would do well to re-release this model as it is so versatile. There are many possible colour schemes in the aftermarket decal world and equally many conversion options for other F1 cars of the era. All this versatility has made it one of the most sort after kits in the F1 modelling fraternity.
RETURN TO -