Ken Tyrrell became one of the F1 pit lanes most beloved characters. He started as a driver himself, but his real skill lay in managing a team, he developed into the best driving talent spotter of his time. His small team brought many notable drivers through the junior formulas and eventually into F1. Initially a customer of other manufacturers when the decision was taken to make their own chassis it proved to be spot on. winning a constructors and three drivers championships.
After serving in the R.A.F. during WWII Ken Tyrrell became a timber merchant, hence his early nickname of "Chopper". He raced a Norton-Cooper 500 cc F3 car in 1952. By1958, he had moved up to F2 in a Cooper-Climax. No great driver, he realised he was not going to reach the top, and that his talents were better suited to team management.
Tyrrell stopped driving in 1959 to run the works Cooper Formula Junior team from the family business's woodshed. By 1961 he was also running Mini Coopers, and deputizing for John Cooper in Formula One.
During this time 'Uncle Ken', as he became affectionately known, brought Jackie Stewart through the junior ranks and it was with Stewart that Tyrrell achieved his dream of moving to Formula 1 in 1968.
With the backing from Elf and Ford, Tyrrell became team principal for Matra International, a joint-venture established between Tyrrell's own team and the French manufacturer.
Jackie Stewart and Tyrrell won their first drivers championship with the Matra MS80 chassis in 1969 but when Matra insisted on running their own V12 rather than the Cosworth V8 engine the partnership came apart resulting in Tyrrell trying other manufacturers chassis.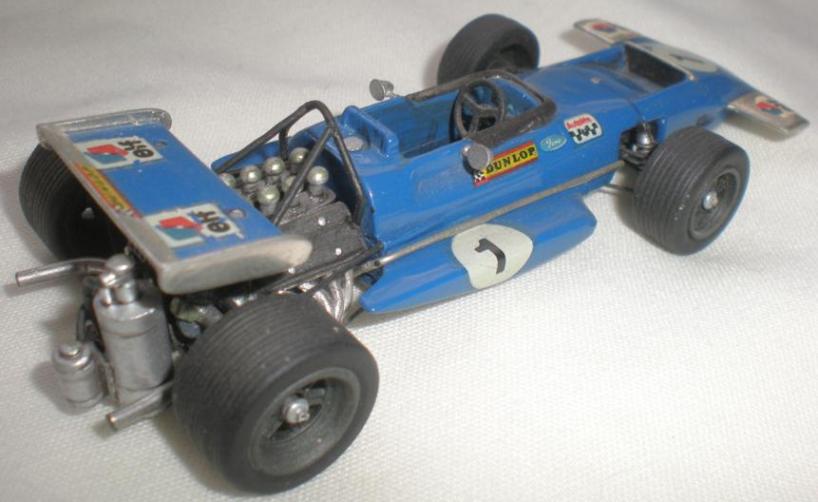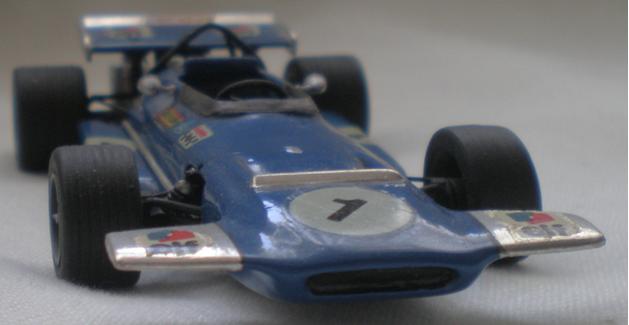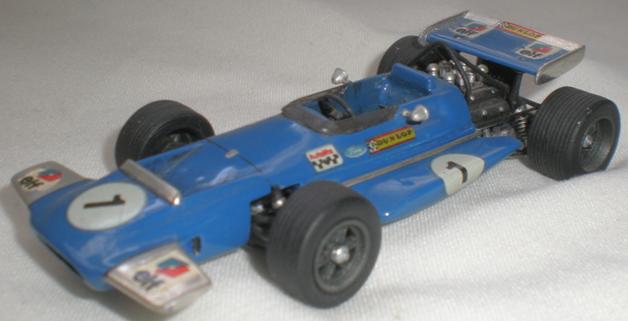 1970 March 701 Tyrrell-Cosworth. 1/43rd scale J.Day kit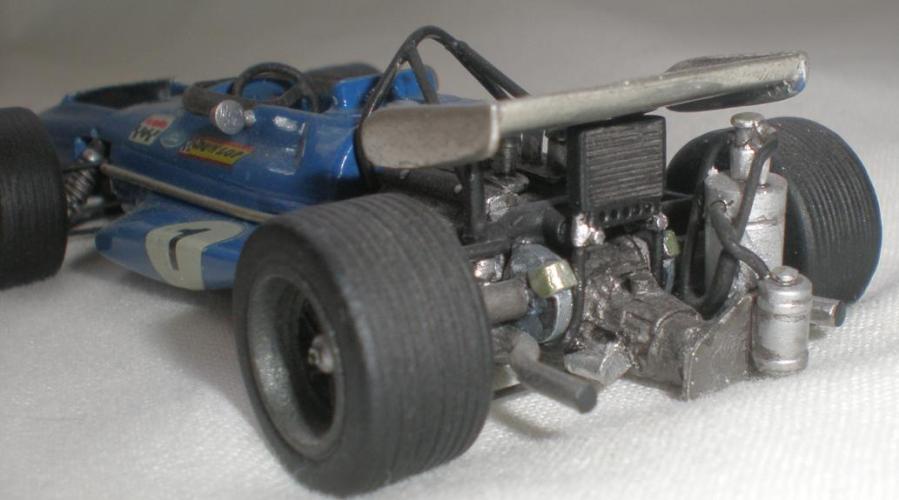 Although Stewart won the 1970 Spanish GP with the March 701 chassis it became clear Tyrrell needed their own chassis and drafted in Derek Gardiner to design it, in secret, despite his never having designed an F1 car before.

The new 001 chassis of 1970 was quick, but initially unreliable, this was developed to become the 002 and 003 chassis for 1971which were basically the same design but with differing wheelbases and other minor differences. In the hands of Stewart and François Cevert, the team took eight wins during 1971 and 1972.
This 1/25th Doyusha kit is rather basic, a lot of work was needed to bring the tyres to a proper scale size. A driver figure was added to fill the cockpit void. 1971 Tyrrell 003 as at Italian GP practice. 1/25th scale Doyusha kit.
The most noticeable difference was in the shaping of the nose. The original high mounted wings with the radiator openings underneath gave way to the more familiar bluff nose design.
For the 1971 Italian GP Tyrrell ran an experimental rear wing designed to aid oil cooling radiator airflow but it wasn't actually raced. All the development work brought Stewart his second drivers world title in 1971. The French blue colour scheme was retained reflecting the continuing support of Elf.
During 1972, Tyrrell ran inboard brakes on the 005 but had repeated difficulties with the system.
The 006, had a very tall airbox in 1973 and was a better car than the 005. But tragedy struck in practice for the U.S. G.P., when Cevert was killed.
Everyone at Tyrrell was deeply affected by the death which lead to Stewart announcing his retirement after 99 GP's, the World Championship already won.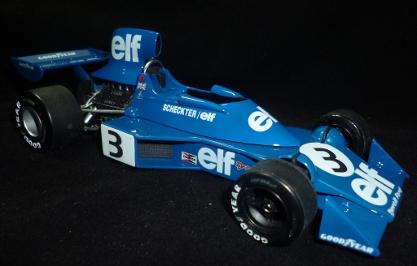 In 1974 Tyrrell hired Jody Scheckter and Patrick Depailler to drive, while Gardner gave them the more stable 007 chassis.
Scheckter was 7th in the drivers World Championship (tied with Jochen Mass on 20 points) while Depailler was 9th in his 1st season. The car was good enough to continue during the 1975 season. However Tyrrell team slowly slipped down to become mid-field runners, despite employing the undoubted driving talents of Scheckter, Depailler, Peterson and Jean-Pierre Jabouille, in a third 007 in 1975.
Something new was needed.

In 1976, the Tyrrell team again went into secret mode and came up with the Project34.
Arguably one of the two most radical entries ever to succeed in F1. It had four small front wheels, reportedly to reduce frontal area, but these were followed by the standard huge rear wheels on a wider track.
If the idea of the smaller front tyres was to increase air penetration, reducing 'frontal area' reduces drag, they also increase the contact area between the tyre and the track leading to better mechanical grip for cornering. The answer applied to the P34 giving it four 10-inch front wheels. This required a complex suspension design so all the front wheels could be steered.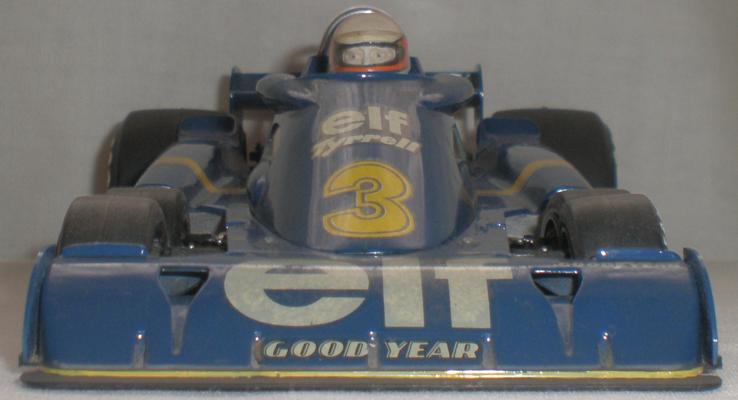 1976 Project 34 six wheeler. 1/20th scale Tamiya kit.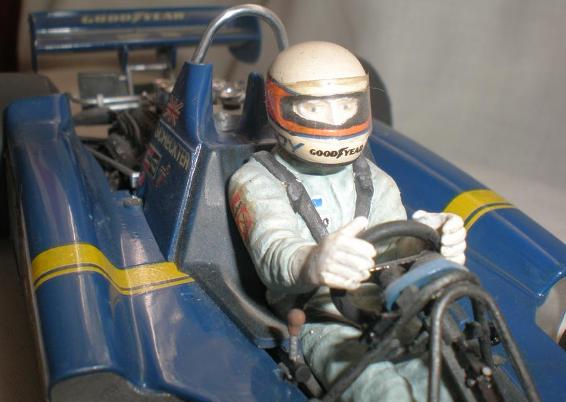 The design had an unforeseen safety advantage too, when a car came into the pits with the driver complaining of understeer it was found to have a puncture! This hadn't stopped him lapping at racing speeds either.
The P34's achieved a 1-2 finish at the Swedish GP in 1976.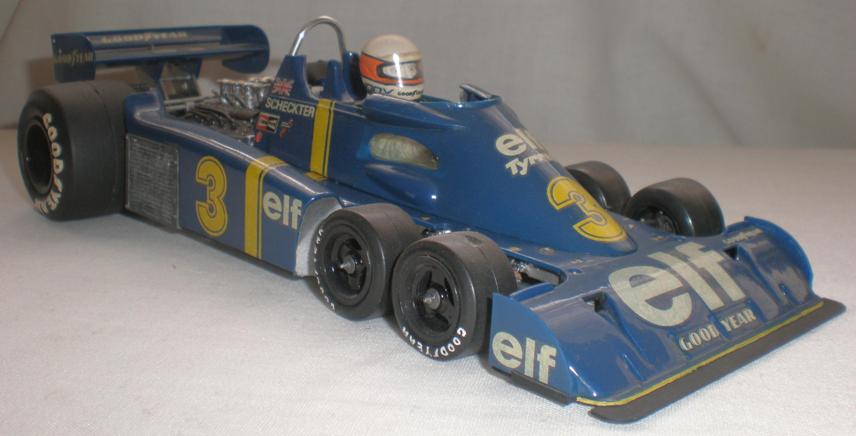 For the 1977 season the P34 had upgraded body work and certainly looked much sleeker. The front suspension was redesigned and the anti roll system repositioned. Better front brake cooling was required and differing solutions tried.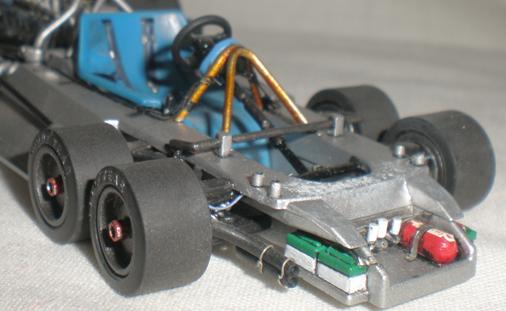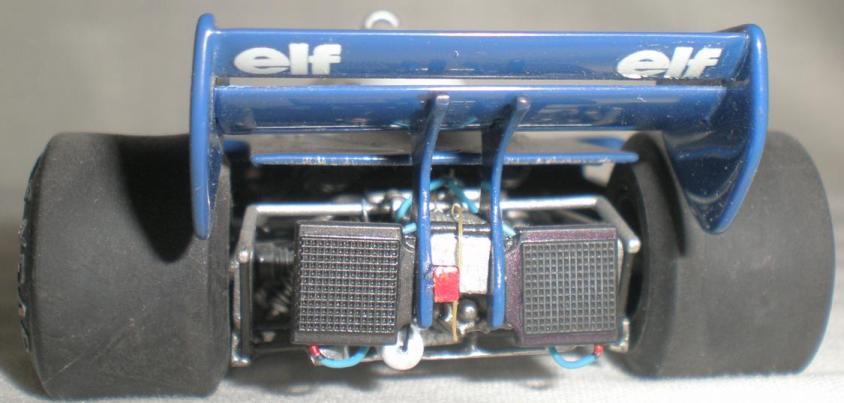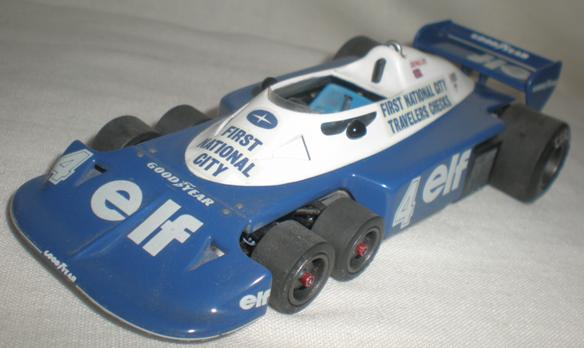 1977 Tyrrell P34-2.
1/32nd scale Matchox kit with super detailing.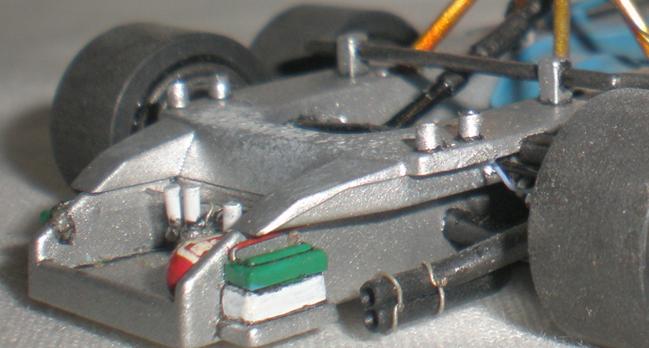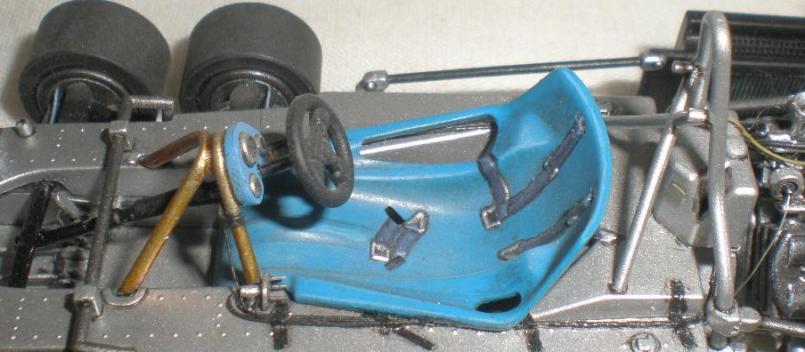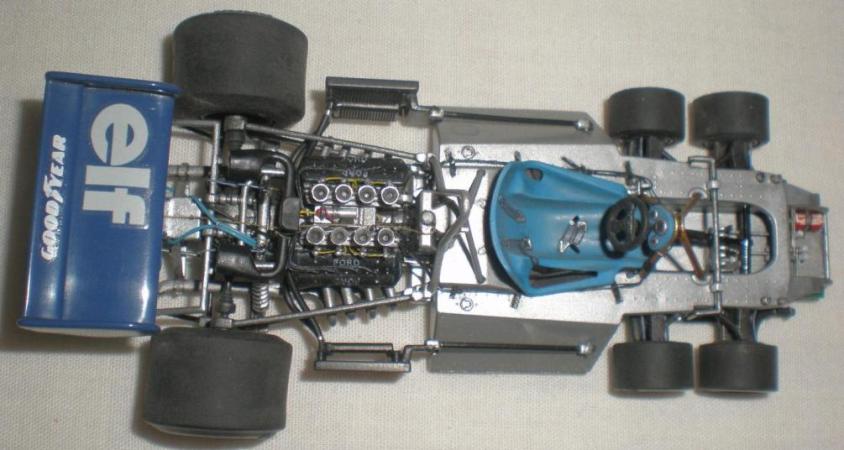 At some races such as Monaco where straight line speed isn't as important the previous body style could still be used.
The team suffered with diminishing results as the tyre development needed was not forthcoming. The season was a disappointment although a 2nd place and three 3rd positions accrued 27 points (joint 5th place) for the team in the constructors championship (Ferrari won with 95 points).
The work of Derek Gardner the six-wheeled Tyrrell has been called the most recognizable design in the history of world motorsports. The P34 was the first (and only) successful six-wheeled F1 car but was abandoned as Goodyear could not develop the small tires needed for the car as they were too busy fighting the other tyre manufacturers.
The real competitiveness of the design, in it's contemporary time, probably wasn't fulfilled.
Martin Stretton raced the P34-2 at historic racing events, proving very competitive, possible only because the Avon tyre company agreed to make, and develop, the small 10'' tyres. In 1999 and 2000 the P34 competed at a number of circuits in the FIA Thoroughbred Grand Prix series and the combination won the series in 2000, a sister car won in 2008 Driven by Mauro Pane.
The Matchbox kit is very good having a wealth of detail even at 1/32nd scale. However the model has been detailed to a great degree with many scratch built parts.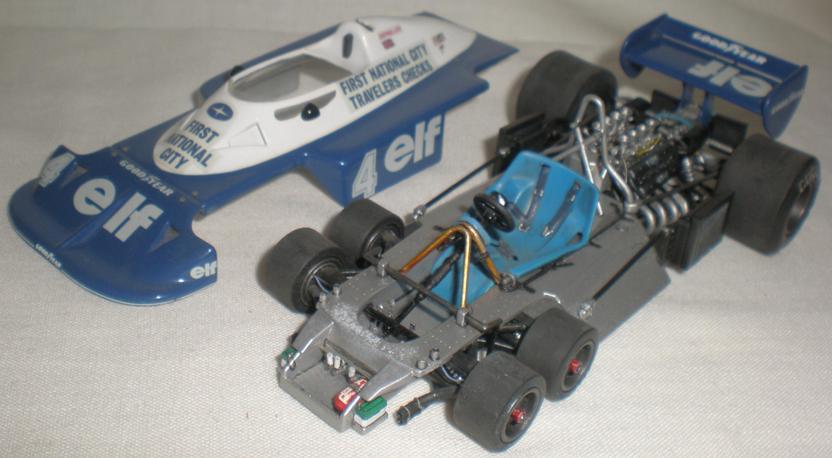 The Renault led
Turbo
era dawned in
1977
rendering normally aspirated engined cars almost obsolete. Tyrrell lacked the money to "buy in" and was the last team to run the
Cosworth
DFV as everyone else slowly switched to turbocharged engines. This didn't mean Tyrrell couldn't win though, at times they were still very competitive. Tyrrell remained at the cutting edge of F1 technology even though others didn't see the light for years later.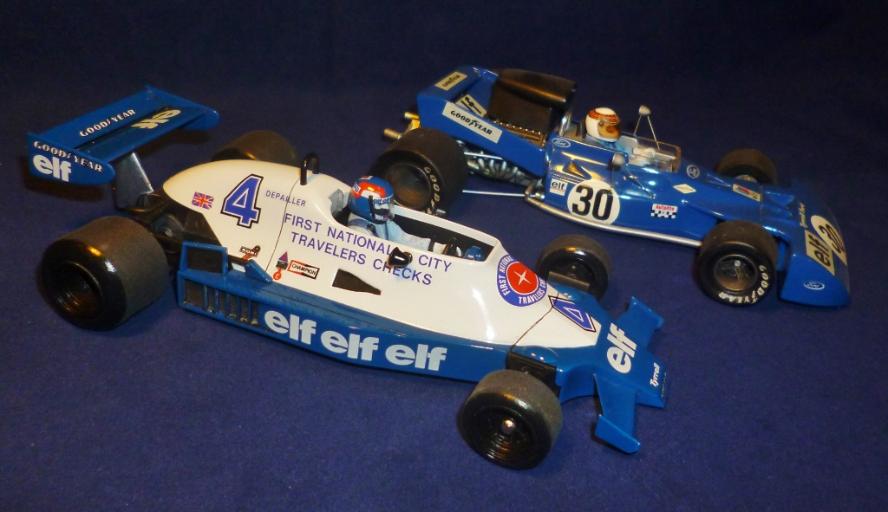 The 1978 Tyrrell 008 broke new ground in that it was the first car to carry on-board data collection in races. Dr. Kempf had designed a system that could be bolted onto the side pod of the P34 but this meant running without side bodywork. The new system was permanently on the car but totally overlooked by everyone else.
Patrick Depailler won in Monaco and along with new F1 driver Didier Pironi did grab a decent points hall fighting against Brabham and Ferrari who had turbo engines.
This was the beginning of twenty years of struggle for the Tyrrell team, often lacking of sponsorship but still able to spring a surprise now and then thanks to Ken's ability to spot driver talent. Stefan Bellof, Martin Brundle and Jean Alesi are amongst those that came through the Tyrrell Team of the 1980's.
It's a fitting tribute, that the final win for the classic Cosworth Ford DFV engine was taken by a Tyrrell car, Michele Alboreto in 1983 Detroit GP, It was also Tyrrell's last win.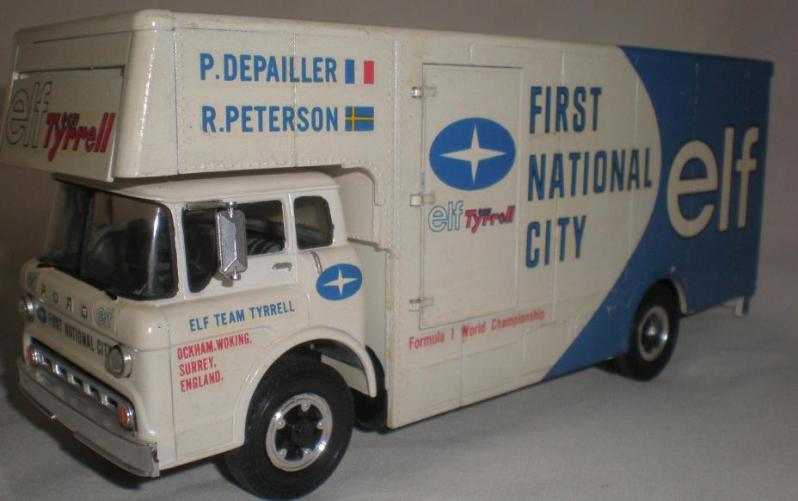 Way back in the thirties some continental teams designed and built proper team transporters, while in Britain Ecurie Ecosse's 1950s transporter is legendary. But for most of the garagistes a furniture or delivery van had to suffice.
This is an example of 1970's functionality. No longer travelling in furniture vans all the teams now aspired to a proper transporter, but these transporters were not the super motor homes of today. They were designed to get the cars, spares and tools to the circuit in an efficient and professional manner. What they do declare is the new professional, business oriented, money obsessed, F1 was on it's way.
Today the paddock is dominated by high tech vehicles that join together or transform into hospitality units or office blocks. All a far cry from simply getting to the track with all your gear intact.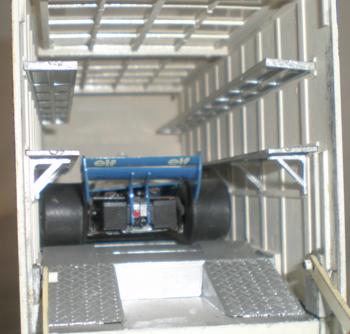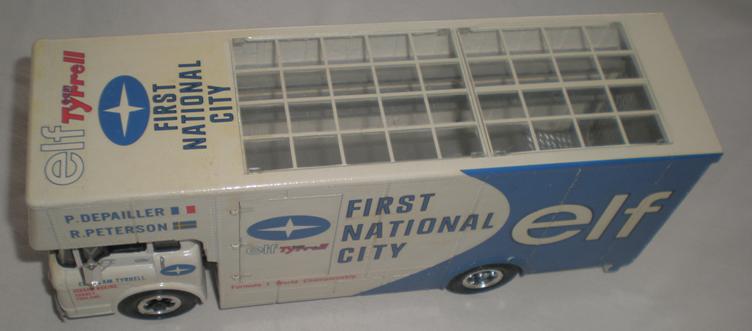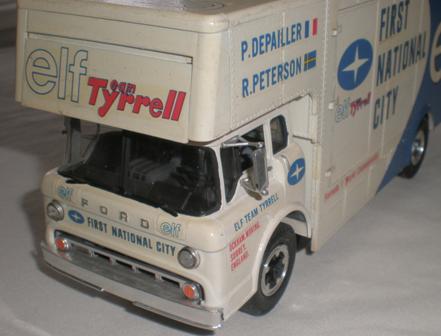 1977 Elf Team Tyrrell's Ford C800 transporter.
1/32nd scale Entex kit.
Tyrrell showed some promise in the early 1990s. With Harvey Postlethwaite coming on board the team was still capable of cutting edge design ideas. The revolutionary anhedral high-nose on the Tyrrell 019 came out for the 1989 season and Jean Alesi's full debut season in 1990 brought the team two 2nd places, Alesi even led 30 laps of the US GP in Phoenix.
Honda engines and Braun sponsorship in 1991 helped Stefano Modena to a front row start at Monaco and 2nd place at the Canadian Grand Prix.
It proved to be a false dawn and in 1998, with the team facing poor form ,and Ken ill health, Tyrrell F1 was sold to British American Tobacco, and rebranded as BAR.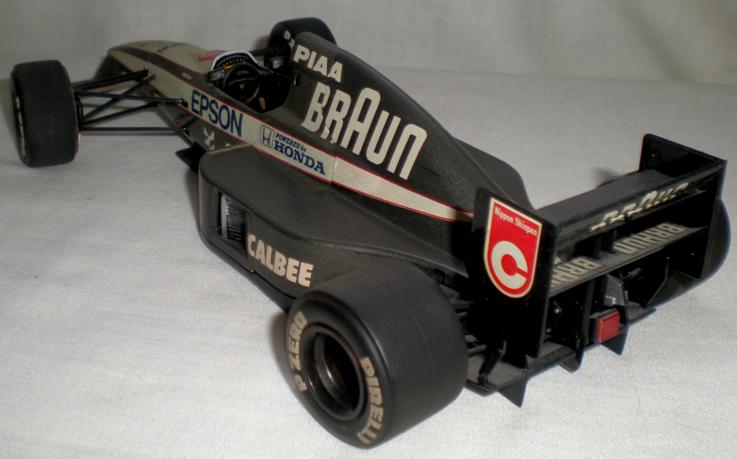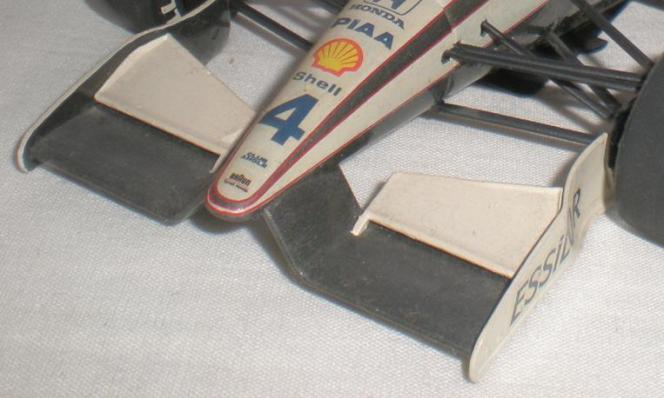 1991 Braun Tyrrell Honda 020 1/20th scale Tamiya kit.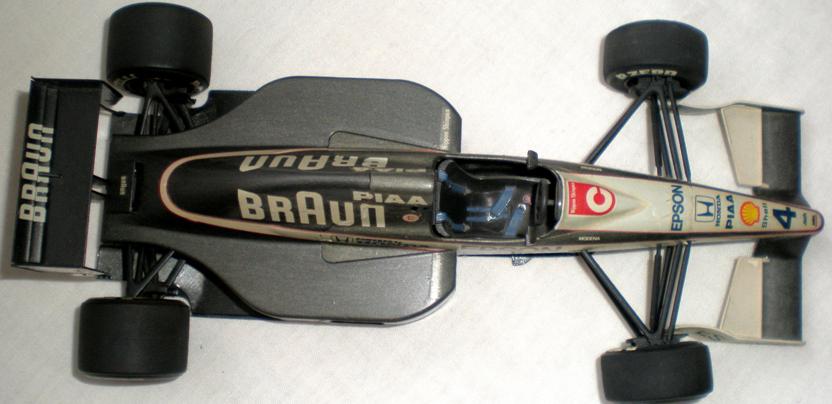 This model was built in the early 1990's and was one of the first race cars Ian built.
It shows it's age as enamel paints especially white can discolour and fade. Also Brush painting does not give the finish expected in today's modelling world. We mention this as encouragement to other modellers, everyone has to start somewhere and we all have to learn as we build, so each model gets a little better than the last.
It also raises the question of restoration. This model could definitely be better made with today's spray paints, but should it be? It currently demonstrates a point of reference showing how skills and modelling products have improved.
As a footnote to the Tyrrell legacy it is interesting to follow the line of the team through it's new incarnations.
Tyrrell was bought out by B.A.T. and the new team British American Racing was formed. They never really lived up to expectations even with Honda providing the engines. In turn Honda took over the whole team and spent huge amounts of money trying to become champions in their own right. But Honda pulled out just as things were turning good and a hastily put together outfit ran Hondas car for 2009. Amazingly the Brawn outfit won the world drivers title at their first try, something only Mercedes had ever achieved when before and coincidentally it was Mercedes supplying the power this time too.
Being anxious to restore a fulltime F1 presence Mercedes Bought out the Brawn concern and although they have yet to win a championship, they have won a Grand prix again..... perhaps there's something in the DNA passed down from Tyrrell after all.