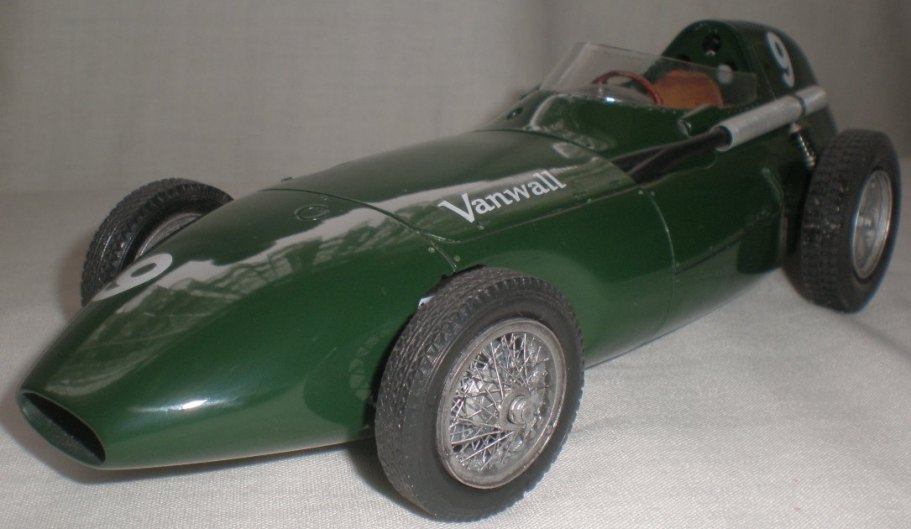 1957 had been a reasonable season with Moss and Brooks winning four GP between them. Basically if the Vanwalls could make it to the finish they would probably win. 1958 was much the same, but with more winning and a little less mechanical malady.
In 1958 Vanwall won 6 out of 9 GP they entered. Moss won 3 and Brookes won 3. This gave Vanwall the inaugural constructors championship by a comfortable margin, and Stirling Moss missed out on the drivers championship by a single point.
Ferrari were running Mike Hawthorn and Luigi Musso as their top two drivers, with Peter Collins backing them up in a third works car. Enzo Ferrari felt that Collins was losing his edge and in one of his regular mind games, supposedly aimed at motivating drivers, Ferrari had demoted Collins to the Ferrari F2 team at the French GP. As team leader, and close personal friend, Mike Hawthorn stood up to Ferrari and insisted Collins be reinstated in the F1 team. With Luigi Musso's death at the previous race in Reims, Ferrari was without one of his top drivers, Collins's position in the team was suddenly much safer.
Much of the talk was about Fangio who had retired after Riems, Maserati had withdrawn works support at the end of 1957 and the 5 times world champion had entered a private car for the only two races. Tired of the punishing schedule he placed upon himself and the loss of friends, 30 of whom had died in races during his career Fangio had had enough.
At the British GP Ferrari decided to run Wolfgang Von Trips in the third car. Vanwall, BRM and Cooper provided the main competition and after qualifying the front row of the grid had one car from each top 4 teams. Moss (Vanwall) was fastest from Harry Schell (BRM), Roy Salvadori (Cooper) and Hawthorn (Ferrari). Collins was 6th and Stuart Lewis-Evans 7th. Brookes was languishing back in 9th place.
Collins made a fast start and came through from the second row to lead by the time the field went down Hangar Straight. Moss followed with Hawthorn, Schell, Brooks and Salvadori all in close company. Collins lead increased each lap while Moss and Hawthorn were having a private battle. Their speed took them away from the chasing group.
Moss's Vanwall blew its engine on lap 26 giving Collins a comfortable lead and the safe position of having his team mate and friend holding second place behind him Lewis-Evans was third but he was soon overtaken by Salvadori who was closing on Hawthorn who had lost time during a hurried pit stop for oil. Hawthorn held off Salvadori and Collins duly won the race. Ferrari were delighted with a one two finish Lewis-Evans was closing rapidly on Salvadori who just managed to hold onto third.
Brooks had an unusually quiet day bringing his Vanwall home 7th.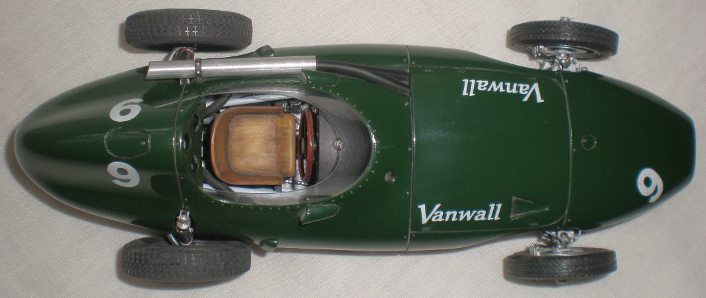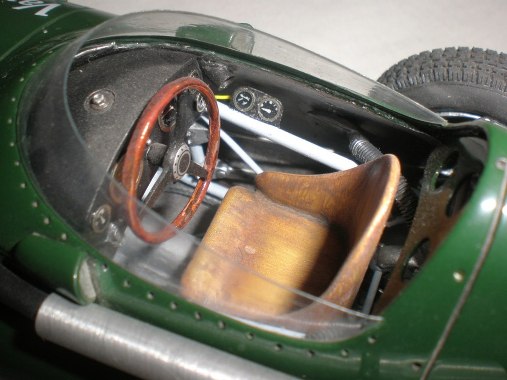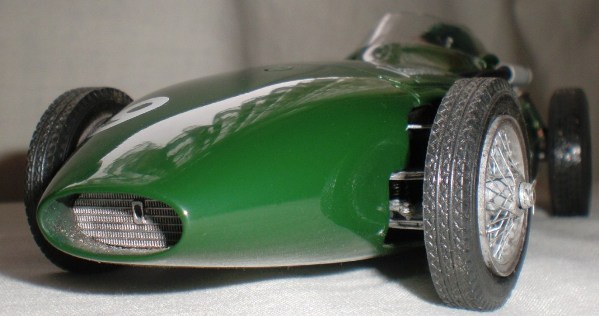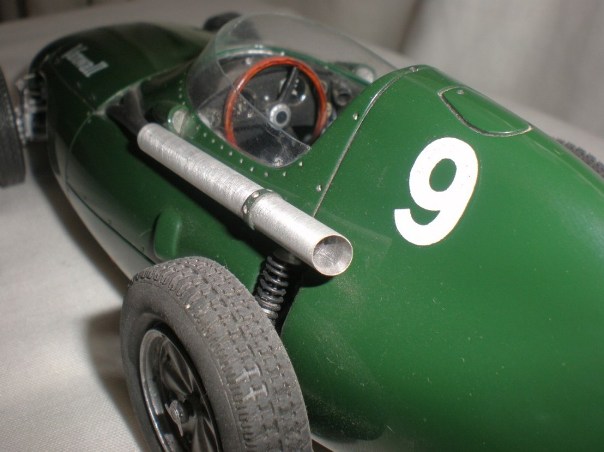 1/20th scale kit/conv'.
Built by Ian.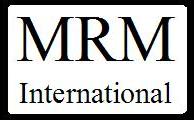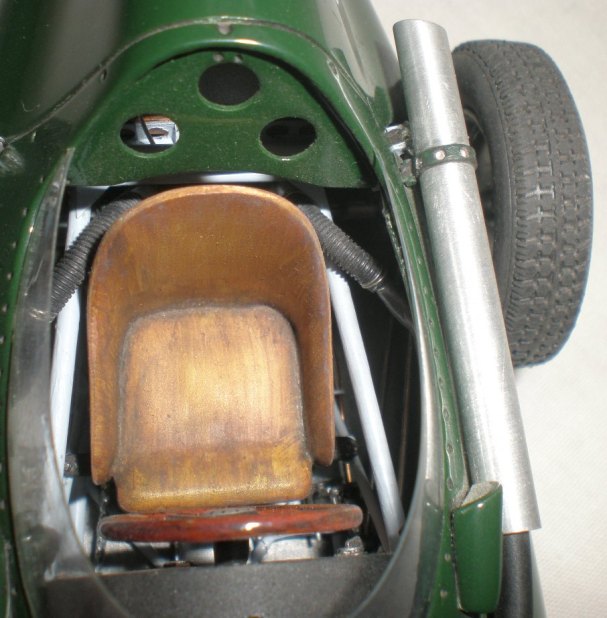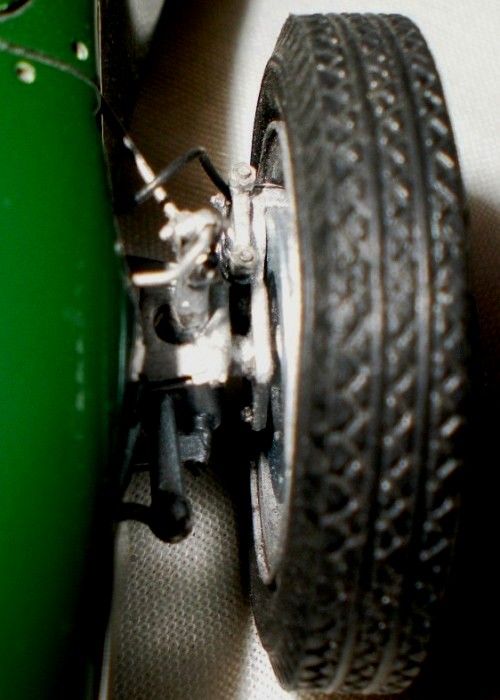 The original body shape for this car was carved by Alan Webster and passed to Ian who did all the detail work and made the rest of the masters. This all went to MRM who produced the kit. Sadly MRM aren't trading any more but the masters still exist and one day we may see this kit available again.
As usual Ian was not happy with the basic kit and carved it all out and went to town on the cockpit detail. An exhaustive list of scratch built parts and details was implemented including full rear suspension and drive train, complete with inboard rear brake discs and cooling ducts, fuel tank and piping..... Wire wheels were made for the front while the cast ones were kept for the rear.
This was Stirling Moss' preferred lay out, the cast rears gave better traction while the wire fronts gave better "feel" and brake cooling.
RETURN TO -