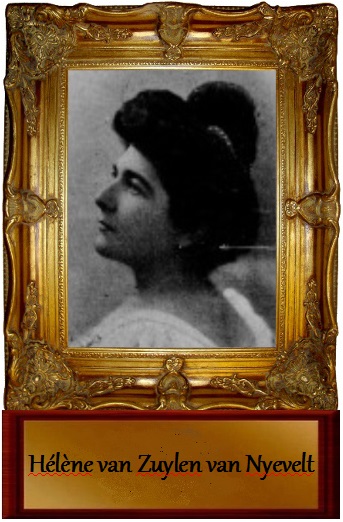 MMIM Hall of Fame
Baroness Hélène van Zuylen van
Nijevelt van de Haar

Born on the 21st of August, 1863, Hélène Betty Louise Caroline de Rothschild was the only child of Baron Salomon James de Rothschild and Adèle von Rothschild (the daughter of Salomon's German cousin Mayer Carl von Rothschild); and yes, we are talking about the very prominent Rothschild banking family from France. Hélène would be a privileged socialite in Parisian life but she was so much more too. An independent thinking feminist she wrote extensively, had dangerous liaisons and was the very first woman to take part in a motor race.
Hélène grew up in the family home but not a home as most of us would think of it. 'Home' was the Hôtel Salomon de Rothschild at 11. rue Berryer, in the heart of Paris' 8th arrondissement. One can only imagine the sort of childhood such opulence brings; and the restraints and rules too.
Perhaps there was an element of rebelliousness that led to her marriage, on 16th of August 1887, to Baron Etienne van Zuylen, a member of the noble Dutch family of Van Zuylen van Nievelt. The fact that he was a Roman Catholic did not sit at all well with Mrs. Adèle von Rothschild who disinherited her daughter Hélène and bequeathed the Hotel property to the French government fine arts administration!
However, Hélène was building a new home and a new family. The home would not only become a prominent building attracting many famous visitors but also an architectural asset for all Europe. Her children would also maintain the prominence of both the family names, though not always for the best reasons.
Hélène and Etienne van Zuylen had two sons.
Hélin van Zuylen de Nyevelt was born in 1888 and died at the age of 24 in 1912.
Egmont van Zuylen van Nyevelt (1890–1960) became a diplomat and married the Egyptian Marguerite Namétalla, he was also a prominent businessman. Their daughter, Marie-Hélène van Zuylen van Nijevelt, would go on to emulate her grandmother in that she also rebuilt a family home, the magnificent Château de Ferrières just outside of Paris. It had be seized by the Germans during WWII and suffered extensively. Marie-Hélène re-established the buildings, and just as Hélène had done, turned her home into a magnet for the rich and famous.
Castle de Haar
Hélène's official residence became Kasteel de Haar, the ancestral home of the van Zuylen family. However it was basically a ruin, almost completely deserted for more than two centuries it was little more than a curiosity, especially for artists attracted to romantic ruins.
Baron Etienne van Zuylen, fascinated by the social and political history of his family, had always wanted to restore the castle but funding such an extensive project had been beyond him. Now, with access to the Rothschild family money he could finally start his project. If he thought he was going to restore it to something of it's former state, a perfect picture of the castle as it used to be, then he was mistaken, Hélène was to move him aside and stamp her own mark on the property, this was to be a liveable family home; but of palatial splendour.
Fully rebuild in a neo-Gothic style the present buildings, consisting of 200 rooms, including 30 bathrooms, actually date from around 1892 with only the chapel being older. Dutch architect Pierre J.H. Cuypers took care of the designs but it was Hélène who drove the project and turned it into one of the foremost Gothic Revival castles in the Netherlands. The project took 20 years, through till 1912.
Relationships
In 1902 Hélène's literary ambitions began to take shape, mostly in collaboration with her lesbian lover Renée Vivien (born Pauline Mary Tarn). The period of their relationship, 1902 through 1907, marks her main creative writing period.
Vivien was a disturbed soul and Hélène provided much-needed emotional support and stability for her. While Vivien found the maternal love missing from her life, it was a far from perfect situation for Hélène who was married with children; such a relationship would have to be kept quiet. Vivien has written that she considered herself married to the Baroness but in In 1907 Hélène suddenly, and amongst much gossip within the lesbian coterie of Paris, left Vivien for another woman. Renée Vivien quickly succumbed to her self destructive habits and died two years later.
The body of work by Vivien and Hélène together, under the pseudonym, Paul Riversdale, is staggering. Some scholars believe all the work should be attributed to Vivien alone but as much of Vivien's known work is dedicated to "H.L.C.B.," Hélène's initials, there is doubt about this ideas validity. Further more Hélène continued to write poems, short stories, plays and novels up to 1914.
Motoring
Etienne van Zuylen van Nyevelt van de Haar was a founder of the Automobile Club de France (better known as the ACF), and was it's first president. As such he was involved with the organizing of the 1898 Paris-Amsterdam trial.
Baroness Hélène van Zuylen participated in this trial/race and in doing so became the first woman to take part in a motor race. Along with Camille du Gast and Duchesse d'Uzès, Anne de Rochechouart de Mortemart, Hélène formed a trio of French female motoring pioneers in what would become a golden age for France and Belgium before the First World War. These ladies were the first to have actual driving licences, or at least the then equivalent of such, in 1897.
While feminist activities were becoming commonplace Hélène still used a pseudonym for her participation in the event. Baroness Hélène van Zuylen is also known as the 'Snail'. Quite why Baron Etienne van Zuylen competed under the name 'Escargot' (French for snail) isn't recorded.
In actual fact the Paris-Amsterdam trial ran concurrent with the Paris-Amsterdam race, and had several classes for automotive vehicles. Baroness Hélène van Zuylen drove in the 'touring' class rather than the racing class so it is more accurate to refer to her as the first woman to complete an international motoring event.
The Trial/race was run over 7th–13th of July covering 1431 km, the race class being won by Fernand Charron driving a Panhard-Levassor, the race is sometimes referred to, in retrospect, as the III Grand Prix de l'ACF.
When the1901 Paris-Berlin race was run over three stages between the 27th and 29th of June 1901 she took to racing again. Sadly Hélène's car suffered a technical failure on the first day and was unable to continue. Her associate Camille du Gast did finish though, and finished 33rd despite starting last of all the 122 starters.
Death
Baroness Hélène van Zuylen died of an unspecified illness in Lisbon, Portugal, on the 17th of October 1947.
Conclusion
Hélène van Zuylen was not a prolific motor racing competitor in the mould of Camille du Gast but she was a prominent female motoring pioneer and it is certain that the mutual support of the three ladies of the Belle Epoch must have helped make the motor car manufacturers more considerate towards female driver needs. A fact that led Renault to produce his first car with the added function of being started from the dashboard, so Lady drivers didn't have to clamber up and down in the long flowing skirts of the time.
It is for pioneering the spirit of equality amongst drivers, regardless of sex or social standing, that Hélène deserves her mention in the annuls or motoring history.