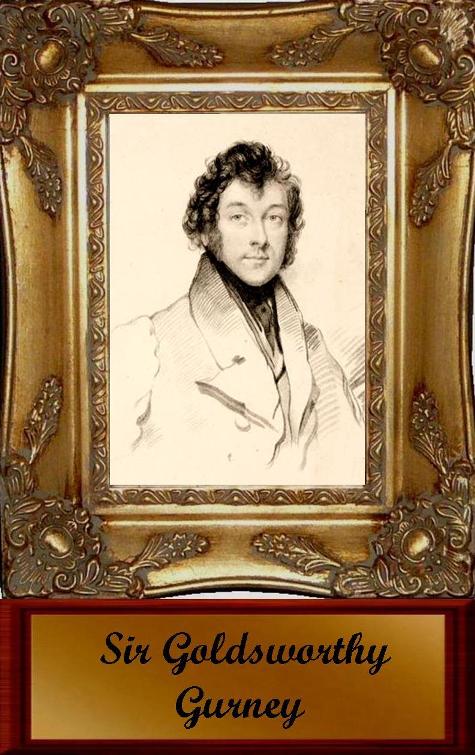 MMIM Hall of Fame
Sir Goldsworthy Gurney
Sometimes referred to as the "forgotten Cornish Engineer" Goldsworthy Gurney deserves to be remembered far more than he is; his contributions to science and innovation were significant.
The Gurney name is better known in Norfolk, or in connection with the banking world, and can be traced back to the time of William the Conqueror when Sir Hugh de Gourney, of the Counts de Gourney arrived in Britain. The family of Rev' John Gurney, chaplain to the Bishop of Exeter, moved to Cornwall in the early 1700's and in due course Gurney's grandfather the Rev. Edward Gregory Gurney married Mary Peter of St. Merryn on 25th of Feb' 1746.
Mary Peter's family had money and they lived at Lower Trevorgus house, the Gurney's were able to life a very nice life for the times.
Born in the county of Trevithick and Davy, Goldsworthy John Gurney came into this world on the 14th of February, 1793. His parents, John Gurney and Isabella Carter, of Trevorgus, lived in Avon House in the tiny Cornish hamlet called Treator, near Padstow. Padstow itself is on the mouth of the river Camel and at that time was a very busy port. The money that had come through the line allowed his father to live as gentlemen, and certainly helped Goldsworthy into the education that would end in his fame.
Goldsworthy was the second youngest child of the family, his siblings were, Anna Peter Gurney born Dec' 1785, Henry Peter Gurney born March 1787, Elias Thomas Peter Gurney born August 1788, John Gurney born Jan' 1792, and his younger brother Samuel Gurney, born 1795.
Goldsworthy is a most unusual Christian name and the origin is worth a mention. A few generations earlier a Gurney had married into the Goldsworthy family and as was common in the time maiden names were often passed down somewhere in the names of children. One of the daughters of General Goldsworthy had been a maid of honour to Queen Charlotte and she accepted the role of godmother to the baby and so the name not only came down from his grandmother but also had significance with his Godmother. In due course he would stand before Royalty himself.
Early years
Basic schooling for young gentlemen was commonly done at home back then so it is most likely first at Avon house. Later in Gurney's life people said he had shown most interest in local farming practices, the movements of the tides and sands and the transport ships of all shapes and sizes that were bring goods into Padstow. He seems to have been quite removed from the mining industries and knew more about the small clay pot firms that set up in small converted premises in the back streets of Cornwall's towns.
At around eleven years old Goldsworthy attended Truro grammar school, where many of his relatives went and some of Cornwall's greatest minds too; Humphry Davy for instance. During his first year or two the Grammar school was under a very strict head master and had a tight classical curriculum, but this changed when the headmastership of Thomas Hogg opened up a much more enlightened curriculum which included laboratory sciences, philosophy and practical mechanics. Apparently Goldsworthy was a favourite of Thomas Hogg, probably as the new subjects seem to suite him, and his natural inquisitiveness, down to the ground.
One of Goldsworthy's extended family who had been at Truro was Andrew Vivian of Cambourne. Vivian was good friends with Davies Giddy (Later Gilbert) and both helped Richard Trevithick with his early high pressure steam and railway engines. In 1804, while spending his holidays at Camborne, probably visiting part of his extended family and likely staying with the Vivian family, Goldsworthy was much impressed by witnessing one of Trevithick's earliest experiments with a steam-engine on wheels. It is likely he saw many of Trevithick's experiments, and to see his 'Puffing Devil', and is known to have considered Trevithick "a plain and unpretending man of great genius". Some of Trevithick's enthusiasm for engineering invention must have inspired Gurney and these experiences would stay with him all his life.
Medical practice
After formal schooling Goldsworthy was placed with Dr. Avery at Wadebridge as a medical pupil. It may seem odd to us that he should study chemistry and medicine but it reflects the opportunities available at the time. Medicine was the closest study route to a 'science' that there was, so several notable inventors went down this path, not least the Cornish mining inventor Humphry Davy. Medicine at this time was not the highly organised and regulated profession it is today. It was a mix of herbal remedies, old wives tales, chemicals (including poisons) and pseudoscientific ideas like 'bleeding' or 'cupping'; so, most often a 'Dr' who kept his patients alive could be considered lucky as much as skilled.
As Dr. Avery was about to retire he gave the young Gurney a lot of time and responsibility within his practice, and Goldsworthy was particularly keep on his studies. He got to know the patients well and kept records of the 'treatments' whether beneficial or otherwise. It is said that Goldsworthy made "several ingenious contrivances" for Dr. Avery to use in his professional capacity. Goldsworthy wrote several medical papers on chemistry and more general ones on heat and electricity during his apprenticeship.
Age only 19 Gurney took over the medical practice in Wadebridge when Dr. Avery retired in 1812. He remained at the practice for 8 years and every one of the patients stayed with him from when he took over from Dr. Avery.
During this time Goldsworthy met a farmer's daughter by the name of Elizabeth Symons from Launcells. Her family had been land owners for over ten generations, although Elizabeth was already 33 years of age, and more than possibly resigned to spinsterhood, it is said she was pretty and certainly brought a great dowry with her. Now that Goldsworthy was the practicing Dr. in Wadebridge he had sufficient income to marry.
In March 1814 Goldsworthy Gurney was married to Elizabeth Symons and the couple settled down to life in Wadebridge. Their daughter Anna Jane was born on the 14th of November 1816 and Baptised at Egloshayle, Cornwall. She would live to be one of the main reasons we are able to remember Goldsworthy Gurney as she championed his rights to inventions other steam engineers were inadvertently accredited with.
Goldsworthy may have been practicing as a surgeon but he maintained his interest in chemistry and mechanics and invention. He was also an accomplished pianist and combined his interests to make a pipe organ and then to invent a way to join it to his piano so they could be played at the same time. It was understandably described as a 'large instrument'.
1820
In 1820 Gurney and his young family moved to London. Rural life was under pressure from the thousands of returning soldiers as war with Napoleon was over, many social turmoil's and political changes were in the offing. The family settled at 7 Argyle Street, near Hanover Square, in the rapidly expanding western suburbs where Gurney continued to practice as a surgeon. Wishing to seek his fortune Goldsworthy aimed to establish a reputable business as a doctor and studied to obtain his licence from the "Worshipful society of Apothecaries", as required by the recent Apothecaries Act of 1815.
London was not a healthy place to be; while he lived in the newer part of the city even the buildings here were soon blackened but the endless smoke of the city. Soot from coal fires was mixed with the outpourings of factory chimneys and vapours from Gasworks and tanneries. Open drains, overflowing cesspits and endless horse droppings covered the streets adding to the stench, vermin and generally 'poor air' and the banks of the River Thames were strewn with sewage. It is said that the only thing that equalled the size, wealth and energy of London was it's "noise and squalor." Clearly there was a need for men of medicine, in more ways than one, but we shall hear more of that later.
Goldsworthy could not follow the normal Medical route and join the Royal College of Surgeons as he lacked the necessary University degree. So, he became a lecturer in Chemistry at the Surrey Institute, based on the south side of Blackfriars Bridge. It was meant to "... afford the working classes a means of self culture". Apparently Gurney had great skill and ability in delivering scientific ideas in writing and through his lectures.
By combining science, lecturing and medicine Goldsworthy started moving in the circles of the most eminent men of the time. He continued to correspond with Richard Trevithick (despite him having left for South America), was able to meet with politicians as his old friend Davies Giddy (by now known as Gilbert) was a member of parliament, and on the board of the "Royal Institution", and another old associate Humphry Davy (who also attended Truro Grammar school) was the leading researcher with the "Royal Institution". Gurney quickly gained a level of respectability and standing, and his series of lectures on the elements of chemical science to the Surrey Institution proved most lucrative. Gurney claimed that his freelance lecturing prior to 1822 earned him between £300 and £400 a year, in an age when £150 could establish a person comfortably in the middle classes.
1822
A new addition to the Gurney family arrived when Goldsworthy John Gurney (Jr) on the 2nd of March 1822. Gurney was now being courted by other institutions but he felt that security of lecturing for an educational term or a series of lectures was more expedient than one off talks. He was formally appointed lecturer of the Surrey Institution in 1822.
As part of the ongoing lectures, and in the expanding of his scientific knowledge, Gurney gave a lecture in which he stated that:-
"elementary power is capable of being applied to propel carriages along common roads with great political advantage, and the floating knowledge of the day places the object within reach."
As a part of his experiments, and to demonstrate his point, he constructed 'a little locomotive' that ran on 'ammoniacal' gas; it performed most successfully.
Another 1822 lecture of Gurneys discussed his interest in the warming and ventilating of buildings. He explains that, in collaboration with others, he thought of using steam to heat various types of buildings including houses. A system of pipework, connected to an external steam boiler, would feed simple heaters in rooms around the house. It is easy to see how this developed into hot air heater systems and modern hot water central heating radiators.
Gurney applied this idea to a new heating system for the House of Commons. It is also one of the earliest implementation of fins on the heating pipes, possibly the first time anyone had thought to improve the heating output of the pipes by increasing their surface area. Gurney later used such fins on his cylindrical warm air heating stove; he received a patent for the warm air stove but never patented the principle of the fins.
1823
Gurney was being drawn away from his medical work more and more; he took a partner in his medical practice and withdrew to devote himself to his other research.
In other experiments Gurney built on the hydrogen gas blowpipe work of Edward Daniel Clarke and the American Robert Hare. Gurney's use of the oxy-hydrogen blowpipe in experiments helped him discover the practical use of heating Calcium Oxide to high temperatures with the blowpipe created 'Limelight' which became a very practical form of lighting in theatres the world over and gave us that enduring phrase of actors being 'in the limelight'; Gurney was its first exponent.
Sir Anthony Carlisle, noted physician and scientist, presented Gurney to Prince Augustus Frederick, Duke of Sussex, to show the Prince some experiments in crystallisation and the production of limelight. The Prince was a great lover of science and philosophy and when the Society of Arts voted for the invention of the oxy-hydrogen blowpipe worthy of a Gold medal it was the Duke of Sussex that personally presented the Isis gold medal to Gurney.
In 1823 Gurney began his experiments in steam locomotion with the aim of constructing an engine to travel on the new and improved roads being built by McAdam and Telford. He would need to reduce the size and weight of the engines and to be able to create enough power and control to vehicle. As part of his experiments and studies Gurney produced and engine weighting thirty hundredweight (rather than four tons) and increased power through the invention of the 'steam jet.' Some people attribute the idea to George Stephenson who, like others of the time around 1814, sent waste steam from the cylinders up the chimney. It would increase the draft but it was not the full vacuum high-pressure 'steam-jet' principle Gurney was developing.
One of the weight saving factors was a new tubular boiler that doubled back on itself saving space and keeping the water pipes in the highest heat area to increase the power. This would help to give the later 'Gurney Drag' a quite unique appearance differing extensively from other road locomotives.
1825
Gurney's mind must have been very fertile as the range of his inventions is quite broad to say the least. On January the 11th 1825 Gurney was awarded Patent no.5068 for a 'Finger keyed musical instrument in which a performer can hold or prolong the notes'. I have failed to find an image or description of the item so we are left to dream for ourselves what it was like.
Gurney gave serious thought to the construction of a ´horseless´ steam propelled vehicle which could be used to provide travel on the common roads. He registered his progress on the designs with Patent 5170 issued on the 14th of May 1825, for 'Apparatus for propelling carriages on common roads or railways..... without the aid of horses, with sufficient speed for the carriage of passengers and goods'. Goldsworthy carried out his practical work in a small workshop in Oxford Street.
This Patent outlined a rather crude steam locomotive propelled by legs. Gurney found it hard to believe in the tractive power of driven wheels, despite the fact that several road locomotives had been had been built and driven by the wheels alone. During his experiments with this engine the machine climbed up Windmill Hill, near Kilburn, and made a nine mile journey between London and Edgeware. While the contraption clearly worked it was not as effective as similar machines designed by William Brunton (1813) or David Gordon (1824).
It is known that between 1824 and 1827 Gurney developed and perfected his steam jet, or "blast nozzle", which became one of the most controversial and important developments of the steam locomotive age. Gurney had written about his ideas in correspondence with Timothy Hackworth and Hackworth adapted a locomotive of the Stockton and Darlington Railway company called "Royal George". The steam jet gave a 'dramatic performance improvement', so much so that Hackworth claimed that prior to the Rainhill Trials of October 1829, Stevenson sent men to study the steam jet on Royal George and then reproduced it for the Rocket. Apparently the Rocket had previously covered an uninterrupted journey of twelve miles without any load in fifty-three minutes; when the steam jet principle was applied the speed jumped up to around 29mph.
Stephenson had already used the idea to a degree by directing waste steam from the cylinders up through the chimney but Gurney did two things which were far more effective then Stephenson's idea. Firstly Gurney drew high-pressure steam from the boiler itself and secondly he put the steam jet directly in the centre of the chimney making it completely effective in forming a vacuum. Over time he revised the idea to create a sort of Christmas tree of pipes to make a really powerful jet and thus a powerful vacuum and draw through the airbox. Hackworth applied something similar to his new engine 'Sans Pareil' for the 1829 trials.
The steam jet is a simple idea but required careful study and development. The basic principle of the steam jet is that a jet of steam forms and expanding cone expelling air from the space ahead of it and resulting in a partial vacuum behind. In an open space air rushes back around to fill in the vacuum behind, Gurney picturesquely described the effect as an "aerial flowerpot". If one forces the steam up a narrow tube or chimney there is no opportunity for the air in front of the cone to go around and fill in the vacuum so the strength of the vacuum is increased and so is the strength of the draw through the chimney from behind. On a steam locomotive the only way for air to get to the chimney from below is through the fire box and so it makes a powerful draft through the fire box increasing temperature and thus steam power. Gurney also found that by increasing or decreasing the pressure of the steam jet he could regulated the draft. In short Gurney was much increasing the power-to-weight ratio of his steam engine.
George Stephenson won the Rainhill trials as the Rocket was the only engine to finish the course; and Stephenson's name then became associated with the steam jet design. Controversy remains however, as it is reported that another (unknown) person had already taken out a patent for the idea, Trevithick had used a very similar system on stationary engines and, despite his daughter Anna's assertion in an 1875 letter to The Times that her Gurney had communicated the idea to Timothy Hackworth, letters acquired by the National Railway Museum indicate that Hackworth may have discovered the idea first.
As Gurney never patented this idea and there a so many brilliant names associated with it I think it is safe to assume the engineers had discussed the idea amongst themselves and the steam jet evolved though the different minds. That said it seems clear that Gurney studied the idea in far more depth than anyone else and his ultimate steam jet 'tree' was the most effective.
Another part of the methods for reducing overall weight was the need for a smaller lighter, but more powerful boiler. This Gurney achieved with another innovative system, his 'Apparatus for generating and raising steam' was awarded Patent no.5270 on the 21st of October, 1825. In actual fact the patent describes two steam boilers both of which are quite ingenious.
The first is a system consisting of a number of bent tubes, each forming a sort of figure of 8, with a large tube along the bottom connecting them all for water to enter into and an equally large tube along the top for the collection and transfer of the steam. The fire was made on a grate within the bottom circle of the figure 8 with a solid plate above to stop it burning through the pipes in the centre of the 8, and at the same time directing heat up and back trough the top circle of the figure 8 on its way to the chimney.
The second is of a more robust nature. Imagine a large cylinder with a smaller cylinder fixed within it. The ends are closed to resemble something akin to the water jackets later welded around the cylinders of internal combustion engines for cooling purposes. Lay this in the horizontal plane and add two semicircular tanks of similar construction above the cylinder one on top of the other. Give a little space between each on and connect them together with pipes. Water would be fed into the bottom of the cylinder and a fire made on a grate within the hollow of the cylinder. The heat would pass around all the elements of the boiler and the steam would be taken off from the top 'tank'. This system can be seen as a development of the stationary boilers designed by Trevithick some years earlier and which Gurney most probably would have been familiar with.
Interestingly the address given on this patent for the designer is Argyle Street, Middlesex, which helps us narrow down the date of his move to the larger premises at Albany Street, to late 1825 or early 1826.
1826
The move to 154 Albany Street, near Regent's Park, known as 'The Regents Park Manufactory', provided living space for his family and much increased working space. At 152-4 was originaly an ophthalmic hospital designed by John Nash. It had been the premises of American inventor and engineer Jacob Perkins who was developing a 'steam gun', the noise of which both alarmed and annoyed the neighbours. One wonders how long they were happy to have the owners in occupation once the news of a steam engine works got around.
Gurney's early version of the automobile progressed showing much technical merit and designs improve little by little but the time was soon upon him for the initial trials. Gurney's daughter Anna, then about 14 years old, saw the first trial of the steam jet from a window above the large work yard behind the Albany street premises in late 1825 or early 1826. She recalled later that when her father got up steam and activated the steam jet, the draft up the chimney "was something terrific to see and hear".
On the first trial run, the carriage leaped into motion with such power that Gurney could not hold it on its course. It knocked down one of the pillars of the colonnade before he could shut off the steam and come to a halt. Then, in Anna's words :-
"He stepped down from the carriage and walked a little distance looking as white as death. This was an awful moment for him, as he felt he had drawn on some unearthly power over which he had no control"
The coach was about 20ft long, it could carry six people inside and fifteen outside. Gurney installed his own patent boiler which could produce a motive power of 12hp. The whole affair weighed around 1.5ton. The leading wheels were 3ft 9in while the rear driving wheels were 5ft and were supplemented with two 'propellers' which could be engaged to help the carriage climb hills. These 'propellers' were really legs that could push the vehicle. During 1826 Gurney tested his vehicles on several trips around the locality and excursions to Barnet, Edgware, Hampstead, Highgate, and Stanmore. It is reported that the steam coach could reach speeds of up to 20mph (32 km/h) and could climb High Gate hill without difficulty. Confident that the wheels alone could drive the vehicle up hill Gurney removed the 'propellers' as they were clearly not needed.
Goldsworthy Gurney's intention was to establish a commercial steam road transport business to be called 'the Gurney Steam Carriage Company'.
If anyone is thinking that Gurney must be working flat out on his steam vehicles then I have to tell you about another of Gurney's experiments. He was still working with the blow pipe and a number of different materials when he discovered that a very powerful limelight could be achieved by fusing lime and magnesia. This light is known today as 'Drummond Light,' due to it being used by Thomas Drummond when he did a 'trigonometrical' survey of Ireland during 1826-7. Drummond wrote a letter to the chairman of a committee of the House of Commons on lighthouses, Joseph Hume making it clear that :-
'I had no claim to the invention of the light, for I had it from Mr. Gurney in 1826.'
1827
After extensive trials Goldsworthy Gurney patented his design, it is a 'Tour de force' in engineering design from a time when steam power was in the birthing pains of becoming a motive force. Patent no. 5554 for 'Locomotive engines and the apparatus connected therewith' was awarded on the 11th of October 1827. Gurney described what his patent entailed as :-
"a steam coach or carriage adapted to convey passengers and baggage and to be propelled forward on common roads by the power of the locomotive steam engine contained within it (instead of horses)."
Or in the 'techno speak' of the time :-
"My improvements in Locomotive engines and the apparatus connected therewith, consist in a certain arrangement and modification of the various essential parts of locomotive high-pressure steam engines , whereby such parts are adapted to each other, and combined together in a suitable manner for coaches or travelling carriages, so as to impel the same forward upon common roads and highways without the aid of horses, and with a sufficient speed for the conveyance of passengers and goods. And whereas it is by virtue of particular combinations of all the essential parts of locomotive engines, and of certain apparatus connected therewith, and by the adaption thereof one to another, that I have been enabled, after long study and repeated trials, at great expense, to produce a locomotive engine, applied in a stage coach, which is capable of advancing itself in an efficient manner along a common road when loaded with passengers; hence my chief claim to improvement consists in the totality of that particular combination of parts one with another which constituted the locomotive engine or steam coach which is herein after described. By such description competent mechanicians may construct and execute locomotive engines for steam coaches after that manner which I have found to perform properly for carrying passengers on common roads. The previous attempts by other persons to attain that object have proved unsuccessful for want of knowing how to combine the parts of locomotive engines with each other and with the apparatus of travelling coaches in a suitable manner for the purpose; but I have succeeded in finding out the particular means necessary to be used for attaining the desired result".
In its final form the steam coach had a centre section that resembled the appearance of an ordinary coach of the day. However, this coach section was much higher than any horse drawn coach, requiring it to be accessed by ladders, as the chassis which held the boiled and engine needed to be higher in order to clear the axels. These in turn were also higher as the main drive wheels were much bigger in an effort to provide a smoother ride over the rough cobbles and gravel roads of the day. The coach actually had six wheels; the two large rear driven wheels followed two medium sizes wheels on a carriage style fifth wheel system steered in turn by two small pilot wheels set well ahead of the coach itself and operated by a tiller lever.
As well as the coach section travellers could sit outside on two areas, one in front of the coach behind the driver and one behind the coach section above the boiler. It could have been possible to carry over twenty passengers if all the seating space was used.
The motive force came from high-pressure steam generated in the rear mounted boiler. Steam is forced against two moveable pistons housed in cylinders fixed beneath the chassis in a horizontal position which work together in order to turn the rear wheels via a system of connecting rods and cranks. A third smaller high-pressure steam cylinder was used to revolve a 'fanner' at great velocity so as to pass a continual current of air through the furnace and boiler; in turn generating a strong fire. This third cylinder also had the job of operating a pump which constantly replenished water in the boiler as fast as it evaporated into steam. Smoke was directed up two fairly short chimneys although some contemporary drawings show there to be four chimneys.
One of the longer journeys made in 1827 was when Gurney answered the request of a Mr. Crawshay to bring the steam carriage to Cyfarthfa. The Crawshay family were masters of the Iron works at Cyfarthfa in Merthyr Tydfil, Wales, and Mr Crawshay wished Gurney to apply his steam-jet to the blast furnaces at the iron works. The result was an "immense impetus to the manufacture of iron".
Sadly Gurney's venture into the steam carriage business did not get off to a good start. The design of the carriage had the coach section just ahead of the steam boiler and the rear outside riding area directly above the boiler. Most passengers were more than a little apprehensive sitting so close to such a potentially explosive item. The partnership of Goldsworthy Gurney and James Viney, to run the firm of Gurney and Co, at the Regent's Park Manufactory for Steam Engines, was dissolved in 1827 by mutual consent. It has been reported that this is when Charles Dance took his opportunity to stake a claim on the idea and bought all of Viney's shares in the proposed Bristol to Birmingham route via Cheltenham and Gloucester.
1828
Trials and development continued for around eighteen months with a number of patented improvements installed. In the May of 1828 the steam carriage....
"which was propelled by the adhesion of one wheel, though means were provided for driving with both if required."
....again foiled the doubters by easily climbing Highgate Old Hill. Unfortunately the enthusiastic workmen forgot to 'lock' the driveshaft to the rear wheels. As a result the carriage picked up too much speed and with no engine braking available Mr. Gurney was unable to maintain control; the vehicle broke a wheel before it ground to a halt, fortunately without harm or other damage being caused.
1829
In July 1829 the Gurney steam carriage travelled from London to Bath, and back, over the normal roads of the time. This memorable journey was apparently made at the behest of the quartermaster-general of the army and proved the machine was not only sufficiently robust to do the job but also set a very impressive overall speed of almost 15mph; nearly twice the speed of a coach and horses.
Clearly such a journey was a mammoth undertaking for the era and problems must have been expected, as would stoppages for fuel and water, but fog in July might not have been. While negotiating heavy fog on the road outside Reading the Bristol mail coach made a sudden appearance and very nearly crashed head on into the steam carriage. Gurney was able to take avoiding action but ran into a pile of bricks which broke a part of the mechanism for driving both rear wheels at full speed.
This maiden journey was also hampered outside Melksham by an attack by a 'Luddite mob'. According to Gurney's daughter Anna, in her letter to The Times of December 1875 :-
"I never heard of any accident or injury to anyone with it, except in the fray at Melksham, on the noted journey to Bath, when the fair people set upon it, burnt their fingers, threw stones, and wounded poor Martyn the stoker".
The rest of the journey to Bath was made with an escort of guard, although some sources say the coach was hauled into Bath by horses. Repairs were made in Bath so the steam carriage could return to London. The return journey was made with power to only one wheel but the carriage still had enough speed to pass fifty horse-drawn carriages and to take just ten hours, including stoppages, to travel the last eighty-four miles, from Melksham to Cranford Bridge, near Hounslow.
Apparently Gurney claimed he:-
"kept up steadily the rate of twelve miles per hour; that the extreme rate at which he has run is between twenty and thirty miles per hour"
Although this carriage had many improvements over preceding models, was the first mechanised vehicle to carry out a long journey at sustained speeds and has been illustrated in numerous books and websites about the steam engine, some authorities claim it was actually the least successful of all Gurney's designs. However Gurney had demonstrated a fare paying service by steam carriage was a possibility, so he took steps to start a company to run such a service.
Gurney's best known vehicle was a lead car powered by a high pressure steam engine, a modern equivalent would be more like an articulated lorry tractor. 'The Gurney Drag' was capable of quite reliably travelling up to 80 miles a day. If the steam engine or boiler blew up, as early steam engines could do, the separateness of the drag from the carriage meant the passengers were also further away from the blast. It was an attractive way to travel on roads and allowed Gurney to establish a paying route on the London to Bath road sometime around summer 1829.
Some steam coaches of the era, such as Hancock's steam omnibus, were eminently practical and others, like William Church's steam carriage, were huge and extremely ornate, but Gurney's iron horse pulling a modified carriage was definitely in the 'practical' bracket.
The Drag consisted of a boiler, of Gurney's two horizontal drums one above the other design, with a relatively small heating surface and an 'engine' of two longitudinally and horizontally mounted cylinders set side by side within the chassis with operating cranks to drive the revolving rear axle. The rear wheels were actually loose on the axle and had to be engaged by arms through the felloes. For normal running on level roads it was only necessary to engage one wheel to drive the drag but for steep hills both rear wheels would be engaged.
The steering was by a clever revolving steering post with crosshead steering levers on top and a cog below. This meshed with a toothed semicircular plate attached to the front wheels which pivoted around a centre point in true carriage fashion.
This form of vehicle was the bases of Sir Charles Dance's Cheltenham and Gloucester passenger transport company and was also sold to a Scottish company than ran a service from Leith to Paisley.
1830
1830 became important for Gurney in other ways as legend in the town of Bude explains. Gurney leased some land from his friend Sir Thomas Acland in order to build a new home for his family. The plot overlooked Summerleaze Beach in Bude and is an area of sand dunes. Locals challenged Gurney's plans to build on the sands and said it could not be done; Gurney's simple reply was 'Wait and see'. The old song might say that "the foolish man built his house upon the sands" but Goldsworthy Gurney was far from foolish. Over 180 years later 'Bude Castle' stands proudly against the Atlantic coast as a world first in construction techniques. The inventive Gurney constructed the first building on a concrete raft and it can still be visited today as it is home to the Bude-Stratton Town Council.
Gurney refocused his attention on earlier interests and resumed his experiments with oxygen and flames for lighting. Furthermore he took an interest in extending the reach of light by use of prismatic lenses. Gurney was able light his 'Castle house' with a system of prisms and lenses which spread the bright light of the oxygen infused flame through his whole house; this was to become known as 'Bude light'.
1830 was also the year Gurney became Godfather to William Carew Hazlitt, a man who credits Gurney with property development in Fulham, suggesting Gurney was still spreading ideas and influence in construction as well as lighting. Gurney had brought himself to the level of a 'Go To' man for difficult problems and was even able to use his steam jet principles extinguish underground fires and ventilate mines. The 'Steam jet' would go on to have some other very useful applications too meaning Gurney undoubtedly contributed to the saving and preserving of many more lives.
1831
Sir Charles Dance was enthusiastic about road locomotion and financed and encouraged several engineers working on steam road vehicles. Having previously witnessed the Gurney steam carriage in London, and invested in it, Dance used the Gurney drag to run a service between Gloucester and Cheltenham. The carriages pulled by the Steam lead car, traversed the 9 mile journey four times a day often covering the distance in as little as 45 minutes. Dance assembled a fleet of three of Gurney's carriages and in three months the 'sensibly built' steam drags covered nearly 4000 miles and carried around 3000 passengers. Not a single accident occurred and the worst that could be said was that there were occasional delays due to 'leaky boiler tubes' which slowed the engines but never stopped them.
In similar fashion a pair Gurney machines were sent up to Scotland to run a service between Glasgow and Paisley. The first went by sea to Leith but was unfortunately damaged during the voyage, requiring Gurney to return to London for spare parts. Gurney gave strict instructions that it should not be used Gurney himself was careful to maintain safety standards but the unserviceable 'drag' was moved to a military barracks and unskilled operators fired up the boiler without his supervision. When the boiler inevitably exploded two people were severely injured.
There is evidence that Scott-Russells used the second carriage to run a service to Glasgow. A Mr. Ward made several trips in carriages pulled by the Gurney 'drag' in May, 1831. It is though unclear whether it was a fare paying service. Unfortunately during one journey from Glasgow to Paisley (possibly dated as late as 1834) the boiler burst injuring some of the spectators and local newspapers carried the story of the explosion and injuries, some sources reported two people having been killed.
When the satirist Thomas Hood wrote....
Instead of journeys people now go upon a Gurney
With steam to do the work by power of attorney
But with a load it may explode And you may be undone
And find you're going up to heaven Instead of to London.
..... the end for the service, and the drag, had come.
The incomplete chassis from one of this 'Scottish pair', now named 'Lord of the Isles', resides at the Glasgow Museum of Transport. It was found in a barn near the Paisley Road in 1889 and immediately presented to the Museum. This important piece of automotive history is probably the oldest surviving self-propelled road vehicle in Great Britain.
While the steam carriage had not been a commercial success the Gurney drag, or lead car, was clearly a far more promising proposition. But it was to face problems from a familiar source; James Watt. As we have seen in our biographies of William Murdoch and Richard Trevithick, Watt opposed high pressure steam and its use for locomotion. While he lobbied Parliament and succeeded in getting an Act of Parliament passed to impose excessive and prohibitive tolls on steam carriages using toll roads his supporters would cover roads with loose stones up to 18 inches deep in order to impede the steam passenger services of Sir Charles Dance, on the Cheltenham and Gloucester Road, and Scott-Russells' on the Paisley and Glasgow road.
Sir Charles Dance is recorded as saying :-
"Obstacles are always thrown in the way of a new invention, particularly if it is likely to produce important results, by those who expect their interests will be affected by its success."
On the 22nd June, 1831,
"large heaps of stones were laid across the road, four miles from Gloucester, about 18in' deep; whilst struggling over this obstruction the axle was broken".
In the counties of Britain narrow minded country gentlemen, trustees of roads, farmers, coach proprietors, coachmen, even post boys and district magistrates, erroneously thought their interests were at risk and opposed the substitution of horse power by steam power in general; and Gurney's steam carriages in particular.
Of course the public were right to worry about the possibilities of explosions from steam engines and any mode of public conveyance powered by such dangerous items, but for the most part Gurney had taken considerable safety steps, as had Trevithick before him, so that in knowledgeable hands the steam drag was really quite safe. Sadly some people always think they know more than they do and this led to the disasters which ultimately forced Goldsworthy Gurney out of the arena of steam transport.
If public opinion were not enough to stop the perceived threat to certain quarters James Watt was at the heart of what has been described as "one of the most disgraceful and mean conspiracies against a national undertaking that can be well remembered". 'The Honourable House' was led by means of intrigue and false representation to pass bills that levied a toll of £2 on a steam carriage while a horse drawn carriage was 2 shillings. Such rates were obviously prohibitory and commercial speculation collapsed; Gurney gave up all his work in the area of steam locomotion.
Gurney did petition House of Commons and a Select Committee was set up in 1831 to investigate the subject of steam locomotion on common roads. After sitting for many months and accepting the evidence of many witnesses the committee came down in favour of steam powered carriages. They reported :-
'that the steam carriage was one of the most important improvements in the means of internal communication ever introduced; that its practicability had been fully established; and that the prohibitory clauses against its use ought to be immediately repealed.'
'Mr Goldsworthy Gurney was the first person to successfully operate steam carriages on common roads, and he took out patents for his invention in 1825 and 1826-27. In 1830 Mr Gurney entered into contracts with various individuals for the commercial exploitation of his invention, carrying passengers at a lower fare than horse carriages. In 1831 more than 50 private bills were passed by Parliament imposing prohibitive tolls on steam carriages (two pounds or more, while horse carriages might pay six shillings or less), and the contractors suspended their operations, pending a petition to Parliament. A select Committee was appointed, and concluded that steam carriages were safe, quick, cheap, and less damaging to roads than horse carriages, that they would be a benefit to the public and the prohibitive tolls should be removed. A bill to this effect was passed by the Commons but rejected by the Lords.'
But the clauses were not repealed and a second committee was appointed. Once again they found in favour of Steam carriages and concluded the legal clauses were prohibitory. As such they recommended Gurney receive a grant, of not less than £5000, in lieu of the damages and losses he had sustained by the passing of the acts of parliament. I was also put forward that his patents be extended fourteen years beyond the date of its expiry at the tax payers' expense.
He never got any of it though; the railways were able to interfere and divert public attention so Gurney's claims could be ignored.
1832 to 1835
By the spring of 1832 Gurney had run out of money. While there were some people willing to buy 'the Gurney Drag' they couldn't afford to pay everything up front and Gurney himself was no longer willing to suffer the burden of risk and cost himself. Two "perfect" steam drags sat in the yard but Gurney refused to release them unless money could be raised to build a third.
Goldsworthy Gurney was a very busy man. In financial difficulties he was trying to stave off bankruptcy while fighting parliament and trying to float a company to run his improved carriages, even the proposition of a joint venture with Hancock, Maceroni and Redmund was put forward although they all came to nothing.
One of Charles Dance's steam vehicles was returned to London after the cessation of the 'Cheltenham and Gloucester service. During repairs by Messrs. Maudsley and Field it's power output was improved, this resulted in a new patent taken out jointly with Maudsley and Field. Late in 1833 this steam drag towed an omnibus at a speed of 16mph.
In September Sir Charles Dance took the combination the 52 miles from London for Brighton in five and a half hours; carrying 15 passengers. On the return leg Dance completed the journey in under 5hrs! According to one Mr. Young, during the October of 1833 the 'Drag and Omnibus' made some other journeys in the capital.
"were put upon the road between Wellington Street, Waterloo Bridge, and Greenwich, where it continued to run for a fortnight, with a view of showing the public in London what could be done in this direction. The proprietor had no intention of making it a permanent mode of conveyance, and therefore kept the company as select as he could by charging half a crown for tickets each way."
Gurney was also following other avenues to try and raise money and patented a Musical instrument in 1833. Patent no. 6483 was granted on 7th October 1833, although the specifics aren't available it has something to do with glass and was along the lines of a piano. It is recorded that the instrument was performed upon at the Colosseum in Regent's Park.
Some writers have suggested that although Gurney received a great deal of credit for his work regarding steam carriages, others, most notably Hancock and Maceroni, should be considered more noteworthy. We tend to think that amongst contemporaries at a time of fast development, where new ideas spawn more new ideas, it is the whole arena that needs to be examined rather than individual gladiators. While there were many detractors there were also supporters of Gurney's work and position. Sir George Cayley is recorded as:-
"He considered Mr. Gurney a very ill-used man. On the faith of our patent laws, Mr. Gurney had given up, to pursue this noble invention, a lucrative profession. Five years of toil, and an expense of £30,000, brought it into practical use; yet he is now deprived of recieving any remuneration --- not from any want of success in his experiments, not from failure in his carriage, but by Act of Parliament: by our act and deed has he been wronged, and by our act and deed ought he to be, and I trust will be, redressed."
The circumstances of the situation forced upon Gurney engendered much controversy amongst contemporary scientific publications. The failure of steam powered road vehicles polarised opinions within the scientific and political communities and had Gurney's daughter Anna Jane Gurney not been so devoted to his cause and memory Gurney's name and inventions may have slipped away completely. Gurney's enthusiasm for automotive transport was now deflated, in 1834 he said:-
The circumstances of the situation forced upon Gurney engendered much controversy amongst contemporary scientific publications. The failure of steam powered road vehicles polarised opinions within the scientific and political communities and had Gurney's daughter Anna Jane Gurney not been so devoted to his cause and memory Gurney's name and inventions may have slipped away completely. Gurney's enthusiasm for automotive transport was now deflated, in 1834 he said:-
"When the repeal did not pass, I sold all my materials for manufacturing, and gave up my factory; feeling that injury had been done to me."
He never returned to that line of experimentation and the remaining business assets were auctioned off and a lot of money was lost; Gurney was bankrupted to the sum of £232,000, an enormous amount for the times. Not only was Gurney now stopped from building or operating steam carriages, he couldn't protect his patents either. One of Gurney contemporaries and competitors Maceroni recorded that:-
"At a sale in 1834 a couple of those celebrated steam carriages, all but new (with a seperate engine to work the pumps and blower), were sold for a mere trifle."
1837
If anyone thought life would get easier for Gurney it didn't. Elizabeth, his wife of 23 years, passed away and was at St. Martin in the Fields. Gurney and his daughter Anna Jane moved to a smaller house on the outskirts of Poughill, near Bude, called 'Reeds'. Anna remained steadfastly loyal and supportive to her father and has been described as "his constant companion".
1839
Gurney's "Apparatus for producing and distributing light", the so called Bude light was patented on the 8th of June 1839. With further improved versions for the "Production and diffusion of light" following on the 25th of March 1841. The system was so good that Gurney was invited to try it in the houses of Parliament where he replaced 280 candles in the house of commons with just three of his Bude Lights. This system remained in use until replaced by electric lighting.
1841
By this time Gurney's method for lighting theatres with pure lime was spreading all over Britain, and beyond, his name was reflected in Parliament and his light was used in the streets of London. But it wasn't the end of his work; Gurney saw another application for bright light and prismatic lenses. Lighthouses! By using mirrors and lenses on a revolving frame to extend the reach of his bright flames, Gurney not only created a light that was hundreds of times more powerful than that which proceeded but also allowed for a system of timed on/off patterns which sailors could use to identify which lighthouse they were seeing. The system must have saved countless lives and is a most creditable achievement.
1842
More experimentation and developments in lighting brought other clever ideas out of Gurney. He was interested in reclaiming the heat from lighting fittings and with the idea of using pipes to transfer heated water, vapour or steam, to heat rooms or other things. The patent of 18th of August 1842, no. 9451, for "Apparatus for producing, regulating and dispersing light and heat", holds a passage which says:-
"this heated vapour or steam may by the means of the pipe be conveyed to heat baths or rooms"
Advanced thinking in terms of reclaiming heat energy and also ecologically friendly. In addition to internal lighting the bright light and prismatic lenses were used in Trafalgar Square and along Pall Mall to Waterloo place. From the l0th January 1842, the lights were said to have been so bright as to illuminate the whole of the open space and make the gas lamps appear as dim and ineffective as the gas lights themselves had done to the old oil lamps they had replaced.
1844
Gurney made a bit of a change in his life in 1844 when he purchased the lease for Hornacott Manor, near Boyton, around 10miles away from Bude. Gurney was always interest in farming having observed so much of it as a child. For periods of each year here after Gurney would reside on the manor and give such great attention to practical farming as to become president of the Agricultural improvement groups in both Launceston and Stratton.
1847
More sadness came for Gurney in 1847 when his son, Goldsworthy John, died at a fairly young age of 25.
1849
During an outbreak of cholera in the capital Gurney drew on his medical and engineering knowledge to help eradicate the source of infection. He used his 'steam-jet' experimentation systems to clean many of the sewers in the city and oversaw "the ventilation of the pestilential sewer in Friar Street, London, which could not be cleansed by any other means". Gurney went on to advise the metropolitan commissioners of sewers that it would be prudent to place steam-jet apparatus at the mouth of every sewer that drained into the great Thames riverside sewer.
Having seen steam-jet, or blastpipe, system ventilate the sewers Gurney applied his ideas to the problems of mine ventilation. Drawing air through pipes also served to increase the raw of stationary steam engines and blast furnaces in several locations
1850
Gurney continued to develop innovative techniques to solve a range of problems effectively becoming an engineering consultant. He gave up the lease on 'the Castle' in Bude and lived at the house on outskirts of Poughill.
1851
Gurney's knowledge of the movement of heat and air caused him to be brought into the houses of parliament for another problem to be solved. The air quality in London, particularly around the Thames, was very poor and during 'the Great Stink' the houses of parliament became an most disagreeable place to try and work.
Goldsworthy Gurney, and an assistant Alexander Woodlands Makinson, worked out how the air circulated in Westminster (principally by setting of charges of gunpowder) and found that heating the air at the base of the towers created a draft which helped draw in air to ventilate the Houses of Parliament.
Gurney must have been getting some remuneration back out of Parliament now as his household in Cornwall was not exactly small 1851 Cornish census for area 35, Lower Trevorgus reads:-
John Gurney Head, 59, Landed Proprietor Padstow, Cornwall.
William C Gurney Son, 22, Articled Clerk, St. Merryn Cornwall.
Jane Gurney Dau, 20, St. Merryn Cornwall.
Clara Pfeil Visitor, 21, Carisbrook I O W Hampshire.
Ann Molder Servant, 60, House Servant, St. Minver Cornwall.
Susan Prout Servant, 22, House Servant, Endellion Cornwall.
Thomas Bragg Servant, 33, Servant Boy, St. Merryn Cornwall.
John Bennett Servant, 17, Servant Boy, St. Merryn Cornwall.
William H Curra Servant, 10, Servant Boy, St. Eval Cornwall.
In keeping with his consultant status I suppose, and as he had also been able to develop his steam-jet idea to aid in dealing with mine fires I expect money was starting to become more readily available for him.
The most notable of the mine fires Gurney dealt with was known as the burning waste of Clackmannan. This fire had raged underground, over an area of 26 acres, for over 30years when Gurney was able to extinguish it. By pumping in 8,000,000cubic ft of a nitrogen/carbon dioxide mixture, known as chokedamp, followed by cooling it all down with sprays of water It is estimated that Gurney saved the South Sauchie Colliery near Alloa £200,000 in valuable property. Furthermore Gurney's evidence given at inquest into a colliery explosion at Barnsley prompted the government to pass laws stating that "all coal mines should have two shafts".
1852
Due to his success in dealing with mine fires and improving mine ventilation Gurney was commissioned to do more work to aid ventilation systems at the Westminster Houses of Parliament buildings. He succeeded in improving the air flow but eradicating the soul stench of the Thames was not really a feasible outcome!