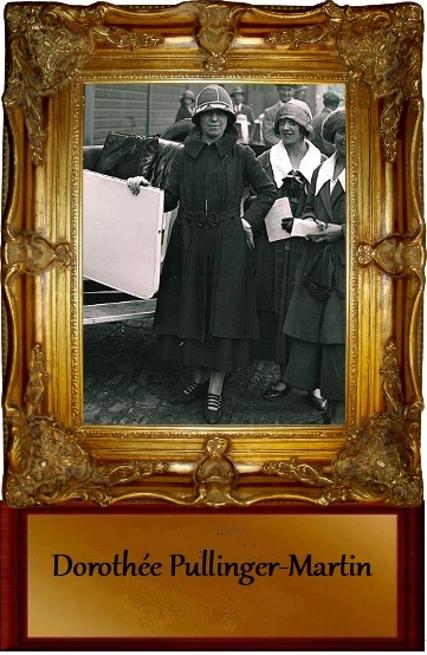 MMIM Hall of Fame
Dorothée Pullinger MBE

We live in a time when most countries actively encourage equality of the sexes and promote women taking up engineering and the sciences; it hasn't always been this way. Even today the percentage of women in engineering jobs is very small and addressing the inequality of numbers is discussed at governmental levels. This makes the achievements of Dorothée Aurélie Marianne Pullinger, beginning over 100 years ago when "a woman's place is in the home" was the expectation of a patriarchal era, all the more remarkable.
Dorothée Pullinger was an aeronautical and automobile engineering powerhouse, capable of not only managing a workforce, and wider business, but also drawing the designs for the products to be fabricated, she proved the worth of women in all areas of business, entrepreneurial endeavour and engineering design and fabrication.
DorothéeAurélie Marianne Pullinger was born on the 13th of January, 1894, in the little known, but charming, village of Saint-Aubin-sur-Scie in the Seine-Maritime department, Normandy, northern France. Situated on the river Scie, in the Pays de Caux, around 5 miles (8.0 km) south of Dieppe, the little village is usually only remembered for a medieval battle (1053) which was part of the William the Conqueror story. That's a tough act for Dorothée Pullinger to compete with but in her time, she was just as revolutionary.
Her father was the British engineer, bicycle and car designer, Thomas Charles Willis Pullinger CBE OBE OBK JP (1867 – July 1945). He had moved to France in 1891 when the Humber cycle company sent him to liaise with the Gladiator Cycle Company in a joint venture with Humber. Things weren't going well for Humber at the time and T.C. Pullinger joined the firm of Alexandre Darracq as an assistant and designer. His time in France saw Pullinger grow in stature as a designer and manager. He worked for Duncan and Superbie, building Hildebrand & Wolfmüller motorcycles under licence, and Teste & Moret where he designed a cyclecar by putting a 2¼hp Dion engine into an original designed frame. During his development of the machine he found it had overheating issues, he designed water-cooled cylinder head for the de Dion-Bouton engine which worked so well de Dion-Bouton bought them too.
Dorothée's mother was French, Aurélie Berenice Pullinger, née Sitwell (1871–1956), obviously a strong woman as she had eleven children, Dorothée being the eldest. Growing up, and starting schooling, in France Dorothée spoke mostly French as a child. When her father was engaged by John Marston's Sunbeam car and cycle company of Beeston, Wolverhampton (then in Staffordshire), and the family moved to England, in 1902 the eight-year-old Dorothée suddenly had to learn English in a hurry. She must have done so at a great pace as she was soon sent to board at Loughborough Grammar School for Girls in Leicestershire. Studying at this establishment in 1909 Dorothée passed the Oxford local examination as a junior candidate, proving her intellect and determination. Even at this formative stage in her life Dorothée knew she wanted a career in engineering. Living around her famous designer father steeped in engineering and hearing the conversations of her father and his colleagues when they visited. Engineering must clearly have been rubbing off on her.
In 1907 T.C. Pullinger was recruited by the Arrol-Johnston firm (the oldest and largest Scottish car manufacturer). Arrol-Johnston was set up by George Johnston and Sir William Arrol in 1895, but in 1902 William Beardmore became the majority shareholder, later becoming Chairman when Arrol-Johnston was turned into a public company. Beardmore invited T. C. Pullinger to create and run a new A-J factory. A-J had been making a loss and their first workshops had recently burned down. T.C. had a reputation of being hard on Unions, which may have been Beardmore's reason for wanting Thomas Pullinger in the first place, and his for services Beardmore was willing to provide 1/8th of the shares in A-J, paid for out of any profits made by the new plant.
For T.C. Pullinger this new appointment meant moving the family to Scotland, and apparently for T.C. Pullinger's aged mother, Marianne Pullinger (Nee Willis), who also moved up to Paisley, living for some time at what was then No.54 High Street, Paisley. The family lived near the town of Dalry in the Ayrshire countryside.
For Arrol-Johnston the former Coats thread spinning works became "The New Arrol-Johnston Car Co. Ltd." car works on Underwood Road, Paisley, directly below the Coats Observatory. This was actually a rather old mill building in a poor state of repair and T.C. Pullinger was to work hard to make this a productive and pleasant place for the employees to work, but he was never satisfied with it as a facility.
It is worth taking a moment now to consider the times in which Dorothée was living. University level education wasn't easily accessible for the middle classes, let alone the female middle class. Those women who did go to university on a science course were most likely to be considering being doctors, engineering was most definitely not a career path encouraged for women, either educationally or socially. Males generally still followed their father's line of work and women were expected to look after children and the home. The only engineering equipped industries were women did work in large numbers were industrial laundries and textile mills, but even then, they would be best described as semi-skilled machine operators, not engineers. It would be men who ran the company, men who looked after the machinery and men who had the backing of the trades unions. Even if a woman did get an even break to work in an engineering environment, she would most definitely not feel welcome. Before the First World War there was a clear anti-feminist attitude in engineering and higher learning. Women were not allowed to attend local or National lectures and admittance to professional and scientific bodies was prohibited. In 1910, everything was stacked against Dorothée. It would be around 9 years before a woman left a university with an engineering degree. Probably the first woman to achieve a BSc in Engineering was Elizabeth Georgeson who graduated from the University of Edinburgh in 1919. By 1919 Dorothée could arguably have achieved even more as a woman, but we're getting a little ahead of ourselves thinking about that. The fact is, Dorothy had to accept much criticism for "stealing jobs from men", which was a common refrain in the course of Dorothée's life championing the belief that she, and women generally, could do equally as good a job as men. The prevailing sentiments above pretty much crossed all the classes too.
Dorothée Pullinger had grown up hearing about engineering problems and solutions so it is not wholly inconceivable that she would be keen to join her father in that world of endeavour. As we have mentioned, it wasn't yet the era for women to enter into an engineering degree or even an apprenticeship. Dorothée's family would later say that she had to fight to overcome her father's conservative views and even spent an unenjoyable year on a secretarial course to please him. It is recorded that Thomas Pullinger was an advocate of women engineers so his resistance to Dorothée becoming an engineer might have been more as a father attempting to shield his daughter from the harsh treatment of women in a man's world rather than any doubt in her ability.
At the age of 16 having finished her education, including the secretarial course, the young Dorothee demanded of her father the right to follow her preferred career. Clever enough to have gone to University Dorothée Pullinger never did so, she persuaded her father that she could learn, and achieve, more, working at Arrol-Johnston. So it was then, that in 1910 Dorothée started work at Arrol-Johnston, but, not as others might have expected. Dorothée wasn't going to be building on her secretarial learning, or making Tea for the board room, no, Dorothée would start a considerably more "hands on" engineering learning curve, beginning as a Junior in the drawing office.
Now this was actually not as unusual a job for young ladies as might have been thought. Women were taken on in large drawing offices as 'Tracers', effectively human photocopiers who traced, or re-traced, drawings that had been marked, amended, damaged or simply where multiple copies were required for other production requirements. Although considered a lowly role the work would have been exacting with limited opportunities for promotion to more responsible work. It would have taken months to get to grips with and required the drawer to spend all day standing at a sloping drawing board wielding pencil, indian-ink dipping-pens, rulers, French curves, compasses and dividers; all in an attempt to create a perfect reproduction of a drawing which the fabricators and pattern makers needed to produce the thousands of parts the factory required to build a single car.
Between 1910 and 1914 T.C. Pillinger was building Arrol-Johnston and guiding the designs of the 1912 range of 12hp, 20hp and 24hp cars. Followed by a 16hp car in 1913 and an electric car, one of which was driven from Dumfries to London driven by E. Fox. Apparently, A-J had a contract with Edison to build 50 electric cars but we don't know how many were actually built.
Obviously, the drawing office must have been very busy through this time as thousands of parts would have to be drawn so the machine shops knew exactly what to manufacture. We know for certain that Dorothée Pullinger worked on converting metric German aero engine designs to UK imperial measurements so they could be manufactured by A-J. T.C. Pullinger's aero engine expertise acquired in France would contribute to the aerospace engineering designs pursued by A-J making engines built for several notable aircraft during WWI and later designs post war.
There may well have been some resentment amongst the male machinists to drawings made by a woman, their questioning of the drawings was probably frequent. This would have been a key stage in Dorothée's development as any professional manager and engineer has have the strength and skill to manage 'men' on the factory floor, be they unskilled labourers, semi-skilled tradesmen or highly skilled craftsmen. Over the next four years Dorothée also trained in a number of different areas of the works learning a variety of skills including metal casting in the foundry, she also spent a period as forewoman of the core shop.
It is thought that during her early work years Dorothée lived with her aging grandmother at 54 High Street, Paisley, which is but a short walk from the Underwood road works. Given the times it seems reasonable to think the then 'feminine' qualities of family and caring responsibilities were not completely removed from Dorothée and that responsibility to one's family would be a high priority. Such an arrangement would probably have suited all parties at the time, however, this arrangement ceased when Marianne Pullinger past-away in 1912.
As Dorothée Pullinger was finding her feet in the world of engineering T.C. Pullinger was also looking for space to expand the company's production and in 1912 bought the site at Heathhall, just outside Dumfries. Thomas Pullinger had always been unimpressed with the Underwood thread mill buildings both as a general place of work and specifically as a location to build motor cars.
During 1912 T.C. went out to the U.S.A. to see the latest in factory designs and brought back an American company to build a new A-J factory designed by Albert Kahn, the architect Ford used for their factory at Highland Park, Michigan. William Beardmore was persuaded part-finance the new multi-storey factory. Built of reinforced concrete it was probably the first "ferro-concrete" factory built in Britain. It was a strong structure but had plenty of light from its huge windows, designed with the express idea of being a pleasant, practical, place to work. Opened in July 1913 it had the latest in Detroit style mass production methods and was probably the most advanced light engineering factory in Scotland, if not the UK, at that time.
By mid-1914 T.C. Pullinger moved the whole family to Dumfries and had done all he could to ensure his workforce had what he envisioned to produce a new range of cars to be announced in November 1914, but the Great War was about to put the brakes on motor car production.
Dorothée Pullinger remained at Arrol-Johnston until 1916 during this time she applied to join the Institute of Automobile Engineers in 1914. Despite her background and achievements her application was declined, not on the grounds of any lack of learning or ability but because she was a woman. Dorothée was informed that the Institution of Automobile Engineers was not open to women, using the phrase "the word person means a man and not a woman." One of the most offensive reposts possible to our modern ears and must have been equally outraging, and disappointing to Dorothée.
There was little time to dwell on this knock back as WWI was forcing everyone to move into a new era. Men were leaving their jobs to join the armed forces leaving many workplace shortages to be filled by women. Dorothée had experience of producing car and aero engines and was bilingual (English/French) attractive qualities to companies suffering the loss of their male managers and engineers to the war effort. These abilities, coupled with her perseverance, determination and contacts led to her being "headhunted" by Vickers in 1916. Dorothée was appointed managing superintendent at Vickers huge munitions facility at Barrow-in-Furness, Cumbria. This plant made high explosive shells and was largely staffed by women. Dorothée, aged just 22, recruited and supervised an estimated 7,000 female munitions workers, many of whom were French or Belgian refugees, set up an apprenticeship scheme for women and encouraged their social needs to be met, even encouraging them with their own football team.
Arrol-Johnston had been turning out cars at full capacity in 1914 but with war came the requirement to meet National needs over business interests. T.C. Pullinger remained at Arrol-Johnston overseeing the company's switch from producing motor cars to building Austro-Daimler and Beardmore aero engines for the Ministry of Munitions. The last Arrol-Johnston cars were made in 1915.
Frank Halford was brought back from France by the powers that be to help develop the 160hp Beardmore engine into a more powerful unit. What resulted was the 230hp vertical straight six water-cooled engine, which Halford designed with one large inlet valve and two small exhaust valves per cylinder. The engine had cast-iron cylinder heads, steel cylinder liners and sheet-steel water jackets. This design was known as the B.H.P. (Beardmore-Halford-Pullinger).
The demand for aero engines was greater than the capacity at the Dumfries works could meet so T.C. Pullinger oversaw a second new factory for the Galloway Engineering Company at Tongland, 2 miles north of Kirkcudbright, in 1916-17. Sited adjacent to the River Dee, power for the plant was provided by a dam fitted with water turbines and a supplementary steam engine. The building was to the same Kahn principles this was another reinforced concrete frame with large windows for maximum light. The facilities were very modern and forward thinking including a canteen, a library and writing room (complete with piano) and even a tennis court on the roof! This plant was to manufacture aero engine components for the main works back at Heathhall.
T.C. Pullinger saw these works as something more than just another factory and recognised that his workforce would be largely female. As such, with great foresight and courage, he conceived an engineering college for women. This was a significant act as engineering was a male dominated area where women faced fierce opposition and were regarded as stealing men's jobs.
At the end of WWI the Arroll-Johnston company was employing some 2,400 people but now needed to think carefully about its future, lucrative wartime contracts would dry up and firm would need to lay off the women to find jobs for the men returning from the war. This was a serious problem as the women now had the skills and experience, and, were reluctant to give up the independence they had enjoyed during the war.
Arrol-Johnstons wanted to get back to car production as soon as possible but now had the problem of what to do with a plant they no longer had the orders and finances to keep open. Dorothée Pullinger, having returned to Scotland after her own war work, persuaded her father that the Tongland works should be kept open, utilising the now skilled female workforce and switched to the production of a new, small, economical and lightweight car, specifically directed to capture the new market of women drivers who had learned to drive during the war. This new plan also built on T.C. Pullinger's idea of a training establishment for "girl engineers". A structured three-year apprenticeship scheme was worked out, which was innovative as the standard apprenticeship program for men was a five-year period. The prospectus was carefully written to encourage young ladies towards a life of independence with a career that had brilliant prospects.
The predominately female workforce stayed in work, their skills were current and the producing a car specifically aimed at women could be a positive opportunity. Still a subsidiary of Arrol-Johnston the Galloway Motor Car Company Ltd was born out of Galloway Engineering Ltd in 1920. Directors of the firm were Lord Invernairn (Chairman), T. C. Pullinger, R. H. Ballantine, Miss Dorothée Pullinger, Charles P. Pullinger and Ernest E. Leverett. Dorothée Pullinger was also appointed as plant manager.
This situation allowed Dorothée to continue building on her own managerial and engineering experience as she worked with her father to design, and commercialisation, of this new car for ladies. Production of the new car began in 1921, with the engineering college a major part of the plan. A purpose-built hostel near to the plant was home for the young ladies who came to partake of the apprenticeships. They had been aimed at middle class women but many of these young ladies were discouraged by the isolation of the location. Ultimately the workforce remained local women and the educational side sadly declined, though the efforts in this noble cause are laudable.
In 1921 'Light Car and Cycle' magazine had a report describing the plant. It read:
"On the way up to Scotland I called at Kircudbright, where the Galloway car is being made in the middle of nowhere. I wondered what the employees did in the way of recreation and was informed the factory has two tennis courts on the roof. A bathing and swimming pool has also been constructed. Everybody is most enthusiastic about the company's hockey team. The majority of the hands are girls. I think the Galloway car may be described as a car made by ladies for those of their own sex."
"A car made by ladies for others of their sex", became an advertising slogan, but it was also a fact. Backed up by Dorothée Pullinger being described in 1922 as 'the only lady motor manufacturer in Scotland'. Dorothée must be considered the first woman car designer who appreciated that the design of motor cars needed different approaches for women drivers, and that the woman driver was an emerging market to be commercially exploited; she was decades ahead of her time.
Galloway Motors car designs
There were to basic Galloway car models. The initial car, the 10/20, was especially designed with women in mind. The later model was an Arrol-Johnston design basically making the Galloway a budget A-J.
The 10/20 was extensively thought out to be a practical design for lady drivers and to appeal to them commercially. T. C. Pullinger and Fred Neale, formally of Hillman, designed the car along the lines of the Fiat 501 but remodelled for women under the direction of Dorothée. Most of these alterations in design concepts would actually be appreciated by all drivers.
At a time, cars were generally quite large and heavy, stood tall from the road and generally proved to clambering in and out a challenge as well as making visibility difficult. For the average sized lady driving a car with a low seat and high dashboard position often meant looking through the steering wheel rather than over it. In some cases, this was little help due to hand controls often being mounted on the steering wheel further blocking visibility. Manoeuvring these heavy cars without power steering and a poor view of the road was equally difficult as was the disparity between the size of the car and actual luggage space available, especially with regards to the woman drivers' needs.
The Galloway design took all these issues, and more, to task. The car was generally smaller, the wheelbase being 102 or 112 inches (2,591 or 2,845mm) with an overall length of 156in' (3,962mm) and 68in' (1,727mm) width, and lighter, but it actually had better storage solutions. The seats were raised, the dash lowered and the Galloway was one of the earliest cars to have a rear view mirror a standard feature. Further ergonomic features were a better positioned gear lever close to hand between the front seats along with the handbrake that was moved from an almost inaccessible position for ladies, under the dash'. Other internal considerations were the reduction in size of those controls that were mounted on the steering wheel. Last, but by no means least, the Galloway was endowed with the most reliable engine possible, certainly more reliable than many other cars then on the market.
Technically speaking the Galloway 10/20 had an inline straight-4 cylinder, side valve, 1460cc engine with positive lubrication system and magneto ignition, passing power through a three (or four) speed manual gearbox to final drive of the rear wheels. The front suspension was by semi-elliptic leaf springs while quarter-elliptic springs were used at the rear. The bodywork was made of "framework of best seasoned wood and forged steel, with rustless steel panels" with nickel brightwork, Lucas electric lighting and starting. A nice two seat, drophead Coupe body, with dickey seat, was available with and specially-designed windscreen pillar set so the screen could be laid down flat when the top was lowered.
The prices were around £495 in March 1921 but prices dropped over the coming years being £295 in 1923 and £250 by 1925. These price reductions were most likely forced on the firm by the introduction of other light cars like the 1922 Austin 7.
Approximately 1800 Galloways were produced between 1920–1925. Production of the cars at Tongland only lasted until 1923, it proved uneconomical at which point production of the car was transferred to Arrol-Johnston's Heathhall works until the replacement for the 10/20 came online in 1925. The Tongland factory was later used by another company to make silk.
The second Galloway model, the Galloway 12, was a larger car and really a 'badge-engineered', medium price, Arrol-Johnston. The 12/30 and later the 12/50 had a straight-4, side valve, 12hp engine which in when on test with "The Motor Magazine" achieved a top speed of 51mph and cost £265 in 1925. Production ran from 1925 to 1929 with price rises occurring along the way. This was a difficult time for independent car producers and the Galloway 12's price rose to £325 in 1926. The 12.8hp Austin was costing £10 less at that time. The Galloway marque also featured a 10cwt commercial van with a 11.9hp engine. This vehicle was produced from 1926 to 1928.
Arrol-Johnston merged with Aster Engineering Co to form Arrol-Johnston and Aster Engineering Co. in 1927 their cars became Arrol-Asters. This merger was not enough to save the struggling firm and Arrol-Johnston Galloway Motors closed in 1928, although Arrol-Johnston continued producing cars at Heathhall Dumfries until 'the Great Depression' killed off the firm in 1931. The Heathhall plant then became part of another Alexander Johnston company, the North British Rubber Co.
Around 4000 Galloway cars were produced and even went as far afield as Australia were around 50 Galloway cars were sold by the Queensland firm "the Simpson Motor Body Company" in Brisbane.
Today there are very few Galloway vehicles left in existence. It is believed there are less than ten in Australia and there even less in the UK. The model on display at Glasgow's Riverside Museum is the only one the public can go and see.
Dorothée had far more than just the Galloway firm going on in her life. In 1919 she was a founder member of the Women's Engineering Society. In 1920, aged 26, she was made a Member of the British Empire (MBE) in recognition of her contributions to the war effort in WWI. This was followed in 1923 by her finally being accepted as the first female member of the Institution of Automobile Engineers (forerunner of IMechE), she was then 29 years old.
Dorothée demonstrated another side of her love for cars by entering the Scottish Six Day Trials events showcasing the Galloway cars. Always an enthusiastic and competitive driver rarely losing any marks campaigning against male and female competitors alike, the 1924 SSDT event particularly stands out when in July/August 1924 Miss Dorothée Pullinger, in a Galloway 10 registration number SM 4592 carrying number 109, ran penalty free through the entire event receiving a Silver cup as a result. The Scottish Six Day Trial is exactly what it says it is. Six days of various timed and reliability trials along a difficult course around the Scottish countryside. Twisting gravel hill climbs, and steep descents with halts to test the vehicle brakes etc. all designed to prove the worthiness of the many vehicles entered in the event.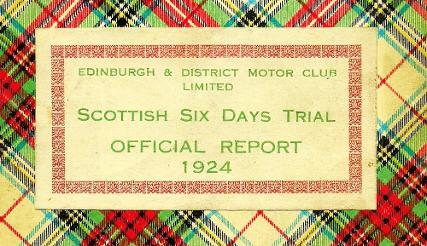 111 vehicles registered for the Edinburgh and District Motor Clubs' event including 16 cars, three 3-wheel cyclecars, 16 motorcycle & sidecar combinations, and 76 solo motorcycles. Awards were not given on a first past the post type system but for not getting penalty points. The silver cup was given to all who went penalty free and seven were awarded that year. In no way does this detract from Dorothée's achievement, the course was particularly gruelling in 1924. As well as the Silver cup
Dorothée
won for Galloway, W. "Bill" Baker won a Gold medal also driving a Galloway, meaning both Galloway entries received a high award.
Perhaps the biggest event of the 1920s was Dorothée's marriage to Edward Marshall Martin (1895–1951), in 1924. Edward Martin was a ship's purser on the P&O passenger liner, incidentally T.C. Pullinger's father was a purser too. The couple would go on to have two children, a daughter Yvette (b. 1926) and a son Lewis (b. 1931).
After the marriage Dorothée became more involved in sales rather than manufacturing, this may have been to spend more time being a wife thinking of becoming a mother. It is hard to think that at the time there was still a social pressure for the married woman to give up her independence and be support by her husband while she looked after the home. One doubts that Dorothée would give in to such pressure but it is reasonable to think there might have been some sort of compromises going on behind the scenes. From 1942 to 1926 Dorothée Pullinger was Arrol-Johnston sales representative for southern England in 1925–6.
After Arrol-Johnston and Galloway folded Dorothée moved south with her family, to Croydon, London. In 1928 Dorothée and her husband founded White Services Laundries Limited on Canterbury Road, in Croydon. Transferring her managerial and engineering skills Dorothée imported the latest steam-laundry machinery from the USA and set them up in a building that had its own steam-driven power station and an arterial well to provide water. This was the most technically innovative, and biggest commercial laundry of the period. The operation grew quickly with a network of 17 shops opened to cope with the demands. Dorothée, and her son Lewis, ran the firm for almost 20 years before selling the company in 1946. The Laundry remained in business up to the 1960s.
Of course, the 2nd World War interrupted life once again and on this occasion led to the White Services Laundry building being put on standby for use as a decontamination centre should the city suffer a gas attack.
Meanwhile Mrs. Dorothée Martin, as she now was, found herself in demand again. The problems the 2nd war brought were much the same as the 1st war so Dorothée's experiences in the First World War put her on the governments list of business people to consult in the best use of the country's resources, particularly female resources. In 1941 Dorothée started work with William Morris, now Lord Nuffield, to setup the Women's Industrial War Work Programme and started her war service in 1942 as the only women appointed to the Industrial Panel of the Ministry of Production. Dorothée was once again recruiting, and managing the training and productivity of, thousands of women to work in engineering across multiple factories building aeroplanes, tanks and manufacturing ammunition. Later in the war Dorothée was part of the group that worked on the 1944 Report, 'Looking Ahead: Work and the future of British Industry.' After the war she remained the only woman on a post-war government committee looking into the continued recruitment of women into factories.
As mentioned earlier, post war the Martin family sold the Croydon Laundry business in 1946. In 1950 they started another steam laundry business, Normandy Laundries, this time in St. Peter Port on the island of Guernsey. The family had moved to the island in 1947 when Dorothée Pullinger Martin was 53 years old, and, seeing the emerging tourism industry, realised there would again be a need for modern laundry to service. Once again, they were correct, and the new business was again a great success. For a while Dorothée lived on her daughter's farm before moving into the Old Government House hotel back in St. Peter Port from where she could watch over the laundries. However, Dorothée was never going to slowly fade away and was well known around the island, not least for her fearless driving around the narrow rural roads of Guernsey in one of her beloved Galloway cars.
Sadly, time eventually catches up with everyone, and Dorothée Pullinger Martin passed away, at the age of 92, on the 28th of January, 1986, in St Peter Port, Guernsey.
Her Legacy
Dorothée Pullinger MBE, was a truly remarkable woman. An accomplished engineer in her own right, Dorothée had a talent for recruiting, inspiring and leading women into the world of engineering during wartime, and after. Her natural resilience, persistence and passion for engineering, at a time when engineering and industry were male dominated arenas and the accusations of "stealing a man's job" rang loudest of all, made Dorothée Pullinger an inspiration for women of all eras to consider a career in engineering.
A visionary automobile engineer and trials competition driver Dorothée's engineering and competition success was matched by her managerial and entrepreneurial success. Her unfailing devotion to equal opportunities resounds today even though only 9% of all UK engineers are women. STEM subjects remain the endeavours of male populace, but there is no reason for this to be so going forward. Dorothée believed strongly that women were the equals of men and even more, that women were more reliable employees and better learners. This belief is evident in that while the badge on the Galloway cars radiator might have been blue and gold, the company badges on female workforce's overalls were the suffragette colours of green, white and purple.
Dorothée Pullinger was a founding member of the Women's Engineering Society, active on the society's Council and a life-long member thereof, her own unfailing ambition an inspiration for women and provided a platform for future generations of female engineers then, and now.
Recognition and memorials
Dorothée Pullinger was the first woman inducted into the Scottish Engineering Hall of Fame in 2012, Barrow-in-Furness has a memorial plaque to her on the Engineering Trail of Success and she may well become the first woman to be included in the Hall of Heroes at The National Wallace Monument in Stirling. Yet despite this well-deserved reverence in motoring and social history, and her many lifetime achievements worthy of reflection and celebration, Dorothée Pullinger remains something of an obscure figure.
Fortunately for us all this sad situation is being remedied. Not by our humble efforts here but by the work of "The Dorothée Pullinger Project" – set up by the University of the West of Scotland with the support of the Royal Academy of Engineering under the Ingenious public engagement programme designed to spur on female apprentices, students and graduates to consider a career in engineering and STEM.
In the words of Dr Nina Baker, Glasgow councillor and engineering enthusiast, "Although there are many women who were working in engineering before and after Dorothée Pullinger, and are often commemorated as pioneers of women getting into a man's world, she [Dorothée Pullinge] is unique. She made a significant contribution to engineering which stands up to other male engineers of her period."
For Dorothée's children, she was a just a woman who tried to do the job she loved. Her son Lewis told the BBC. "She realised that the things she had done in her youth helped women for their independence", her daughter Yvette added "I'm very proud", "She achieved things - how many other women achieved what she achieved? It is all a question about going forward." The final thought here belongs to them:
"Young women who are not certain if they want to go into engineering, and perhaps feeling they don't want to be isolated as a woman in a man's sphere, don't have to necessarily feel that they are that".