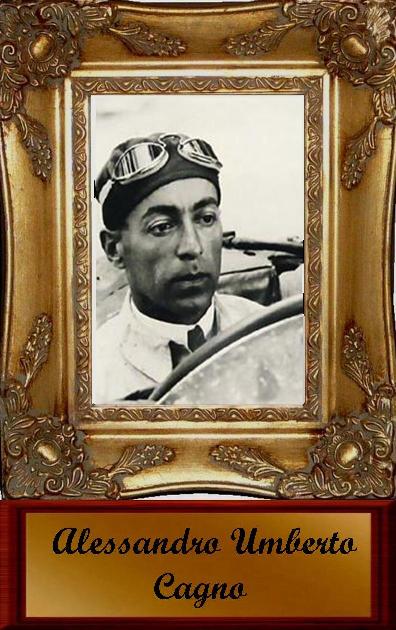 Alessandro Cagno Umberto, or 'Sandrin' as he was known to many, was born to a modest working class family in Turin, Italy. His father was a coal merchant but in a time when money was a prerequisite for motor racing Cagno still found a way out of his humble beginnings to become a sought after driver and engineer.
Cagno's birth date is May 2nd, 1883, and by the 1890s the cities of Europe were starting to reverberate to the sounds of the automobile. Young Alessandro was fascinated by these machines, mostly imported French cars, with German engines built under licence in France. Soon Italian engineers would be designing their own cars and engines; followed by aeroplanes and speedboats.
After some basic schooling the 13 year old Alessandro was apprenticed to a local engineering factory, 'Storero'. At that time Storero of Turin built carriages, omnibuses and bicycles having been founded by James Storero in 1884. In the mid'1880s his son, Louis Storero, took over the company reins.
In 1896 Storero were building rudimentary motor tricycles under licence from De Dion Bouton and soon began building their own design of 'Phoenix' motorised tricycles using engines built under license from the German Daimler company (hence the name), a tie up that saw Louis Storero bring one of the first cars, a Benz, into Italy. It was then the practice of the day many European manufacturers building engines from Daimler under licence, including Panhard et Levassor and Peugeot.
Cagno's apprenticeship was not confined to Storero bicycles and he found the two and four cylinder Phoenix engines fascinating. His apprenticeship was also important in that one Giovanni Agnelli was a frequent visitor to the Storero factory "attracted by his passion and his curiosity for the first mechanical achievements that were there" and Agnelli accompanied Storero on two of his visits to Paris to negotiate with de Dion Bouton.
In Italy the early French cars inspired Michele Lanza (who had his own four wheel car design built in 1895 in the workshops of the Martina brothers), and the Ceirano brothers; who moved on from their 'Welleyes' bicycle business to concentrate on cars in 1898, eventually becoming the origins of Fiat, supported by Agnelli and others.
Motor racing Career
His skill and passion for mechanics lead him to become the riding mechanic for Luigi Storero who drove both a De Dion-Bouton tricycle and then his own design of 1.75HP Daimler engined Phoenix tricycle at early cyclecar competitions.They competed with quite some enthusiasm in the early competitions at the Piacenza Trotting track (Pista del Trotto), winning in the cyclecar races, and also the Piacenza-Cremona-Borgo-Piacenza road race and in 1887 they competed at an event organized in Piedmont.
In 1898 the master and pupil took part in the Turin-Asti-Alessandria-Turin race on the 17th of July. Of the 13 starters only four vehicles made it to the finish within the official time limit. First were Storero and Cagno on their de Dion tricycle, in a time of two and a half hours. Amongst those other competitors were names like Ettore Bugatti, John Ceirano, Michele Lanza and Carlo Biscaretti, names that were to have not a little influence on the motor trade.
Interestingly the organisers decided not to award the International prize of 4,000 lire as Storero and Cagno were using a tricycle. The vehicle that was recorded as coming third (despite having a time of 10h 22m which actually put them fourth) received the second prize of 3,000 lire and the fourth place 'car' was awarded the third prize of 2,000 lire. The reasons for this are not clear to us today but they probably lie in the specifics of the rules; controversial post race announcements are nothing new in motor racing it seems.
Storero and Cagno actually received around £500 each in recognition of setting the fastest time. For some this disappointment might have put them off of further motoring events but not Cagno, or Storero!
Storero remembers the times as :-
"At the dawn of the automobile, the better to say that ancestor car, which resembled the modern cars like an elephant can look like a greyhound, three wheels and an engine ... But it ran and came. Sometimes I had the impression it was the beating of my heart to give the spark to candles and that was not the gas to circulate and burning in that small iron and steel contraption but the blood of my veins. "
For Cagno it was a new beginning and he moved on from his racing partnership with Storero. Far from being upset the employer and mentor Storero gave impassioned support to Cagno and was happy to help find in him sponsors and opportunities. One of these was Storero's long time associate Giovanni Agnelli, who used a Storero "Phoenix" racing tricycle in a competition in Verona, in the spring of 1899 and the pair won the Verona-Brescia-Mantova-Verona cyclecar race. He was setting up F.I.A.T. and hired Cagno as employee #3. Luigi Storero was put in charge of a new racing department and his team included the likes of Vincenzo Lancia and Felice Nazzaro. This race team would go on to compete in Italy, France, Germany, Austria, Holland, Belgium, Russia and the USA.
Alongside his test and racing duties Cagno was also Giovanni Agnelli's personal driver.
1901 On the 8th of September 1901 Cagno drove at the Saluzzo Festival races, which were rather hastily arranged to close the proceedings and entry levels were apparently quite low. However, the races were a success in that they entertained the elegant crowds who adorned the boxes and stands around the improvised 860m circuit. The track itself was described as a :-
"di sviluppo con curve di raggio insufficiente e con certe disuguaglianze di terrendevelopment of curves with a radius' sufficient and with certain inequalities of land che facevano squassare le vetture come navi sballottate dalle onde del mare ithat it made ​​the cars were like ships tossed by the waves of the sea burrascastorm. Per ciò i tempi impiegati non sono certo ragguardevoli ." Cagno, che correAs for the time taken are certainly not remarkable".
The crowd certainly appreciated the skills of the drivers and the winners enjoyed great applause. Cagno took 3rd place in the 10 km Handicap event followed by 4th in the 5km Handicap race. His car was an 8hp F.I.A.T.
At the time Cagno was only 17 years old and from 1901 to 1905 he raced for F.I.A.T., both as a driver and as riding mechanic for Luigi Storero; and later for Vincenzo Lancia.
1902 At the Sassi–Superga (23-6-02) and Susa-Mont Cenis (27-7-02) hillclimbs Cagno rode as mechanic for Luigi Storero (finishing 3rd on both occasions), the pair also finished 3rd in the 10 km sprint from Padua to Bovolenta (27-10-02). On this occasion they lost out to Vincenzo Florio driving a 40hp Panhard and Vincenzo Lancia in a 34hp F.I.A.T.. Storero and Cagno were competing on a 12hp F.I.A.T. so they were unlikely to challenge for the win anyway.
It is reported that the 18 year old Cagno competed in his first international race, at the Circuit of Ardennes, Bastogne, Belgium, but his name does not appear on results lists. Nor does Storero or Lancia.
1903 Alessandro Cagno definitely took part in an international race in 1903; and a real baptism of fire it was too. Riding as mechanic for Vincenzo Lancia on a F.I.A.T. 24 hp (#211) Cagno was a competitor in the infamous "Race of Death", the Paris-Madrid event that was stopped in Bordeaux due to the number of accidents and deaths that occurred; involving both competitors and spectators. The F.I.A.T. was actually retired before the race was stopped but the whole affair had an effect on the young Cagno which stayed with him forever.
On the 22nd of June 1903 Cagno drove in the Circuit of Ardennes, near Bastogne, in Belgium. He took his 24 hp F.I.A.T., wearing number #47 to 10th place overall (the winner was Baron Pierre de Crawhez on a Panhard) and 3rd in light car class. Cagno completed the 512 km, 6 laps of an 85.34 km circuit, in a time of 7:06:56 following closely behind light class winner Paul Baras on a Darracq and 2nd place Philippe Tavernaux on a Gobron-Brillie.
1904 The 17th of June 1904 was the 5th Gordon Bennett cup. As part of the official Italian entrants for the largest event of1904, the F.I.A.T. team took Cagno, as a driver, along with Storero and Lancia. Held in Germany on a course in the region of Homburg the 342 miles ran from Saalburg to the control point at Usingen, then trough Graefenwiesbach to another control point at Weilburg, Then came the fastest part of the circuit via Allendorf and Obertiefenbach to Limburgh. During practice for the race cars were recorded travelling as fast as 93 mph. After the control point at Limburgh the course went on through Kirberg to a most dangerous turn at Neuhof and on to Idstein where there was another control. Next came Glashuetten followed by a control point at Koenigstein then via Friedrichshof and on through the control points at Oberursel and Homburg before the final leg back to Saalburg. Four laps of this 141km circuit would constitute the race distance. Chronographs, or clocks in today's language, for timing purposes were supplied by the Anglo-Swiss firm of Stauffer Son & Co.. With all the seven competing countries having officials on hand to ensure fair play.
The 18 cars that would be starting came from Austria, Belgium, Germany, France, England, Switzerland and the three F.I.A.T.'s from Italy. Cagno in car #21, Lancia #23 and Storero driving #36. The Belgian driver Camille Jenatzy who had won the 1903 event was defending German honour on a 90hp Mercedes, and most expected him to do equally well in this race too. 200,000 spectators crowded the Taunus hills, including the German emperor himself, to watch the race.
Cagno was most likely the youngest driver in the field but he was undaunted. The first car left Saalburg at 7 a.m. and while Jenazy and Léon Théry fought for the lead the Italian trio kept pace until problems intervened. Storero's car suffered a transmission shaft problem and he was forced to retire, then both Cagno is the Lancia were delayed by tyre problems. A particularly tardy tyre change costing Cagno a fourth place he had fought tooth and nail to get.
Léon Théry won the event for France in a time of 5h 50min 3s, an average speed of 58.62 mph. Jenatzy's Mercedes was second. Lancia slipped back to eight and Cagno came home in a disappointing tenth place. Better results would come their way before the end of the season.
The first victory for Cagno, as a driver, came on the 10th of July 1904 at the Susa-MonteCenisio hill-climb. He was of course driving a F.I.A.T., either a 75 or 100hp version. Cagno completed the 22.089km course in 23mins 33.4s. However, some sources dispute this victory and claim he was second, 8 seconds behind Felicce Nazarro in another F.I.A.T.. This may be confusion due to racing in different classes.
On the 4th of September Cagno took part in the 1st Coppa Florio at Brescia. It was actually part of w week of speed events held in the town. Scheduled to be two laps of a 186.083km circuit, Cagno did not finish. He battled hard with the leading cars, Lancia's F.I.A.T., Luis Teste's Panhard, Arthur Duray's Darracq and Vincenzo Florio's Daimler. Sadly a uncontrollably lurid slide for his #12 F.I.A.T. across wet ground was the prelude to a sudden stop against a very solid wall! Lancia took his F.I.A.T. to victory in a time of 3h12m56.0s, or an average speed of 115.74kph if you prefer.
A week later on the 11th of September at the 15 kilometer La Consuma Hillclimb, an event that ran from Pontassieve to Passo della Consuma and reaching almost 1000 meters above sea level, Lancia and Cagno headed the official F.I.A.T. team. Lancia won the heavy cars class on a 75hp car and Cagno won the touring class in a 60hp touring car. His time of 17:15.6s was also good enough for 6th place overall.
1905 By 1905 the Gordon Bennett Cup race attracted the world's attention; National pride was just as important as the Marques reputations so the prestige for winning had become phenomenal.
FIAT put their faith in two outstanding designers, John Henry and Ceasar Momo, and put forward a car featuring some very innovative characteristics. It was based on the already proven 75hp car but now rated at 100hp thanks to the adoption of over square, short stroke, cylinder dimensions and the positioning of the valves above the piston in the cylinder head. These were then operated by a single overhead cam which operated a lever and tappet system.
When the race meet came around, on July 6th 1905, Italy would be represented by three of these new cars. Lancia and Cagno would this time be joined rising star Felice Nazzaro, instead of Storero, on the driving staff.
The circuit of the Puy de Dôme, near Clermont-Ferrand in the Auvergne region of France, would provide 4 laps of racing over unmade dirt roads. 141 turns amongst the ups and downs of the Puy de Dôme area would provide a total race distance of 548km. Running from Clermont-Ferrand via Rochefort-Montagne, Bourg-Lastic, up through Sauvagnat to Pontaumur before turning and going through Pontgibaud and back to Clermont-Ferrand; a formidable challenge for the man and machine. This race also featured 18 entries making it the largest field of any Gordon Bennett race.
From the start it was Lancia who led the field, and he built a 15 minute lead over second placed runner Léon Théry (driving a French Brasier) by lap three. Nazzaro and Cagno were running third and fourth, so all looked well for FIAT and Italy! Then a stone was thrown up by another competitor's car and it punctured Lancia's radiator. As he ground to a halt, most sources say on lap three, the helpless Lancia watched in tears as Théry drove on to win becoming the first, and only, man to win two, consecutive, Gordon Bennett cup races. The Winning time of 7hr 2min 43sec reflects what a gruelling experience it must have been for the racers, even if the average speed was only 77.78 km/h. Back then 48.4 mph was fast!
It might have been a Victory for France but it was close, and with the Nazzaro and Cagno coming home second and third it was still a moral victory for FIAT. Nazzaro's time was 7hr 10min 9sec Cagno's, 7hr 21min 23 secs.
A few weels later on 16th July 1905 Cagno drove to 2nd, behind Nazzaro, at the 23 km Susa-Montecenisio hillclimb. His 100 hp F.I.A.T. setting a time of 19 mins 26.3s.
In September, the 4th to be exact, the 2nd Coppa Florio took place in Brescia and Cagno was again racing for F.I.A.T. on one of their 100hp cars. The 500.975 km proved too much for the number 15 F.I.A.T. and Cagno was did not finish.
His disappointment was short lived as on the 17th September 1905, Cagno won the 4th Mont Ventoux Hillclimb in Avignon. His 100 hp F.I.A.T. set a time of 19:30s up the 21.6km course from the village of Bédoin rising 5,289ft, over 13.4 miles, to the observatory at the summit. His average speed was 65.568 km/h maintained the F.I.A.T. honours following Nazzaro's win the previous year and set a record that would stand for 4years.
Also in 1905 Cagno finished 3rd in the Circuit of Milano, again driving a F.I.A.T. 100hp racer.
Probably Cagno's highlight of the year had nothing to do with racing, or even machinery! He met the love of his life, Giuseppina, in 1900 but it was 1905 when he could finally marry her. Once they were married and anywhere Alessandro went, his beloved "Mimi" was there to share life with him, whether it was racing cars, motorboats or flying. Only death could end their marriage, 66 years later.
1906 In 1906 Alessandro Cagno switched to another Turin based manufacturer, Itala (Fab' Auto Itala SA.). The reason for this is unclear but is probably related to the usual things, money and success. Itala had only been formed two years earlier and had already made a name for themselves, it is no surprise that a young driver now coming into his own would want to cash in on this new team, and vice versa of course. Either way it proved to be quite a successful relationship; for them.
To a big firm like Fiat, worth around £52 million, and where Cagno had been employed almost since it's inception, this switch to the much smaller Itala firm (£21 million but growing fast), must have seemed a betrayal of sorts. It seems that rumours regarding FIAT Itala and Alessandro Cagno were in the press as early as February 1906 when "Auto" newspaper in Italy wrote :-
"For some time there was talk of the likely absence of Alexander Cagno in the Fiat driving trio but later it seemed that Cagno had accepted accepted terms and the winner of the Mont - Ventoux would remain at his old home in Turin. But now it seems Cagno has left Fiat and become part of the Itala house, probably as first driver. Fiat will not be hiring a professional but will complete their trio with Dr. Aldo Weillschott."
The newspaper seems to have overlooked any financial requests Cagno may have asked of, and been refused by, Fiat. Possibly Itala made an offer too good to refuse. It still seems strange that a driver of that era, still racing for FIAT would be involving himself with another firm, so what if there were other reasons behind the liaison?
Cagno was already interested in the new craze for flying which was something that would go on to dominate his life and he may have been thinking ahead in his plans. There were also rumours of under the table agreements between Fiat and Itala and how they might "share" the motor car sales market ('tell me what you intend to produce so I take care of the rest'). Some of this may have led to Cagno going on "loan" to Itala as a sort of advance payment from FIAT for Itala not encroaching on their markets.
At the Monaco race meeting in April, which would include the Prince of Monaco cup race, Itala and FIAT competed against one another. When the rumour mill said Cagno was already out on his ear he won the Prince Rainier cup driving a FIAT; but the beautiful Cup was displayed in the house of team mate Vincenzo Lancia.
Not long after that, at the Gold Cup meeting launched by the Auto Club of Milan, Lancia turned the tables and drove his FIAT to victory, Cagno was third on an Itala.
Then came a great moment for Cagno, one that would seal his place in automotive history. On the 6th of May 1906 the inaugural Targa Florio race was held in Sicily. Organised by the enterprising nobleman Vincenzo Florio and compared to the races held so far, this race was an absolute novelty.
Firstly it was only for touring cars, of which at least ten must have been built. Secondly the cars chassis must not cost more than 20,000 Lira. On top of that, the race would be over the mountains of the Madonie in Palermo Province; known 'Bandit' country. A race distance of 277.42 miles (446-kilometre) would be achieved by 3 laps of a 92.473 miles circuit through Sicily's portion of the Apennines. At that time these were not made roads and by no means meant for motor cars. The route was worked out by another of Florio's friends, the Count of Isnello, who went to great lengths to ensure there were no level crossings involved! The so called "grand circuit" ran from, Bonfornello Station to Cerda and on via Calton - Castellana - Petralia Sottana - Petralia Soprana - Geraci Sicilian - Castelbuono - Isnello - Collesano – Campofelice.
The whole extravaganza was extremely well organised. Great stands were built and specific walkways laid to aid spectators, as well as restaurants and kiosks for the sale of soft drinks, newspapers and film! Safety was also considered with first aid posts and some casualty rescue teams, even specialist fuel stations were constructed.
The Whole event was heavily publicised due to the involvement of Florio's friend Henry Desgrange, director of the Parisian newspaper "L'Auto", the audacity of this idea rivalled the plot from one of the then very popular Jules Verne's stories. The 'Giornale di Sicilia' gave over large amounts of space and big headlines to the race, they even carried caricatures of the most famous drivers.
Needless to say the newspaper coverage attracted a huge amount of attention from far and wide. The great nobility of Europe joined the Sicilian elite, the best of the world's newspapers sent journalists and anyone who was anyone wanted to be there. Palermo was awash with builders, followed by engineers, drivers, sportsmen, automotive enthusiasts and of course the best of the industrial pioneers of the time. The City was also decorated with many beautiful posters and every effort was taken to promote the idea of Palermo, and Sicily, as a place to visit. If you wanted to place a bet then the Hotel delle Terme was the place to have a flutter.
The local newspaper, 'The Chronicle' reported on four items of particularly outstanding news for the locals. The first was the simple fact that motor cars were on the Island, most Sicilians would never have seen one. Secondly the amount of road dust people should be aware of, again, such a thing would not have been seen before. Third was the arrival of the 'telegraph' system, before this the fastest method of communication on the island was by post card. Lastly the newspaper reported on the "woman in trousers"; Frenchman Le Blon brought with him his wife, instead of mechanic, and she wore TROUSERS!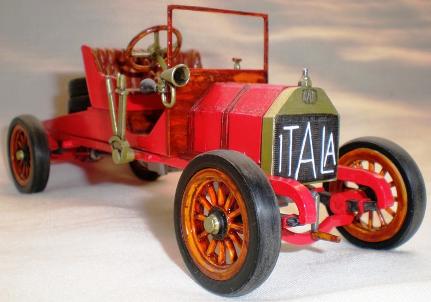 When the race started at 06:00, only ten competitors took the start, much of the the French contingent including seven vehicles having been held up in Marseille and Genoa due to dock strikes. There were so many people in Palermo wanting to see the race that all sorts of carts and animals were used as transport, and extra trains were laid on from Palermo to Bonfornello. Having missed all the trains the furious French were left to make their way to the race as pedestrians, and then all they could do was watch! Another French competitor Mottard crashed his La Buire near Petratil Sottana during practice and was forced to retire from the event altogether.
The fact that Cagno was no longer racing for FIAT, so was now an opponent of former team mate Vincenzo Lancia, can't have been lost on the crowds. The most lauded starter was Vincenzo Lancia on his FIAT, but it was Alessandro Cagno of Itala who would dominate the race. His 35/40 hp Itala, carrying #3, weighed 1300 kg had a bore of 150mm and a stroke of 130mm displaced 7433cc. Similar cars were raced by Ettore Graziani #10, Victor Rigal #9 and Baron Pierre De Caters #8.
An apparently sensible precaution taken on the day of the race was to have the circuit "watered" with a solution of tar and bitumen to reduce any dust that might have been put up by the cars. It wasn't wholly successful and one must wonder just how much it aided, or hampered, traction.
The spectators were kept up to date with the competitor's times which are sent in 'real time' to the stands, thanks to the new telegraph system, and the arrival of a car at the finish was announced by a cannon shot, and a trumpet call.
Cagno inherited the lead after Bablot's Berliet and Rigal's Itala both made mistakes in the pits and filled the fuel tanks with water costing them valuable time. Actually Cagno, and his mechanic Antonio Moriondo, were lucky to take the finish; their arrival at the finish was also noted by the loud crack of a universal joint braking!
When all the cars were home there was little time to wait before the Winner to be named. Alessandro Cagno completed the 3 lap distance in 9h 32m 22s; and set the fastest single lap at 2h 50' 10", giunto sul traguardo, per un brusco colpo di freni, ruppe il giunto cardanico della sua !50m 10s.
The average winning speed over the 446.469 km was 46.8 km/h (or 32.61 mph). Vince Alessandro Cagno su Itala, dopo tre giri del Grande circuito delle Madonie, nove ore e mezza di corsa, a 46,8 chilometri l'ora. Second place was Ettore Graziani on another Itala, in fact Itala had a dominant day taking four of the first five places with Victor Rigal and Baron Pierre De Caters finishing 4th and fifth. 3rd Place was secured by Paul Bablot driving a Berliet. Vincenzo Lancia's 24/40hp FIAT, carrying #1, failed to finish.
First place prize money was thirty thousand francs, in gold; and Alessandro Cagno also took home the plaque, designed by Rene Lalique (later renowned as a glass maker), bronze bas-relief of a caring car set against a Sicilian scene, the sky was apparently in filled with blue enamel.
The next race of note was the Coppa d'Oro del Turismo held on the 14th to the 24th of May 1906. This "Giro Automobilistico d'Italia" was organised by the Automobile club of Milan and consisted of 3.963km reliability race spread over 11 stages with a fixed average speed between 30-40kph depending on the type of stage. The route ran as follows Milan – Bologna – Rome – Naples – Rome – Florence – Genoa – Turin – Milan – Udine – Brescia – Milan. 48 entries from 19 marques were sent forth but only 16 made it all the way to the finish.
The result did not favour Cagno. Vincenzo Lancia with his mechanics Avassa and Fagnano, won on a Fiat 24hp, Enrico Maggioni drove his Brixia Zust 28hp car, and mechanic Piccioni, to second place with Cagno bringing his Itala 24hp home third.
Felice Nazzaro was fourth but is mentioned as his riding mechanic was to be a big name at FIAT a decade or so later; Pietro Bordino. Another FIAT came in 5th driven by Emilio Boschis. Sadly the event was spoiled on the Rome-Naples stage, #3, when driver Romolo de Pasquali was killed.
Then came the First race to carry the title "Grand Prix". Often called 'the Grand Prix' it was the only genuinely international, annual event before the First World War called a Grand Prix. Organised by l'Automobile Club de France and held on closed roads near the town of Le Mans. The Circuit de la Sarthe was a large triangle which would provide a race distance of 1,238.16 km (769.36 miles) spread over two days of racing.
The Itala-FIAT, Cagno-Lancia, battle resumed but the race generally went badly for Itala, all three team cars failed to finish.
Alessandro Cagno Ret Itala 120 hp #8A on lap 2 Radiator.
Pierre de Caters Ret Itala 120 hp #8c on lap 1 Wheel.
Maurice Fabry Ret Itala 120 hp #8b on the opening lap after an accident.
There was a little comfort in the fact that Nazzaro was only second for FIAT but it wasn't much. For the record the Hungarian driver Ferenc Szisz won driving a Renault in a total time of 12h 14m 07.4s for the twelve laps.
On reflection this race was generally considered a poor replacement for the Gordon Bennett races. It was too long and by starting the cars at 90-second intervals there was very little wheel to wheel racing, the competitors simply drove their own race against the clock. Not so much of a spectacle for the crowds who were now getting used to the idea of seeing motor vehicles on the roads.
Itala's commitment to racing was not in question though and the company took on the expensive job of sending two cars, for Cagno and Maurice Fabry, to the Vanderbilt Cup in America. The costs of travel and transport must have been quite steep. The Vanderbilt cup had an elimination race and a final. Held at Long Island USA the 769.91 km race. The final on the 6th of October 1906 had 17 participants but once again proved to be a disappointment for Itala. Louis Wagner won the race driving a Darracq (which was the third consecutive Vanderbilt cup race victory for France and the second for Darracq), Cagno and his 120hp Itala, carrying the #12, were ranked 7th, one lap down, with an average speed of 52.3 mph. His pain was further added to by Lancia's FIAT coming second.
The Press described Cagno as "in a cattivo umore" non riuscì ad entrare in classifica (Lancia invece arrivò secondo)bad mood " and Fabry couldn't have been any happier as his Itala came only 12th, three laps behind the winner. Itala had to go back and refocus their efforts as it seems running at la Sarthe and Long Island was too much of a strain on the cars, something that devalued their product so was of very serious concern to Itala.
1906 was also the year Cagno won a power boat race at the Monaco Powerboat Regatta. There is little information available about this but he probably competed aboard "Fiat XIII" which also had Vincenzo Lancia on board.This boat won the last race of the meeting (a final between 3 boats, "Fiat XIII", "Seasick" and "Delahaye"). Fiat XIII's winning times were 2m 25s for the standing start mile and 1m 12s for the flying kilometer; the considered average was 50.56 or 32 mph. Interestingly "Seasick" was equipped with a 120hp Itala engine and motor boating seems to have attracted the same sorts of Marques as motor racing with engines from Mercedes, Panhard and Napier also being used.
In ogni modo, se "tradimento" vi fu, o "prestito", o semplice convenienza economica1907 Itala and Fiat resumed their conflict on the race track in 1907. First at the 2nd running of the Targa Florio on the 22nd of April,1907. The race was once again 3 laps of the 92.473 mile 'Big Circuit' giving a total distance of 277.42 miles in the Madonie.
Felice Nazzaro won for Fiat driving a 28-40hp carrying #20b. His time was 8:17:36s or an average speed of 54Kph. He was backed up by Fiat team leader Vincenzo Lancia who also set fastest lap. Maurice Fabry was third for Itala but Cagno could only manage a disappointed 5th place. Cagno's time on his 35/45 hp Itala, #21A, for the tough and daring race was 8:39:06, 21minutes behind the winner. Most of the international competition melted away meaning Isotta Fraschini also had a great day getting three team cars into the top ten.
Next on the race calendar for Itala was the Kaiser Preis in Taunus on the 13–14th of June. This would be composed of heats and a final. Cagno came 5th on an Itala 35/40hp #35A, setting a time of 3:07:26 for the 146.30 miles of the race, or two laps of the circuit. In the 292.60 mile final he finished a frustrated 10th 25minutes behind the winner Nazzaro, on one of arch rival Fiat's cars. In fact all of the Fiat team finished ahead of Italas, very disappointing.
September brings the week of events organised by the Automobile club di Milano in Brescia, including the 3rd running of the Coppa Florio (for Kaiser Preis cars) being held on the 1st of September. Itala had more disappointment with all three cars failing to finish, Maurice Fournier, #6C, retired on lap 2. Maurice Fabry, #6B, retired on lap 4 and Cagno #6A on lap 5. But at least it wasn't Fiat doing the winning for a change. Ferdinand Minoia won driving an Isotta-Fraschini, for the record his time 4:39:53.8
The next day, the 2nd of September 1907, Cagno took part in the first running of the Coppa Velocita di Brescia (for Grand Prix cars) held on the Montichiari circuit which was 8 laps of 37.725km making a total of 486km (301.80miles). Cagno imposed his will on this race and completed the course in a time of 4:37:36.6 an average speed of 65.2mph. His winning 14.5 ltr, 120hp Itala carrying #3A also set the fastest lap of 31m31s (on lap 3), that's an average speed of 71.8mph, in 1907, and on a vehicle weighing just over a ton!
Victor Demogeot was second on a Darracq #5A with René Hanriot's Benz #1B third. The other Italas of Fabry #3C and Fournier#3B both retired but were classified eighth and tenth respectively.
Sandrin's success was rewarded with a Gold cup valued at $5,000.
If you are wondering about the numbering system it was common at the time to number the team and then rank the drivers in the team, hence Itala being team 3 and Cagno being team leader his car carried the number 3A.
1908 For 1908 Itala had a new 12-cylinder, 12-ltr, 120hp engine for the racing season and it had it's debut at the French GP on the 7th of July 1908. The Grand Prix circuit from Dieppe to Londinieres then up to Eu and back to Dieppe with the Atlantic coast away on the right. I all the route was 47.74 miles in length and 10 laps were to be completed for the race; 477. 48 miles in total. The l'A.C.F organised a race for small cars on the 6th of July and the GP on the 7th. This inadvertently caused a problem as the Voiturette race churned up the circuit so although the weather was fine on the day the surface of the road, particularly in the corners, was covered in potholes and ruts. Efforts were made to repair the roads but they had little effect and only added to the problems in the end.
The dust stones and bitumen fumes were a constant hazard to the competitors eyes and the rate of tyre degradation was more than awful, it was deadly. 47 Cars took the start and the day became a duel between the Mercedes of Christian Lautenschlager and Paul Bablot on a Brasier. In the end the 140hp Mercedes of Lautenschlager won in a time of 6:55:43.8 an average speed for the race of 69.045 mph. Victor Hémery was second 48:40 later, and René Hanriot was third, both driving Benz cars. Hémery was most heroic in continuing to race after stopping in the pts for a surgeon to remove debris which pierced his eye after a stone smashed his goggles. Bad as that sounds the roads held a worse fate for Henri Cissac and his riding mechanic Schaube. Their Panhard-Levassor shed a tyre due to road conditions and rolled over killing them both. Cissac has the dubious honour of being the first driver to die during a Grand Prix. In fact the Dieppe circuit proved to be a particully dangerous. During the three GP races held there, 1907-1908-1912, 4 drivers, 2 riding mechanics, and 2 spectators were killed.
As for Cagno and the Itala team it was a disappointing day Cagno and finished 11th Henri Fournier was 20th on the #29 Itala 2:00hrs behind the winner and Giovanni Piacenza retired his #45 Itala with gearbox trouble on lap 1. French, and Italian, pride was further bruised by Otto Salzer who set fastest lap of over 78 mph (126 km/h) on a Mercedes, 1m 28s faster than that of the year before.
In September 1908, the 6th to be precise, the fourth Coppa Florio was held at Bologna. 10 laps of a 32.825 miles circuit would provide the 328.226 mile challenge. Cagno made the podium with a 3rd place for the #6 Itala, his time being 4:56:12. But it was Felice Nazzaro and Fiat who won.
On reflection his move from Fiat to Itala didn't help Cagno's racing career, but for a few exceptions he almost always found himself coming behind his former Fiat team mates. The season fizzled out for Cagno when a broken spring retired his #12 Itala after 11 laps of the Savannah circuit for the 402.080 miles Grand Prize Race organized by the Automobile Club of America. So after the 26th of November 1908 Cagno seems to have turned his back on motor racing and followed his adventurous heart into the aeronautical world.
In the newspapers, even the automotive press, new machines began to grab the headlines. Cars had to give way to airships, hot air balloons, gyrocopters and aeroplanes; especially aeroplanes! The fame associated with the names Nazzaro, Lancia and Cagno was transferred to the names Santos Dumont, Louis Blériot, Henry Farman, Louis Delagrange, Gabriel Voisin.
Pioneering aviator Cagno gained his pilot's licence in 1909 and became an instructor at an aerodrome at Cameri a province about 90km northeast of Turin. On the 11th of September, 1909, Cagno participated in the Brescia-Montichiari event with a Voisin aircraft in Italy's première event at the Montichiari aerodrome near Brescia.
He was also in negotiations with Voisin and several engineers to establish a new company that would build the Voisin aircraft under licence. Set up in October 1909 'AVIS-Voisin', or Atelier Voisin Italie Septentrionale-Voisin, was a collaboration between Alessandro Cagno, Clovis Thouvenot and Gino Galli, who were engineers at the Cameri aerodrome.
Further to this company and his work designing and testing aircraft Cagno also founded Italy's first flying school at Pordenone in 1910. The exploits of Alexander Cagno, car driver were soon surpassed the achievements of Alessandro Umberto Cagno the Aviator.
On the 28th of August 1910 'Sandrin' was the first pilot to fly non-stop for half an hour carrying three passengers at an altitude of 100m. On the 2nd of November he was the first person to fly over Pordenone, and on 21st of November Cagno carried a photographer who was able to take one of the earliest ever aerial photographs.
In February 1911 'Sandrin' had a 50 hp Farman II aircraft transported in pieces from Pordenone to Venice where it was built on the Excelsior Hotel's skating rink! Taking off from the from the Lido di Venezia beach despite the fog between the 3rd to the 6th of March Cagno made six flights over the city of Venice. The last flight included a trip for a passenger chosen in a public lottery, perhaps afflicted by nerves or perhaps the need for cash the winner sold his ticket, to a lawyer by the name of Casellati.
But all the time away, and the price of his investments, almost cost 'Sandrin' his marriage. Although 'Mimi' had always been eager to share in her husband's exploits living in a bare shack at the side of an airfield was a huge strain and she thought extensively on the idea of returning to Turin. In early 1909 it is rumoured that Alfredo Thouvenot seduced Mrs. Cagno with stories of Paris and he took her to a the theatre there to see Puccini's 'La Bohème', a favourite with aviators of the time. Staying in a romantic Parisian attic he sang her an already famous song of the day "They call me Mimi", Giuseppina succumbed and they were consumed by passion.
Alessandro stood by his wife and to her surprise marked his devotion in a most unusual way; he changed his name to include Giuseppina's middle name, Umberto. Her name was amended too and the next few months everything was centred around 'Mimi' and their relationship.
The Italo-Turkish War (1911-1912) At the outbreak of Italo-Turkish War, for the possession of Libya, in September 1911 Gustavo Verona, editor in chief of "stampa sportive" of Turin and Aero Club President started organizing civilian volunteers and flyers to form a Battalion of Specialist Engineers. Cagno could not stand by and watch so he joined the new 'Flotilla'. Probably the only experience he couldn't share with his dear wife.
He insisted on serving with the Squadron based at Derna in eastern Libya from whence he flew twenty combat missions. Convinced of the effectiveness of the aeroplane for bombing purposes he was also involved in the design of rudimentary bomb aiming devices and grenade launchers. The war was won by Italy when Turkey sought peace on the 18th of October, 1912. This was largely due to pressure from the revolting Balkan states who saw a chance to break free from the weakened Ottoman empire, and as such the whole affair became a precursor to WWI.
Return to Fiat
and the 1914 comeback
Cagno was by now far more interested in aviation than cars but as Fiat made aero engines he slowly fell back in with
the company and accepted a position with Fiat as 'General motor vehicle Tester' and, chief of race car testing.
Less than a week after the assassination of the Archduke of Austro-Hungary the last GP before WWI was held. The 467.600 mile (752.58 km) l'ACF Grand Prix was held at Lyon, on the 4

th

of July 1914; and it was race destined to go down in history as arguably the greatest race of the Century.

Fiat had been working behind closed doors on a new, technically advanced car, the 4.5ltr S57 14b.

It had

a four-cylinder engine block, technically advanced four wheel braking and universal jointed cardan shaft's for the first time on a Fiat race car. The car also featured aerodynamic body work and looked very sleek for the time. Three of these cars made the journey from Italy but choosing the drivers was a different matter. Nazzaro had left to drive a car bearing his own name so Alessandro Cagno came out of retirement to drive in this race alongside novice driver, and former riding mechanic, Antonio Fagnano. The third member of the team was an American, Jack Scales. The race was an overwhelming victory for Christian Lautenschlager's Mercedes and proved to be a disaster for the Italian Marque. Fagnano brought the #11 Fiat home in 11

th

, and last, place. Cagno's #13 car made it to half distance before retiring on lap 10 with valve damage, a problem that also beset the #38 car of Jack Scales, he retired after 7 laps.
Then the world went mad and war tore nations apart before peace could be considered. Cagno called to arms in 1915 and ran the General Testing Office for both the Italian and French armies.
After the war he returned to Fiat with the great responsibility to direct a department that held around 800 people consisting of mechanics, drivers, testers and labourers. He had to organize this new department, attending to the procedures, communications, supplies, deliveries and buildings; huge buildings, were everywhere you looked men were coming and going and hundreds of machines were dealt with on a daily basis. As his daily duties became ever more valuable Cagno rose to the task more and more. So exemplary was his direction that he was even asked to form another department just of the service cars, where hundreds of Fiat vehicles were maintained.
As time went on he even became involved in some more races in the 1920s, in voiturettes, cars and 'trucks'!
Ritornato in azienda, le sue mansioni diventano 1923 On the 29th of June 1923 Cagno made his final appearance on a race track when he had to step in for Fiat in the 3rd running of the Italian Grand Prix for voiturettes held at Brescia. The nominated team driver Evasio Lampiano had been killed during practice for the "Course de Cote de la Faucille" in France.
The race was held over an 17.39km course encompassing d'Oro, Ghedi and Montichiari in the Brescia Province, 30 laps would give a race distance of over 520km. Cagno was now 40 years old and his last hurrah was to cover him with more glory in the eyes of Fiat workers. Driving a Fiat 803 he imposed his will on the opposition and not only won; easily, but set the fastest lap too. His average speed over the first 174 km was an impressive 136 kph, the fastest lap time recorded a speed of 139kph and his total average speed was 129.28 km/h. The winning time was 4:02:16.8 .
Also in 1923 Cagno led a team of Fiat in a 5,000km race from Leningrad (St. Petersberg) to Moscow, via Tiblisi. This was the first race to take part in Russia after the establishment of the Soviet Union. His team won two awards in the passenger car and heavy vehicles classes.
1925 Alessandro's last outstanding achievement also involved Russia when he drove a Fiat truck from Turin to Moscow!
Having worked for so long for Fiat it seems natural he should open the first Fiat dealership in Turin, 'Autocagno' and, as well as continuing to collaborate with Fiat in a testing role, carried on working there till he retired in the late 1960s.
The end of Alessandro's life was a tragic affair. His beloved Giuseppina died after an illness. They had been through almost everything together, whether he was racing cars or boats, flying 'planes or running business she had been beside him; they had been so close for so long this event was sure to have been traumatic for Alessandro. At Christmas 1971 Cagno also passed away. Officially recorded as dying of natural causes it is widely believed he committed suicide, not because he wanted to die, but because he wanted to be with his wife; he was 88 years old.
At the time a contemporary racing friend of Cagno described him thus :-
"quiet, modest, of good will, with perfect mechanical sympathy... in a race he was bold and prudent, robust and had sweet touch, able to evaluate his and cars capabilities without exceeding them. He had a deep knowledge of the machine strengths and was disciplined under orders "
This accomplished engineer and considerate driver will mostly be remembered for winning the inaugural Targa Florio but he was so much more than just that. He came from the lower classes yet proved he could rise to the greatest heights and run with the best, literally. He went far beyond the boundaries expected of a coal merchant's son in so many ways.
Most importantly he is remembered as a proper gentleman, a quiet individual with a warm smile and a gentle demeanour; and a loyal and devoted husband.