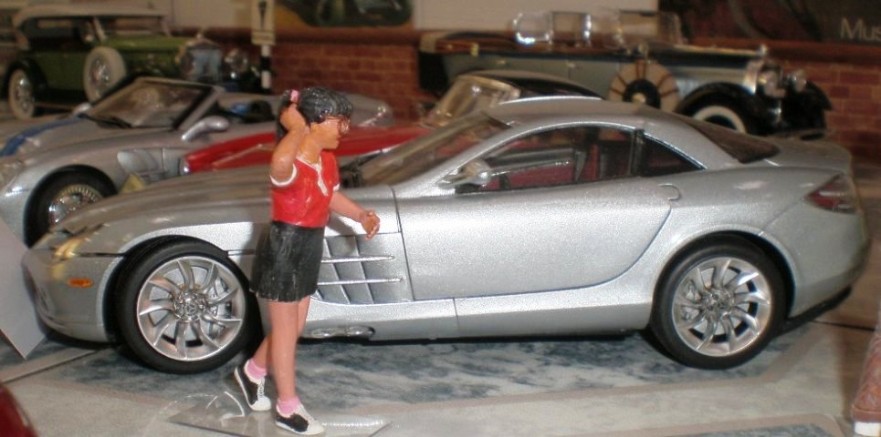 The 2003 Mercedes-Benz SLR McLaren is an Anglo-German project jointly developed by Mercedes-Benz and McLaren Automotive at the McLaren Technology Centre in Woking. SLR stands for "Sport, Leicht, Rennsport" (sport, light, racing). Inspired by Rudi Uhlenharts iconic 1955 300SL Gullwing it was introduced on 17 Nov 2003.
Amongst the high tech and scientifically advanced systems on the car were sensotronic "brake by wire" technology operating carbon-ceramic brake discs and 8 piston calipers. The system automatically makes the pads brush the discs to keep them dry and up to operating temperature, something which is difficult to achieve in normal road driving conditions. To assist the discs brakes the rear spoiler rises and tilts to become an automatic air brake at high speeds.
The body was of all carbon fibre construction giving high strength for light weight. Along with extensive styling and aerodynamic work the SLR looked as good as it performed, with a 0-60 time of 3.3secs and a top speed of 208 mph.
The performance of the car is also due to the engine and transmission technologies employed. Mercedes 5-speed automatic "Seedshift R" gearbox includes 3 manual settings (the 7-speed version was abandoned in favour of the 5-speed box as it was unduly complex and less reliable). Each 5.4ltr SOHC V8 engine was handbuilt. featuring three valves per cylinder, dry sump lubritaction and twin lysholm-tpye compressors, rotating at 23,000rpm to give 0.9bar boost. The motor produced 617bhp @ 6,500 rpm. Unusually for the times the engine was mounted at the front of the car, McLaren having taken the original concept and moved the engine further back while optimizing the design of the fireall.
Amongst the different variants that have been produced are the roadster, the 722 S and the racing 722 GT, the McLaren special edition and the "Stirling Moss".
Production ceased in 2007 for the coupes and 2009 for the roadster version.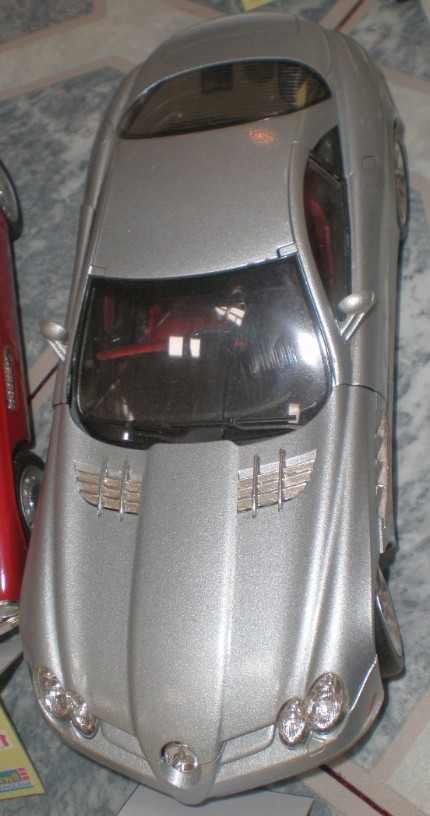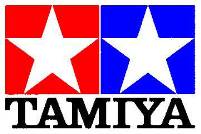 1/24th scale kit.
Built by Rod.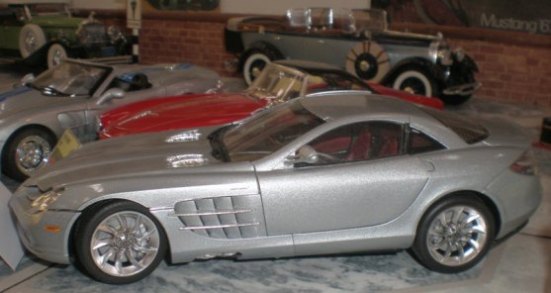 Rod built this model straight from the box in 2008. Tamiya kits represent the cutting edge of plastic kit manufacture and as such are incredibly detailed. They are so well engineered that they usually go together very well, however they are getting more tricky and this kit includes some fiddle little springs that showed a great desire to set off in search of open spaces!
RETURN TO -