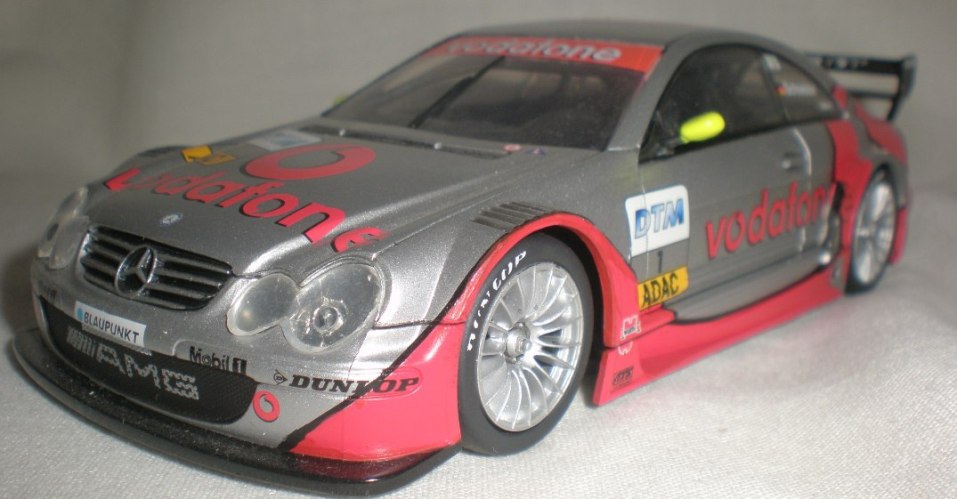 The CLK (Coupe Leicht Kurz or Coupe/Light/Short) was first introduced in 1996. It marked Mercedes' first steps into the mid-sized coupe market.
When the International touring car championship was dropped my manufacturers and the new Deutsche Tourenwagen Masters came into being Mercedes were a big part of the development program. Unlike the old series the new DTM was to feature two door Coupés rather than the larger touring four door cars. AMG raced the two door CLK Coupé for the opening championship series. 2002 saw the second generation of the CLK it seemed logical to race it too.
DTM has strict limits laid down in the championship's regulations but the cars can be enhanced. A completely new body and space frame that is more aerodynamically efficient is allowed although manufacturers features like lights and grills often remain unaltered. Suspensions have to be redesigned to cope with racing tyres and detail changes are made to the engines (although output is limited to around 470 hp). Engines are also limited in number to help keep costs down, so only one engine per vehicle for practice sessions and one for racing could be allocated. The consequence of the strict regulations was close competition.
The AMG tuning company are renowned for their work with Mercedes cars and this close relationship continued with the new CLK model. HWA (Hans Werner Aufrecht) AG was founded in 1999 to manage the AMG-Mercedes DTM team.
Driving the CLK DTM cars for HWA in 2002 were Mercedes defending DTM champion Bernd Schneider and the previous years runner-up Uwe Alzen. Also signed up were Marcel Fässler and Jean Alesi making his debut in DTM after retiring from F1.
For the 2002 the existing format of a short qualifying race (about 35 kilometres) and then the main race (about 100 kilometres) continued. What was new was that both races now had standing starts. Point scoring was based on the then Grand Prix model: 10 points for the winner, then six, four, three, two and one point down to sixth place; the winner of the qualifying race scores three points, the runner-up two, and the third place receives one.
At the end of the 2002 DTM season Bernd Schneider was runner up in the championship having had 2 wins, 4 seconds and 2 thirds in the feature races, for a total of 64 points. Only 6 points behind the champion, Laurent Aiello who scored 70 points.
Alzen scored one win but other wise had a season to forget. Marcel Fässler finished fourth in the championship with 30points which included a win and 2 thirds. Alesi had a similar record but his 24 points was only good enough for fifth in the championship. Still, having three of your team drivers in the top five places can't really be a bad season, can it?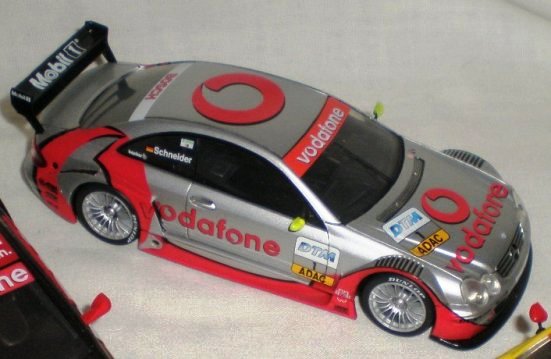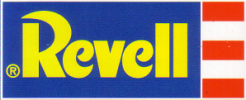 1/32nd scale kit.
Built by Ian.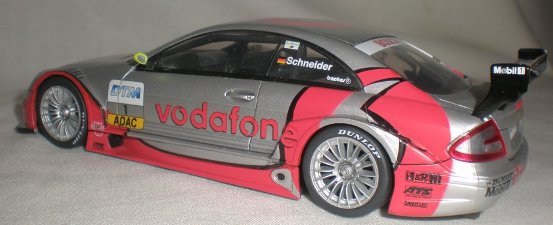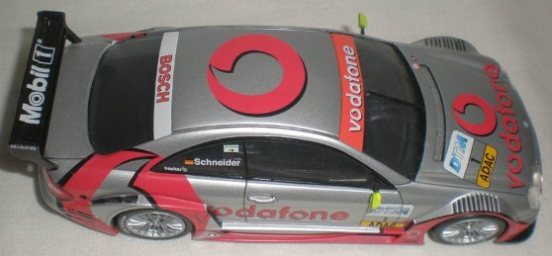 Revell's easy kit range have been shunned by some model makers due to their pre-painted bodies and snap together format. Now, kit manufacturers have to cater for a wide market, and wide age range, so to encourage younger or less experienced modellers is to be commended not shunned. Further more some of the subjects are very interesting.
1/32nd may not be such a popular scale anymore but these kits offered another dimension of motor racing to be covered by the museum, at low cost and low time input too. It also allows us to extend upon the aspect of the early years models which tent to have been produced in this smaller scale. Now we can compare a 1903 de Dietrich with a car designed a century later. Airfix have also started to bring out some new car models in this scale so there is still some worth in us building to this scale, and when it comes to pictures on a web site it seems scale really doesn't matter.
Ian has touched up the body and detail painted the interior and exterior to bring the best out of the model. Primarily by use of the Citadel range of acrylic paints. The use of a black base with a light drybrushing of 'tin Bitz' gives a nice representation of that golden weave carbon fibre.
RETURN TO -