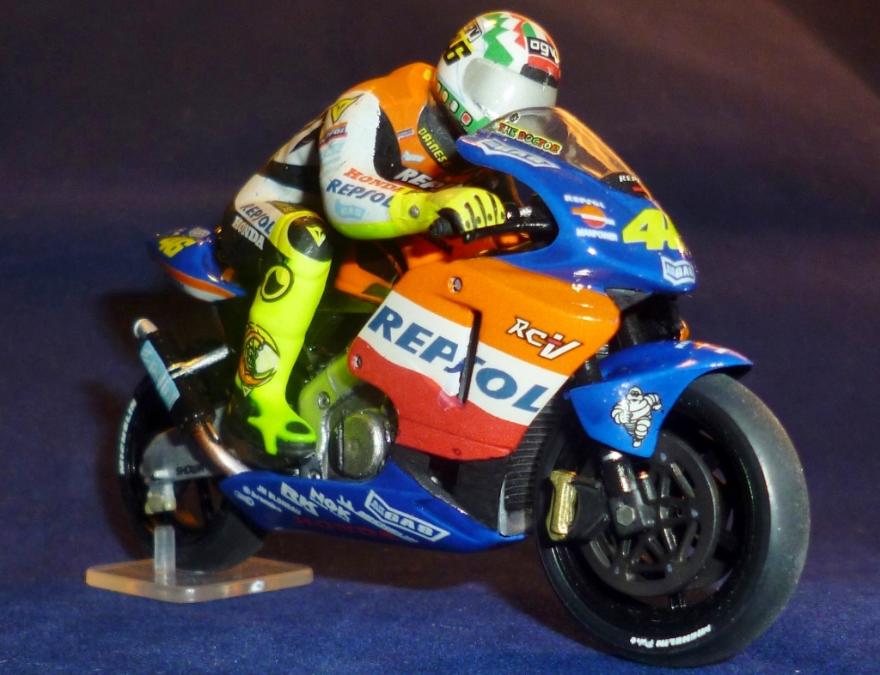 2002 Honda RC211V MotoGP
When the motor cycle racing regulations changed from 500cc Grand Prix reg's to the new MotoGP championship allowing four-stroke engines as large as 990cc (60 cu in) and between 3 and 6 cylinders Honda's NSR500 became obsolete. For 2002 an all new design was unveiled. HRC (Honda Racing Corporation) had worked throughout 2001 to developed their new design designated RC211V. RC is Honda's traditional racing prefix for 4-stroke bikes and 211 indicated it was the first works bike in the 21st century. V simply stood for the fact the engine was a V cylinder configuration.
This engine was to be the heart of the new bike and shaped a lot of the package that went around it. The exotic V-five idea was born out of a 1988 V6 prototype, called the FXX, which RC211V project leader Tomoo Shiozaki had been involved with. The design goal was compactness and to keep the weight mass of the machine centralized and low. The water-cooled, 4-stroke unit has two banks of cylinders set at a 75.5 degree angle, they have DOHC, 4-valves per cyl (that's 20 valves in total) so the 990cc unit is capable producing over 240hp. Having a unique V-5 cyl' layout, three front and two rear cylinders, means vibration is reduced and does away with the need for any secondary balancing thus reducing weight further. The RC-V's sophisticated injection system consists of one injector per cylinder positioned upstream of the throttle valve, for wide-open delivery, and one downstream for low- and midrange performance. Controlled by an ECU that could vary the pressure in the injection system, resulting in precise fuel supply. Fuel injection was tuned to the individual riders capability.
While putting a 100-hp, 1000cc engine in a bike is straight forward problems arise when you try to put 200hp engine in a lightweight frame. One of Honda's own test and development riders said "The power cannot be used" and rated the bike as a 2 out of 10! Another test rider insisted "Improved throttle control is essential." Honda tuned the engine little by little to improve the power band, part of this was a handlebar-mounted power management system linked to the ECU programmed with electronic engine management modes allowing 3 different race settings for the changing situations experienced by the rider during a lap. Eventually Honda had a usable 220 bhp at 14,000 rpm. To put through a 6-speed gearbox which also had electronic "quickshift" which changed gears exceptionally quickly and smoothly. Engine breathing was further enhanced by the complex titanium exhaust system and twin silencers, one on the right side and one in the seat unit.
One might think such a powerful engine would drink fuel but that is not the case. MotoGP rules were strict on fuel, 22ltrs of fuel per race, and the RC211V actually carried only 21ltrs in 2002 and used less than that during a 115km race. It actually equates to about 5.5 km/l which is very good in racing circles.
Honda used all the latest materials and design ideology to build a twin-spar aluminium frame with the design philosophy of keeping a low centre of gravity and maximum stability. Part of that philosophy led to a longer wheelbase being used. The RC211V wheelbase is 1440mm, 40mm longer than the NSR's, making it more stable under braking and acceleration than it's predecessor. The RC211V's carbon-fibre fairing is small and apparently un-aerodynamic, but Honda found that the big fairings straight line speed advantage was offset by less stability when cornering. Having an excess of usable power Honda kept the packaging tight and came up with other advantages at the same time. The mechanics can change the internals of the gearbox without removing any part of the fairings at all. Stopping power was supplied by carbon discs and four-pot Nissin callipers and the whole bike weighed less than a 400cc road bike at just over 148kg.
With all the bugs worked out the RC211V was velvety-smooth. Quicker out of corners as once the machine neared upright proper power could be fed in sooner and with the huge amounts of muscle on the straights, top speeds can reach around 350 km/h (Dani Pedrosa clocked 349.3 km/h at the Italian GP), records fell left and right. RC211V's riders dominated the 2002 MotoGP season. Valentino Rossi and Tohru Ukawa took 14 victories out of the 16 race season and both rider's and constructor's titles for Honda. Rossi taking 11 wins and 4 second places on his way to the title with a massive 355pts. Max Biaggi (Gauloises Tech3 Team Yamaha YZR-M1) was runner up with 215pts and teammate Ukawa was 3rd with 209pts.
The RC211V, and it's extremely powerful engine, was later included in "CycleWorld's" top six most influential bike's ever. It is directly responsible for sparking the electronics competition to control electronic torque smoothing, traction control, anti-wheelie and more rider aides; and it reinforced the idea amongst engineers that "the only useful power is power shaped exactly to fit what the tires can transmit". This world beating bike was eventually replaced in 2007 by the RC212V.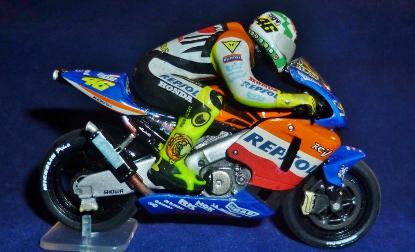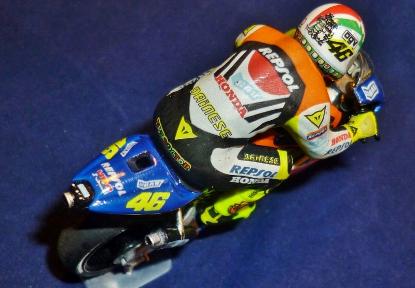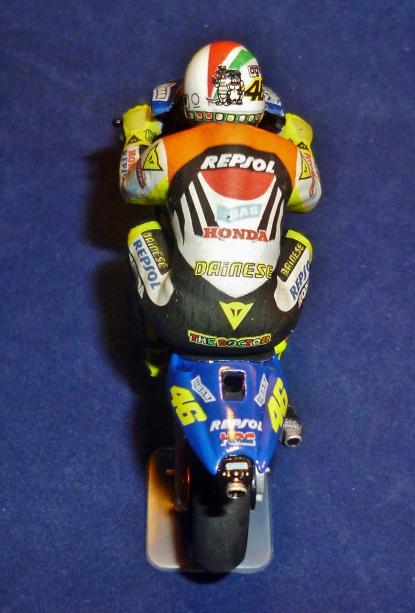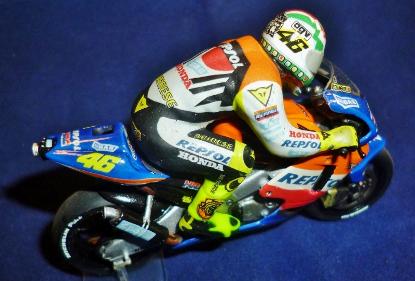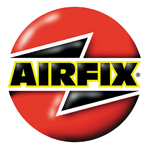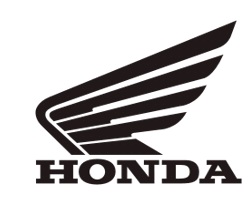 1/24th scale kit.
Built by Ian.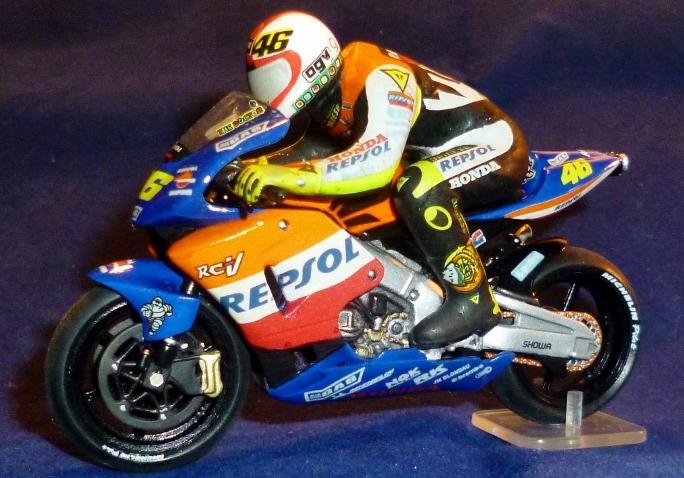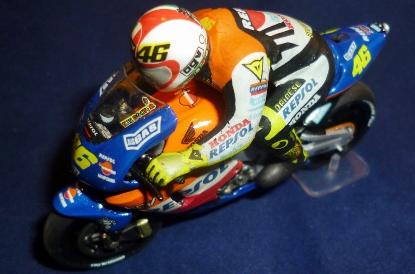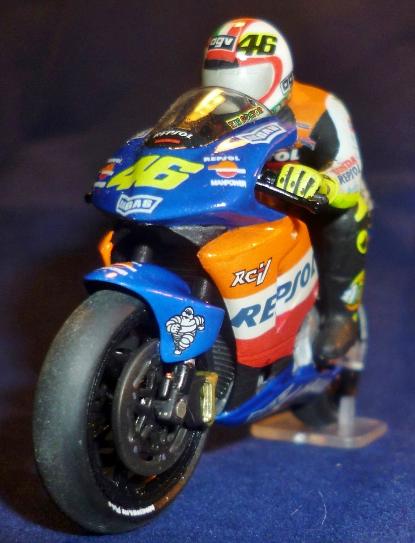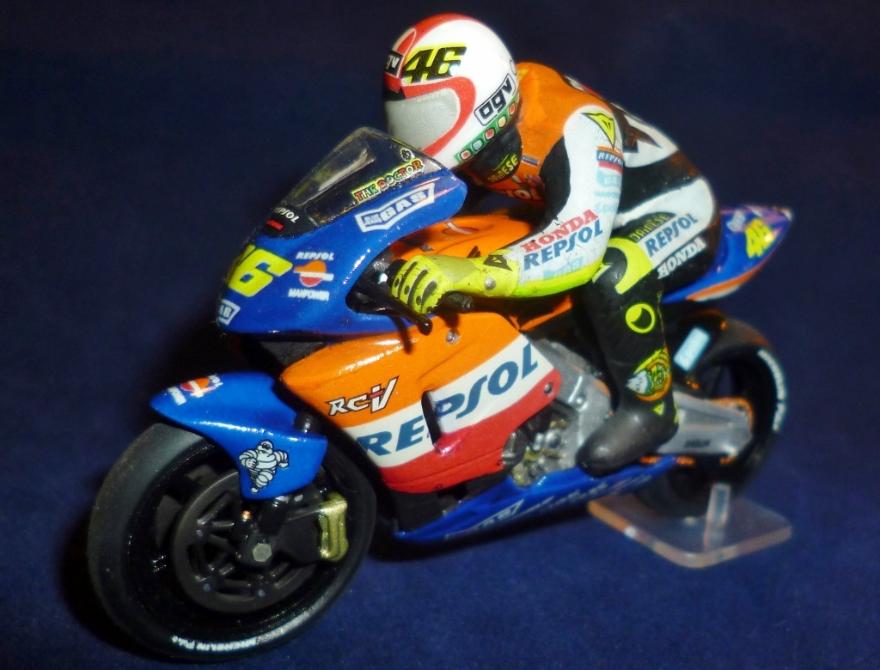 This 31 piece kit, # 80923, was originally released by Heller, in conjunction with Airfix, in 2003. It was re-released by Heller in a different box in 2013 with the same catalogue number as the original. Our kit was one of the 2003 Airfix boxings which is kit # 02485.
These are very nice kits for the size (1/24th scale) which although not as detailed as 1/12th scale kits do look the part when carefully painted. Additional detail in the form of brake lines and clutch cables can be added but much of this gets lost behind the fairings and not seen, so isn't really worth the time. One particularly nice touch in these kits is the display stand options. There are parts for a pit style stand, which looks great when painted, and two clear stands so the rider and Bike can be displayed "in action" either going straight or pulling a wheelie.
Ian built this model straight from the box. There are sink marks and joint lines to be filled, Ian used Squadron green putty on this model as it dries quickly and sands to a smooth finish. For adhesive EMA Plastic weld applied with a small brush. The model is quite straight forward to build but does need a fair amount of cleaning up. Most of the cleaning up was on the rider figure, which of course not only has mould lines but an extensive joint line to deal with. In other work to enhance the kit the exhaust pipes drilled out.
The decal sheet is quite large but when you examine you find most of the decals are actually for the rider. The rider decals with these kits have a tendency to need softener, especially on the rider as the figure as so many compound surfaces for the decals to wrap around. I used Daco strong decal softener on this figure having previously used Microsol which needed a lot of time to do it's job. This just goes to show how you often need different products to get the best out of a kit. Microsol and Microset were fine for settling the decals on the Bike. As for the rider figure decals, it is often better to cut the decals down into smaller parts to facilitate application over the multiples of compound curves.
The model is painted by Airbrush with Alclad II primers, Deco-Art acrylic paints and Plamo gloss for the shiny coat. Humbrol enamels and citadel acrylic paints and ink washes were used for the detail painting. The luminous yellow paint required for right leg and boot came from the Revell Aqua range. It needs a lot of thin coats to build up the colour consistency but it is an effective paint. Johnson's Klear was applied by brush to protect the decals. On the rider Deco-Art satin varnish was followed by a thin coat of matte varnish, both applied by brush to seal the decals and give the leathers a different sheen to the gloss of the bike..
RETURN TO :-