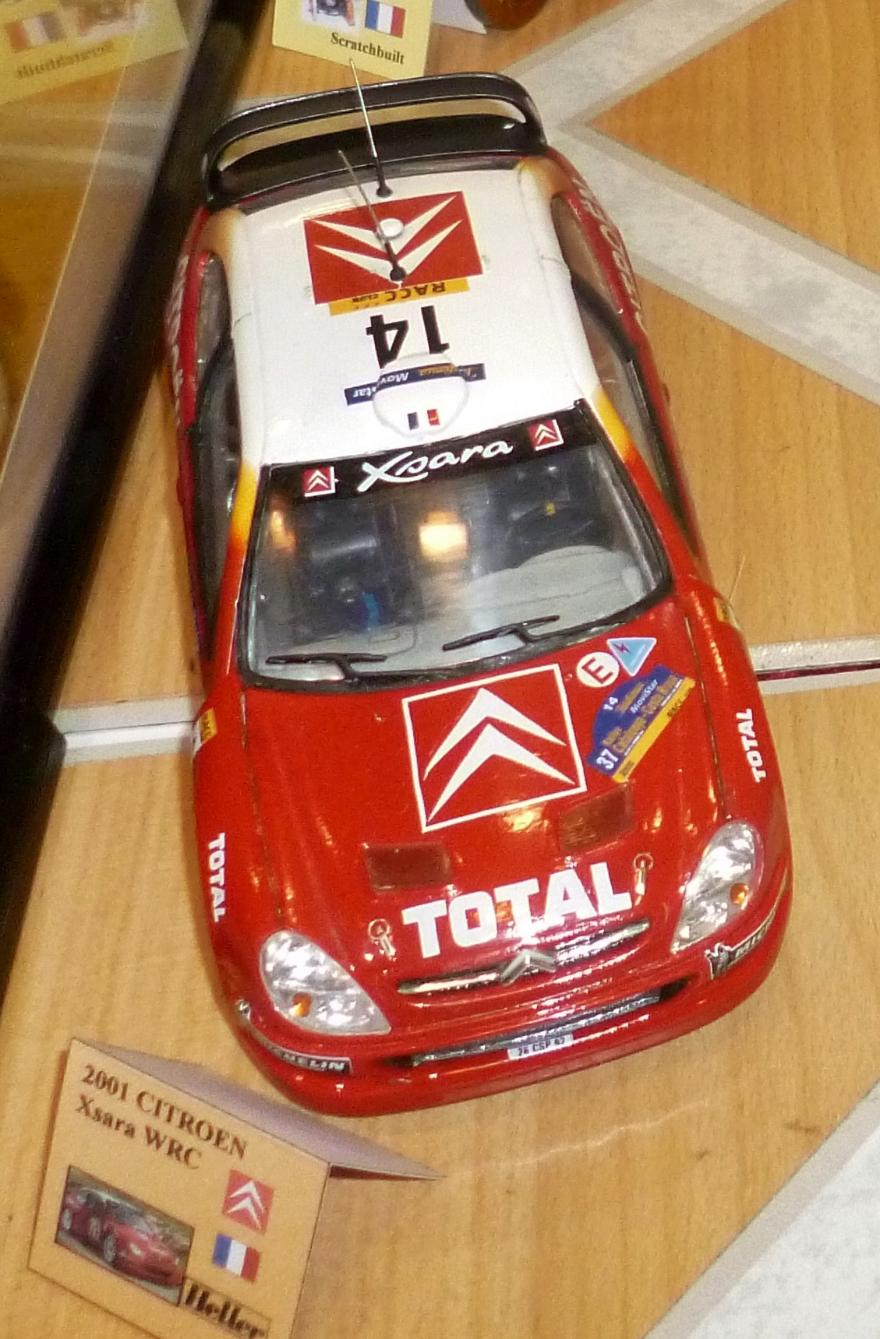 Citroen Xsara T4 WRC 2001
Historically Citroens have been raced in rallies since the 1930s but mostly by private entrants. As a manufacturer Citroen's rally competition legacy came from the Rally Raid series where the Citroen ZX Rally raid helped the company take the Constructors' Championship in 1993, 1994, 1995, 1996, and 1997 as well as multiple wins in the Dakar and other extreme rally challenges. From 1998 changed it's focus from the endurance rallies to the shorter stage 'sports' rallies; starting with the French Rally Championship. The company used a 280hp, 2L engine, in the Xsara Kit Car and found they were very competitive. Philippe Bugalski took the drivers titles in 1998 and 1999 followed by Sébastien Loeb winning in 2001, a very promising transfer into this sphere of the sport.
For 2001 Citroën moved up to the World Rally championship competing in selected events with the new Xsara T4 WRC. Again they had good results. Jesús Puras won in Corsica and Sébastien Loeb finished 2nd in his debut WRC rally in a San Remo.
Our car is that of Philippe Bugalski, and co-driver Jean-Paul Chiaroni, from the 37th Rallye Catalunya-Costa Brava (Rallye de España). Bugalski was the first man ever to win a World Rally Championship event for Citroen and had been the test and development driver for Citroen's Rally prototypes through the 1990s he was instrumental in the success Citroen had. He won both Catalunya and Corsica rallies in 1999 with performances that were so astonishing that the sport's top stars called for the car to be handicapped on WRC events!


1/24th scale kit.
Built by Rod.
Heller kit #80769 was first released in 2001 also released in Airfix packaging. It was later released again by Heller with new decals for the 2003 car but with no new parts. In 2004 the same kit was released by Italeri with the 2004 decals. Also in 2004 Airfix released a new version of the kit with updated parts and 2004 decals which were different to the Italeri boxing. Heller have since re-released this kit in four more versions but the only changes are decals or box art. There are numerous after-market parts and decal sets from a variety of brands making this a versatile base kit.
Rod built his version straight from the box using Halfords car spray paints for the body and Humbrol enamels and acrylics for the interior and details. His conclusion was that this wasn't a very good kit and the decals were awful. There were plenty of sink marks and ejector marks to deal with and all the vents are solid reducing the detail appearance. Apparently aimed at the less experienced modeller the kit is actually hard to get a really good model without a lot of work. Instead of being a simple relaxing build this kit caused a lot of stress and annoyance with ill fitting parts and decals. Turned out well in the end though.
RETURN TO :-