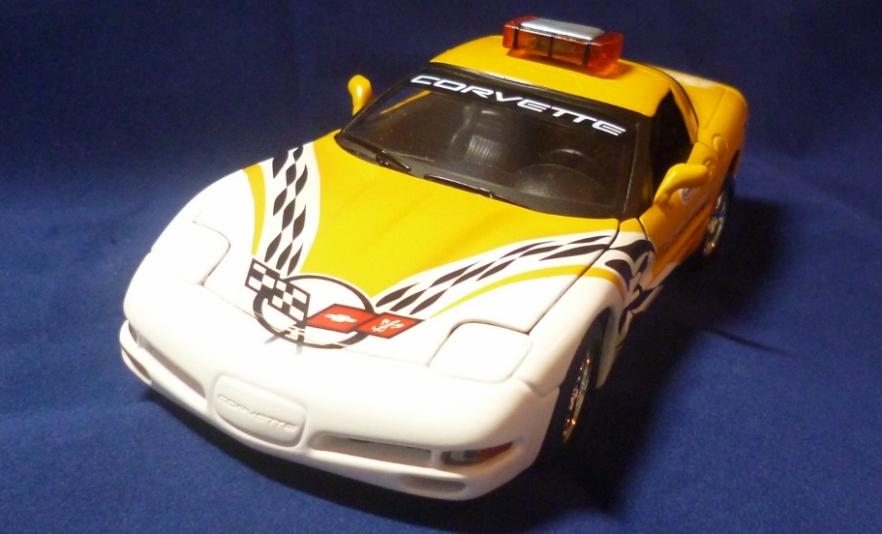 Since 1953 the Chevrolet Corvette has always ranked highly in car lover's minds. 45 years after the first Corvette's launch an all new fifth generation model came on line. The 1997 Chevrolet Corvette C5 sports car was a major departure from the previous evolutionary thinking of the C4-C3 versions.
The C5 combines the latest in bodywork engineering both aerodynamically and materially. Based on a hydroformed box frame structure this new, subsequently sturdier, chassis system would last for two generations of the Corvette. The modular body work was formed by use of a lightweight composite material called sheet moulded composite, or SMC, which is actually a type of fibreglass that is blended and bonded with plastics and with balsa wood in the middle. The Balsa is not only light but has excellent sound deadening qualities so the composite is extremely stiff, light weight and reduces cabin noise; and it does not dent!
The vehicle now had a more rounded, graceful, yet still aggressive look. The 1997 Corvettes rear end is quite different to any earlier version. It is blunt, which allows for smoother airflow, and higher, which allows more boot/trunk space. Sleek and aerodynamic the C5 set low drag coefficient figures which would eventually lead to the second lowest figures for a mass produced US car market.
Curb weight of the C5 was under 3,300lb (1,500kg); Chevrolet even going so far as to omit a spare tire as a weight-saving measure. Chevrolet fitted Goodyear Eagle F1 GS Extended Mobility Tires instead, which allow the car to run for as much as 200 miles, at 55 mph, on deflated tires!
Initially only offered as a fastback coupé but in 1998 the convertible went on sale, and it was the first convertible Corvette to have a boot/trunk since 1962. In 1999, a hardtop ("fixed-roof coupé"), was put on sale. It had a similar roof line and trunk space shape to the convertible. The combination of performance and comfort appealed to Corvette traditionalists as well as a new youth market. On the inside the cockpit was styled along the lines of the twin-pod cockpit style that originated with the 1953 Corvette.
An all-new engine was also designed for the car. The all aluminium 5.7Ltr LS1 small-block V-8 unit had 16 valves operated by pushrods, allowing for a much lower bonnet/hood line compared to an OHC engine. It is also more compact, lighter and stiffer than previous cast-iron designs. This engine originally produced 345hp (257kW) and 350lb-ft of torque, but later models were able to give more power. While one might think a high-performance V-8 would be a real "gas guzzler" the C5 achieves comparatively high EPA ratings, the automatic transmission returning 18/25mpg in city/highway tests and the manual version as much as 19/28mpg in the same circumstances.
The all-new LS1 engine was connected to the rear 4L60-E automatic transmission/transaxle assembly via a torque tube, this helped facilitate a the desirable 50-50 front-rear weight distribution (and also gave a lot more space in the foot well area too). The fuel tank system was also designed to minimize the effects of changing fuel loads on weight distribution and handling. In this form the car could accelerate from 0-60mph in 4.7s and give a standing quarter-mile time of 13.2seconds. Top speed is rated at 175mph (282km/h). The Suspension choices offered a choice of three, fully independent four-wheel, short-/long-arm suspension. The base suspension provides excellent ride and handling. It features what might be considered old fashioned leaf springs, but these new composite springs are lighter than steel springs even coiled ones and allow the car to sit much lower too. The basic model C5 was limited to the standard (RPO FE1) suspension but higher spec' models also had the choice of the FE3 Sport Suspension (included with the Z51 Performance & Handling Package) which formed the standard setup for the 1999–2000 FRC, or a high-tech Real-Time Damping Suspension within the F45 Selective Ride Control. This gave the driver a choice of settings and, from 1998 an Active Handling System which became standard from 2001. Other electronic gadgetry included a drive-by-wire throttle, or Electronic Throttle Control (ETC) which allows includes cruise and traction control, and allows almost infinite tuning of the throttle progression by mechanics; a variable-effort power steering system giving more aid at lower speeds and less when going at high speed, and a "high-tech" head-up display or HUD driver display, first available in 1998 then made standard on all models from 2001.
Chevrolet continued production of the C5, and it's variants, until 2004.
Chevrolet Corvette pace car
It is little surprise that such a car would be put forward for 'Pace car' duties and featured at the Daytona 24hrs race in 1998-99, 2000 and 2001, as well as providing cover for the 2000 Indy Racing League, IRL, season. Furthermore Corvettes paced the 1998, 2002 and 2004 Indianapolis 500 races. A replica of the 1998 Indianapolis 500 pace car was released.
In 1999 the C5 pace car was at Daytona for the debut of the C5R Corvette GT2 racer, a car which would go on to win it's class at le Mans for the next three years. For the 2000 Rolex 24 Hours of Daytona Endurance Race the official C5 coupe pace car was finished in 'Millennium Yellow' and featured the IRL chequered-flag livery, a black leather interior, the Z51 suspension package and the 360-degree strobe light package by Whelen.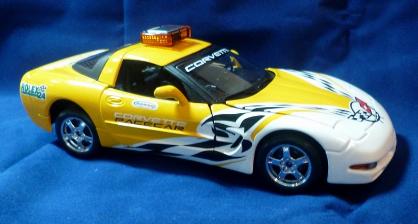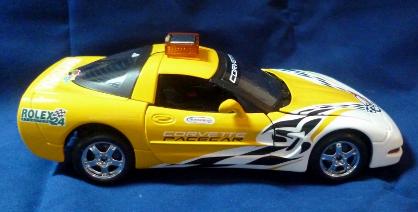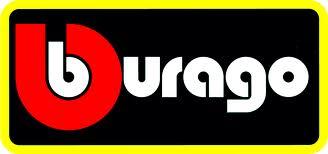 1/24th scale kit.
Built by Ian.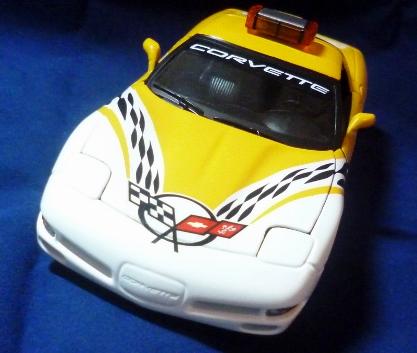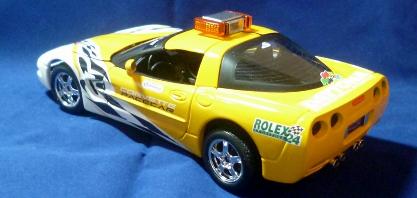 Bburago have an understandably variable reputation for their models, the early kits weren't too well received initially as the plastic parts were difficult to work with and likely to break. The decals also proved difficult to apply in as much as the adhesive seemed to wash away and the decals fell off. As the flaws were ironed out the kits became more user friendly and popular. Today they are rare and very collectible, as are many of the original factory built models.
Mario, Ugo, and Martino Besana, founded their first toy company, Mebetoys, together in the family home town of Burago di Molgora, Italy. This company they sold off to Mattel around 1973 before setting up again as Martoys from 1974 to 1976 focusing on larger scale models. From 1976 the company name changed to Bburago, with two 'b's. This was to recognise the Family name as well as their home town name. All scales of factory built models were sold and through the 1980's some of the products were released as kits. Interestingly Bburago kits were often of cars different to the factory built offerings in that they would be racing or rally versions of the cars. Bburago was taken over by Maisto in 2005 and production transferred away from Europe marking the end of affordable diecast model production and sales in Europe.
Ian bought this kit at a model show in 2011, but he didn't build it until late 2013 finishing it of in July 2014. Much of the construction is as per the kit but the colour scheme needed a lot of work. Knowing that the decals were likely to be suspect Ian masked and painted all of the white area of the nose. One of the pointers to this issue is the box art which shows a model in a very light shade of yellow and as the body shell was actually millennium yellow, meaning there was a good chance the photo had been 'lightened' to remove the effect of the yellow showing the decals which are too thin. Ian's idea worked well to stop the bleed through but had another effect too. The decals don't fit that well either, so with the white background painted on the gaps are not as obvious and the black parts could be touched in by hand.
But that isn't the end of the decal issues. If you want the actual pace car rather than a road copy then you need to source quite a few decals. All of the Daytona, Rolex 24hrs, Grand-American and flag decals (and a correct Chevrolet logo) had to be made at home; drawn onto the computer and scaled down (see our article on making decals).
The light bar is the remaining addition to the model and proved to be quite a problem. This style is rare on emergency vehicles so equally rare in the 1/24th scale model world. Ian used a few items from his spares box but most of it is scratch built. It is painted with Tamiya clear orange.

The model is finished with acrylic paints from the Halfords range, supplemented with Citadel and Art-Deco colours. A good primer is essential for painting Bburago plastic parts as they are very flexible and it it easy for paint to flake off. The Body and decals are sealed with a coat of Alclad II clear. It is safe on decals but not as bright as some other clear coat finishes available.
RETURN TO :-