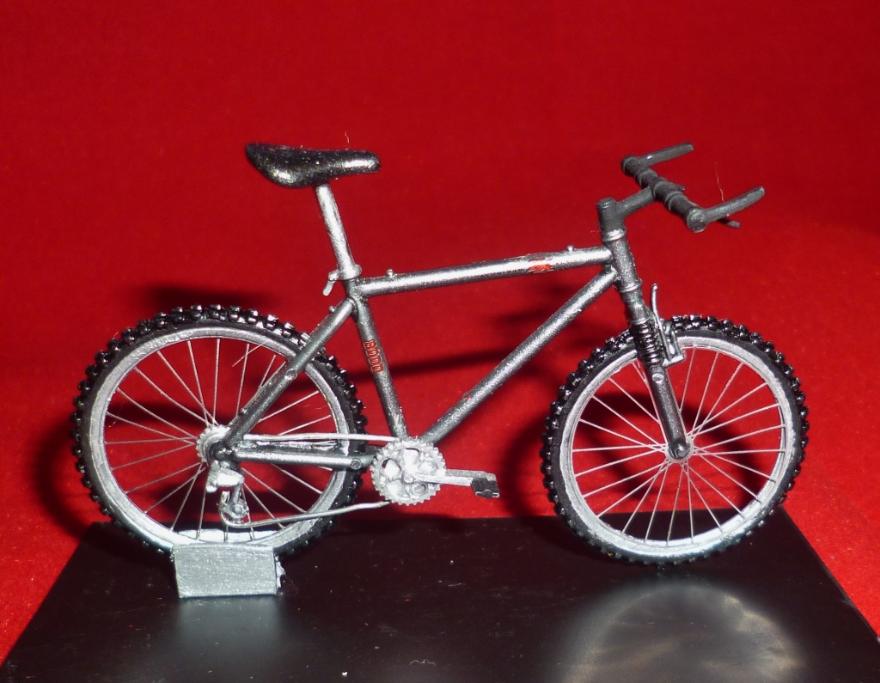 1996 Trek 8000 SHX mountain bike information.
The Trek 8000 SHX is a mountain bike weighing in at around 25 pounds. It first went on sale in 1993 and four versions sold over the rest of the 1990s. The frame was made from bonded aluminium, TIG-welded, for strength and light weight. The front forks, which also included an inbuilt suspension system were made from magnesium. All the parts came from respected manufacturers like OEM, System and Shimano making it a good quality machine for all-round functionality, durability and value for money.
As for Mountain biking it's history goes back to the dawn of cycling itself. There were very few paved in the 1800s and what there was tended to be cobbled and a real handful for any cyclist to endure. Thus early cyclists mainly rode on dirt roads or trails as that was the norm for the time. Organised off road cycling was a long way off but there are instances where people did test out the practicalities of the bicycle in all terrain situations.
In the U.S. The Army had the25th Infantry Bicycle Corps, a regiment of African-American soldiers who had customized bicycles to carry gear over rough terrain. In August 1896 the riders rode from Missoula, Montana, to Yellowstone National Park and back proving that there was value in the idea of bicycle troops, something which was picked up by other countries and tested under combat conditions in WWI and WWII.
In the 1950s there was an actual club for off road riders in France, the Velo Cross Club Parisien (VCCP). Numbering about 20 riders these enthusiasts modified their bicycles for off road all terrain cycling.
Mountain biking started to gain popularity from the 1970s onwards, along with BMX and stunt cycling. A renewed interest in cycling, for the environmental and health benefits, saw a real take up of cycling for leisure and practical purposes from the 1990s. Technology suddenly took off in all areas of bicycle construction, materials, design, piezoelectrics and innovative aerodynamic studies all influenced the world of cycling.
Parks and reserves started to lay out special tracks for mountain bikers and clearly labelled these routes for the safety of walkers or horse riders. Councils slowly started to create cycle routes and try to keep cyclists safe and segregated from the cars and lorries. European laws came in making such things mandatory and the emission tests on vehicles were tightened so cyclists were not breathing in the fumes from cars and lorries. By dint of this ecological movement motor car technology changed too. Computers started to come onto cars to the point where vehicles can't run without an engine control unit monitoring everything all the time; much to the annoyance of some people who liked to do their own car maintenance. So many of these "tinkerers" turned to bicycles to allow their mechanical needs to be met.
It is a mark of how the car has become such a "need" of the people that it took ecological, rather than health, concerns to encourage people to return to cycling. But the result is a better traffic system (apparently), cleaner engines and people taking their health more seriously. Thus the car and bicycle remain as intertwined as they were at the very birth of the motor car itself.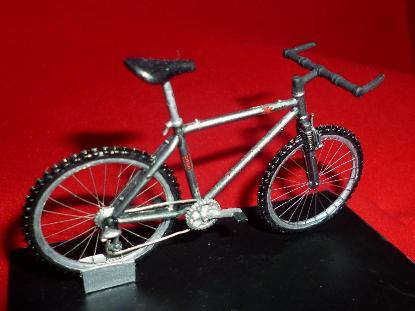 1/24th scale kit
Built by Mark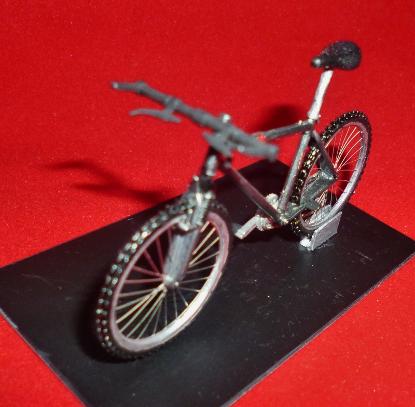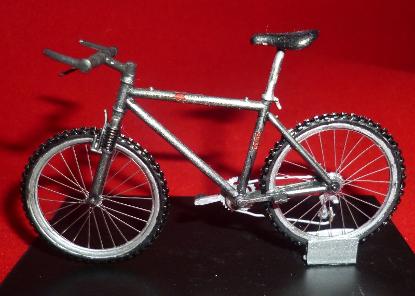 Fujimi 1/24 scale Roof Box & Trek Bicycle kit #11042 Garage and tools series. The kit was released from around 2010 and the bike featured photo-etched spokes and details making it a very advanced bicycle kit for that time. It is hard to find bicycle kits in 1/24th scale, especially those of an era to go with contemporary cars. Most kits of bicycles fall into the military brackets of 1/35th or the larger motorcycle scales of 1/12th and 1/9th.
This model was built and donated by our good friend Mark Reeves.
RETURN TO :-