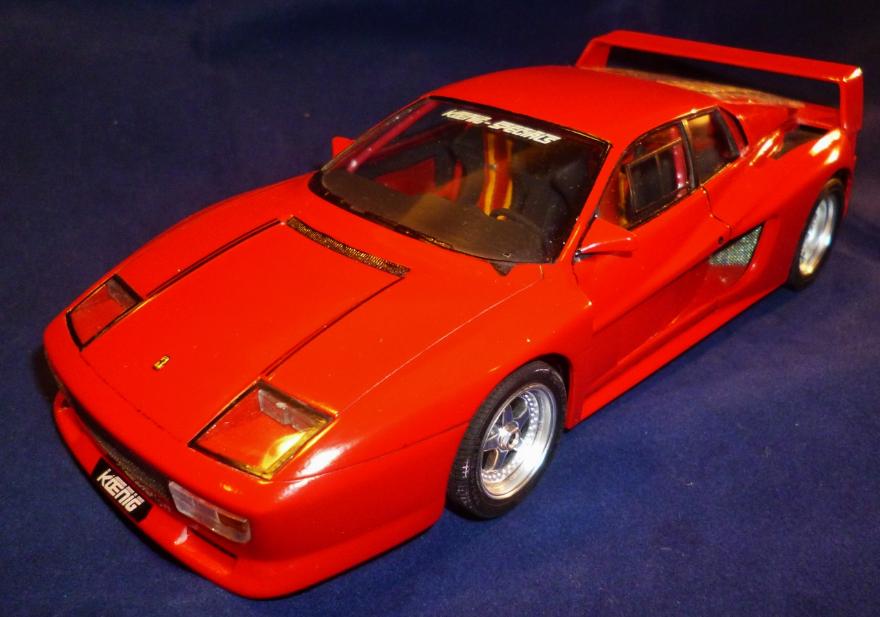 Koenig-Specials "Competition"
Willy König Started racing cars in 1961 going on to drive some of the world's best known cars, like Ferraris, Ford GT 40, Lola, Abarth, Lotus, and more. He was rather good too, being crowned German Mountain Champion in 1962, driving a Ferrari, Enzo Ferrari was so impressed he invited Koenig to Maranello and held a party for him!
Roll on ten years or so to 1974 and Willy König purchased a Ferrari 365BB which he wasn't entirely happy with. König engaged engine-specialists and coach building companies to create a racing car for the streets, once other people saw this evolutionary car they wanted one too and König's part time interest became a full time business in 1977. The Southern German City of Munich became home to Koenig-Specials and over the next few decades Koenig-Specials, later headed by Willy's son Walter, worked it's magic on some of the world's most beloved brands including Mercedes-Benz, BMW, Lamborghini, Jaguar, and Porsche. However, Ferrari have been the main benefactors of the Willy König caress and it was a Ferrari that would later provide the basis for Willy König to realise his ultimate dream of a road-going sports car. A car with poster pin-up looks and 1,000hp under the hood.
The 1970s Ferrari 365 BB and 512 BB were awesome machines but the twin-turbo engine approach, later applied to nearly all 12-cylinder models from the 512 BBi onwards, really upped the power stakes, and as Koenig had years of racing experience behind them the cars could be made to handle the power in a stable way meaning these cars became the ultimate road going sports cars.
Tuning cars is Koenig's bread and butter and they offer not only high-performance engines, sports exhaust systems, turbo and supercharger unit's but chassis improvements,wide wheels and tyres as well as racing brakes. To top that they can repackage a car in the latest wind tunnel inspired, computer influenced, body designs; and everything is to the highest standards and of the most exotic materials required to do the job. Of course all that doesn't come cheap but Koenig-Specials provide the options and advice while the customer chooses the actual specifications of the rebirth. One suspects that if you are going to Koenig-Specials for work on your car though you probably aren't going to be quibbling about the price.
In 1984/5 Koenig focused its efforts on the Ferrari Testarossa and our 1989 model is the result of what happens when you leave Willy König a Ferrari Testarossa to play with. As it happens Enzo Ferrari wasn't as happy with Willy König's enhancements to his cars and demanded the Ferrari Logo's be removed from Koenig-Specials designs. The end result of this disagreement was the Koenig-Specials car having no mention of Ferrari or Testarossa in the name. Before we go any further let's remember the Ferrari Testarossa was no mean car to start with, a car us ordinary mortals could only dream of driving or owning. König's upgraded car, the 710BHP Koenig-Specials bi-Turbo was presented at the '85 IAA in Frankfurt but Willy König wasn't finished there, the design was further refined and once finished it was the ultimate "Competition" car; beyond dream land, it was out of this world.
The Koenig Competition had its chassis entirely reworked in order to accommodate the new engine configuration, and be able to handle the massive 1000bhp power output (adjustable down to 600bhp from the driving position). Two Franz Albert Rajaj Turbos were added, the cooling system had to be improved and a new exhaust-system (itself accounting for an increase in power of around 30bhp) was fitted. Koenig's own custom suspension was applied so the car sat lower and made the ride stiffer. Huge new wheels and tyres added to the stance and handling.
Vittorio Strosek adjusted the design to improve not only the looks but the aerodynamics too. In the end the car had new Kevlar composite panels for the front fenders, a new front spoiler and bonnet, new side skirts, door lines, complete new rear fenders (including two large NACA ducts to feed the twin-turbos and mountings for the rear aerofoil), and an all new rear engine cover incorporating a lightweight plexiglass screen. The side windows and headlight covers were also plexiglass for lightness. In the end though it is as much what Vittorio Strosek took away that makes the Koenig-Specials Bi-turbo and later Competition look like an entirely new car. Gone were the Testarossa door strakes, the typical 1970/80s pop-up headlights and the large Testarossa door mirrors, some not to be replaced at all, even the mirrors were so much smaller, and restyled, as to almost disappear. Of course not everything got smaller, the Koenig-Specials Competition is 17cm wider than a regular Testarossa. Incidentally the interior could be trimmed to the customer's individual specification.
Koenig-Specials "Competition" was the most successful of all Koenig cars with both coupe and cabrio styles being produced, even today it is the best-known of the Koenig range. While many people dislike Willy König's creations there is no doubt he was a 1980's tuning-legend and still has many fans all over the world. For all the disagreement with Enzo Ferrari the "Competition" seems to look a lot more like a Ferrari F40 than the earlier Testarossa, and you can't help but wonder where Ferrari designers got their ideas for the F40 from.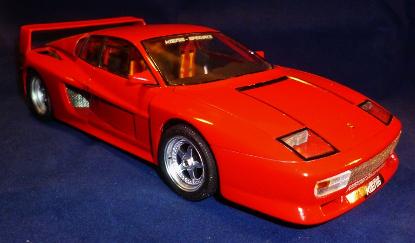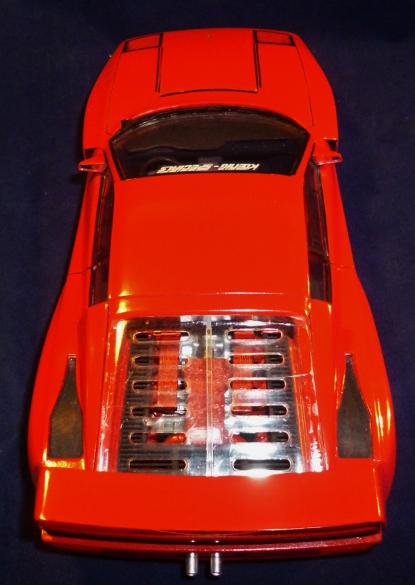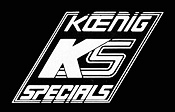 1/24th scale kit.
Built by Mark.
Restored by Ian.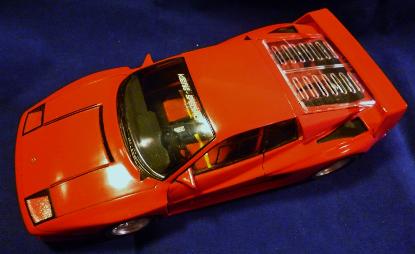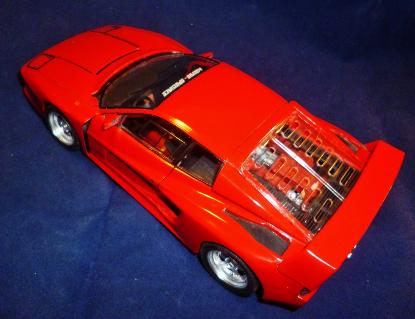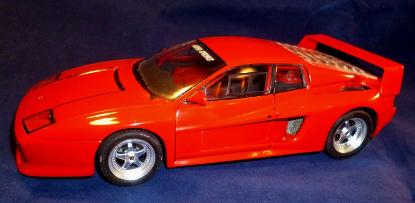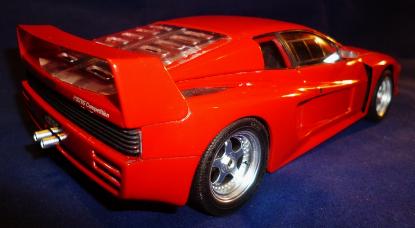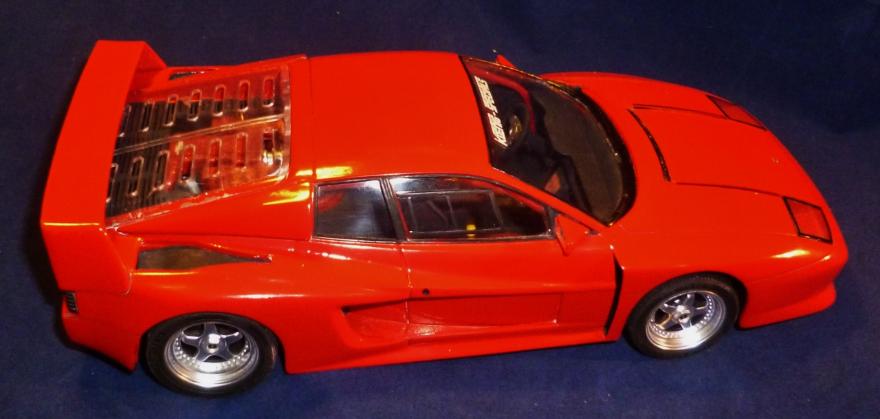 As far as we can tell this kit hasn't been shared with any other kit producers. In 2016 these kits seem to be trading for around £40 GBP and upwards but aren't exactly easy to come by. While there are numerous detail/upgrade sets available for Tamiya's 512 Testarossa kit there don't seem to be any (beyond generic logo decal sets) for the Fujimi Koenig-Specials Competition, and it doesn't seem likely that much of the Testarossa aftermarket parts sets contents would be of use on the Fujimi kit. Our good friend Mark Reeves kindly donated the built model with a fictitious "Fruit of the loom" racing colour scheme. Mark himself pointed out the decal scheme and gave his permission to return the car to a more accurate appearance.
Fujimi released this kit in the following forms :-
1989 Koenig-Specials Comfort # 12015 (Also listed as RP-SP25|SP-25)
1989 Koenig-Specials Competition # 12402 re-box
1990 Koenig-Specials Competition Spider # 12033 reported to be a new tool ? Partial new tool ?
2004 Koenig-Specials Competition Spider # 12218 re-box
2004 Koenig-Specials Competition # 12217 re-box
Ian restored the car to something more like the original Koenig-Specials Competition model by removing the decals with a liberal soaking of Daco "Strong" decal softener and patiently prodding the edges with a firm paint brush until the decal could be lifted off. Working one decal at a time this process took several hours to complete. The paint finish was then cleaned with "T Cut" and polished with Turtlewax before remedial paint touch ups were done by hand with brush applied Citadel acrylic, and Humbrol enamel, hobby paints. New Ferrari decals and emblems were found in amongst the spare decals box and added the final touches to an interesting addition to the Museum.
The model was added to the Museum collection in January 2016 and resides with Rod amidst his other road going Ferrari models.