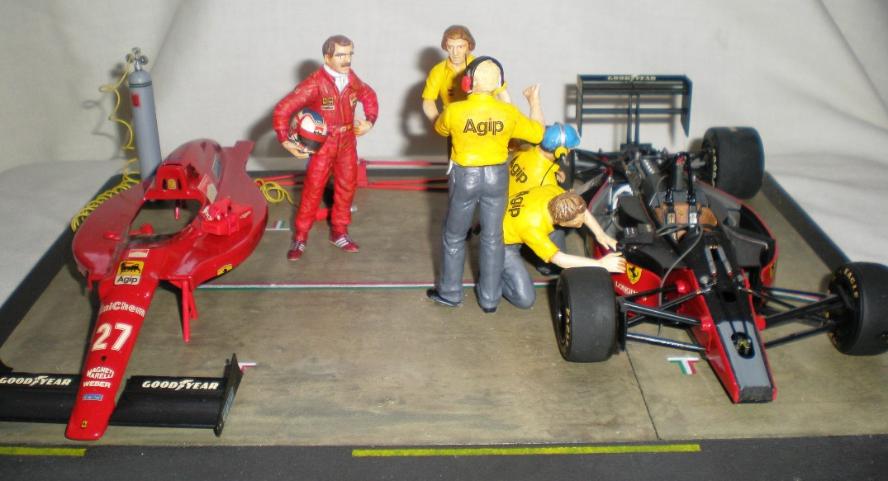 Mansell's 1988 season was awful. The Williams, running Judd engines, was down on power. It's innovative active ride system was terribly unreliable. He also missed two races due to a dose of Chickenpox. "Our Nige" only finished twice, two 2nd places, netting just 12 points. He left Williams to join Ferrari for 1989 becoming the last driver personally signed by Enzo Ferrari, who died in the August of 1988. Mansell described this fact as an honour, "One of the greatest of my entire career".
The 640 was the 1st Ferrari to be designed by John Barnard. It featured a flat low nose with a narrow monocoque cockpit area. The side pods were an exaggerated coke bottle shape designed to get maximum aerodynamic airflow through the radiators. To reduce frontal area air was induced into the engine airbox through slots set back in the body behind the drivers head. This system was later dropped in favour of the high induction airbox being used by other teams. The engine itself was the Tipo 035/5, 3.498 cc (213.5 cu in), 65° V12, NA, unit which was quoted as providing 660bhp. The real innovation of the car was it's 7-speed semi-automatic gearbox, the first to be run in F1.
1989 was the first season of the new non-turbo era and the first race of the season was held at Jacarepaguá, Brazil. Gerhard Berger qualified his Ferrari 3rd. Mansell, on his Ferrari debut, could manage only 6th. But races are won on Sundays, not Saturdays, and it was Mansell who came through the field to record a Ferrari debut win. The Tifosi took to Mansell immediately and dubbed him "il leone" due to his fearless driving style.
As the season progressed the car proved unreliable, although Berger won in Portugal and Mansell picked up a further win in Hungary, both with the high induction car. Reliability was a frustrating downside but the promise of the car was made clear by the fact that When it did finish, it never finished lower than 3rd place!
Mansell was 4th in the Drivers' Championship, with 38pts, Ferrari's 59pts took 3rd in the Constructors' Championship, and F1 has never returned to Jacarepaguá since this race, preferring to visit the updated Interlagos circuit.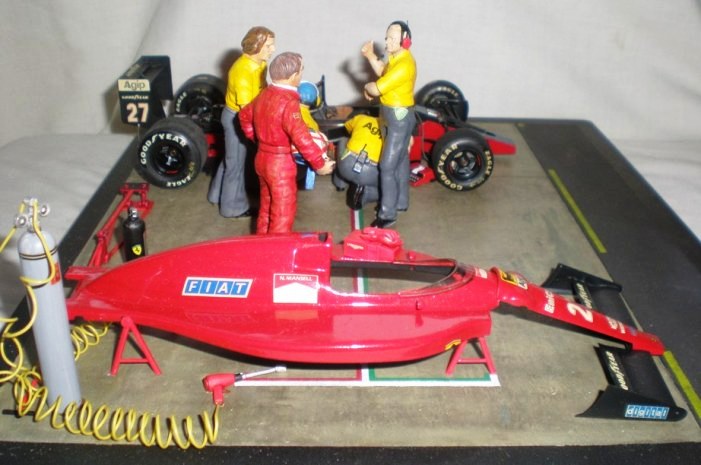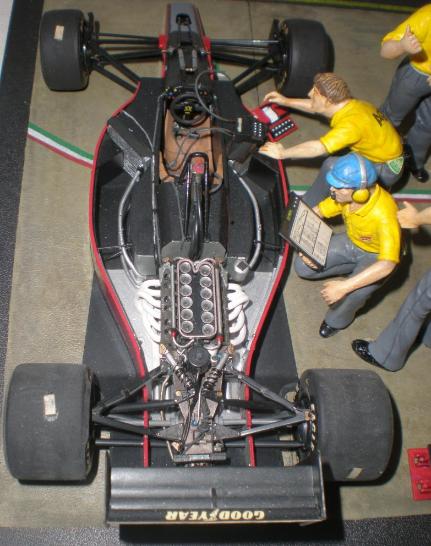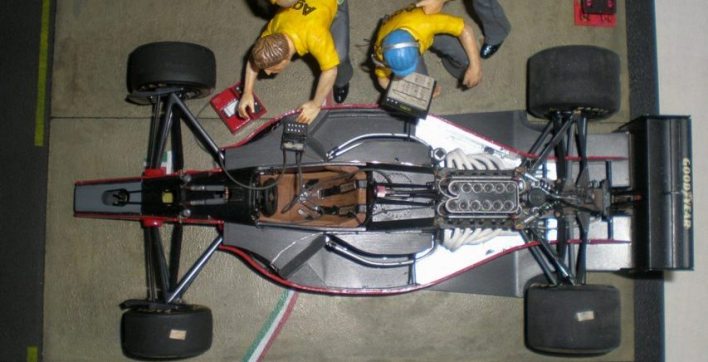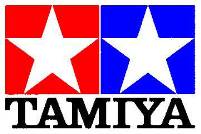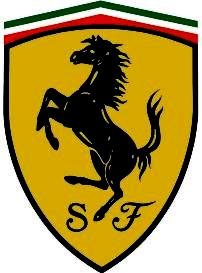 1/20th scale kit.
Built by Ian.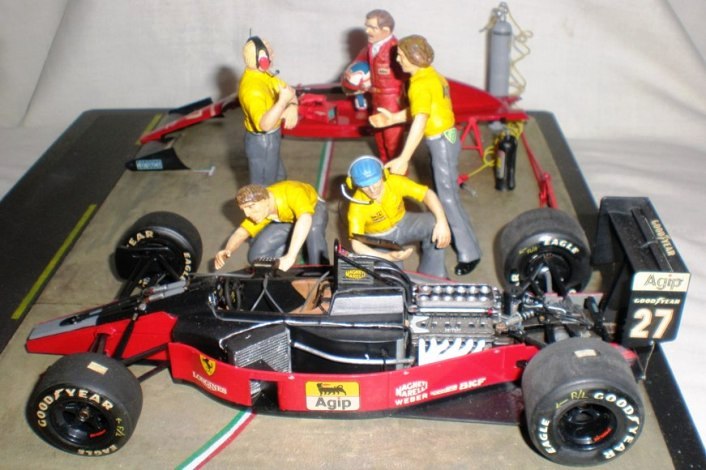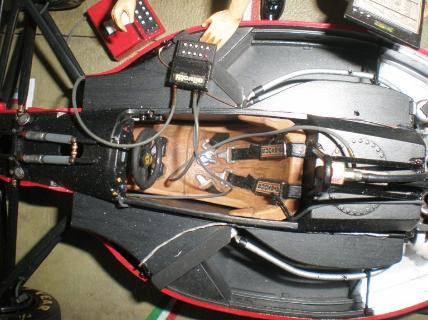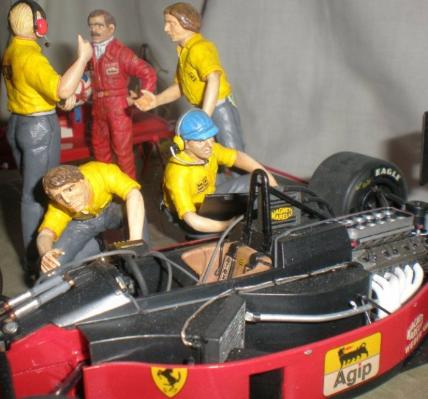 Ian built this model in 1994 using the Tamiya 1/12th scale kit as the bases for his additions. Even 5 years later getting pictures of the Ferrari 640 was hard as F1 teams are so secretive, remember the semiautomatic gearbox was still fairly new and Ferrari didn't wan't any information getting to other teams. Little by little Ian was able to gather bits of information to add to the superb Tamiya kit. All the scratchbuilt work is from house hold items as Ian had yet to make contact with the slowly growing aftermarket manufacturers. This also Ian's first attempt at any diorama or people modelling, again Tamiya's pitcrew set proved excellent.
At this point in his modelling development Ian is still using brush applied enamel paints. But he was taking inspiration from magazines and just getting into the IPMS and his local branch. Joining a local modelling club is something we encourage for all modellers.
Up to this point in time (1994) Tamiya were the pinnacle of F1 kit manufacturers. After the death of Ayrton Senna Tamiya's Mclaren rights were cut short due to legal issues and their production of F1 kits came to a stuttering halt. F1 modellers were mortified! Other manufacturers were slow to fill the void, but 'Modellers' and 'Academy' gave intermittent hope. It took 'Studio27' to come on the scene to save us. Revell picked up the F1 batton most consistently but in 1/24th scale, which frustrated the 1/20th scale community. This led to an upserge of Tamiya cloned and inspired resin kits from manufacturers in South American countries. Quality took a while to improve but 1/20th scale modellers were glad to have something they could work with.
As things stand in January 2013 Fujimi are the most prolific of F1 plastic kit producers. They have taken over moulds from other companies as well as releasing many all new toolings, and all in 1/20th scale. Tamiya presently release an F1 kit at the rate of one every two or three years. The resin world is seeing fantastic array of multi-media kits from Studio27 and Model Factory Hiro, backed up be BBR, MG Models, FS-Model, Monopost, Iritani and Wolf to name but a few.
RETURN TO :-