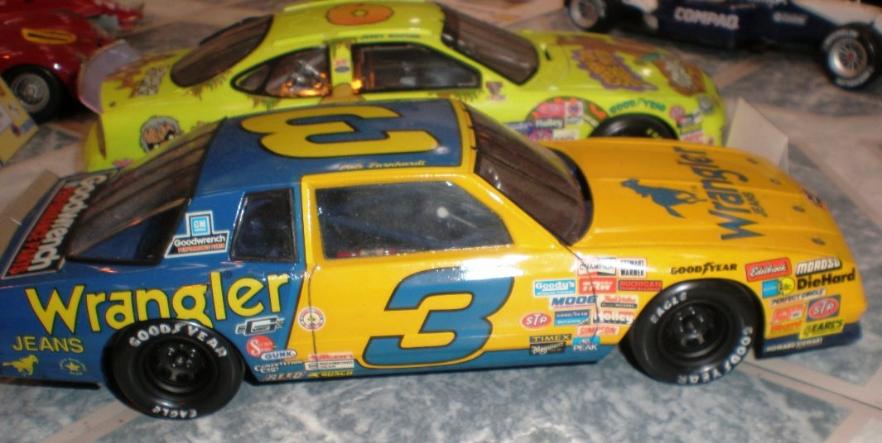 Ford's '83 to '86 Thunderbird posed a problem for General motors in NASCAR. It was much more aerodynamic than any car General Motors' had that was race-eligible.
Chevrolet had been campaigning the slope-nosed Monte Carlo SS from 1983, but the car's chopped-off roofline meant that air spilled off before it could settle over the boot lid to provide stabilizing downforce. If the Monte Carlo was going to become competitive with Ford's T-Bird, it needed a rear end make over.
It proved fairly straight forward to solve the problem, by simply adding a larger shaped glass rear window the coefficient of drag was lowered from 0.375 to 0.365, a noticeable amount. The new Glass smoothed out the lines sloping as it does down from the roof over the boot. Finally the Monte Carlo had aerodynamic stability on a par with the Ford.
The man best known for driving the Monte Carlo SS in NASCAR was Dale Earnhardt. Earnhardt's Richard-Childress-prepared, Wrangler-sponsored, yellow-and-blue No. 3 Aerodeck was the car to beat going in 1986. He seemed to be able to drive it anywhere on any track with complete impunity and the car helped him cement his place in NASCAR folklore.
1986 was a great year for Earnhardt. He won five times, finished in the top five 23 times and claimed his second Winston Cup title. In 1987 he pushed the Aerodeck to 11 wins and a third title.
The Monte Carlo SS just went on winning and by the time it was replaced by the Lumina had taken 5 consecutive manufacturers cups and won 95 out of 183 races between 1983 and 1989. It was the longest running and most successful NASCAR model to that time.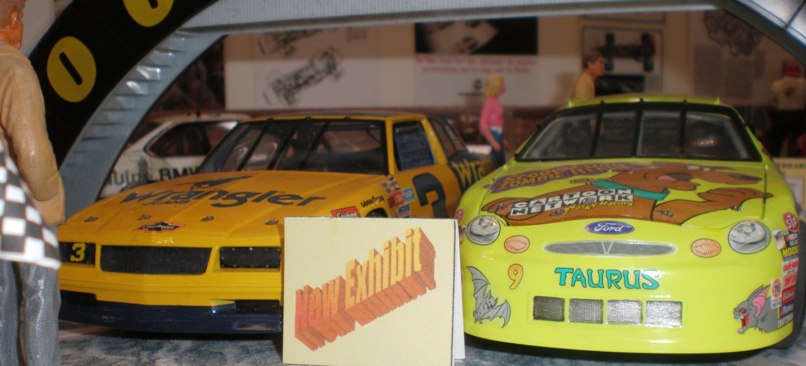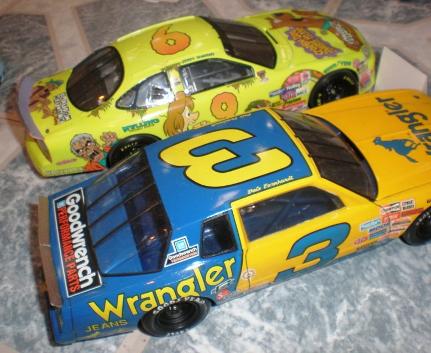 1/24th scale kit.
Built by N. Simpson.
Renovated by Ian.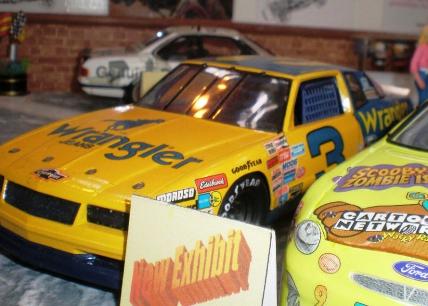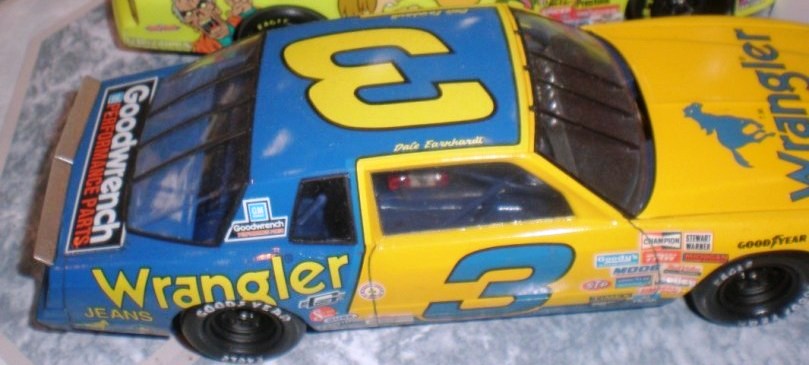 Originally donated by Nigel Simpson Ian took this model apart and reworked it to freshen it up. It isn't a bad kit but typically monogram so the fit of the parts isn't up to Tamiya standards. That said the detail level is good and with a little effort a very acceptable model can be made. Ian added some missing details and missing decals in order to do full justice to the model.
Monogram made this kit available in a two car set of 'Wrangler' Dale Earnhardt cars #6289 which also included a 1981 Pontiac. It was also released by Revell, #85-2171, as a part of their "The Wild Side" collection.
RETURN TO :-