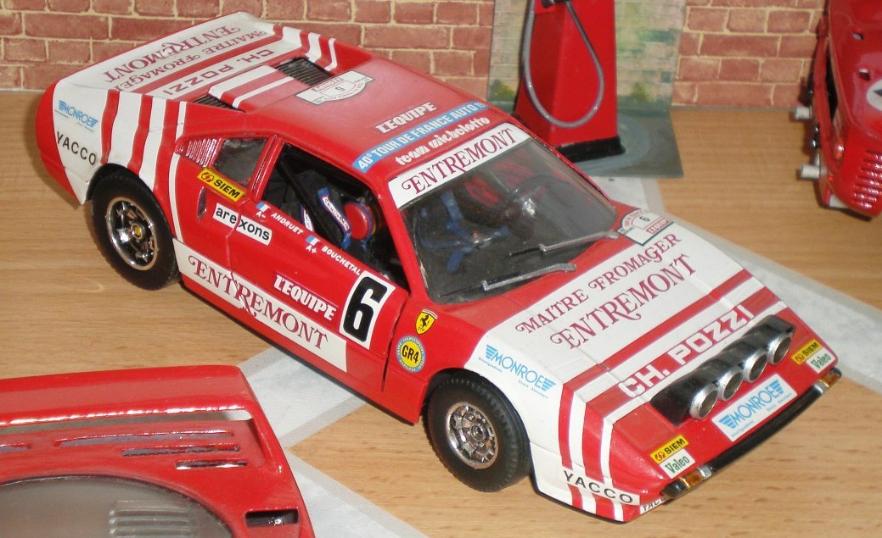 Launched at the Paris Salon de l'Auto in 1975 the Pininfarina-styled Ferrari 308 GTB shared few similarities with the Bertone shaped Dino 308 GT4. The new cars sweeping curves and aggressive lines were to make it one of the most recognizable and iconic cars Ferrari had built to that point, a status inevitably added too by the models starring role in the TV series "Magnum P.I.".
It was designed by Leonardo Fioravanti who had also been responsible for the Dino, the Daytona and the Berlinetta Boxer.
The Carrozzeria Scaglietti produced body was originally made from fibreglass, or 'vetroresina' in Italian, (75-77) but later production reverted to a cheaper steel body (77-85). All sat on the same sort of tube-frame chassis base as the Dino had, albeit now at 94.12 inch wheelbase. Independent suspension by double wishbones all around gave a stable ride.
The transversely mounted 2.9Ltr V8 DOHC engine used four Weber 40DCNF carburettors to produce around 255hp at 7,000rpm. Sadly American market versions were reigned in to around 240hp @ 6,600rpm because of emission control devices. The early GRP bodied cars and all GTB's had drysump lubrication while all the later steel bodied GTS cars had a more conventional wet sump system.
A 5 speed Syncromesh manual gearbox allowed a GRP bodied 308GTB (weighing 2,778 lb (1,260 kg) including 74Ltrs of fuel), to accelerate from 0-100mph in just 15s, 0-60mph was under 6.5s, and the car could run a top speed of 159 mph (256 km/h). From 1980, the Weber carbs were replaced with Fuel Injection and in 1982 a four valve per cylinder (Quattro Valvole) engine was introduced.
12,004 308s were produced between 1975 and 1985 but only the first 712 were fibreglass bodied versions.
Ferrari had been restricted to F1 motor racing due to being part of the FIAT conglomeration. But this did not stop Ferrari from getting FIA group 4 homologation papers for the 308 GTB in November 1976. Ferrari had a more extensive history in rallying than most people are aware. 250GTs, 275GTBs and Daytona Group 4s had been seen on the Tour de France and many other European rallies in the fifties and sixties, including the Monte Carlo rally. Now though Lancia had the Fiat backing for Rally work so the best Ferrari could do was to support privateers through the back door.
One such case occurred when the sales manager of French Ferrari agent Charles Pozzi, one Daniel Marin met with Enzo Ferrari after a discussion with French Rally driver Jean-Claude Andruet. Anduet felt the 308GTB had a good chance of winning the Monte Carlo rally and Marin put this case for a 308GTB in rally configuration to Mr. Ferrari. Enzo listened with interest but had to decline the request as his firm "belonged to an industrial group which raced factory rally cars", but, he added to Mr. Marin, "You are a free man"!... and sent him along to see Gaetano Fiorini, who was in charge of the customer racing department. Mr Fiorini suggested Marin get in touch with the Michelotto outfit in Padova. This he did and started a series of events that would enthral Ferrari's Tifosi.
Giuliano Michelotto's company had a lot of experienced in race preparation and tuning Ferraris and willingly took the 308 GTB in hand. As Ferrari could not supply cars so all 11 of the Group 4 racing specification 308GTBs were born out of used road car shells. Some of them were even the desirable vetroresina (fibreglass) bodies. The prototype Michelotto prepared 308 GTB rally car was unveiled in 1978. It had extensive modifications and prodigious performance. Preparation of these 308GTBs started with a rigorous weight reduction programme - the 308 GTB wasn't a natural rally car as 1350 kilograms was just too heavy - replacing nearly all the original panels with glassfibre resulting in a curb weight of only 940kg, even with the new roll cage fitted.
New Lockheed 305mm ventilated discs with four piston callipers on a double circuit hydraulic system provided braking along with rear wheel handbrake as favoured by rally drivers. Rack and pinion steering became standard. The limited slip differential was set at 80%. The 308GTB was only to be rallied on asphalt, which meant that it could use near-standard suspension.
The engine was largely the same architecture and engine in the Lancia Stratos, enhanced with light alloy heads and crankcase and a compression ratio of 10:5:1. Kugelfischer direct mechanical fuel injection and 15 litres of coolant water was boosted by forced induction. The dry sump lubrication had an 8 litre oil tank. This reworked engine was now delivering 305hp at 8,000 rpm.
1981 - Tour de France auto.
On the 12th of September 1981 the contenders for the tour de France (auto) gathered in the 'place du Trocadéro', Paris. Amongst the competitors were :-
Bernard Béguin/Claude Buchet (Meznarie Porsche 911SC Grp4 )
Francis Vincent/Willy Huret (Alméras Freres Porsche 911SC Grp4)
Bernard Darniche/ Alain Mahe (Chardonnet Maglioli Tuning Lancia Stratos HF Grp4),
Bruno Saby/F. Sappey (Team-Galtier-Renault R5 turbo 200 hp)
Jean-Louis Clarr/J.Sevelin (Opel Ascona 400)
Jean-Claude Andruet/Chantal Bouchetal (Team Michelotto Ferrari 308 GTB)
Favourite for victory in the Tour Auto was Bernard Béguin in his Porsche but no one was going to find it easy. Andruet won the first stage and decided to go cautiously. Clarr led after winning the second, third and sixth stages, but Darniche and Béguin were still threatening. From the seventh special stage Jean-Claude Andruet took charge of the rally, recording the best time in each event until the regrouping park at Aix. At that point he had a lead of 2'08 " over Béguin and 3'40 " over Clarr. Andruet's position thereafter was one of unchallenged domination. Béguin only won one special stage, the eighteenth, and at the end of the first leg of the Rally, Andruet was leading by 4'48" ahead of Béguin, 6'41" Vincent, 6'44" on Clarr and 9'41" over the Stratos of Darniche!
Given the comforted his advance position Andruet was able to take less risks in the second leg, however, he still consolidated his position in the standings so by the control at Vals-les-Bains the Ferrari was 5'47" ahead of Béguin, and that was all that mattered. Andruet continued to run cautiously as he could now control the rally from the front. Darniche was the man really forcing the pace in his Stratos. Positions at the end of the second leg saw Darniche second at 4'52, Béguin third at 6'50".
The last leg was more or less a formality, especially when three stages had to be cancelled.
Upon arrival at Biarritz, Jean-Claude Andruet won the Tour Auto in a Ferrari, as nine years ago, with 4 '48 ahead of Chardonnet Stratos, in it's last race, and 7'10" to Béguin's Porsche.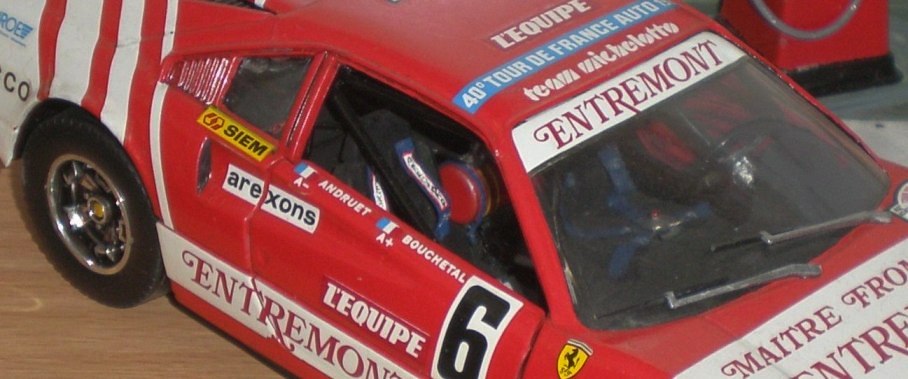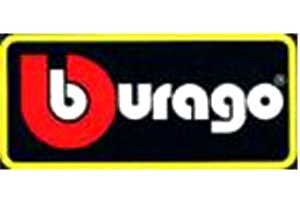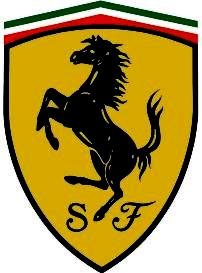 1/24th scale kit.
Built by Ian
Ian built this kit in the mid 1990s. Bburago pre paint the body shell but on the exterior rather than the interior so much work was still needed. Experimenting with ink washes led Ian to darken the panel lines and intakes which, along with the decals, really bought the body to life. Humbrol enamel and Citadel acrylic paints were used for the detail work.
The hard work with Bburago kits comes when dealing with the rather basic interiors and parts that are not as crisply cast as Revell, never mind Aoshima or Tamiya. To give the seats some life they have had seat belts added, the roll cage was upgraded and a fire extinguisher added. Nothing extensive but enough to sell the illusion of reality.
Mario, Ugo, and Martino Besana, founded their first toy company, Mebetoys, together in the family home town of Burago di Molgora, Italy. This company they sold off to Mattel around 1973 before setting up again as Martoys from 1974 to 1976 focusing on larger scale models. From 1976 the company name changed to Bburago, with two 'b's. This was to recognise the Family name as well as their home town name. All scales of factory built models were sold and through the 1980's some of the products were released as kits. Interestingly Bburago kits were often of cars different to the Factory offerings in that they would be racing or rally versions of the cars.
The kits weren't too well received initially as the plastic parts were difficult to work with and likely to break. The decals also proved difficult to apply in as much as the adhesive seemed to wash away and the decals fell off. As the floors were ironed out the kits became more user friendly and popular. Today they are rare and very collectable, as are many of the original factory built models.
Bburago was taken over by Maisto in 2005 and production transferred away from Europe marking the end of affordable diecast model production and sales in Europe.
RETURN TO :-