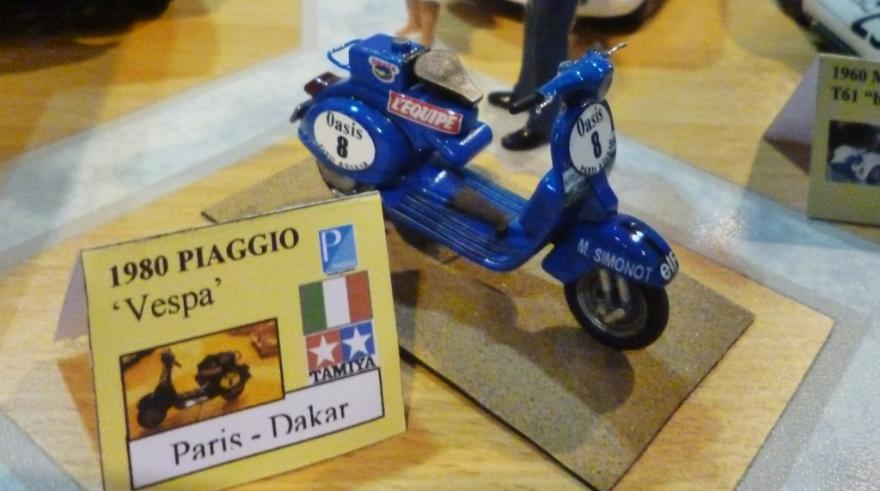 1980 Piaggio 'Vespa' 200e
Say Scooter to most people and the word Vespa will not be far behind, say Piaggio and you might not get such a quick reaction. Piaggio is of course the company that makes the Vespa. The company takes it's name from the 20 year old Rinaldo Piaggio who founded it in Genoa in 1884. His first line of work was luxury ship fitting but in it's first 20 years the company diversified to produce luxury coaches, rail carriages, goods vans, engines, trams and special truck bodies.
The first scooter was the MP-5 which was produced, in April 1946, at the 'Enrico Piaggio factory' in Pontedera. When the next model was in prototype Enrico looked at the MP 6 and exclaimed, "It looks like a wasp!". Thereafter Vespa came to mean scooter, as well as wasp.
Doing reasonably well from this Piaggio also moved into the small car market with the Vespa 400. In two and four seater bodies the car had a 349cc engine producing 18hp, enough to get the vehicles up to 55 mph.
Vespa captured the imagination of America in 1953 when Gregory Peck and Audrey Hepburn rode one in the film Roman Holiday, and then again in the film La Dolce Vita,' of 1960.
The Vespa breakthrough really came in 1963 when the Italian government passed a law making all vehicles over 50cc carry a number plate. The latest Vespa "50" was exempt, while vehicle sales overall fell by 28% sales of Vespa scooters rocketed.
By far the biggest sales success for Vespa was the 1977 'PX' model. It sold over two million units across the 3 different version.
Two Vespa PX 200es reached the finishing line of the second Paris-Dakar rally in 1980 and one of these from the team of four is the subject of our model.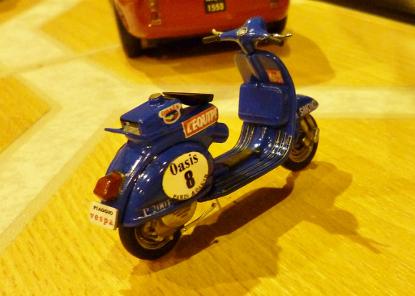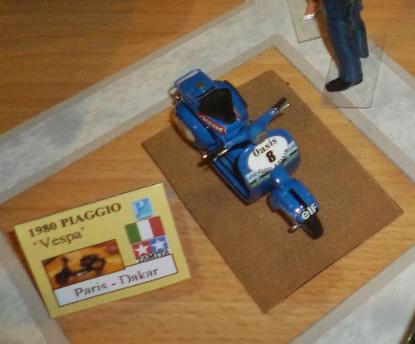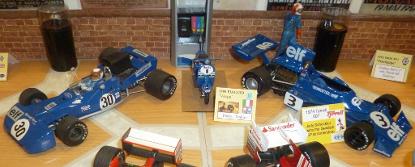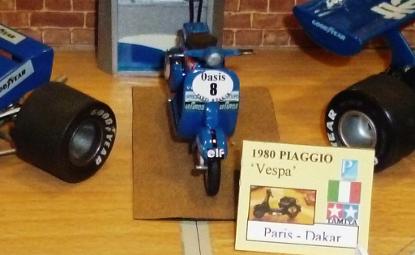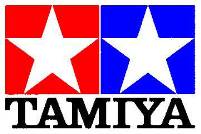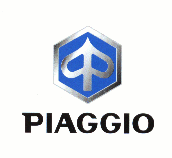 1/24th scale conv'.
Built by ian.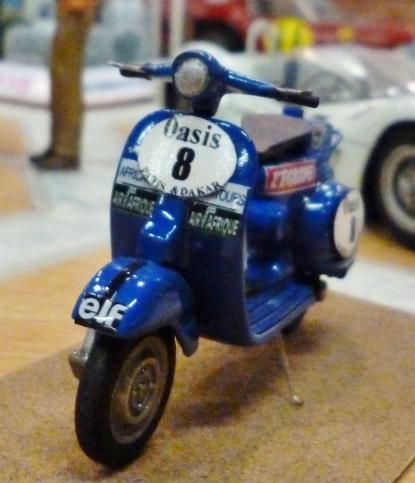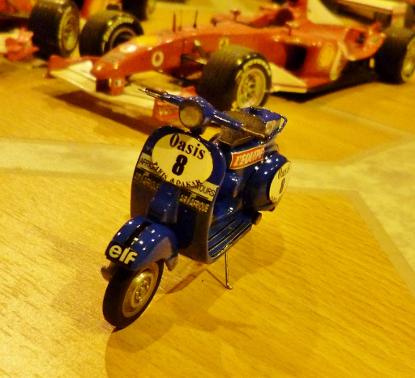 This model was built from the Tamiya 'campus friends' set version of the 50cc Vespa kit. It actually took more conversion work than might appear on the surface, details of which can be seen on our facebook page amongst the albums. As well as the conversion work I added details like the hand levers and side stand. All the decals are made by us at home, details on this process can be found on amongst our article 'Making custom decals at home'.
It is painted with airbrushed with Americana acrylic hobby paint and Games workshop 'Citadel' acrylics. The metal effect on the wheels is created with the use of 'C1 models' metalizer powder.
RETURN TO :-