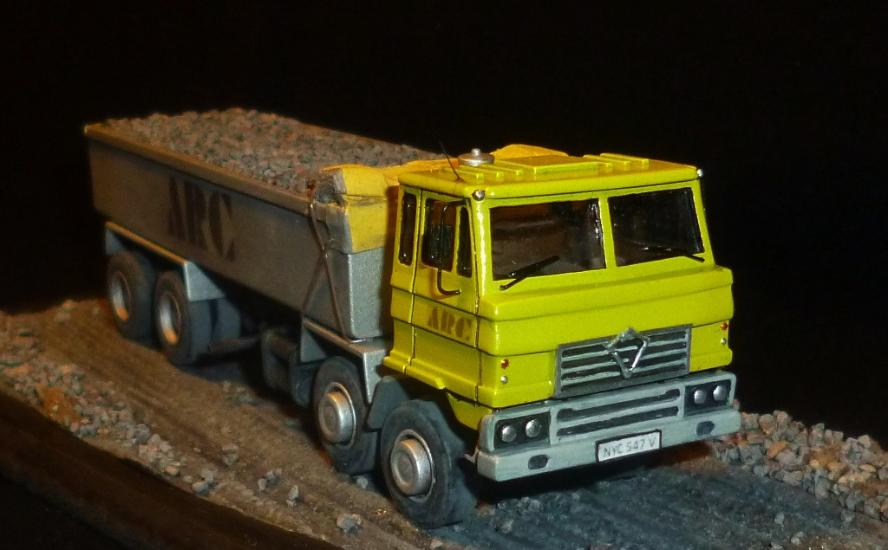 1980 Foden S10 Haulmaster
Foden history
Edwin Foden was apprenticed to Plant & Hancock in 1856. Plant & Hancock were manufactured agricultural equipment but Foden was looking for a more rounded education and left Plant & Hancock for an apprenticeship at Crewe Railway Works. In 1860 Foden returned to Plant & Hancock at the age of 19, not long after this he was to become a partner in the company and by 1866 Foden was a full partner in the renamed company "Hancock and Foden". George Hancock retired from the company in 1870, he remained as an adviser to the young Foden for quite some time.
Fodens iron foundry works in Elworth near Sandbach, Cheshire, produced stationary engines and other equipment for agricultural use. They also dealt in coal and acted as agents for other agricultural equipment manufacturers. In 1876 the company became "Edwin Foden and Son".
Edwin Foden developed a highly efficient twin-cylinder compound steam which benefited all of the company's products thereafter. From 1878 when the Laws regarding agricultural machinery were eased Foden's range of agricultural machines became very popular. The reliability and efficiency of these engines was to be a great marketing advantage when it came to selling the Foden steam tractor, designed in 1882, the compound traction engine in 1887 and the later steam lorries.
1887 was also the year that George Hancock finally hung up his hat, the company now became Edwin Foden, Sons & Co. Ltd. and Foden's traction engine won a gold medal at the Royal Agricultural Society trials at Newcastle. The traction engine design was also shown at the 1889 Royal Agricultural Society of England show held at Windsor.
Foden developed this engine design and came up with an "overtype" steam wagon which could carry its payload rather than pull it on a trailer. When the "Red Flag act" was repealed in 1896 Foden were well placed to go into the new road steam lorry market and produced a series of four prototype lorries. Edwin Richard Foden widely influenced future truck designs, initially running on steel tyre wheels Foden switched to solid vulcanised rubber tyres when they had developed sufficiently to be practical and then was the first to introduce pneumatic tyres on lorries too.
In 1901 the War Office, who had started to see the potential of mechanised transport for a variety of roles, held trials for self-propelled lorries. The war office was the 1857 name for the previous War Department as a whole but, the War Department nomenclature remained as the title for military transport services. Foden, Thornycroft and others vied for the attentions of the top brass and Thornycroft won the event as their lorry had better off-road performance. However, when the question of the Foden's consistently faster (and more economical) performance over the arduous road trials was raised in Parliament, the powers that be concluded that the Foden 3-ton steam wagon had more potential for development across several possible applications.
This design was so good that it formed the foundation of Foden lorry design for decades with their steam lorries still selling until the company ceased production in 1935. The company became just Fodens Ltd in 1902 and was soon the leading manufacturer of steam wagons in the UK. The efforts of managing director Edwin Foden and chairman Cecil Brunner floated Foden's Ltd to try and improve the company's income for investment. In 1904 they showed a Steam wagon at the Birmingham "Thinktank" museum.
Sadly, in 1911 Edwin Foden died and the company ran through a series of family members. William Foden ran the commercial side of the business until he retired to Australia. His experiences led him to think the future of commercial transport lay with diesel engines not steam and he did his best to persuade his brother Edwin Richard Foden, known universally as E.R., of this point too. The 1930s were an era of depression and like all companies Foden's suffered. Insurance companies became reluctant to underwrite steam vehicles and the European Diesel engines were becoming increasingly popular. In response E. R. Foden had a lightweight Gardener high speed oil engine fitted to a 6-8 ton chassis for development and appraisal purposes. E.R. Foden saw his brother's point and decided the company should exploit the Diesel engine rather than steam. The Foden boardroom disagreed. As a result, E.R. Foden resigned from the company in late 1932. E.R. was 62 years and had spent his whole life at Fodens, he was ready for retirement.
Although the Board of Directors at Fodens did change over to diesel lorries and E.R.s son, Dennis remained at the company the Foden Family all put up money to set up a new company to design and produce diesel lorries. The company was run by Dennis Foden and other Ex-Foden Ltd. employees, George Faulkener and Ernest Sherratt and eventually E.R. was persuaded to come out of retirement to head the new Foden Family firm named, "ERF".
Meanwhile Fodens Ltd produced the Foden F1 which then became the "first commercially successful type of diesel lorry" and the last of 6,500 steam wagons was built in 1935.In this year William Foden returned to Fodens Ltd as managing director, the company had just only three vehicles on its order books and large file of unsettled warranty claims. William Foden took the issues in hand by introducing better accounting methods and a more economical production method. The F1 became more and more popular and by the end of 1937 the diesel engine lorries became the saviour of the company that had so defiantly stood behind steam power against E.R. Foden only a few years earlier.
World War II interrupted everybody and Fodens did their part for the war effort producing a large array of vehicles including, Centaur and Crusader tanks, 6 x 4 lorries, and munitions. Post war Fodens had to diversify and export, just like everyone else, which it did to good effect. Under the leadership of William Foden and his sons. The Company produced a new range of trucks with two-stroke diesel engines and adapted that engine for use in industrial and marine appliances. This unit remained in production until 1977. In 1961 the company employed some 2,000 people and was setting standards for quality and reliability all over the world. They backed this up with an extensive spares system, training programmes for the customers service engineers and their own staff out in the field with the customers to ensure the quality of servicing kept their rugged machines working for many years after their competitors' vehicles and fallen apart.
The devotion to the highest quality of vehicles, parts, production, customer service and the costs of the new 1974 factory took its toll though. Increasing competition from European manufacturers and British economic issues in the 1970s had Fodens desperately in need of a competitive new vehicle and their efforts resulted in the "Fleetmaster" and "Haulmaster" series'. This series of vehicles was a huge success but not enough to ensure the independence of Foden company. In 1980 US company PACCAR (parent of Peterbilt and Kenworth), took over Foden and renamed the company as Sandbach Engineering Co, still producing trucks with Rolls-Royce or Cummins engines.
Foden was changed from a volume manufacturer to a customer led company producing more specialised vehicles. This more niche position, and some big cuts in the workforce, paid off for PACCAR for two decades. Ultimately though, PACCAR "retired" the Foden brand name in 2006.
S10 Haulmaster
Foden announced its badly needed new models at the Scottish Motor Show of 1977, and had them on exhibition at the Birmingham Motor Show of 1978. The Haulmaster range was intended for the UK market and the Fleetmaster series for export. Contemporary reactions were very positive. Foden's dealer principal, and later managing director, Paul Brunning said:
"We were very impressed with it. There was nothing fundamentally wrong with it, it wasn't unreliable, it wasn't a bad vehicle to drive and it had standard componentry that everyone knew and loved."
This sentiment was backed up by Allan Scandrett, chief engineer for Wilkinson Transport who described them as "brilliant". One family of truckers also described the Haulmaster as "fantastic" and a "proper tool for the job".
Most importantly this new range was something that European truck manufacturers were going to have to work hard to compete with.
The Fleetmaster and Haulmaster range of cabs was very similar externally, but internally the export Fleetmasters had better trim. There was a sleeper version with a comfortable 24in bunk yet the S10 Fleetmaster tractor remained able to tow a 40ft trailer and remain within the UK's length limit laws.
The cabs, which were well insulated to provide a low interior noise level, were composite :-
"By composite, we meant it had a steel front bulkhead and a steel framework in the main GRP construction. it passed the swinging weight impact test at Mira. However, the composite cab wasn't all GRP. Along with that steel frame and firewall, it also had aluminium doors. They saved weight, didn't rust and were part of the safety cage structure, as we liked to call it when talking to customers and the press."
They had good visibility from the large single piece windscreen with the option of a "split screen" being available too.
Externally the large single headlamps soon got updated to more modern looking twins, and all models shared the distinctive deep ledge under the front windscreens. The stacked sidelights & indicators were high on the front edges of the nose and backed up by roof mounted sidelights too. The Foden kite moulding enclosed the Foden script and provided a focal point, identity and modern image all at the same time.
An innovative braking system that automatically used the exhaust gases to create internal engine compression, and therefore increased engine braking, when the brake pedal was applied saving on wear and tear of the brakes and avoiding any added weight from other types of additional retardation devices. In fact, the S10 had a competitive kerb weight even with 90 gallons of fuel onboard it only went up to 6.46 tonnes.
Foden made the most of all the vehicles advanced and high spec' features and the Fleetmaster/Haulmaster series was looking like providing Foden with a bright future. An enthusiastic market bought them but Foden had financial worries bubbling under the surface. Graham Montgomerie explained that :-
"Financial problems are not new to Foden. The company ran into serious trouble in 1975 when it had to be bailed out by the City. With the benefit of hindsight, this was due to spending a lot of money on a brand-new assembly hall with the aim of doubling production capacity."
Foden had struggled back into profit through both 1977 and 1978 and the new Fleetmaster/Haulmaster should have pushed the company on to greater stability. This was not to be the case and in July 1980 Foden were required to call in the receivers.
Amey Roadstone Construction
Oxfordshire-based quarrying firm ARC was established by William Charles Amey in 1921 and despite a few years of struggling grew rapidly with the need for materials to build airfields during WWII. The firm went on to be providers of the gravel for the new M1 Motorway in 1959 and became listed on the London Stock Exchange in 1963. The company has merged and diversified over the decades and now includes waste management, utilities and domestic construction under it's "AMEY" banner.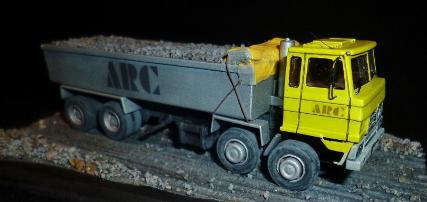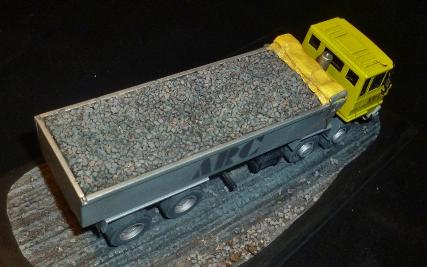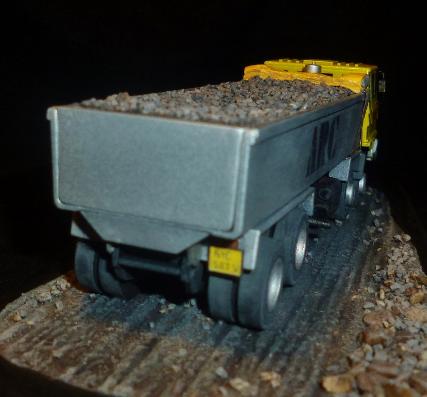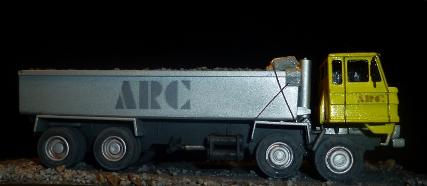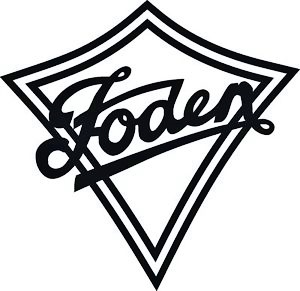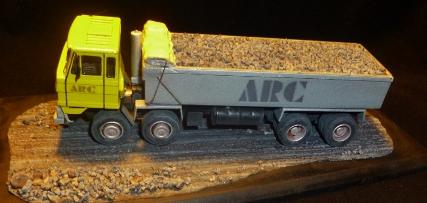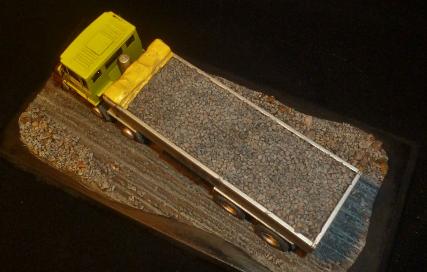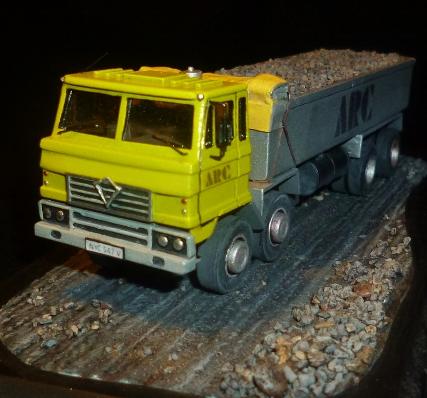 Davric originally released this 4mm-ft (1/72nd) scale kit in 1979. Kit # 702 of the Foden Haulmaster 8 Wheel Rigid Tipper has since been taken over by Keil Kraft, kit # K310, in the 1980s and is currently available from Knightwing International, kit # H010.
Aimed at dressing a railway layout the kit doesn't have the level of detail we are used to today. However, it has great potential for the modeller who likes to take on a challenge and add their own detail parts. The bare cab is like a blank canvas which could be dressed up nicely if one had the references to do so. The rudimentary engine, offered to let the build show the tilt forward cab open as an option, has reasonable proportions so again could be brought to life with a few additional bits and some wires.
This Foden Haulmaster was built during January 2018. It is mostly straight from the box with the addition of seats in the cab, cab roof side lights, scratchbuilt mirrors and windscreen wipers, rear lights, number plates, added load and load cover and the cab door shut-lines had to be scribed in. The load isn't a full load of gravel but a scattering on top of a cardboard liner sat on some tube lengths. Gravel only covers the last mm or two up to the lip of the load space.The base had gravel from the same bag of fish tank gravel and railway ballast and everything was painted at the same time to give the appearance of picking up a load from a quarry. The plastic axles would never have coped with a full load of gravel and an empty load space seemed a bit unnatural.
Painted with AlcladII primers and white aluminium airbrush paints the details were picked out with acrylic paints from Anita's, Art-Deco and Citadel paint ranges. The cab is painted with Zero Paints Renault Yellow and sealed with "Klear" floor polish to give a "used" level of shine. The ARC decals were made on a normal inkjet printer.
RETURN TO :-