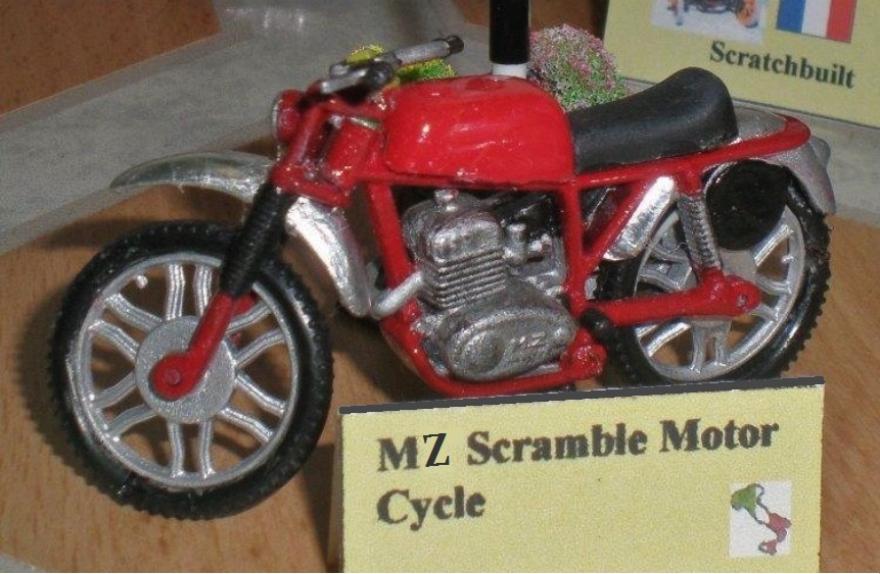 1975 MZ 250 scrambler
Jorgen Skafte Rasmussen founded the German motorcycle company Motorradwerk Zschopau, in Zschopau, Saxony, in 1906. He took over a clothing factory which is now one of the oldest motorcycle factories in the world. However, it would be 1917 before the company really made it's mark. That was the year the company released their first steam-powered car, known in German as Dampfkraftwagen the title initials were to become a trademark, DKW.
This car was followed with a motor-assisted bicycle in 1920 and the popularity of the trade mark DKW led to the company renaming itself as DKW in 1923. Of course the old adage of "win on Sunday, sell on Monday" applies to motorcycles too and in 1927 DKW made it's first steps into sports racing. As production grew the DKW became the world's largest motorcycle company selling 60,000 motorbikes in 1929, courtesy of a factory in Zwickau, previously owned by Audi, purchased in 1928.
DKW remained interested in cars and in 1931 introduced a small car to the market, but, with times being hard for motor manufacturers the company went into the conglomerate that was Auto Union in 1932. But the motorcycles continued to be under the DKW banner and in 1939 the RT 125 went on sale.
The RT125 is important as it featured two inventions that set it above contemporary German manufacturers and even saw imitations of the ideas turn up on Royal Enfield motorcycles. These were the Schnürle two-stroke loop scavenging process and a highly efficient arrangement of transfer ports. These ideas combined to direct the fuel/air mixture into the two stroke engines cylinder in a swirling motion that keeps it away from the exhaust port, eliminating the need for a piston deflector, and improving combustion efficiency, power and economy; all a clear advantage over the prevailing cross-flow system. The "RT" part stands for "Reichstyp" or "National Model" and echoes the German Nazi political system of the time, a system which would go on to prove the reliability and ruggedness of DKW motorcycles under the harshest of conditions; war.
The intervention of the Second World War had obvious consequences and post war Zschopau found itself in communist territory. DKW/MZ continued to turn out motorcycles, principally the RT 125 W, which, due to war reparations, became patent free so was further developed in Britain, USA, Japan, Italy and West Germany and making any superiority in competition a thing of the past.
It also required the company to change it's name to IFA, Industrieverband Fahrzeugbau, in 1948. The East German communist regime had little interest in motor sports so there was little scope for advertising the brand but the company did continue to produce innovative motorcycles. For instance in 1952 the BK350 was introduced, it was the first two stroke shaft drive motorcycle, had a flat twin two stroke and Earles leading link front forks. It was a great machine and the first to carry the new MZ badge but sales were restricted by the depressed state of the market. Also in 1952 IFA upgraded the 125 design with telescopic forks and up-rated power unit now turning out 5.6hp and called it the RT 125/2a.
If the East German government was not interested in motor sport the people were and the 125cc motorcycles were used for fun by many people and motor-cross became an organised sport. Of course the bike of choice was the IFA RT125 and the company's interest in competitive sport was boosted. Internationally the company returned to the forefront when Horst Liebe won a gold medal at the 1956 International Six Days Trial, unofficially called the Olympics of the motorcycle world, on his standard BZ 350 machine. From this base the company would go on to become a major player in the trials and motor-cross scene. MZ's involvement in motocross competitions would be rewarded with wins at the International Six Day Trial on no less than 7 occasions: 1963, 1964, 1965, 1966, 1967, 1969 and 1987.
In line with a return to the world market the company returned to the MZ name tag as VEB Motorradwerk Zschopau. In the Road Racing scene MZ was second over all in the 1958 250 cc championship as well as taking wins in 125cc class too. Walter Kaaden's designed MZ two stroke bikes would influence motorcycle racing for decades although not to MZ's benefit. When grand prix rider Ernst Degner defected to the West in 1961 he not only took his experience of MZ's tuning techniques to the west but a complete set of secret plans too. Suzuki won their first Grand Prix championship in 1962! Kaaden's revolutionary two stroke system could now be investigated the world over and Japanese manufacturers particularly became competitive. Interestingly, in the late 1990s the company used Yamaha 660cc single cylinder engines in their Baghira series bikes having been bought by the Malaysian Corporation Hong Leong in 1996.
At the 1975 ISDT held on the Isle of Man MZ motorcycles were evident in several classes. The Competition isn't exactly split as you might expect but there are International team, works team and club team competitions. In the official results East German MZ"A" is recorded first on the list titled "Manufacturers Teams, each having 3 gold medals" but on further investigation MZ riders actually took four gold medals. For the record they were.....
# 90 F. Schubert MZ ETS 249
#219 U. Kothe MZ ETS 340
#230 H. Sturm MZ ETS 340
#259 M. Jager MZ ETS 380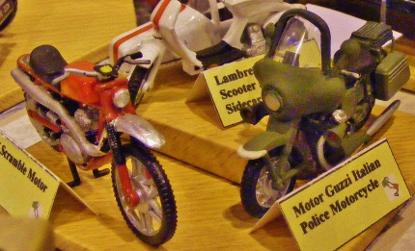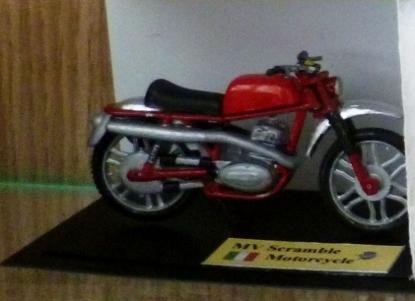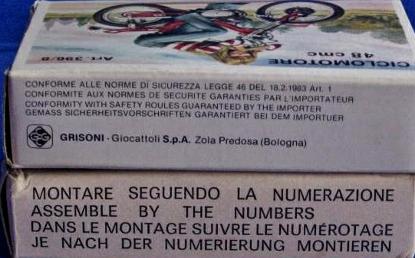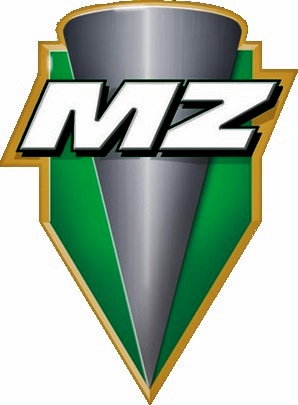 1/24th scale kit.
Built by Rod.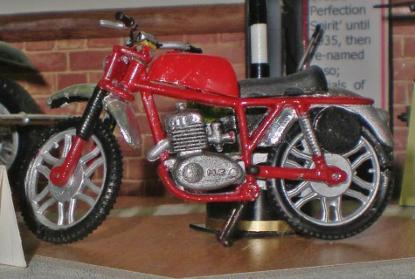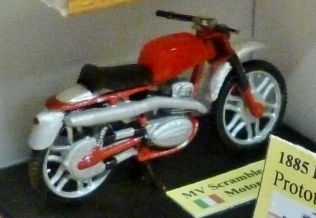 CGGC Italian model company
The Italian company CGGC are little known outside Italy or in mainstream model making. The company sold it's wares in newsagents from 1975 to 1985 and was taken over by Grisoni Spa in 1986. They manufactured contemporary 1970s and '80s car kits in 1/48th scale, 1/24th scale motorcycle kits and other popular children's toys like cowboys and Indians, soldiers and, apparently, robots; all in a very soft plastic.
CGGC chose scales different to norm. For instance 1/43rd scale is the preferred European scale for cars rather than 1/48th which does crop up in military modelling but as these kits are far from the standards that could be used to accompany a scale aircraft the appeal outside of toys is very limited. For motorcycles 1/12th scale is the standard for kits and 1/24th is neglected.
These are the sort of toy/model kits that take a few minutes to fit together, without glue, and thanks to the use of colourful plastics need no paint either. All great for children but rather a turn off for serious model makers. So why are they on our display and website. Well, for starters the range of motorcycles is one of the few sources of 1/24th scale mopeds and motorcycles that there are. The detail is actually quite nice and when painted nicely the models come to life.
Finally the subjects are actually very interesting in their own right representing some of Europe's classic two wheelers from the worlds of pop' culture and motorsports. They are also rare kits and provide an insight into a world of pocket money model making that got many kids hooked and moving on to Matchbox kits, which were also sold in Newsagents and used multi coloured sprues to save kids (and Mums) the mess associated with painting. As such it would be wrong to ignore these little gems.
To be honest we don't know where we got this model from, most probably something Ian bought home from a trip to the shops when he was very young. Anyway, Rod cleaned it up and painted it in the 1990s using Humbrol enamel paints. Bare Metal Foil has also been used to help bring a sense of reality to the subject.
RETURN TO :-