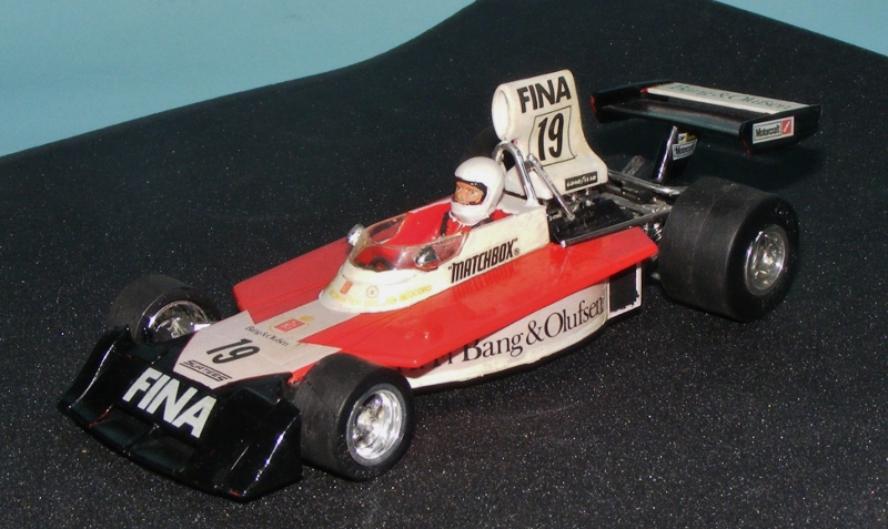 1974 Surtees TS16
The BRDC International Trophy was a non-championship Formula One race, later run with F1 and F5000 cars racing together. Held at the Northamptonshire airfield track of Silverstone, it ran from 1949 until 1978 and attracted many of the worlds greatest drivers. Ascari, Farina, Hawthorn, Behra, Collins, Ireland, Amon, Hill, Clark, Stewart, Parkes, Hulme, Fittipaldi, Hunt, and Lauda were all winners of the trophy. Jack Brabham won three times and several home grown stars like Reg Parnell and Lance Macklin also took their chance to get on an international podium. Traditionally a spring fixture, held in late April or early May it gave leading, and debuting, teams the opportunity to test new cars in a racing situation. The 26th running of the event was once again run in conjunction with the Formula 5000 cars. It was a flag to flag victory for James Hunt, driving a Hesketh Ford. It was the First win for the Hesketh team and with their own 308 design car too. Hunt started from pole and set a time of 1:17.6 to take fastest lap too. He won the 40 lap race, a total distance of 118.51 miles, in a time of 52m:35.4s. Jochen Mass was second 37s behind, in the new Surtees TS16.
Mass participated in 114 F1World Championship Grands Prix, winning the 1975 Spanish Grand Prix. He drove for Surtees, McLaren, ATS, Arrows, March during his F1 career achieving 8 podiums, and scored a total of 71 championship points. He was much more successful in sports cars and "tin tops" winning numerous events and being World Sportscar Championship in 1972.
1974 was always going to be a difficult year for Surtees. Unable to attract a single major sponsor for 1974 funds were very short. Mike "the Bike" Hailwood left Surtees for McLaren at the end of 1973 replaced by Jochen Mass in 1974, then Carlos Pace left the team in mid-74, his car being taken over by a series of drivers, including Derek Bell, Jean-Pierre Jabouille and Helmuth Koinigg
The TS16 was a development of the promising TS14, but it was overweight and with little funding the teams DFV engines were a little less than top notch and there was little chance of development work. Pace's fourth place at his home track in Mexico were the only points Surtees got all year, with drivers struggling to qualify; and if they did, retirement would be the likely outcome. A truly terrible year was capped off when Koinigg suffered a fatal crash during the U.S. Grand Prix at Watkins Glen.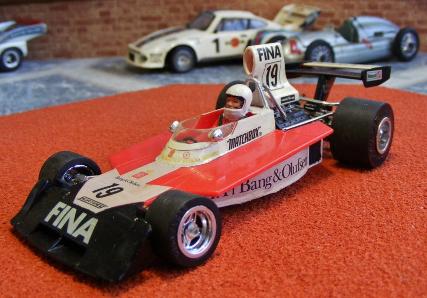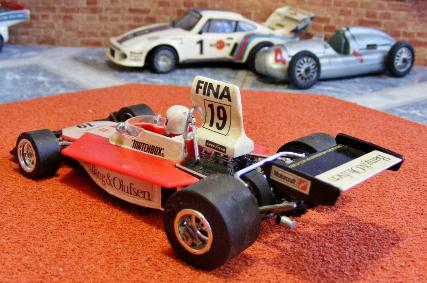 1/32nd scale kit.
Built by Rod.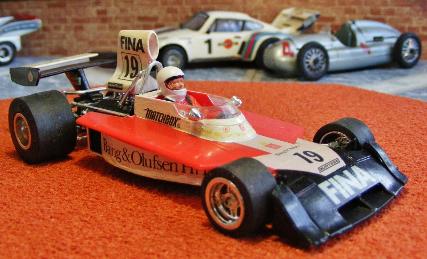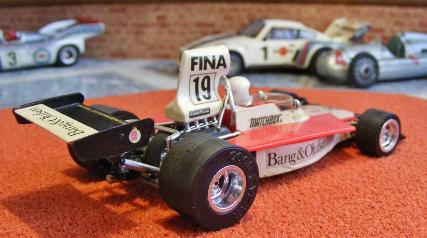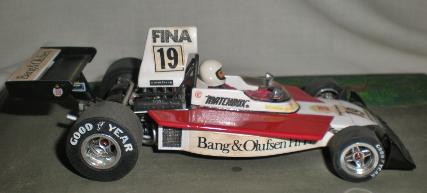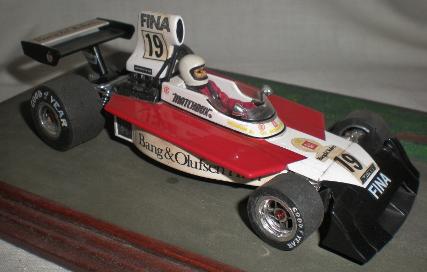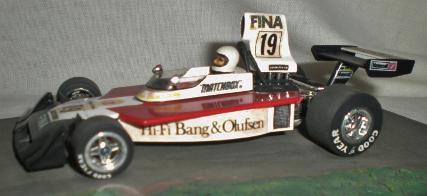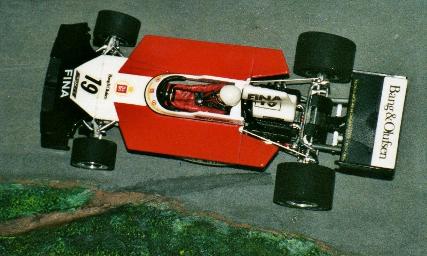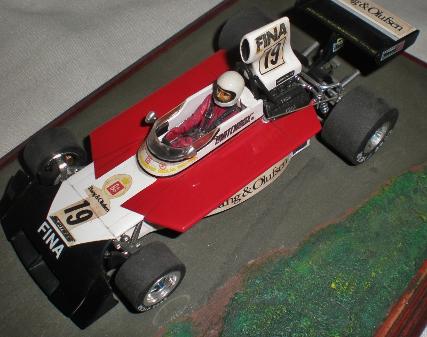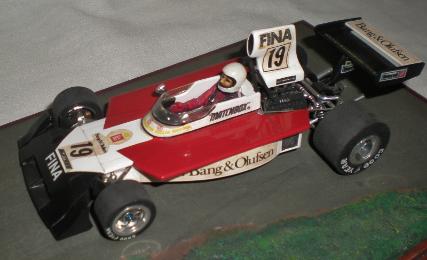 Matchbox released the 1974 Surtees TS 16/03, sponsored by "Bang & Olufsen", in 1975 as Matchbox kit #PK-305. It was released a few years later in the U.S.A. In a tie-up with AMT as Matchbox/AMT kit #2024 in 1979. A re-release by Matchbox in the UK followed in 1982 albeit with a new box style. All three releases are the same and have the same decals.
The kit is typical of Matchbox car kits in that the level of detail is very good although they fiddly to build in places. Some people have suggested this model is under scale although this and the Matchbox Tyrrell kit seem fine to us. If anything it is Matchbox's dedication to scale and accuracy that are the cause of most of their fiddlyness, and sometimes flimsy, nature.
Both Rod and Ian have built this kit and from the same original release series. Rod's model was built straight from the box in the mid 1970s while Ian's was built in the 1990s, which explains why the decals on Ian's model are not as "clean" as those on Rod's. Rod's model is brush painted where he hasn't made use of the Matchbox multi coloured moulding system. Ian's is spray painted with Halfords acrylic car paints.
RETURN TO :-