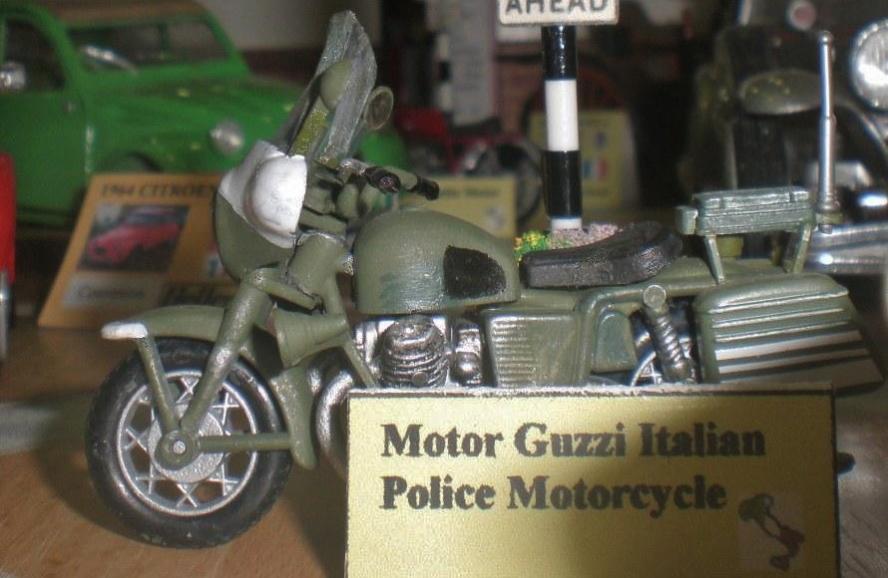 1972 Moto Guzzi V750 "Ambassador" Italian Police Motorcycle.
War can throw together strange partnerships that might otherwise not of happened. People from different socioeconomic backgrounds can find themselves forming strong relationships that remain throughout their lives and lead to marvellous achievements. Just such legend is Moto Guzzi.
Three serving personnel of Italy's Air Corps, the Corpo Aeronautico Militare during WWI combined their knowledge, wealth and experience to propose a post war venture that should (and would) make them famous, and wealthy. The two pilots and their mechanic were Giovanni Ravelli, already a famous motorcycle racer and pilot, Giorgio Parodi whose father was a rich Genovese ship-owner, and Carlo Guzzi an engineer of great ability. Guzzi would make the motorcycles with Parodi's money and Ravelli would race them spreading their company name all over Italy and Europe. Simple.
As often happens the "best laid plans" were almost ruined by the death of Ravelli just after the Great War had ended, he was killed when the new 'plane he was testing crashed. After a suitable period of mourning Carlo Guzzi and Giorgio Parodi decided to continue with their plan and in remembrance of their friend included the eagle's wings in the Moto Guzzi logo.
Società Anonima Moto Guzzi was established in 1921 by Carlo Guzzi, Giorgio Parodi, and his father Emanuele Vittorio Parodi. This makes Moto Guzzi the oldest European motorcycle manufacturer with a continuous production history. The company headquarters is in Mandello del Lario, by Lake Como in Italy. Because of the huge influence Moto Guzzi had on Italian motorcycling manufacture, its many innovations (first motorcycle centre stand, eight-cylinder engine design and use of a wind tunnel in design development), and impressive racing pedigree Mandello del Lario has become a Mecca for motorcycle enthusiasts the world over.
Moto Guzzi's story isn't all roses and soft sunlight, there have been troubled times but out of adversity often comes unimagined success. Moto Guzzi was in financial trouble through the 1960s and in February 1967 the firm was taken over by SEIMM (Società Esercizio Industrie Moto Meccaniche). At this time Ing'. (Italian title for qualified engineer) Giulio Cesare Carcano was developing a 90deg' V twin cylinder engine but SEIMM moved Moto Guzzi away from their traditional products to make automobiles and scooters, like the Dingo and Trotter, those motorcycles that were produced were also lightweight such as the 125cc Stornello. While this wasn't an exciting product range the company was slowly steered back toward profitability and encouraged new approaches to design and production.
During this management crisis in 1966 Ing'. Carcano left Moto Guzzi while in the middle of designing a new motorcycle with Ing'. Todero. This might have been a disaster but for the arrival of another design engineer Lino Tonti, a man with a good reputation and considerable experience from working alongside firms such as Mondial and Bianchi. Tonti simply slipped straight into the work of Carcano as though there was no change in personnel at all. This almost seamless transition was built upon as Tonti was able to implement his extensive knowledge to lead Moto Guzzi down the road to a number of 750cc and 1000cc class speed records in 1969 captured by two special streamlined V7 motorcycles.
These new V7 series twin cylinder 700cc motorcycles were designed with the intention of winning a government sponsored competition win Italian Police motorcycle contracts and secure much needed capital. In fact, the 90° V twin engine would become a hallmark of Moto Guzzi machines and go on to be the basis of a machine which pretty much saved the company.
The V750 Ambassador/Special machines were superficially a re-bored V7 motor and improved frame but that is seriously underselling what was really a new machine. Original 1968 'bikes had a lengthened frame, creating a wheelbase of 58in, the steering head was strengthened with extra bracing and the bore of the 700cc engine was increased from 80 to 83mm making the displacement 757.4cc. Over the coming years the fuel tank was size was increased to 6.1gal' the positions and size of the lights changed and the machine appeared with separate speedometer and tachometer.
Also giving the 'bikes a new look was the range of colours, pinstripe accenting and chrome parts making this bike look exclusive and modern. These aesthetics overshadowed the changes in suspension geometry and increased load bearing strength. To put it simply the V750 series took a big step forward in looks from the 'old' Moto Guzzis and were not only good for Police work but really nice touring machines.
Where the 750cc Ambassador really scored was the air-cooled 90° V-twin engine with its transverse cylinder heads pushing out on each side of the bike. It was visually strong but able to back that up with real power. The longitudinal crankshaft fed a four-speed gearbox which in turn powered the shaft drive to the rear wheel. The output of the engine was up to 60hp it was upgraded with redesigned pistons, larger intake and exhaust valves, a larger oil pump and a higher final drive ratio. Eventually the machine could push a top speed of almost 115mph.
While the design expertise certainly led to the new 750cc machine winning the vital Italian police contracts the saving grace for Moto Guzzi was its appeal in the very lucrative American market. The American importers for Moto Guzzi motorcycles was "The Berliner Group", Joe and Mike outlets gave them a great feel for the American motorcycle vibe. The Berliners were able to guide some aspects of aesthetics for the U.S. market and worked extremely hard to promote the new 'Bikes. The 1969 V7 Ambassador was launched to the U.S. market with a 757cc motor and a new appearance. It became a big hit not only with the general public but with US police forces, most notably California Highway Patrol.
In Europe the same 750 'bike was known as the "V7 Special". Production of the V750s ceased in 1972 when the 850 GT was launched. The enlarged 850cc and five-speed gearbox speak for themselves but machine was predominantly an improved 750cc "Special". Essentially the Ambassador and special had put Moto Guzzi back at the forefront of Italian Motorcycle manufacturing and into a more financially stable position. In 1973 De Tomaso Industries Inc. bought Moto Guzzi, Benelli and Maserati injecting cash and building an impressive group of automotive companies. Most importantly Moto Guzzi was safe.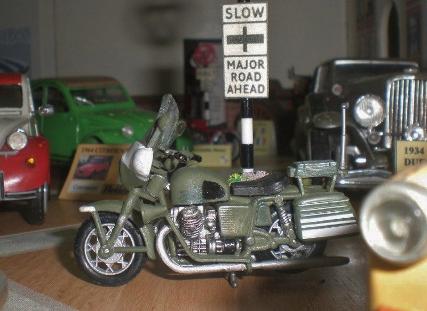 1/24th scale kit.
Built by Rod.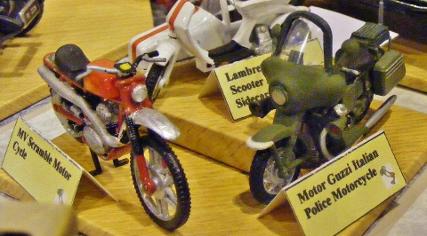 The Italian company CGGC are little known outside Italy or in mainstream model making. The company sold its wares in newsagents from 1975 to 1985 and was taken over by Grisoni Spa in 1986. They manufactured contemporary 1970s and '80s car kits in 1/48th scale, 1/24th scale motorcycle kits and other popular children's toys like cowboys and Indians, soldiers and, apparently, robots; all in a very soft plastic.
These are the sort of toy/model kits that take a few minutes to fit together, without glue, and thanks to the use of colourful plastics need no paint either. All great for children but rather a turn off for serious model makers. So why are they on our display and website. Well, for starters the range of motorcycles is one of the few sources of 1/24th scale mopeds and motorcycles that there are. The detail is actually quite nice and when painted nicely the models come to life.
Finally, the subjects are actually very interesting in their own right representing some of Europe's classic two wheelers from the worlds of pop' culture and motorsports. They are also rare kits and provide an insight into a world of pocket money model making that got many kids hooked and moving on to Matchbox kits, which were also sold in Newsagents and used multi coloured sprues to save kids (and Mums) the mess associated with painting. As such it would be wrong to ignore these little gems.
This model was probably bought by Ian from a local news agent's shop in the 1970's and played with as a toy. It was years later, in the '80s after Ian had left home, that Rod came across a bag in the loft with several motorcycles from the range in it. He then painted them as real models and put them in his display cupboards. All the painting has been done with Humbrol enamels applied by brush.
RETURN TO :-