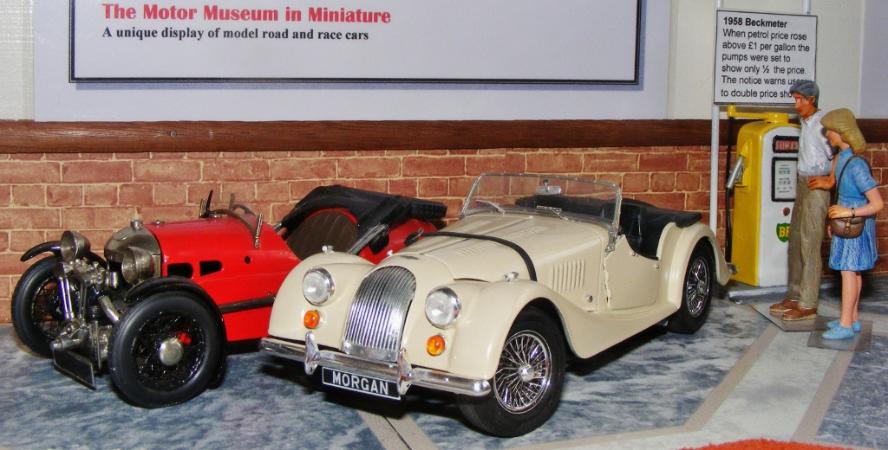 1970 Morgan 4-4 1600
The Morgan Motor Company has a long and distinguished history. A traditional hand-crafted car manufacturer still going strong despite other British car manufacturers having long since fallen by the way side. Morgan took its products into motor sports and won without needing to make special parts or vehicle types and has remained true to its heritage. HFS Morgan's drive and passion meant his company prospered and "HFS" continued to run it until he died at age 77 in 1959. Respect for his legacy continues with his family remaining at the helm to this day.
Henry Frederick Stanley Morgan (or HFS as he came to be known in the motoring world) was the son of a clergyman but it was not luck that meant he didn't enter the church as a profession. Far from discouraging him from his engineering ambitions his parents and grandparents gave him every encouragement. HFS worked as a draughtsman for the Great Western Railway until 1904, when he left and went into partnership with a close friend in a motor and garage business. HFS bought his first car in 1902 at the age of 21, and in 1909, at the age of 28, designed and built his first single-seat three-wheeled experimental car. His father had put up £3,000 to open a garage in Malvern and, shortly after, a second in Fore Street, Worcester. Production at the Morgan Motor Company commenced in 1910 and at that point HFS could never have dreamed that he would become one of the world's major manufacturers of three-wheel cars. In 1911 Morgan displayed their models at the Olympia Motor Exhibition and in 1912 registered as a limited private company with "H.F.S." as managing director and his father as Company chairman.
Morgan's fortune really belongs to two influences, competition, and government road tax laws. In 1913 A Morgan won the inaugural Cyclecar GP at Amiens in France and during WWI Britain's fighter ace hero Albert Ball bought a Morgan and said driving a Morgan was "the closest thing he had found to flying". These events led to the naming of the 'Grand Prix' model (1913 to 1926), and Ball's comment being honoured after his death with the use of the name "Aero".
Post WW1 the Darmont brother started selling Morgans in France and one Paul Houel drove a Darmont-Morgan to victory at the Circuit de L'Eure on August 16th, 1919, further enhancing the Morgan name. Sales in France rocketed and Morgan couldn't keep up with demand so struck a deal with Darmont to build the cars themselves, making their own parts.
The reason for the sales success was the same in France as it was in Britain, government policies, most notably road tax. The French law created a universal 100 francs tax for all vehicles capable of carrying up to two people but weighing less than 350 kg and powered by an engine of less than 1100cm3. British law allowed three-wheeled cars to be licensed as motorcycles. In both cases these sporty three-wheelers bearing the Morgan name were an affordable car for the younger drivers and small families. Morgans may have run on three wheeled chassis' but the variety of bodywork styles was not compromised by this. Models ranged from standard fittings to the deluxe versions, 4-seater family models and even a delivery van.
Prior to 1936 Morgan only produced three-wheelers but in 1936 the Morgan 4/4 went on sale. Debuted at the London Motor Show on the 15th of October 1936 the 4/4 was a four-wheel/four-cylinder car. Developed through 1935 and into 1936, the 4/4 had a metal ladder chassis and a wooden subframe for the bodywork bolted to that. Lightweight and affordable, with what were fast becoming particularly British sports car looks, these hand-crafted cars had a long bonnet, a square cut off rear and curved wings and were a big hit straight away.
Following on from the earlier three-wheelers competition success the new 4/4 was soon proving itself in "trials" competitions the length and breadth of Britain; the next chapter of Morgan history was off and running. They also went to the Le Mans 24hrs endurance Grand Prix in 1938 and took 13th place overall, Miss Prudence Fawcett and Geoff White, which was followed up with 15th overall and second in class, in 1939, this time Geoff White and 'Dick' Anthony driving.
The Morgan 4/4 was such a perfect balance of sportiness, looks, price and reliability that, with numerous improvements and developments over the years, it became the backbone of Morgan model range in continuous production to this day; apart from the years of World War two of course (during which time Morgan made parts for anti-aircraft guns and aero-engines).
The 4/4 has gone through eight series always using traditional techniques of construction but incorporation upgrades such as disc brakes and making use of different engines as and when they have come (and in some cases gone away!). Apart from the change from the series I to Series II style changes have mostly been small design "tweaks" rather than big changes to the look. In the case of our model it represents the 4/4 1600
The 1968 series of updates became known as the Morgan 4/4 1600, simply because it was fitted with a 1599cc engine. Available in two-seat and four-seat open body forms it would be fitted with a series of Ford Kent Crossflow engines and a Ford four-speed 'box. The 2737E engine turned out 70bhp. Ford's type 2737GT motor boosted output to 95.5 bhp and type 2265E the same. These cars were fast and agile and sold in great numbers, within the bounds of Morgan production figures that is. From November 1981 to November 1985 the Morgan 4/4 1600 was available with a Fiat engine. A 1584cc twin-cam unit boasting 99hp bolted to a five-speed Fiat gearbox. Another engine used by Morgan from March 1982 was the Ford CVH 1597cc engine. this engine option was mated to a 4-speed 'box until a newer 5-speed unit from the Sierra became available from 1984. In 1986 it was the turn of the steering to be enhanced. The original cam and peg system gave way for a Gemmer recirculating ball system. From November 1991 the Ford CVH EFi engine came online and this electronic fuel injected motor could produce over 101hp. This version of the Morgan 4/4 1600 took the model through to January 1993 when the 1800 version was introduced.
Production figure for the 1600 series 4/4 amount to a total of 5448 units produced between 1968–1993. The breakdown of types reads as follows :-
Ford Kent engined version 3513 examples
Fiat engined Version 96 examples
Ford CVH engined version 1652 examples
Ford CVH EFI engine 187 examples
This was a huge total for a firm which still makes each car by hand using traditional tools and methods. The light chassis and strong wooden frame, fitted with some impressive engines kept the 4/4 1600 an affordable and, more importantly, a fun car to drive. More than standing the test of time the 4/4 series has simply evolved on and on and remains available in its latest form to this day.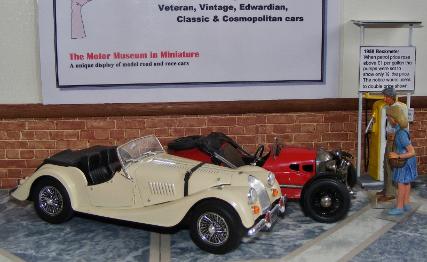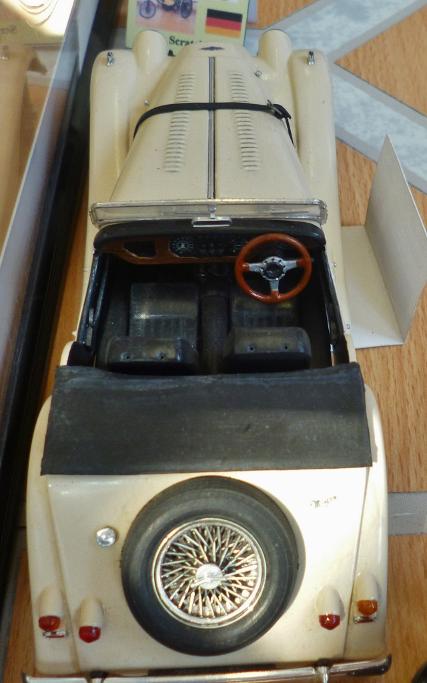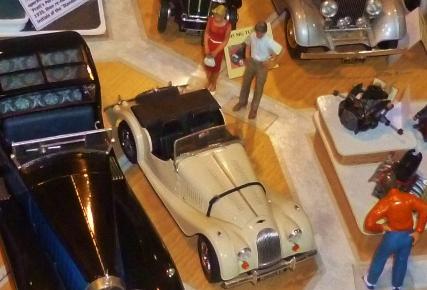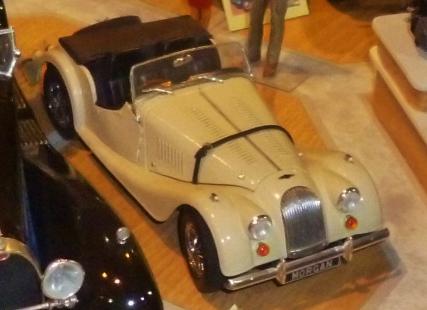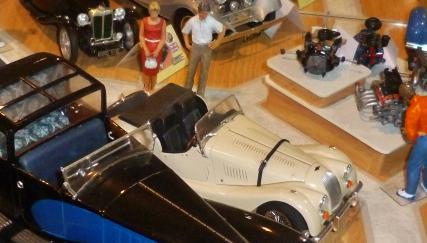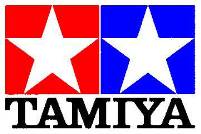 1/24th scale kit.
Built by Rod.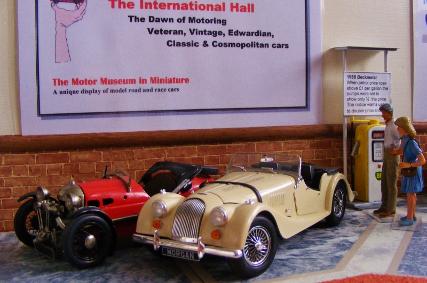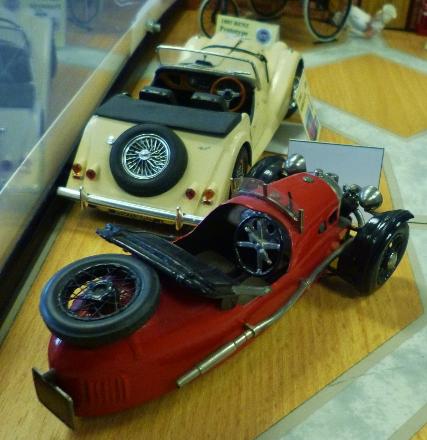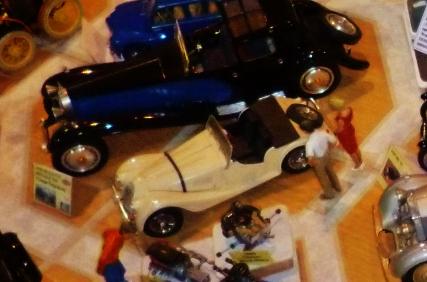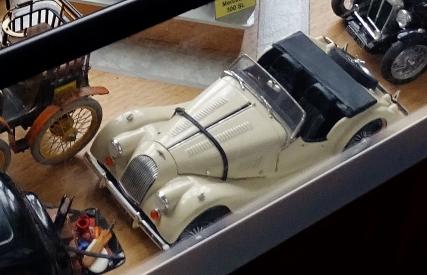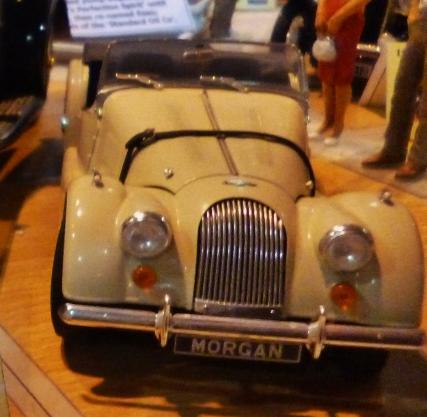 Tamiya's Morgan 4/4, a 1970-82 version, is the only 1/24th scale kit available. kit # 24170 was released in 1996 has also been re-released in different boxes so it is still fairly easily available today. It is another cracking Tamiya kit with all the refinements one expects from a company most people consider to be the world's best kit manufacturer. It may not appeal to everyone but the car, and the kit are classics. What is more, because the 4/4 body styles have altered so little this kit can be converted externally to the Le Mans cars of the 1960s; wouldn't that make a fine pairing?
South Eastern Finecast do have the Plus8 version, and a three-wheeled "Beetleback", in 1/24th scale but they are quite pricey. For any other versions you need to go down to 1/43rd scale or do a conversion from a slot car kit in 1/32nd. Shame really as Morgan are a British success story and should be better represented.
Rod built this model straight from the box in 2002. The kit is so good there is little need to use any additional items anyway so the finish is from Halfords rattle cans with the rest of the painting done by brush using Humbrol, Revell and Citadel paints. Looks great in the Museum display so what else would Rod need to have added………
RETURN TO :-