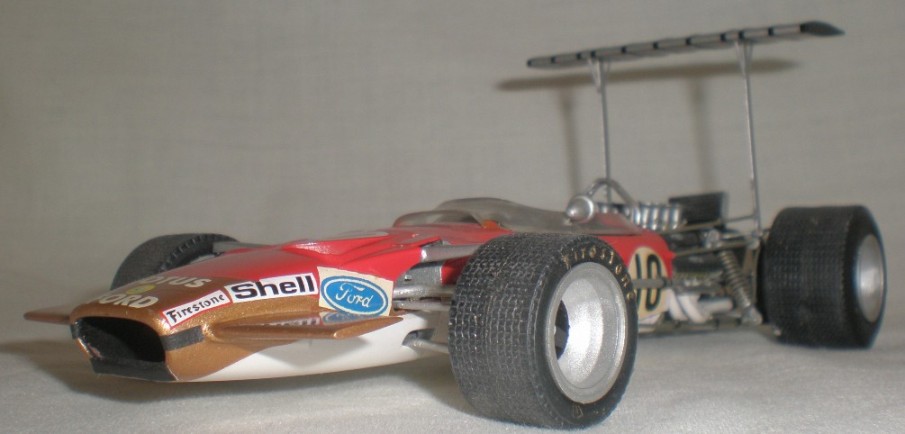 Lotus 49B Graham Hill.
Lotus 49b of 1968 was a logical development of the revolutionary 49 of the previous year. Ford's DFV engine was now available to everyone so the competition was also closer. The big shock of 1968 was the loss of Jim Clark in an F2 crash, Colin Chapman and most of the team were devastated. It was all Graham could do to push Lotus into entering the next race were only one car was made available. Over the rest of the season Graham pulled it all back together and went on to win his 2nd drivers world title at the last race of the year in Mexico (the car modelled here).
Who would know that a similar fate would befall Graham's son, Damon, in 1994 when Ayrton Senna died in a crash and he would suddenly be propelled to team leader status in only his 2nd season at Williams.
1968 Mexican GP
When the F1 circus arrived in Mexico for the twelfth, and final, round of the season three drivers were still in the hunt for the world championship title. Graham Hill had 39 points, Jackie Stewart had 36 and Denny Hulme had 33.
Jo Siffert took an impressive pole position in Rob Walker's Lotus 49 and had Chris Amon's Ferrari sat beside him on the grid in second. Hill was 3rd sharing row two with Dennny Hulme. Stewart was back on row four beside Jack Brabham's Brabham.
As the Starters flag fell the front row cars bogged down and Hill shot into the lead. He was then jumped by a fast-starting Surtees who overtook Hill into the first corner, Hill retook the lead later in the lap by the end of lap 1 he had a clear lead.
Stewart came up through the order and even led Hill for several laps but Hulme's race came to an end on lap 11 when a rear suspension failure sent him into a guardrail.
The fight between Hill and Stewart was interrupted by Siffert. He stole through to the lead on lap 22 only to pit with a broken throttle cable. Hill and Stewart resumed their close battling until Stewart's Matra developed fuel feed problems, he began to drop back quickly as this developed into an engine misfire. On lap 51 McLaren and Brabham both overtook Stewart but Brabhams chance of good points disappeared with an engine problem putting him out of the race. Johnny Servoz-Gavin was then promoted to third until his engine expired too! That let Jackie Oliver onto the podium.
At the end of the 60 laps of the 3.107 mile circuit Graham Hill had won the 201.946 mile race in a time of 1h:56m:43.95s. Stewart ended up back in seventh position and Hill was World Champion for the second time'
It was Graham Hill who did nearly all the development work on the Cosworth engine Lotus 49 and it was also he who breathed life into the dying embers of a Lotus team which was grieving for Jim Clark. Somehow it seems fitting that the championship ended in a victory for Hill and Lotus.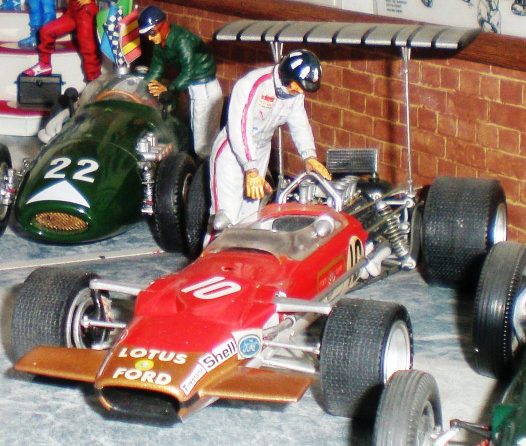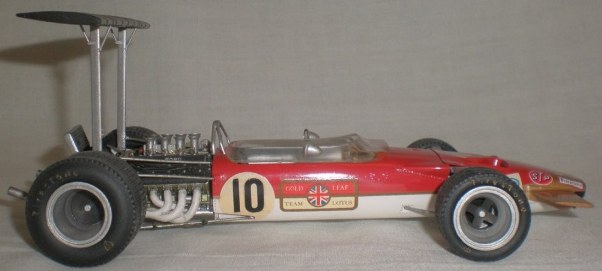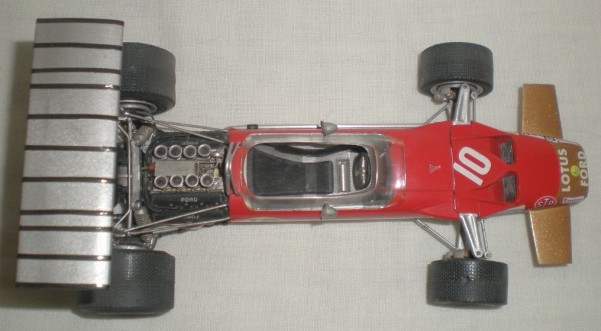 1/24th scale kit.
Built by Ian.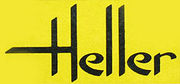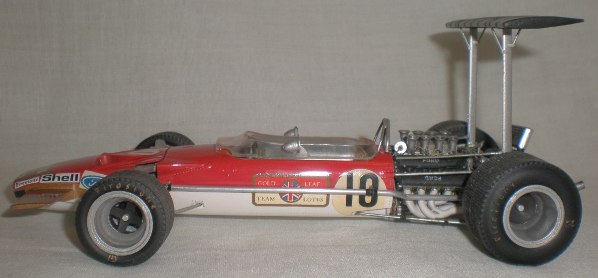 Built in 1997 from a very rare Heller kit this model has been very battered during it's journeys to model shows. It is a shame that the decals were not in better condition too but the kit was originally produced in the early 1970's. For it's age the kit is well detailed and fitted together really well. A lot of extra detail was added to the engine to help bring it to life, but for some reason Ian forgot to add wheel details.
It has the usual Halfords spray finish and citadel acrylic paints and washes. A variety of household items were used for the wiring and piping and we can warn all modellers that any form of elastic is useless for modelling as it degrades very quickly, hence no brake lines anymore.
RETURN TO -