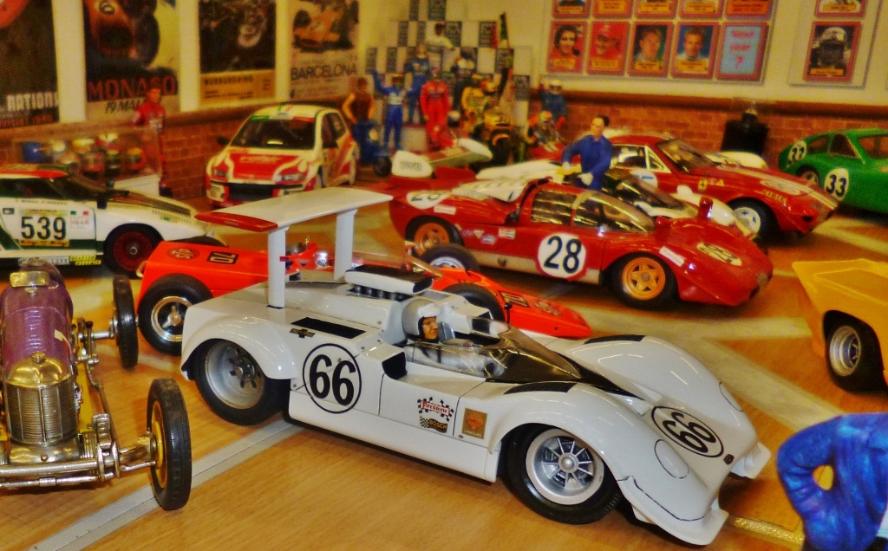 Chaparral 1968 2G
Jim Hall and Hap Sharp formed Chaparral Cars in 1962 and drove/managed their cars through until 1970. The company was named after the roadrunner, a fast-running ground cuckoo (hero for a generation of cartoon lovers) that is actually called a Chaparral. Hall and Sharp had both driven in F1, mostly as wild-cards in the US and Mexican GPs, although Hall actually drove a Lotus 23 for British Racing Partnership throughout the 1963 F1 season, and scored points too.
Jim Hall purchased two Chaparral 1s from builders Troutman and Barnes and when Hall and sharp started building their own race cars they had to ask Troutman and Barnes for permission to carry on using the Chaparral name. This explains why the Chaparral series of cars are all Chaparral 2- and then differentiated by letters for the different models. Hall was actually a Texas oil magnate but through Chaparral he became world renowned for innovative designs, particularly the use of aerodynamics. He trained as an engineer and had connections with both Chevrolet and Firestone; indeed GMs research and development group gave Hall access to the results of their embryonic data acquisition systems. Hall approach problems in a methodical manner to raise race car aerodynamics and handling from an art to empirical science.
Innovative designs in ground effects, spoilers and wings, all were tried and tested on Chaparral cars and influenced, among others, Colin Chapman, to look into these other areas of aerodynamics. The high point for this era of Chaparral was the 1966 2E Can-Am car. After that a series of things beyond Hall and Sharps control occurred. The 2J CanAm "sucker car" was hated by other drives and a series of complaints ensued, then Hall himself was involved in a huge crash at Stardust raceway, Las Vegas, in 1968. Hall was almost killed and his driving career was effectively ended.
The early 2 series Chaparrals featured innovative use of fibreglass as a chassis material but this was dropped by the C version in favour of more conventional aluminium chassis. Mostly the models were evolutionary in design with tyre sizes being increased along with the aerodynamic tweaks and engineering improvements.
In 1967 the 2G was introduced, in essence a development of the 2E, with an aluminium small-block Chevrolet 427 engine and reinforcement of the innovative wing, it's struts and cable actuation mechanism which had been prone to failures on the 2E's. For 1968 even wider tyres were fitted and huge extensions to the fenders/wings were needed to encompass the gigantic Firestone tyres. Sadly the 2G never won but it did come close twice, at Riverside in 1967 and Edmonton in 1968, before mechanical problems sidelined the car.
It wasn't quite the end for Hall though. He drove a Camaro in the 1970 Trans-Am Series amongst his team of Camaro Trans-Am cars. Later he entered teams in CART racing which won the Indy500 twice.
The 1968 "Stardust Grand Prix"
Round 6 of the 1968 Canadian-American Challenge Cup was the "Stardust Grand Prix" at the Stardust International Raceway, Las Vegas, Nevada. USA. The track length was 3miles (4.828km), so the 70 laps made for a total race distance of 210 miles. With the winners purse filled with $12,000 US, the organisers received 43 entries although only 36 cars took part in practice. There were many big names amongst that entry list including F1 world champion Denny Hulme and future F1 champion Mario Andretti backed up by other F1 regulars Bruce McLaren, Chris Amon and Dan Gurney. These were joined big the top American series drivers like Jim Hall, George Follmer, Mark Donohue, Sam Posey and Chuck Parsons.
In qualifying Bruce McLaren's McLaren M8A-427 Chevrolet posted fastest time of 1m29.60s. His team mate Denny Hulme qualified his McLaren in 1m29.98s to take second place on the two by to grid. Jim Hall qualified the Chaparral 2G 3rd in a time of 1m30.80s and was looking forward to a good race.
Race day was the 10th of November, 1968, and 30 drivers sat ready to drive off for the rolling start due at 14:00hrs that afternoon. Mark Donohue didn't make the start though, his McLaren M6B-427 Chevrolet refused to start due to a faulty coil leaving the Penske- Sunoco car at the mercy of the frustrated driver and owner.
When the starters took the rolling start it was Denny Hulme who went into turn 1 first, avoiding the chaos about to unfold behind him and start putting in the metronomic 1m36s laps that would eventually give him a very comfortable win.
For the second year in a row there was a big pile up at the first corner but unlike the previous year in the 1968 race it was right at the front of the pack instead of the back. This time it was the result of Bruce McLaren and Mario Andretti experimenting with the idea of fitting two cars into the space of one. Many observers placed the blame on Andretti although others felt McLaren moved over on him, either way Andretti hit McLaren and the M8A was sent into a spin. The reactions of the swarming pack were severely tested as cars sped off track on either side to avoid the collision. As the dust settled two cars were left sitting beside the track unable to continue while many other sustained damage requiring pit stops for repairs and/or tyre changes.
The two who lost out in the first-lap melee where Charlie Hayes who's McKee-0lds declined to start again, presumable choked with dust, and Chris Amon in a 6.3ltr Ferrari 612. Ferrari had been having great problems just getting this car ready for the series and the suspension and braking troubles experienced in qualifying had pinned in 9th place on the grid with a time of 1m32.20s, two and a half seconds slower than pole. Going out at the first bend was a like having sand kicked in their faces for Ferrari, and the reason the car couldn't continue? The throttle slides were jammed with sand.
Jim Hall's Chaparral sustained front left body work damage and he rolled into the pits for a tidy up followed by Bruce McLaren who eventually made three pitstops including one to have the entire front end bodywork replaced. McLaren did very well to push back through the standings to finish in a very creditable 6th place and set fastest lap. Andretti was in 2nd behind Hulme for lap until he too stopped for new tyre and to have a fuel line issue attended to. His George Bignotti Lola T160-427 Ford was finally set up and running well now fell back a full four laps, eventually finishing 12th, seven laps behind the winner.
This meant Dan Gurney's Lola T160-427 Ford was now running in second place, his race ended after 15 laps when a half shaft broke. The result of Gurney's demise was the promotion of Lothar Motschenbacher's McLaren M6B-427 Chevrolet up to second, which he maintained until lap 59. This was significant in the Can-Am championship as Motschenbacher was a point behind Hall in the standings.
Lap 59 of the 1968 Stardust Grand Prix was the lap that effectively marked the end of Jim Hall's driving career. He was trying to move back up the field after two pitstops (lap 1 for body work and lap 43 for tyres and more attention to his struggling front left bodywork), had left him a lap down in 22nd place. Hall and the car were performing better than could be expected and he was trying to unlap himself from the Motschenbacher McLaren when the crash occurred. If anyone is thinking there was an ulterior motive for Motschenbacher suddenly slowing to a crawl right in front of Hall then you can think again. The McLaren M6B broke a suspension upright severely affecting the handling of his car; suddenly the rapidly closing Chaparral was airborne having ridden up over the left rear of the McLaren. In a spectacular motion the car went almost vertical before crashing back to earth and rolling to the outside of a turn coming to rest upside down with Hall trapped underneath.
As the marshals ran to help Motschenbacher, who sustained some bruises and minor burns from a cockpit fire, it was left to Charlie Fox, associate editor of "Car and Driver" magazine, and two others to lift the Chaparral and drag the badly injured Jim Hall to safety. Hall suffered brakes to both legs and his jaw, much bruising and minor burns as a trail of fuel left by his car was ignited and inevitably crept up to the car itself.
As Hall was taken away to hospital George Follmer moved his Agapiou Lola T70-427 Ford into second place Jerry Titus became 3rd in his McLaren M6B-365 Chevrolet. This was the final podium result. Missing the first corner debacle Denis Hulme's whole race went like clockwork. He was never challenged and took a straightforward win to confirm him as 1968 Can-Am Champion. The final result looked like this :-
1 Denny Hulme McLaren M8A Chevrolet race time 1:52:15.380 average speed 182.017 km/h
2 George Follmer Lola T70 Mk.3B Ford race time 1:52:55.700
3 Jerry Titus McLaren M6B Chevrolet race time 1:53:18.400
Everyone else was at least one lap down
4 Chuck Parsons Lola T160 Chevrolet
5 Sam Posey Lola T160 Chevrolet
6 Bruce McLaren McLaren M8A Chevrolet
Bruce McLaren's 6th place finish put him ahead of Mark Donohue for second in the Can-Am championship. Jim hall took fourth place in the Championship a point ahead of fellow American Lothar Motschenbacher; their crash having left them both in a status quo.
Hulme and the McLaren team had romped to the championship title, easily the class of the field. Chaparral's season had been blunted by the car being late and unable to compete, couple that to the the Stardust GP crash and it turned into a season to forget for Jim Hall.
Jim Hall later looked back on the 1960's Chaparral experience and said :-
"I would've slowed down the pace of our development, given myself time to make sure I had a reliable product. In '66, when we ran the 2E, that dramatic moment in aerodynamics, it wasn't ready. If  we had worked on it, we would have won almost every race. In '66 and '67, GM put a lot of pressure on me to run an alloy big-block. Then I had 11 engine failures in one season. So my career—our career at Chaparral, I should say—was marred by me jumping in too fast, trying to do things outside our capabilities in manpower and time."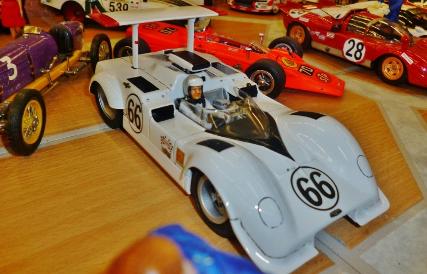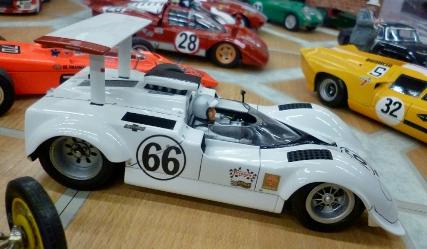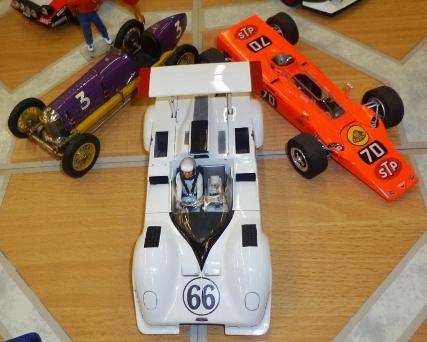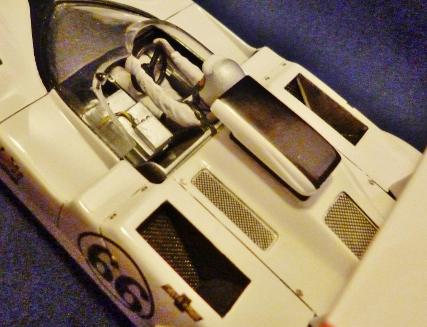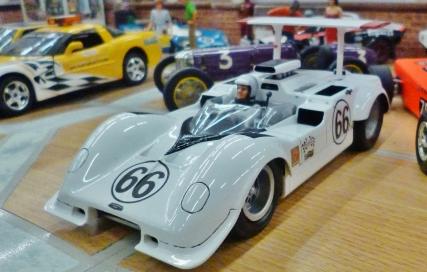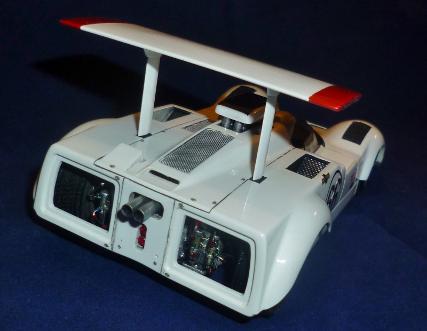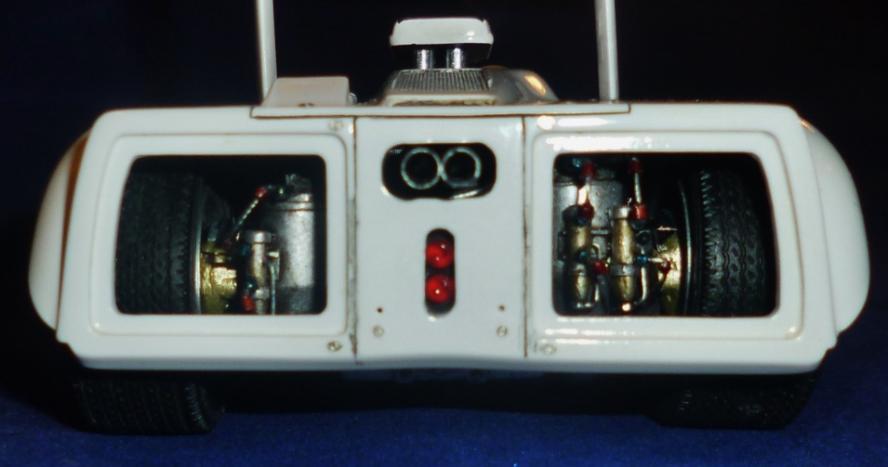 The Academy/Minicraft kit #1528 is of uncertain vintage. It seems to be the same as the Mitsuwa Model kit # 856 MS-1000. Same sprues in the same colour plastics, same instruction pictures and an inadequate decal sheet.
The Mitsuwa kit dates from the 1960s and the Academy kit probably came out much later. The instruction sheet has a copyright date of 1986 on it although I believe the kit was re-released even later than that. Ian only got this kit a few years ago from a second hand trader at a model show for a very fair price.
Ian built this kit between Oct'16 to Feb'17. Originally he had intended to built it straight out of the box as a quick addition to the Museum to be ready for the 2016 IPMS (UK) Scale Model World show. However, there were so many inaccuracies and simplifications that he decided to try and make something a little more deserving of space on the Museum display. This meant a lot of scratch building and altering to come up with a more presentable model.
A lot of time was spent modifying the chassis as a lot of blocking off and filling had to be done to get rid of all the holes in the chassis from the original electric motor and battery mountings. Ian also had to do a lot of scratch building to create a decent representation of the cockpit, complete with a modified driver from the spares box. Also of note in the cockpit is a representation of the Data Collection Box that GM allowed Jim Hall to use in his studies of car performance. The dash board was scratch built along with many other details like the front venting and driver adjustable front wing which is in housed inside the area one might have expected to have found a radiator housed.
The kit engine is inadequate but it isn't really visible anyway. Ian scratch built the large oil cans that dominate the rear of the chassis and sourced bigger, more appropriately sized, wheels and tyres from the spares box which allowed him to remove the grossly over scale rear mesh screens that shouldn't have been there for the car Ian wanted to build anyway. A fair amount of "fake wiring" and plumbing was added to help create the illusion of reality should anyone loo closely.
Many of the blanked off openings that the kit creators had ignored or attempted to hide were opened out resulting more scratch building to make the radiators, radiator housings and ducts. In fact much of the body work had to have amendments made from the wheel arches and front winglets to the rear wing mountings, and the rear wing itself. The largest amount of work came in trying to get the car to sit lower to the ground more like the real car. 2mm was removed from the side panels so that this area of the body matched the period photo's better and the interior of the body had to have some areas ground away to get the body top to sit lower on the chassis.
The paints used were Alclad II white and black primers, Plamo gloss Silver coated with "Klear" and buffed up with C1-models metalizer powder. The main body colour is Brilliant White from Zero paints # ZP-1026 (or # ZP-1334 for the big bottle) over a base coat of Zero racing white # ZP-1101 to take the edge off the white. This cream base tones down the pure white to a more vintage white and looks much more authentic on the Chaparral than the pure brilliant white would have done.
Decals were purchased from Patto's Place in Australia, item # Chparral 2A-2J, covering the major logos for all the Chaparral cars (which is handy as Rod has a Chaparral 2D that he restored and needs replacement decals applying). A few additional decals came from the spare decals box,
For the finishing touch Dzus fasteners from the Model Car Garage, # MCG-2284, were applied with reference to the period photo's. They should be white of course but the fine detail of these items is sure to have been clogged up by paint and lost. They a a little something by being more visible even though they aren't really authentic in bare metal appearance.
There are some other unique Can-Am cars in the Mitsuwa-cum-Academy range but I suspect Ian won't be making any of them; at least not any time soon!
RETURN TO :-