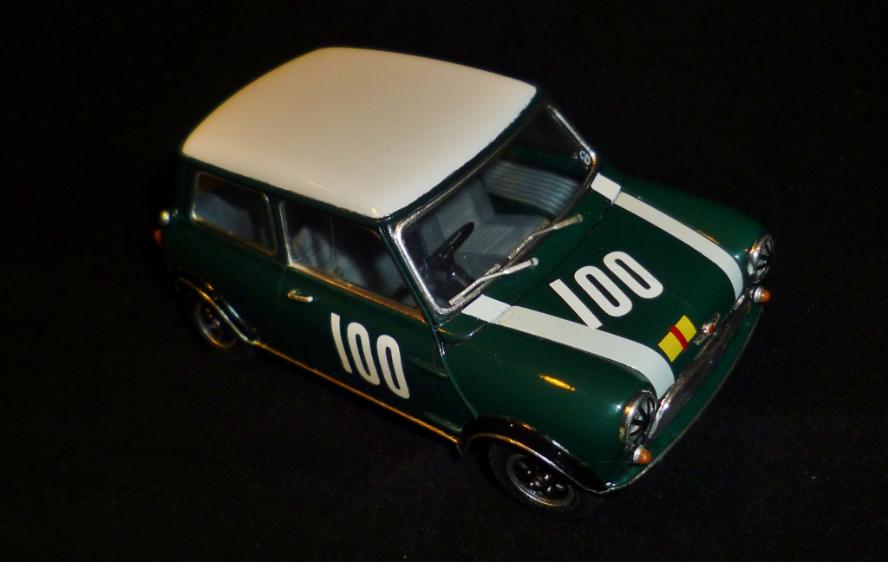 John Rhodes 1966 Cooper Works Team Mini
Cooper; 500cc champions, F1 champions, and so synonymous with the Mini it is still the go-to version of the MINI to this day. If you can't think Mini without thinking Cooper then you are clearly not a motor racing fan. If you were, then Mini would mean Paddy Hopkirk, Timo Makinen, Rauno Aaltonen, and, John Rhodes. Like Andy Priaulx today, John Rhodes is one of the least known multiple champions of British motorsport. Successful in touring cars and on grass track circuits, in Britain and across Europe, John Rhodes illustrious racing career pitted him against some of the biggest names out there, and not just Mäkinen and Hopkirk. Along with these Rally stars Rhodes is arguably one of the biggest reasons for the Minis success on track and in sales volume. His flamboyant style won the hearts of the fans and added so much more to the Mini Cooper legend.
John Rhodes
Born on the 18th of August, 1927, in Wolverhampton (which was still part of Staffordshire back then) Rhodes had petrol running through his veins. His parents successfully campaigned a Standard Flying 12 in gruelling events like the Land's End Trial and his grandfather was one of Britain's pioneering motorists. John himself would later say: "I have always adored the internal combustion engine and everything that goes with it."
When he was 11 years old his father took him to see the prestigious 1938 British Grand Prix, organized by Derby & District Motor club, at Donington Park. Tazio Nuvolari drove his Auto Union to victory in the main event leaving the young John "spellbound". But it was more than the sublime racecraft of the big stars that captivated him. The atmosphere, smells, noise, and the thrill of speed and danger had Rhodes hooked for life. "My burning ambition was to be a racer, just like Nuvolari." Like many youngsters of the time John recalled "putting pieces of cardboard onto the forks of my bicycle", which would to his ears would be "the sound of Nuvolari's car. I was Nuvolari for the next couple of weeks". Motor car engineering became a passion, encouraged by his father, that would stay with him throughout his school years.
The previous year John's father had purchased a Fiat 500 Topolino, probably the smallest proper car on the market. Supposedly for his mother, the car would become the play thing of John and his sister. At just 13bhp the little 569cc engine could almost propel the car to 50mph. But it was enough to get John driving and with the top down felt to John "like driving a miniature sports car." If the performance wasn't exhilarating John did like the handling. He would later say it was "no wonder John Cooper used the Fiat's transverse semi- elliptic leaf-spring suspension for his 500cc Formula Juniors racing cars."
Following his school years John got an apprenticeship at a main Ford dealership. Soon in possession of the mechanical and engineering skills to build his own 'specials' John joined the Hagley and District Light Car Club. Rhodes became familiar with the world of Home-built specials. Pre-war the Austin Seven had been the enthusiast's choice for building specials, post-war Rhodes could buy an Austin Seven for as little as £10 from his local car breaker, Bill Butler. Rhodes built one particular special on a stretched Austin Seven chassis powered by a Ford engine, with a Shorrock supercharger, and passing that power through an MG gearbox to a Morris Eight back axle'. Driving that sort of special "certainly taught you how to drive!"
In 1958 Rhodes started driving a Turner, belonging to John Handley, who he would later drive with in the Cooper works Mini team, in hill climbs and speed events. Jack Turner and John Webb started Turner Sports Cars (Wolverhampton) Limited in 1949 out of the 'Old Smithy' in Seisdon, South Staff's, just to the west of Wolverhampton. This Turner combination would earn Rhodes a class win at the Lydstep Hillclimb.
In 1959 John started driving in the 1ltr & 1.1ltr Formula Junior category, the forerunner of the modern F3, having built a FJ Cooper fitted with an 1100cc BMC engine. The car was purchased in kit form for him by Alan Evans, a friend studying to be an accountant and in need of something to distract him from the stress of studies. It had been intended to share the driving but Evans found he wasn't keen on a sharing a crowded track so John saw out the season doing all the driving.
Alan Evans was instrumental in forming the Midland Racing Partnership and John Rhodes had his first links with Coopers building three Formula Junior cars at the Cooper works with future F1 world champion Denny Hulme. Supported by the Midland Racing Partnership Rhodes drove the MRP BMC-engined Cooper T56 car successfully in 1960. Winning at Linton-on-Ouse and Mallory Park Rhodes also took three more podium finishes that year. Success continued in the 1961 campaign with two wins at Mallory Park, a win at Snetterton and another at Silverstone. John also won the Irish Formula Junior title with wins at Phoenix Park, Kirkistown and Dunboyne.
Rhodes then set a Formula Junior record at Prescott Hillclimb which lead to Ken Tyrrell giving John a test for the Tyrrell Formula Junior Team, measuring him against Tony Maggs and John Love.
Then Bob Gerard gave Rhodes some drives with his F1 Coopers in Formula Libre events which, at a particularly good day at Mallory Park earned a win and garnered the "Driver of the Day" award which he backed up with a Goodwood Trophy win and four other top-three results in Formula Libre. The successes for Bob Gerard saw Rhodes driving Bob's Cooper T59-Ford in Formula junior through 1962 and in driving Gerard's Formula 1 Cooper in two more Formula Libre events finishing 13th in the International Trophy at Silverstone. John Rhodes recalls "Moving up from driving a Formula Junior car to an FI car was just like driving a grown-up version of the same car. Greater power and control of the throttle made it far more exciting than the smaller racer."
The 1963 racing season saw John Rhodes driving for Ken Tyrrell in Formula Junior but his results were disappointing garnering just two 6th places, at Oulton Park and Goodwood. This was also the year in which Rhodes had his first Mini races in the British Saloon Car Championship. Sadly, the disappointments continued with a 3rd and two 4ths in class the best John achieved. A fourth-place finish in an F3 race at Zandvoort driving his Cooper BMC showed the truth; Rhodes single seat career wasn't really gaining the traction he desired. That didn't mean opportunities weren't forthcoming though.
While testing one of Bob Gerard's F1 cars at Silverstone in 1964 Rhodes went down and had a chat with his friends in the Cooper garage, John Cooper having fitted a Formula Junior engine in a Mini. He had previously done work at the Coopers garage in Surbiton building Formula Junior cars so seeing John Love and Tony Maggs testing the new works Mini Cooper 'S' talked his way into a quick drive around the track to try out a Mini for himself. Clearly the Mini Cooper was nowhere near as fast as the F1 car, nor did have comparable brakes. Heading far too quickly into the first corner, John suddenly found this out and had to act fast. He threw the car in sideways and floored the accelerator. He soon found that if he lifted his right foot the back end broke loose and oversteered the car, if he then put the power back on, he could steer the car in a drift. Thinking this was the way to drive a Mini he adopted the same style in a Mini for ever more.
John Rhodes took his sliding sideways cornering style into the 1964 British Saloon Car Championship achieving a 3rd at Brands Hatch winning his class, he was also a class winner at Oulton Park in September 1964 and finished the season 9th overall in his Mini. Driving with Warwick Banks Rhodes also won the second round of the European Touring Car Challenge, the "Motor" National 3 hour race, at Mallory Park on the 16th of May, 1964. It was a good day for the Cooper works Minis as John Fitzpatrick & Julien Vernaeve brought their Morris Mini Cooper home in second place. In the other endurance round of the European Touring Car Challenge the Coppa Europa at Monza, Rhodes was partnered with Rob Slotemaker but sadly the car did not make to the end of the race.
'Smokin' John Rhodes drove for the Cooper works team in the 1,300-cc class of the British Saloon Car Championship in 1965. He took several class wins, including at Crystal Palace, Brands Hatch and in the Ilford Films Trophy at Mallory Park, to end the season as 1300cc class BSCC Champion. Rhodes overall placings of a 3rd at Silverstone, 4th at Oulton Park and 5th at Brands Hatch, are makes for an impress set of results against cars of much higher engine capacities.
Thus 'Smokey' Rhodes quickly established himself as a star of the 1300cc runners for his cornering, "I perfected my smokin' Mini style of cornering by always ensuring the back end was purposely light so that I would lose the car. I'd have one hand on the wheel, the other keeping my elbow locked into the open door pocket. I managed to destroy the [floor mounted] dipswitch during every race with my left foot wedged in tight", and for his legendary giant-killing achievements while burning out set after set of tyres. John recalls: "Dunlop hated me for it! They asked why I didn't drive the car properly. I went through a few tires I can tell you." Apparently one Dunlop technician recorded one of John's racing tyres at over 120deg'Cel', that's over 250deg'F.
John Rhodes and Warwick Banks also took another BMC product into the winner's circle when they won the 1965 Brands Hatch 1000 miles race at the Brands Hatch Guards Weekend event. Their BMC MGB, registration number '8 DBL' wearing race #28, completed 374 laps for a total distance of 1595.021 kms, the 121.071kph average speed achieving 1st overall and in the GT2.6 class. In similar vein Rhodes shared a BMC prototype Austin Healey Sebring Sprite wearing race #49 with Australian driver Paul Hawkins at the Le Mans 24hrs endurance event in 1965 too. The Donald Healey Motor Company entered car finished a creditable 12th overall, winning the P1.3 class.
Still racing open-wheeled cars in various Formula it can be seen from the reduction in races Rhodes was moving toward the touring car world. In 1965 Rhodes drove Bob Gerard's SCA engined Cooper T73 in an F2 round of the Italian F2 series at Enna. On the 19th of April, 1965, Rhodes drove for Gerard in the non-championship F1 race, the 1st Sunday Mirror Trophy race that had previously been called the Glover Trophy at Goodwood. Jim Clark won the race for Lotus followed by Graham Hill, Jack Brabham, Bruce McLaren, Jo Bonnier and Dickie Atwood. Rhodes Cooper Ford came home 8th behind teammate John Taylor's Cooper Climax. Those are some big names to be running with in under-powered machinery. John Rhodes then had his first, and only, taste of F1 racing. Back in Bob Gerard's 1.5 litre Climax V8 engined Cooper T60, John drove in the 1965 Silverstone British Grand Prix on the 10th of July 1965. Being a car designed for 1962 season John was never really going to be able to compete with the much recent Cooper T71, T73 and T77s other were racing. Rhodes last on the grid in 21st position, Jim Clark's Lotus Climax' pole time was 9 seconds quicker. John recalled later "I fleetingly emulated Nuvolari as a Grand Prix driver." "Sadly, the car was hopelessly outclassed", "I think the car was overwhelmed, however; you have to remember it was built for the 1962 season. For 38 laps, I circulated until breaking down with ignition problems. It was a lovely experience for me. Jim Clark driving a Lotus Climax won the race and Graham Hill in a BRM was 2nd. Good company to be in." For the record, John Surtees', Mike Spence, Jackie Stewart and Dan Gurney filled out the top six places. It was his last open-wheel race, John stopped racing single seaters and concentrated on saloon car racing.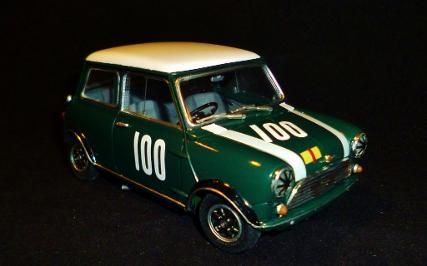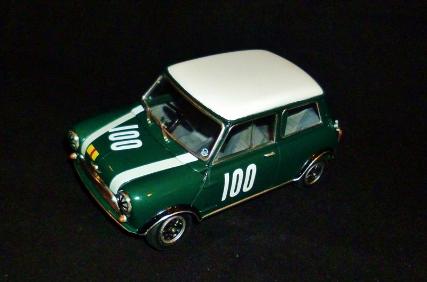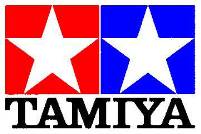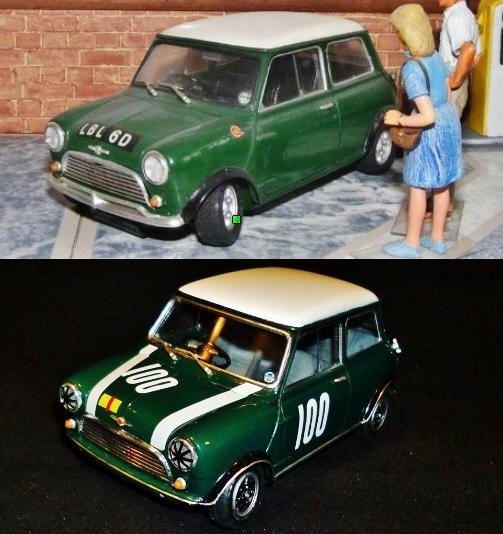 "Smoky" continuing winning in the Mini in 1966, once again being the 1300cc class B champion of the British Saloon Car Championship. He also finished 9th O/all and 1st in the 1600cc class in the Targa Florio with Timo Makinen driving an MGB.
John Rhodes later said "Racing in the 1960s and '70s, although very serious, was great fun. A typical race weekend with the works Mini Cooper team would see us spending time at the Castrol team transporter. This would be converted into a motel. We had the choice of good wines and brandy, so there was never a rush to go home when one finished racing".
At the end of the 1967 season Rhodes was Class champion again in British Saloons; the third successive year. He was also 12th O/all with Timo Mäkinen and the MGB at the 1967 Sebring 12hrs race.
It was getting harder to stay competitive from 1968 yet John Rhodes was once again 1300cc class champion of the British Saloon championship and this year added European honours winning the 1600cc class (in a 1300cc car) in the European Touring Car Championship. John believed it was his skill set that was by then making the difference. "My driving style allowed me to keep up with cars that had far more muscle and grunt in the engine department than I had. They could pull away on long straights but I could catch them in the twisty bits and the corners, much to their displeasure". Class wins at Zolder, Zandvoort, Snetterton and Jarama created a total points haul of 29.5pts.
Johns four years with the Cooper Works team brought him four consecutive class championship titles, 3 outright race victories, 16 Class Race Victories and the European class Champion too; a rather impressive record.
Without the Cooper Works backing in 1969, and facing tougher competition form newer cars John found it much harder to win. Rhodes managed 4th in the Anerley Trophy at Crystal Palace and at Mallory Park, in addition to a 2nd and three 4ths in class. Switching to the rallycross series Rhodes found a new lease of life in the Mini winning at Cadwell Park and finishing only second at the "World of Sport" race at Croft; he continued to race in rallycross through 1970 too. In the 1969 Guards 6 Hour touring car race Rhodes shared the driving with Paddy Hopkirk to finish 7th overall and 2nd in class with 1300cc BLMC Mini. From the 1970 season onwards the Mini was no longer competitive although without works backing Rhodes did have some with the Brian Gillibrand managed British Vita racing team.
Deciding to retire from racing in 1973 Rhodes had driven Opel Asconas and Commodores, a sports Triumph TR6 and even an aluminium bodied Austin 1300; all with varying degrees of success. He had attempted to conquer the le Mans 24hrs event in 1965 and 1966 driving an Austin Healey Sprite with Paul Hawkins. They managed a respectable 12th in their debut year but did not finish in on the second running. However, it is his exploits with the Mini that remain his crowing achievements and source of fame. So much so that despite having a settled life of retirement restoring classic cars in Cannock, between Stafford and Wolverhampton, when the first Goodwood Revival was held in 1998 Lord March invited John to come down for the event. For many years thereafter john Rhodes raced other owners' cars in historic events until a bad crash in 2006 damaged his sight and enforced his 'second' retirement from motorsports.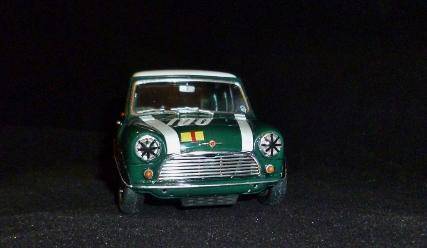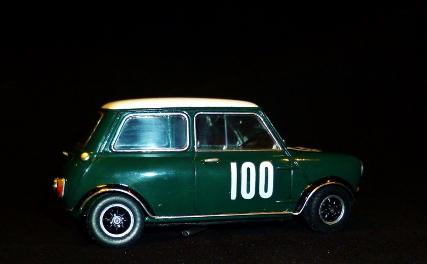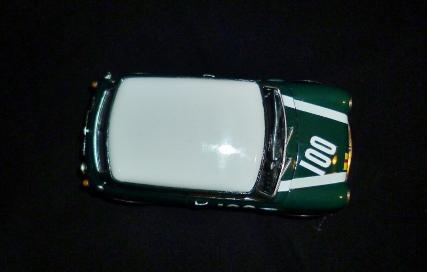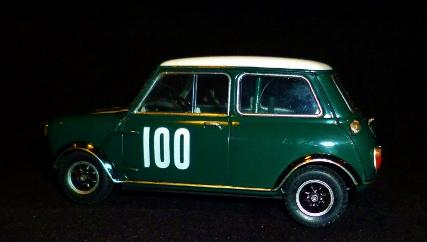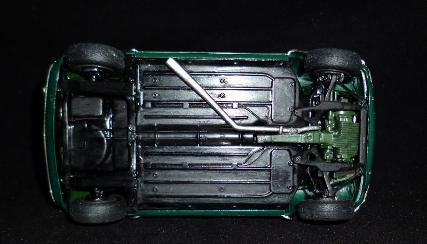 Tamiya's 1/24 scale Morris Mini Cooper 1275s Mk.1 kit, # 24039, initially released in 1983, has proved almost as durable as the Mini itself. It is probably still the best engineered and most accurate of all Mini kits. The original kit was followed by the 1967 Monte Carlo Rally winning car kit # 24048 in 1984, a club racing version, kit # 24130, in 1993 and finally the very rare Austin Mini Cooper 1275S Mk1 in 2001 kit # 24235.
This model was originally built in 1992 from a Club racing version and was one of the very earliest car models Ian made. It was, and still is, largely straight from the box. The main change was the new exhaust pipe which now exits at the side behind the driver's door. The spares box donated a racing seat, which was further amended, and additional roll cage parts. The dashboard was amended and repainted. The seats and much of the body interior was re-painted to match photos of an original 1960s Work Cooper Mini, that is to say a two-tone grey scheme.
The body painting has been done by airbrush using acrylic hobby paints from Deco-Art sealed Zero clear lacquer. Detail painting was by brush using Deco-Art, Citadel, Tamiya and Revell acrylic paints and Humbrol enamels.
Built in early 2020 this model is an homage to the great "Smoking John Rhodes" and his fantastic record with the Cooper works Minis. Our model being in the colour scheme used by Rhodes in the 1966 International Trophy Meeting, "St. Mary's Trophy" Race at Goodwood. It proves an interesting addition to the story of the Mini; a story some think may never have been so celebrated had it not been for the sporting prowess and exciting driving experience of the Mini Cooper range.
RETURN TO :-