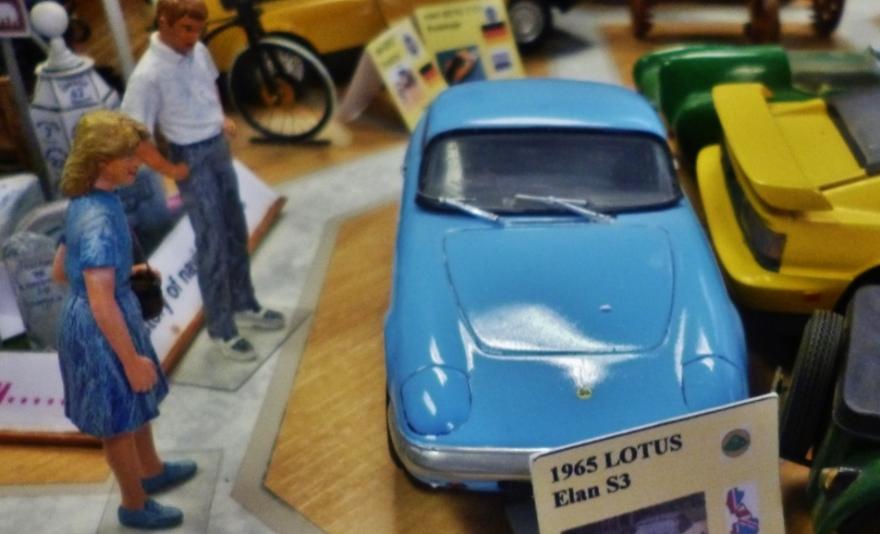 1965 Lotus Elan series III
The Lotus Type 26 design "Elan" was the replacement for the pretty, but unreliable and expensive to produce, Elite. Series 1 Elan production ran from 1962 to 1964 when the evolutionary series 2 Elan or type 36 design started production. Four series eventually were sold before the model ceased production in 1973, the 2+2 ceased in 1974. Lotus' '62-'74 model Elans were the highest produced Lotus design ever. The Elan name was resurrected in 1989 for the Type M100 design which was produced until 1995.
The car had a revolutionary steel backbone chassis with a sexy glass-fibre roadster body mounted on it. Designer Ron Hickman was being pressured to get the new car up and running as soon as possible but the process of identifying and strengthening the appropriate areas of a Fibreglass chassis unit took time. His answer to the problem was to do away with the full fibreglass body/chassis and simply mount the body on a backbone which handled the suspension and power unit and drive train. By adding full independent suspension by twin A-arms with coil springs and dampers at the front and the famous Chapman Strut at the rear the Elan set new standards for handling with a comfortable soft ride.
Colin Chapman's "more from less" minimum weight design philosophy was embodied in the Elan which weighed in at 1,500lb, or 680kg for those in the modern world. Launched in October 1962 at the Earls Court Motor Show this lightweight aerodynamic sports car from the renowned F1 constructor was well ahead of it's time. Ferraris were still fitted with live rear axles and Porsche wouldn't offer disk brakes all round for another two years!
Elans had a DOHC 1557cc engine, rack and pinion steering and 4-wheel independent suspension with disc brakes all round. Harry Mundy was responsible for the "Lotus Twin Cam" engine which was developed from a Ford 4-cylinder unit from the pre-cross-flow era that was common at the time on Ford Cortinas and Escorts. An alloy chain driven twin-cam, two valve, head by Cosworth gave the engine an output of 105hp. This performance was enough to propel the Elan from standing to 60mph in 7.1sec's and cover a quarter-mile in 15.7sec's. Top speed was upwards of 100mph. A BRM tuned head was also available later to further boost output.
These cars were available factory built or, for a while, as customer assembled kit form. From 1963 a hardtop was offered and from 1965 the series 3 (Type 45) Elan was available in a seductive Fixed Head Coupé style. This was followed up in early 1966 with a Drop Head Coupé. This series had a more refined specification, like full window frames to improve weather protection and even electric windows and head restraints. A special equipment (SE) version also went on sale with increased horsepower and knock-off wheels. Lotus stretched the design to add a +2 version, the type 50, to create a more family friendly version of a sports car that was now attracting attention on the racing tracks courtesy of the type26R and type36R racing versions of the Elan.
The Series four model was sold from 1968 and featured Dell'Orto carburettors, requiring a power bulge in the bonnet, engine power output was boosted to 126hp. The series four cars also had flared wheel arches and the later versions in the 1970s could be seen in eye catching two-tone colour schemes, most notably a red and white version that reflected the F1 Gold Leaf Team Lotus livery. The 1971 to '73 production runs also had a five gearbox to give another aspect to their sportiness.
The Lotus Elan had impressive performance and is still often put forward as the benchmark for sportscar handling. So much so that Sports Car International placed the Elan in 6th place on their 2004 list of the top sports cars of the 1960s and Gordon Murray, designer the McLaren F1 supercar, apparently commented that his only disappointment with the McLaren F1 was that he couldn't give it the near perfect steering of the Lotus Elan.
Equally impressive is that the Elan suffers little from wind buffeting and has enough boot space to carry sufficient luggage for a proper trip away from home. The Elan is so beautiful, exciting and practical that it a firm favourite with collectors and was the inspiration for Mazda's M5 Miata who extensively evaluated the humble little British car.
Total production of Elans between 1963 to 1972 is thought to be as high as 12,224 although this number is questioned by some and might actually be as low as 9,569.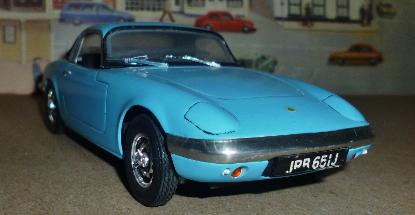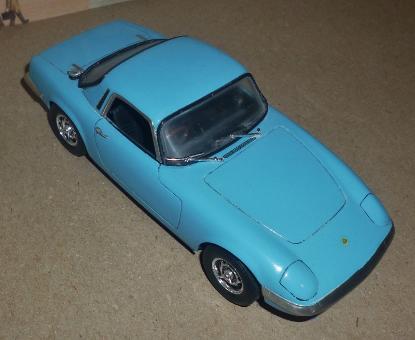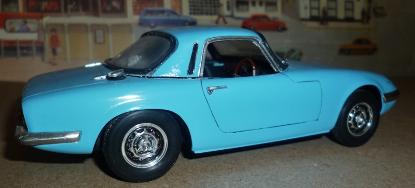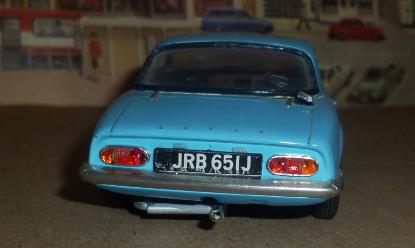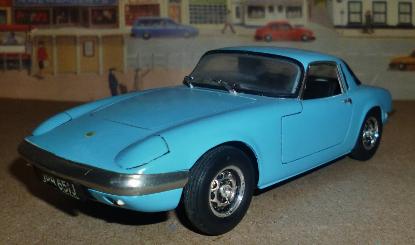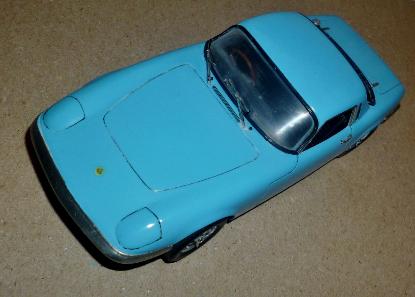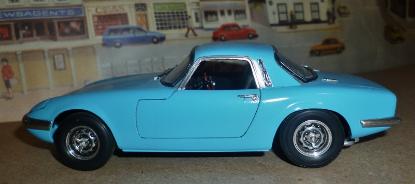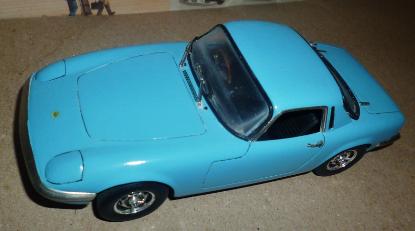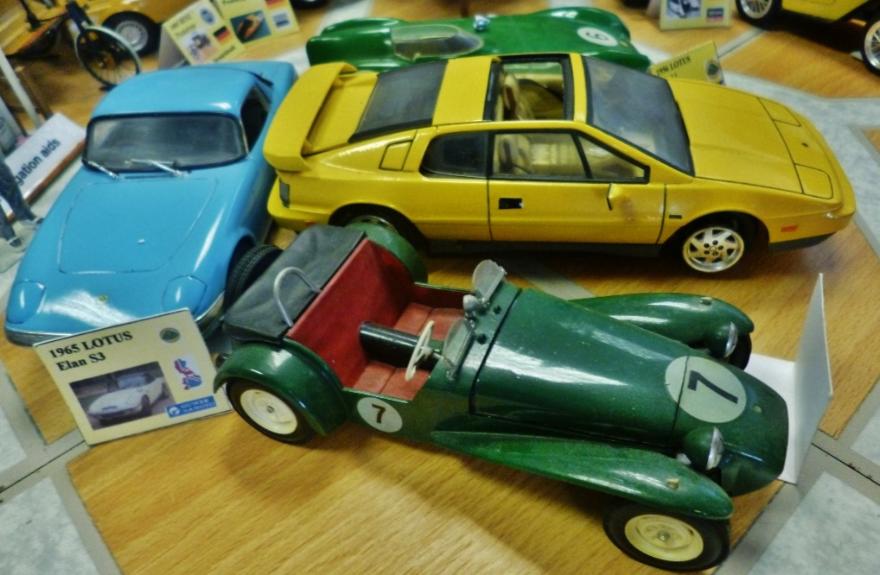 Gunze Sangyo kit # G-183:1200 was released in in the early 1990s and is a typical example of the companies ability to produce good detail levels with straight forward, practical assembly. The kit can be built as an open roadster of the hard top as a clear roof and rear window part is included in the kit. Gunze also made the most of the body moulds by producing five versions of the car using different decals and additional parts. The three "high tech" kits are particularly collectible and build into stunning models ("High Tech" includes metal and photo etched parts for the engine & chassis).
GUNZE SANGYO 1/24 scale Elan kits
Lotus Elan S3 kit # G-183:1200
Lotus Elan S3 26R kit # G-363
Lotus Elan S3 High Tech kit # G-229
Lotus Elan S3 High Tech BRM kit # G-521
Lotus Elan S3 High Tech fhc kit # G-514

Rod built the model in April 2001 straight from the box. It is sprayed painted using Halfords acrylic car spray paint cans with Revell and Citadel acrylic paints being used for the detail painting. Citadel ink washes were also used to help give depth and reality to the interior.
RETURN TO :-