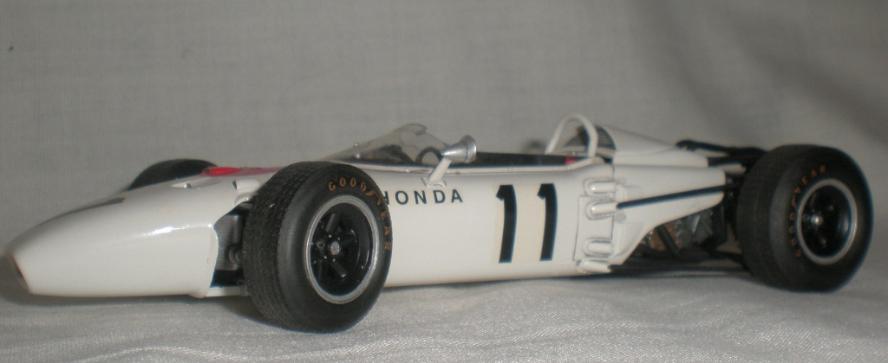 1965 Honda RA272
Tadashi Kume was the designer behind the RA272. It was a fairly ordinary semi-monocoque chassis with tubular rear sub-frames and inboard springs at the front. The 1.5Ltr V12 engine was noticeable mainly for its technical advancements, although rather wide and heavy it had 48-valves, needle roller crankshaft bearings and was transversely mounted. Reportedly it gave 230bhp at 13,000 rpm. The engine could even be safely revved to 14,000 rpm, unusually high for any 1960s engine design. The Honda V12 had startling acceleration and often led on the 1st lap or away from the standing start.
During a varied career, ranging from sports cars, Carrera pan America races and le Mans as well as the various single seater formulas, Richie Ginther participated in a total of 54 World Championship F1 Grand Prix. Also numerous non-Championship Formula One races. Driving in F1 from 1960 - 1967 for teams as varied as Ferrari, Scarab, BRM, Honda, Cooper and Eagle.
The RA272 with Ginther driving led the 1965 Mexican Grand Prix from start to finish, making it the first Japanese car to win an F1 Grand Prix. It would also prove to be Ginther's only win in Formula One.
IV Gran Premio de Mexico
Debuting early in 1965, the RA272 got more on the pace with the European cars as the season progressed. The final race of the season, and the final race of the 1.5 litre F1 era, was held in Mexico at the Autódromo Hermanos Rodríguez circuit in Mexico City.
The Hondas ran well all through practice and Ginther qualified on the 2nd row in 3rd place. Ginther beat pole man Jim Clark (Lotus-Climax) and Dan Gurney (Brabham-Climax) away from the start and took the lead. By the end of the first lap he was 300 yards ahead of Gurney. Jim Clark and Graham Hill both dropped out with mechanical problems followed by Jackie Stewart who's clutch failed. Lorenzo Bandini collided with Pedro Rodriguez at the hair pin removing both of them from contention. Ginther ran undisturbed to the flag with Gurney never getting within 2.0sec of him for the rest of the race.
Ginther won, Dan Gurney was second setting fastest lap, 1:55.84 on lap 57 and Mike Spence (Lotus-Climax) came through to third place.
Other notably events of the day were that this was the first GP win for Goodyear tyres who then dropped out of F1 again. Ronnie Bucknum scored his first, and only points, in this race and Mike Spence's podium was a career high spot never to be repeated.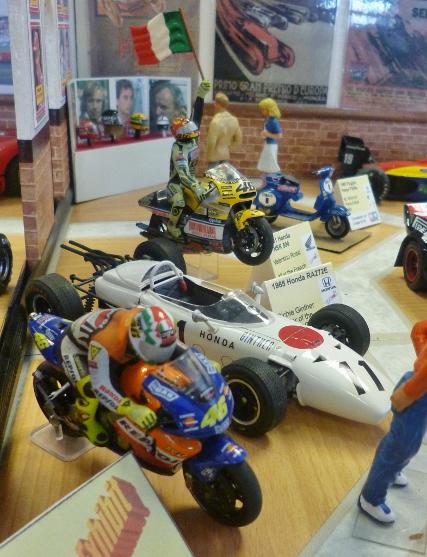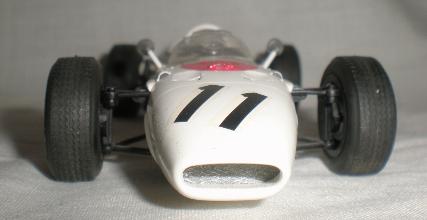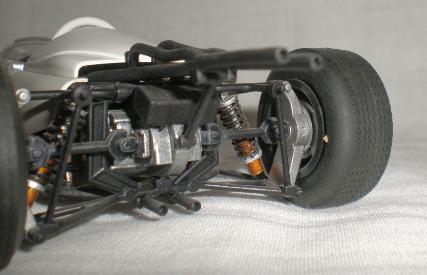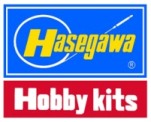 1/24th scale kit.
Built by Ian.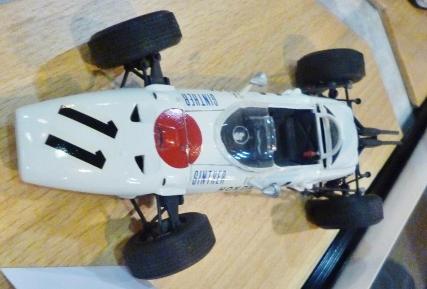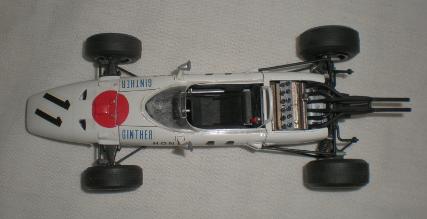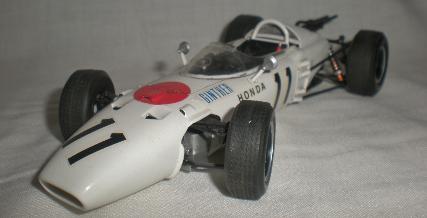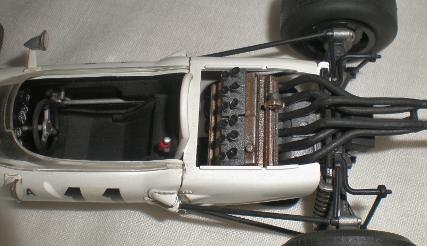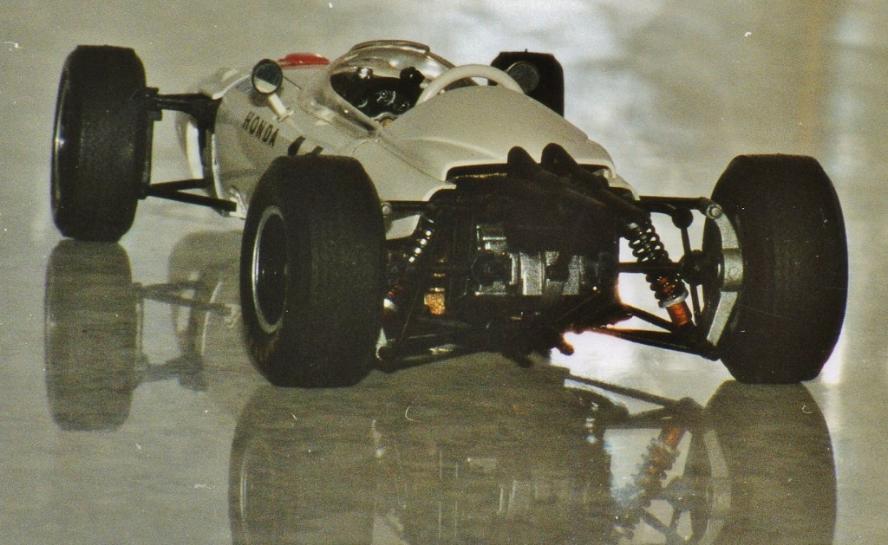 Manufactured by Hasegawa to 1/24th Scale, and released in the same year as Tamiya's 1/20th version of the same car at the same race, this kit of the Honda F1 RA272E (as it ran at the 1965 Mexican GP) is real peach of a kit that took Ian just seven days to build. Kit # 21264 was then recycled by Hasegawa to produce the U.S. GP version as kit # HR5 and the Italian GP version, kit # HR-105. Hasegawa also produced the kit with a clear plastic body as a see-through "Skeleton" kit, #51943. In all cases the actual parts are the same and one decal sheet has the numbers for all the cars so the only real change is in the box art used for each variant.
Using Halfords acrylic car spray paints all over this model was so easy to build, the main body colour is Ford Diamond White which isn't a pure white but isn't as cream as other colours. Japan's National racing colour is Ivory so an "off White" is just right. It is straight from the box and probably the quickest build Ian has ever had. Detail painting was done with Citadel acrylics and Humbrol enamels. This is a 1997 build is a classic that still attracts attention today.
RETURN TO :-