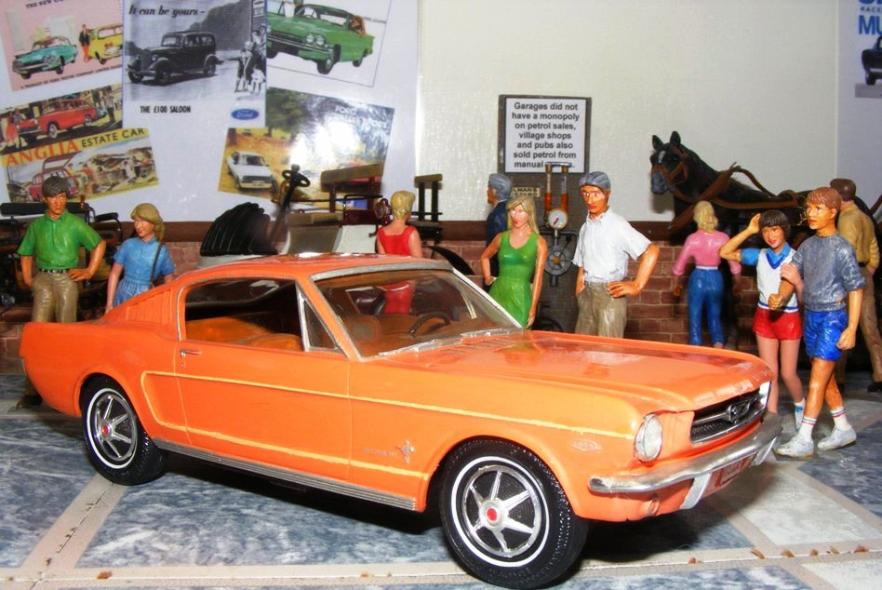 Until the early 1960's, the Grand Tourer could be defined as a fast, low production, expensive car with closed bodywork. All this changed in 1964 when Ford in America introduced its Mustang which was destined to become one of the fastest selling cars in the history of the US motor industry. An amazing 1.7 million examples were produced within in four years. In Britain it also spawned the Ford Capri which extended the concept into the European market.
Ford recognised that the post-war "baby boom" was set to reach adulthood in the early 1960's, and market research indicated that individuals tended to remain loyal to the make of car that they first bought. As youth and fast motoring are synonymous, Ford, which had hitherto lacked a sporting profile, adopted what it called a "total performance" image. The Mustang was the car to break new ground.
During its initial planning stage it was proposed that 100,000 Mustangs would be built in a year, but as interest in the concept accelerated, Ford upped the figure to 240,000. It was fortunate that they did. The 100,000 figure was reached within four months of its introduction in April 1964 and the latter figure in seven months. By the end of 1965 a record 680,992 cars had been produced, and the millionth Mustang was built in March 1964. Ford built 1.7 million Mustangs between 1964 and 1967 when the model was revised.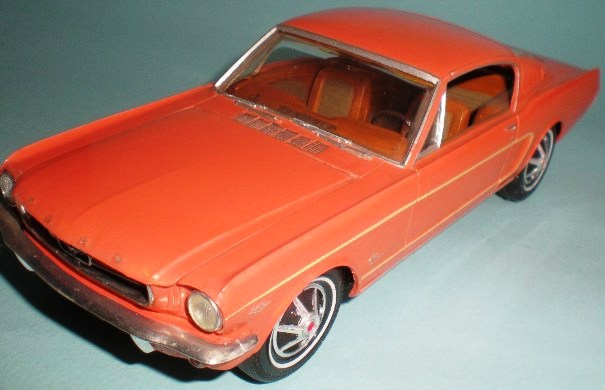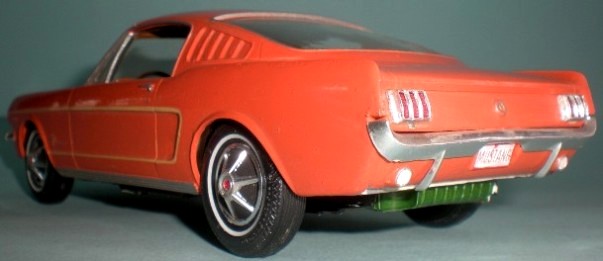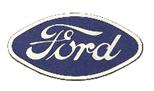 1/25th scale kit.
Built by Rod.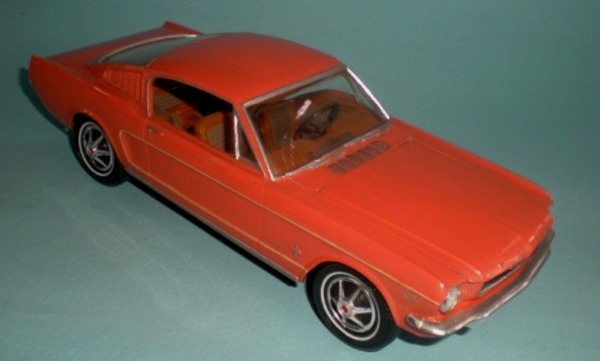 Rod built this model in the 1970's so it is all brush painted and tube glued. Rods brush painting improved over the years but the slow drying nature of Humbrol gloss enamel paints often allows dust to settle into the finish. Now we use Halfords car spray paints but then things were very different, cellulose based car paints simply ate into the plastic. To get the best from brush painting always prepare and airtight container large enough to cover you model to minimise dust contamination, brush in the same direction as much as possible and avoid using too much paint. It is better to build up several thin coats than one heavy one. These days there are several polishing systems available to help smooth out and polish brush painted finishes. Note the use of matt black paint in the front grill to give this area depth and realism. Brush on the matt paint and as it dries gently rub it off the raised detail leaving it in the recesses.
Also unavailable back then were the ranges of satin colours. Leather and cloth combination interiors could only be replicated with gloss and matt paints. Rod had yet to use dry brushing and washes to help give depth and realism to models.
RETURN TO -