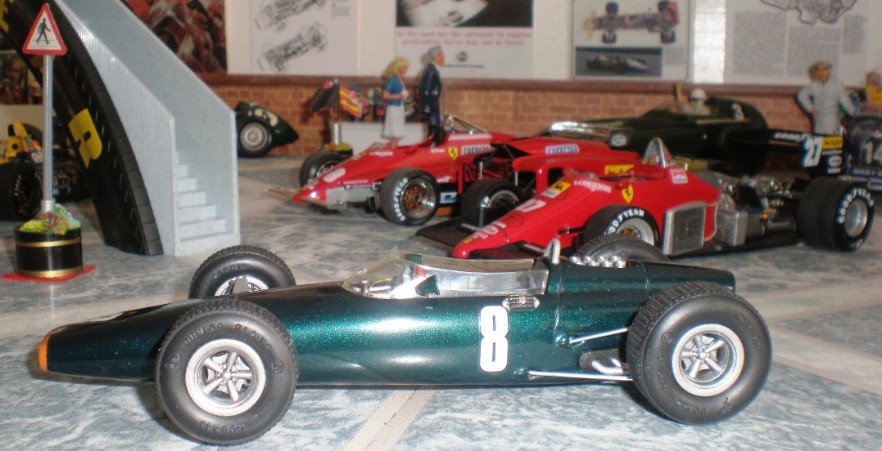 In answer to Lotus' 25 BRM designer Tony Rudd came up with the P61 in 1963. This developed into the P261, or P61 mk2 as it is sometimes called. Rudd's previous experience with the stressed skin P25 prompted him to take a different route to Lotus so instead of the bath tub style of the Lotus 25 the BRM P61 was a cylinder with a hole cut in for driver access. The engine sat in a pair of pontoons extending back beyond the cockpit firewall and also providing a location for rubber bag tanks. Initially the car had low exiting exhausts which were later moved up to exit above the engine but tucked away inside the body. This tidied up the airflow but lead to cooling problems resulting new cooling slots being cut into the engine cowling, which no doubt interrupted airflow again!
Independent double wishbone suspension was used throughout with inboard spring and dampers at the front maintaining the clean lines of the car. Dunlop disc brakes were implemented all round but the rears were mounted inboard of the uprights reducing un-sprung weight while the fronts were conventionally mounted.
The P261 raced from 1964 through to 1968 and won more races and Championship points than any other BRM model.
1964 Monaco GP
The 1964 Monaco GP was 1st race of the new season. As is normal for F1 drivers had swapped teams but some familiar faces remained attached to makes they would come to be associated with many years after they stopped racing. Jim Clark was at Lotus with new recruit Pete Arundell, Graham Hill was still at BRM alongside Richie Ginther and John Surtees was in his second year with Ferrari alongside Lorenzo Bandini.
Clark and Brabham (Brabham BT7) qualified on the front row with Surtees and Hill next up. The Start was clean and Clark converted pole position into the lead, followed into Ste. Devote by Brabham, Hill, Gurney (Brabham BT7) Surtees and Ginther. Gurney soon jumped ahead of Hill as Brabham dropped down through the order with gearbox and engine maladies. Surtees Ferrari also slipped back due to gearbox problems.
Clarks car developed a loose anti-roll bar and although it wasn't slowing him down Colin Chapman called him into the pits for repairs before the trailing linkage prompted a black flag from the organisers. Repairs done Clark found himself back in third place with Gurney leading and Hill second. Attrition has always been part of Monaco and this time it bit Gurney who suffered a fuel leak which allowed Hill to close in on him while Clark chased them both.
On lap 53 Hill took the lead but Gurney clung onto second until gearbox failure stopped him on lap 62. Clark took up the chase but could do little to peg back Hill, a previous winner of the Monaco GP and who would later go one to hold a long standing record of 5 wins around the principality.
At the chequered flag Hill was a lap ahead of everyone else. Second place fell to the sister BRM of Ginther while Pete Arundell scored his first podium, and points for lotus. Finishing off an interesting race for the British drivers, Mike Hailwood (Lotus-BRM) scored his first F1 championship point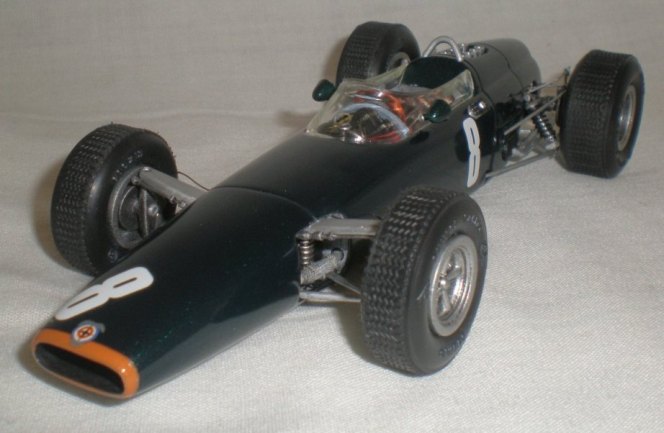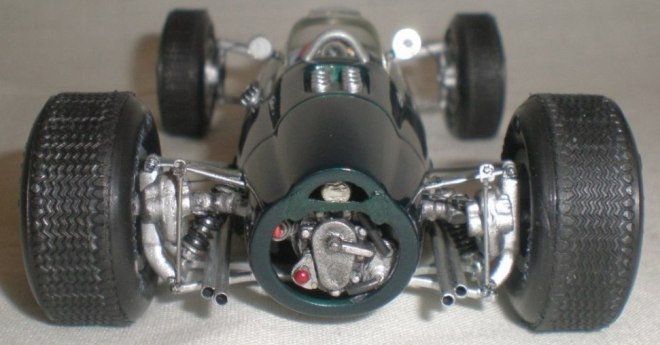 1/24th scale kit.
Built by Ian.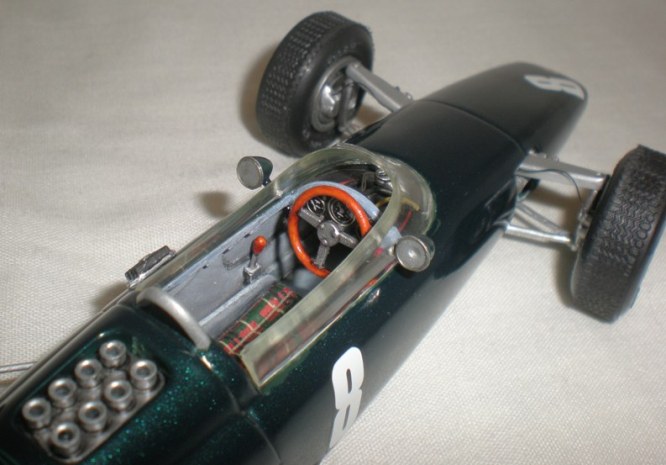 Built in January 2010, from a model donated to the museum.
A full description of the restoration will be available in our articles and projects pages when the site is fully loaded.
RETURN TO -