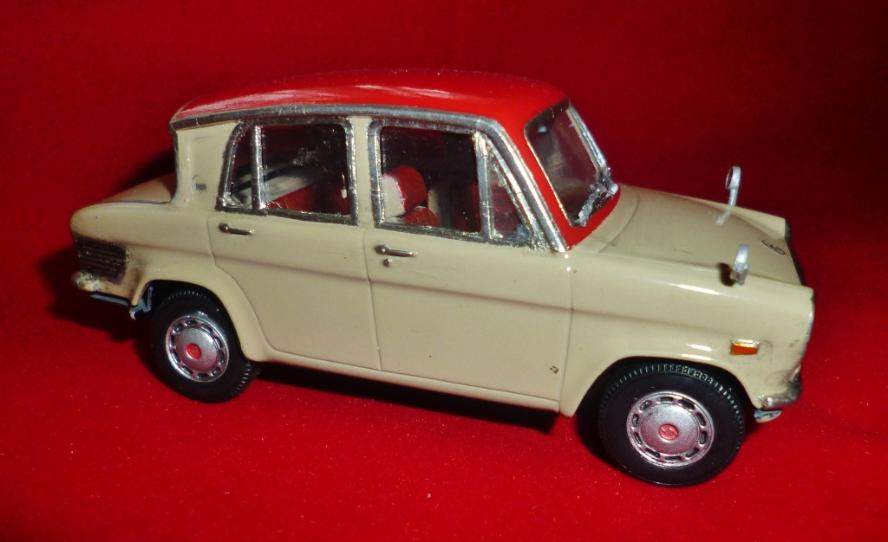 Mazda "Carol" P360.
Mazda's roots go back to the troubled history of artificial cork manufacturer Toyo Cork Kogyo Co., Ltd, founded in Hiroshima, Japan, in 1920. Wealthy businessman, Jujiro Matsuda, came in to save Toyo Cork Kogyo but the company went into receivership as the artificial cork market fell off sharply after WW1. Matsuda was able to see the potential of the company though and worked with Hiroshima Saving Bank and other business leaders in Hiroshima to set up Toyo Kogyo Co., Ltd. in 1927, focusing on tool manufacture. In 1931 Toyo Kogyo moved from manufacturing machine tools to vehicles with the introduction of the Mazda-Go auto-rickshaw, the first 'vehicle' manufactured by Mazda. The 'Mazdago' resembled a three-wheeled motorcycle with an open wagon or truck body. It was steered with handlebars and powered with an air-cooled 1-cylinder engine and transmission combination unit. This was followed by "the Romper", a small 4-wheel light truck in April 1958 and the Mazda K360, a three-wheeled light truck in 1959. All these vehicles had their emphasis on being small, compact, designs and practicality. It is no surprise that when Mazda moved from commercial to passenger vehicles that the same criterion would be employed.
The diminutive R360 two seat coupe was a great success and was followed by a model for the small family. On the 23rd of February 1962 the P360 "Carol" was introduced. Named for a "a joyful song" this new idea in micro-minis certainly struck a chord with the buying public. It had style and "cliff cut" rear roof line which also helped keep the rear window clean.
Mazda's first four seat passenger vehicle had enough room for four adults and surpassed conventional micro-minis in its design and engineering features; and it was all within the same length as the coupe. 117.3in long with a wheelbase of 76in the P360 weighed in at 1,157lb, sporting a very strong monocoque body and independent torsion bar suspension all round. This meant the negative effects of the slightly cramped interior were offset by the very comfortable ride.
One of the smallest four-cylinder inline engines in history produced 18hp from just 358cc; an alloy, five-bearing crankshaft, water-cooled, dual overhead cam' unit that was really, really quiet. A four-speed manual gearbox was fitted which had synchromesh on the top three gears.
In May 1962 a better equipped DeLuxe 4-door version, the subject of our model, was added to the range and the innovative mechanicals of the "Carol 360" led to Mazda capturing 67% of the Kei (small car class) market in its first year. Mazda followed up on this success offering an uprated engine, with a reshaped combustion head, from September 1963, power output rose from 18 to 20hp; and Mazda continued to hold onto more than 50% of the micro-mini market for three years.
The "Carol" was regularly upgraded to make it lighter, to create more luggage space, to fit synchromesh on all the gears, and a headrest for the safety of the driver. This meant the car just kept on selling and Mazda sold it's one millionth car, which just happened to be a Carol 600, in 1963. To celebrate the feat Mazda painted the car metallic gold. When you consider Mazda took 29 years and 4 months to reach its half-millionth unit then just 2 years and 2 months to record its millionth, the incredible success of the Carol becomes clear.
Produced from February 1962 to August 1970 the Carol is remembered as one of Mazda's great cars. It dominated sales in its class and took Mazda into the world car market. Thanks to the high quality of their products, the diversity and rapid responses to market needs, Mazda entered a period of rapid expansion and were on the road to becoming a household name worldwide.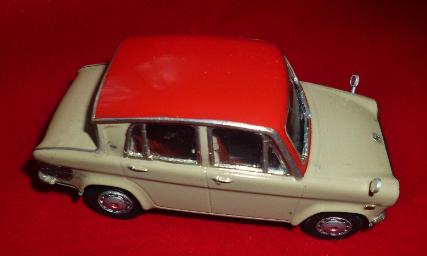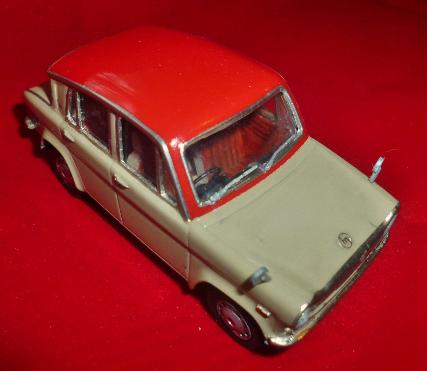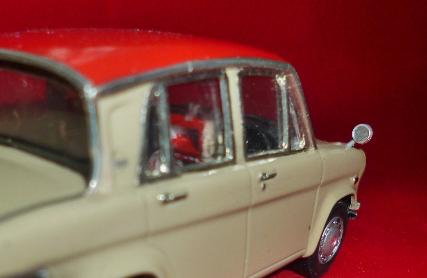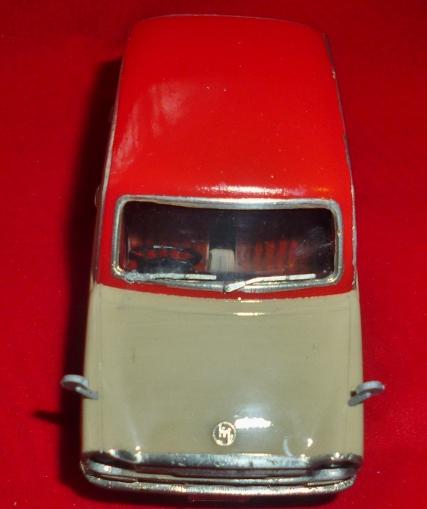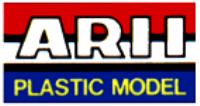 1/32nd scale kit.
Built by Rod.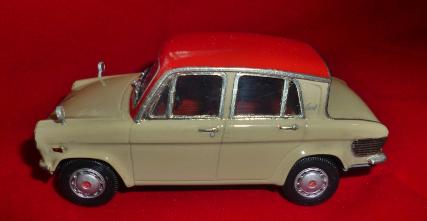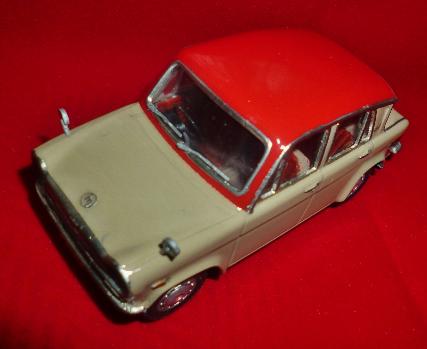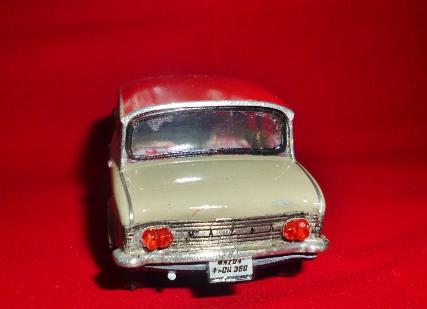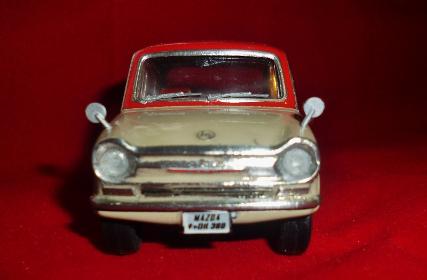 Launched in 1963 Arii started producing plastic models in 1967. The company also a big manufacturer of model trains and accessories under the label "Micro Ace". Selling their own model kits and those from the moulds of other manufacturers Arii were mostly sold in the far east and never really got a proper foothold in Europe. This is strange as the products themselves are of excellent quality and usually at very affordable prices too. Many of their products have been released lots of times and there are some very unusual vehicles, mostly of Japanese heritage, in their range. However, the railway side of the business has become far more profitable for the company and in restructuring of the company the name was changed to Microace-Arii.
The 1962 Mazda CAROL is from the Owners Club Series being N°8 in that range. It is Arii kit# 41008-800. Released under the Arii, LS and Micro-Ace banners this kit was most likely to have originally been manufactured by LS. Arii have, however, a much larger range of 1/32nd scale vehicles than the original LS range and the most often seen versions are the Arii releases. The most recent release, in 2013, is under the new Micro-Ace label.
The base kit has proved to be a versatile one with 12 versions having being released across the different brands and decades. All are basically the same plastic with occasional additional parts and decals for the racing or police versions of the kit. All of them are beautifully moulded and build very well.
Our model was built by Rod in 2015, it is straight from the box. Halfords Acrylic car spray paints have been used with additional brush applied acrylic paints from Humbrol, Tamiya, Revell and Citadel used for the interior and detail painting. Humbrol enamels also feature in the detail painting too. Rod has used bare metal foil to bring the chrome-work to life.
RETURN TO :-