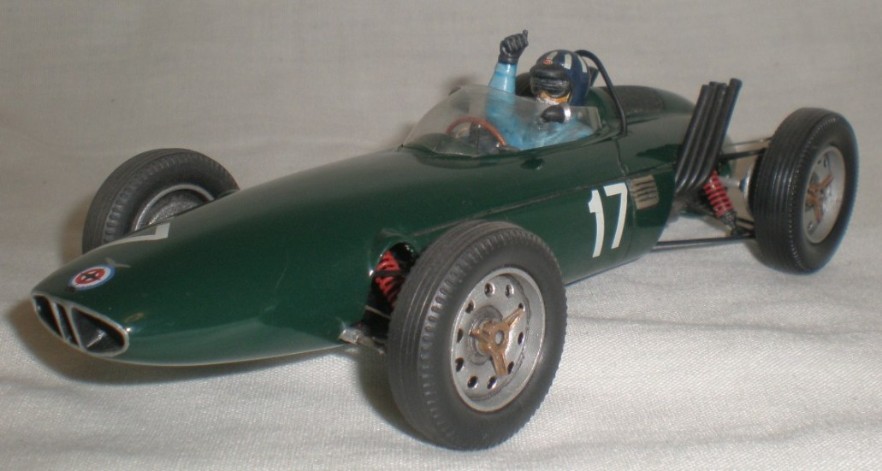 BRM or British Racing Motors was a natural post war progression of Raymond Mays and Peter Berthon's pre-war English Racing Automobiles. But with serious funding problems! Trying to build on a wartime spirit of co-operation they set about encouraging as many people as possible to contribute money, services or goods to produce a world beating British racing car. The biggest problem became the involvement of so many highly placed individuals all pushing their own ideas in different directions. Tony Vandervell being one who became so frustrated he left BRM and set up his own racing department leading to Vanwall and Great Briton's first F1 world champion constructor.
BRM also had a problem with over complicating things, V16 engines and H16 engines come to mind, but under the driving and design partnership of Graham Hill and Tony Rudd BRM did come good. At the beginning of 1962 Sir Alfred Owen put everything on the line. The short story was win now or the team will be finished. The much simpler V8 engine was made strong and reliable and Graham, always known for his attention to detail and record keeping, was able to help sort the cars turning them into winners. Graham's first win came at Zandvort, the scene of BRM's first win three years earlier, and this is the car modelled
There had been a considerable amount of change occurring between the 1961 and 1962 F1 seasons. Many drivers swapped teams, some were due to the usual contract changes but there were other influences on this merry-go-round too. Jack Brabham left Cooper to set up his own team and Stirling Moss crashed his BRP Lotus 18 at the Goodwood Easter Monday Glover Trophy non-championship F1 race, just a month before the season opener at Zandvoort. He would never race in F1 again.
On the Technical side BRM and Ferrari had their own chassis and engines while Lotus produced the climax powered Lotus 24 for its customers, and then caused much outrage amongst them by running the Lotus 25 monocoque chassis for the works team. Porsche had an air cooled flat 8 engine in an chassis built especially for F1, rather than being a upgraded lower formula chassis, and the Yeoman Credit team had a pair of the new Lola chassis. So there was much anxiety was all around for the start of the new season.
The Dutch GP was to be 80 laps of the 2.6 mile circuit. The first of a nine race calendar. In qualifying John Surtees put his Lola on pole, with Graham Hill and Jim Clark alongside, while Brabham shared the second row with his old teammate McLaren in a Cooper. Clark took the lead at the start followed by Hill and a fast-starting Gurney driving a Porsche. Brabham was put out of the race when he hit a spinning Rodriguez. He was followed into retirement by John Surtees soon suffered a wishbone failure on his Lola MK4. this caused a huge accident, fortunately Surtees wasn't hurt.
When Clark hit clutch trouble Graham Hill took over the lead while Gurney dropped back with a gear lever problem, he and McLaren would soon both be out with gearbox ailments. Hill was left untroubled for the rest of the race. Phil Hill's Ferrari ran second for much of the race but in the latter stages he was passed by Trevor Taylor, who finished second despite colliding with Richie Ginther while lapping him. Phil Hill and Giancarlo Baghetti gave Ferrari third and fourth.
Hill's winning time was 2:11:02.1. A win that echoed that of Jo Bonnier who had taken BRM's first ever win at Zandvort in 1959, and also a win he followed up with more in Germany, Italy and South Africa.
This car gave Hill his first world championship and provided BRM with their one and only constructors championship win.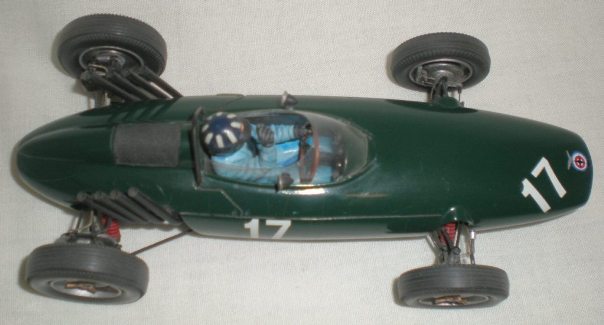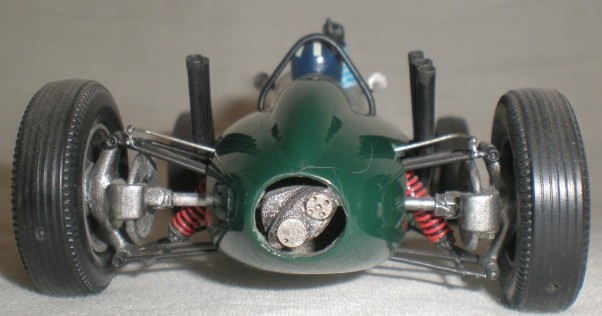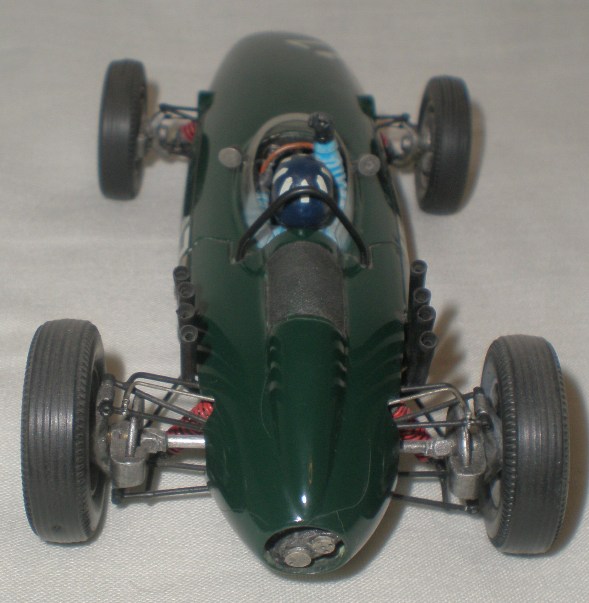 1/24th scale Conv'.
Built by Ian.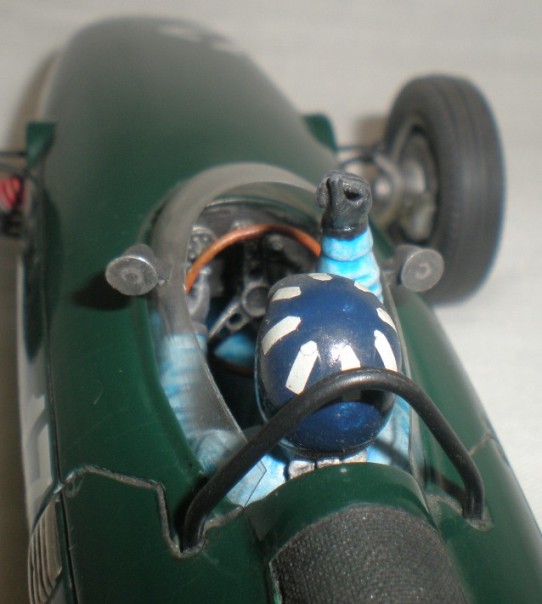 One of the earliest models in the Graham Hill collection having been built in the mid 1990's. A fibreglass slot car body with a huge amount of scratch building.
Fibreglass is not an easy medium to work with, Especially when it's already thirty or more years old. While cutting out the openings the glass parts fractured easily needing fillers quite often, also the surface softened right off when Halforlds acrylic paint was sprayed on resulting in fingure prints being left in the surface very easily.
A few after market parts were used, like the coil springs and shocks, but there wasn't as much about then. Ear ring backs were modified to make the disc brakes. Some parts (like the wheels) were moulded from other kits and cast in resin, tyres came from South Eastern Finecast.
The driver was converted from a Fujimi figure.
RETURN TO -