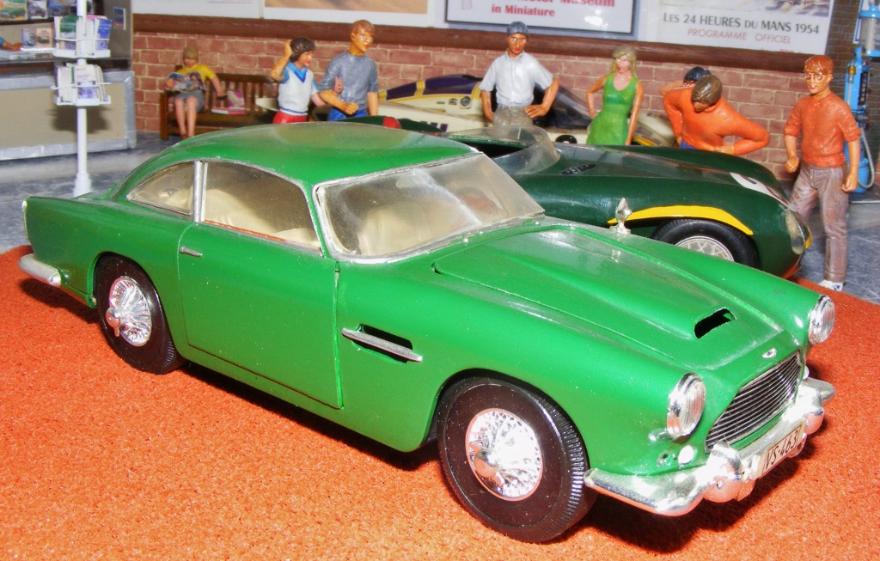 Aston Martin DB4.
Robert Bamford and Lionel Martin founded 'Bamford & Martin Ltd' in 1912 to sell Singer cars from premises in Callow Street, London. They also serviced other vehicles and Lionel Martin built his one off special competition car there, basically a Coventry Simplex side-valve engine in a small 1908 Isotta Fraschini chassis. Lionel Martin was a competent competition driver regularly racing up Aston Hill, Aston Clinton, near Aylesbury in Buckinghamshire, England, and it was in reference to this hill climb that he called is car the Aston Martin.
For a variety of reasons financial problems continually affected Aston Martin and after WWII the firm was again in need of new finance and direction. In February 1947 Aston Martin was taken over by tractor manufacturer David Brown, and the DB1 went into production the following year. The DB2 was launched in 1950 and the DB3 two years later (1952).
The most celebrated Aston Martins of the post-war years were the new series of Grand Tourers, of which the first was the DB4. When unveiled at the 1958 Motor Show at £3,976, it was the most expensive Aston Martin in the company's history. Unusually, the car was completely new with no carry over parts from previous models. The Magnificent, close-coupled coupe, 2+2 body was styled by Touring of Milan and made at the Aston Martin Newport Pagnell factory.
Under the bonnet was the 3.7 litre twin OHC, aluminium, six-cylinder engine developing 240bhp. Disc brakes on all wheels were fitted to arrest the cars 0-60 mph times of around 9 sec's and a flat out speed of 140mph.
For sports racing there was an outwardly similar, lightweight, DB4 GT. Some examples were bodied by Zagato and this is a rare and desirable variant.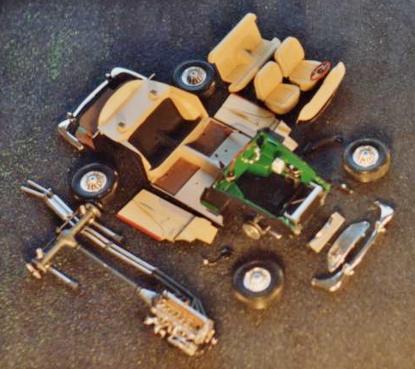 1/25th scale kit.
Built by Rod.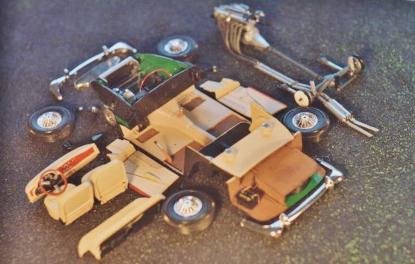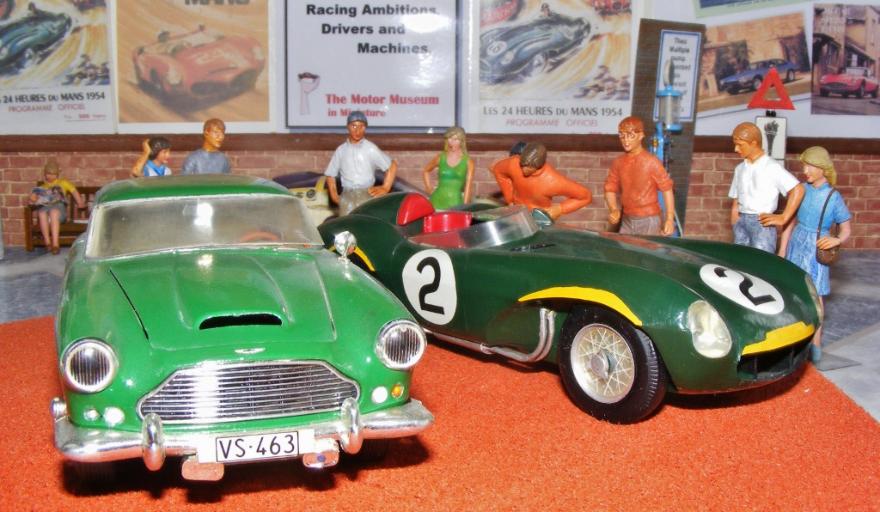 This 1/25th scale Monogram kit, #77003, is a 1991 release based on Monograms earlier kit #2246. Information is sketchy about this kit but it be the same kit that Revell released much earlier in the 1970s which carries the same box art as Aurora's 1960s release. It features chrome plated parts, opening doors/panels and full engine detail making it a very interesting model to build as well as look at, that said the fit of the parts isn't brilliant.
Built in the early 1990s it is prior to Rod's switch to spray paints so is all painted by brush using Humbrol enamels.
RETURN TO :-