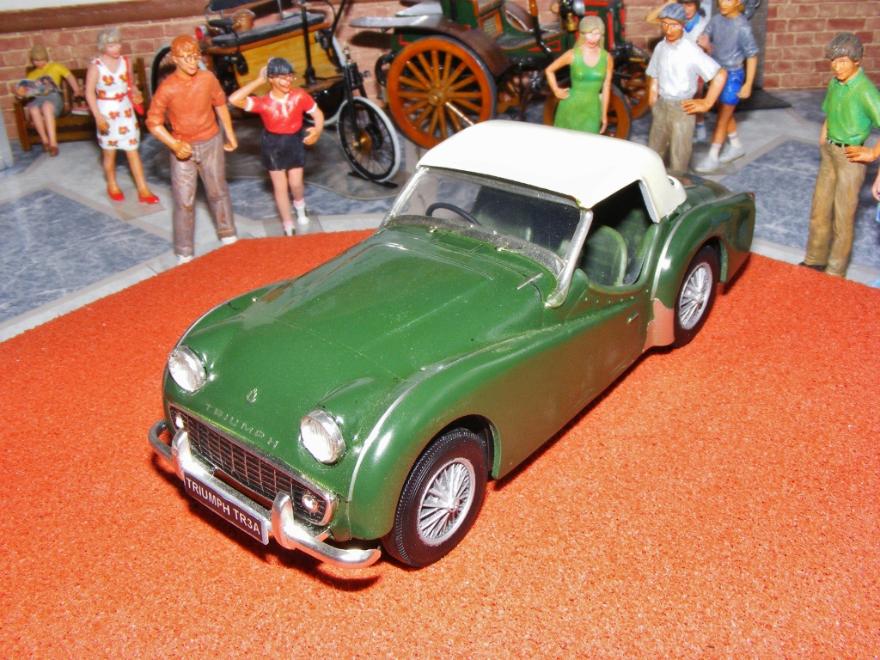 1958 Triumph TR3A
On sale from October 1955 to Summer 1957 the TR3 usually appeared as an open two-seater but a rear seat and bolt-on steel hard top were available on the optional extras list. It was the cheap fun sportscar "that the ordinary chap could keep in his bike shed". The Triumph TR3 was certainly successful but like most cars it did have a few issues that could be improved upon. So in 1957 the model got a face lift and although never listed officially as the TR3A, that was what the updated car became known as.
The updates weren't major and didn't really warrant a name change anyway, most being external items. The new model had exterior door handles, a lockable boot handle and a full tool kit as standard, which had previously been an option on the TR3. It also had a full width radiator grille which also gave rise to the name "wide mouth".
Further updates in 1959 saw raised stampings under the bonnet and boot hinges as well as under the door handles, a redesigned rear floor section, and the windscreen was attached with bolts instead of the earlier Dzus fasteners. One update that wasn't easily seen but a great improvement was the addition of disc brakes on the front wheels. This made the Triumph TR3 was the first production car to have disc brakes as standard.
58,236 TR3 "A" cars were built making this the third best-selling TR after the TR6 and TR7. So successful that the original panel moulds eventually wore out!


1/24th scale kit.
Built by Rod.
Minicraft kit # 11203 (also released as kit # 11243) would appear to be a later reboxing of the Revell kit, which itself appears to be from the much earlier Entex moulds. Each has the same moulded on windscreen wipers and chrome grill but the Minicraft kit has much improved spoked wheels. The Gunze-Sangyo TR3A kit is a development of their own TR3 kit and is a superior kit but it may be that a deal was done to use the wheels from the Gunze' kits for the Minicraft releases.
Minicraft also released a TR3A "Rally club car" version, kit # 11226, but it seems to be the same kit but with the addition of racing numbers and generic sponsors decals.
Built in the late 1990s this model has Halfords acrylic car spray paints for the body colour and all the priming. Humbrol enamel paints were brush applied for the detail work and the interior painting with Citadel ink washes used to bring out the details. Rod has also made use of Bare Metal Foil to improve the look of much of the brightwork.
RETURN TO ;-