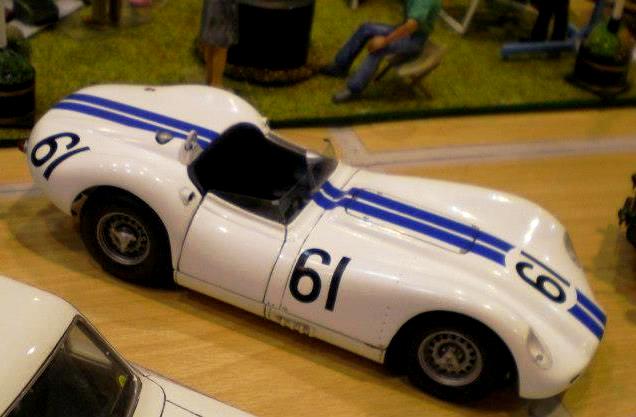 George Lister, Charles Flatters and Harry Branch formed a general engineering partnership in 1890, setting-up a blacksmith and wrought ironwork shop in Abbey Road, Cambridge. As the partners retired so Georges sons, Alfred and Horace, joined the business, and Geo. Lister & Sons appeared in 1919. For a brief time in the 1920s Alfred Lister had included the words "and Automobile Engineers" amongst the companies business title but this did not survive his premature death. Horace became sole owner on the death of his brother in 1930 and his sons, Raymond and Brian subsequently became directors, acceding to joint Managing Directorship in 1954.
Brian Lister's interest in motor sports in started 1948 having his first competitive outings in a Morgan 4/4 sports. Assisted by a Lister apprentice, Edwin 'Dick' Barton, Brian built a Cooper-MG followed by a Tojeiro-JAP, which had varying degrees of success. Brian set up his own company Brian Lister (Light Engineering) Ltd to build racing cars. He had become friends with Archie Scott Brown, a young man with a deformed arm who was to become a world class driver. Further engineering back came from Don Moore another Cambridge man. Together these three men produced an immensely successful series of Lister sports-racing cars. From 1954-1959 their chassis carried MG, Bristol, Jaguar, Chevrolet and even Maserati engines!
The Lister 'Knobbly' was the most famous. These cars had 3 inch tube chassis and independent suspension by wish bones at the front and de Dion tube at the rear, and disc brakes all round. Jaguar provided engines (both the 3.4 and 3.8 litre versions) and gearboxes. The light alloy body work, made by Williams and Prichard of Edmonton was very low and 'tight' resulting in substantial bulges over the wheels and engine, hence the nickname "Knobby". In May 1958 Archie Scott-Brown had a fatal accident in a works Lister at Spa, Belgium. Brian Lister was devastated and closed his car manufacturing business. But the Knobbly still went on to become the backbone sports-racing both sides of the Atlantic.
Briggs Cunningham team bought two of the cars Chassis BHL 101 and 102 in 1958. Together with the Teams D-type Jaguars, drivers Walt Hansgen and Ed Crawford carrier almost all before them. Walt Hangsen was class C National Sports Car Champion in 1958 and 1959, though the teams cars had bodies by Frank Costin in 1959.
Round 6 of the 1958 SCCA championship was a 40 lap race for Class C,D,E & F modified (1500 to 5000 cc) cars, at Lime Rock Park. The 14 starters including Maseratis, Ferraris Porsches and Jaguars. Lister chassis BHL101, Car no.61, driven by Ed Crawford won at a speed of 80.94mph (130.260 kph). Walt Hangsen, in BHL102 -Car no.60, was 2nd, and it was Hangsen that took the class C (modified) drivers championship.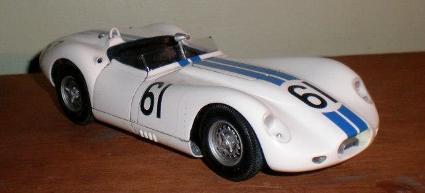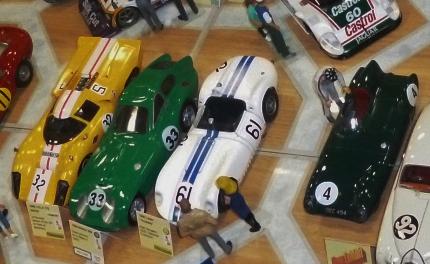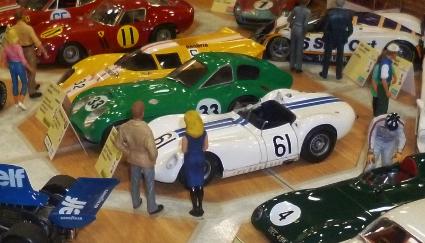 1/24th scale kit.
Built by Ian.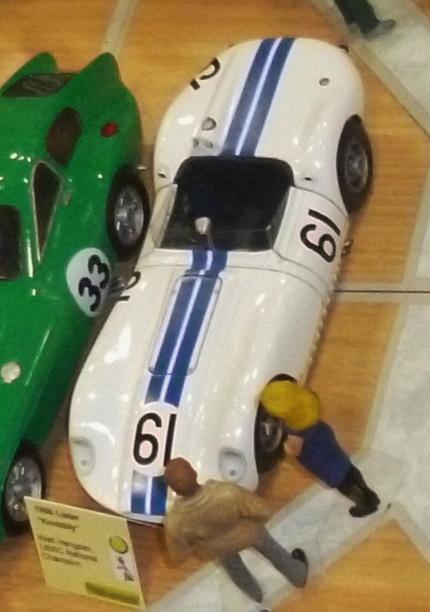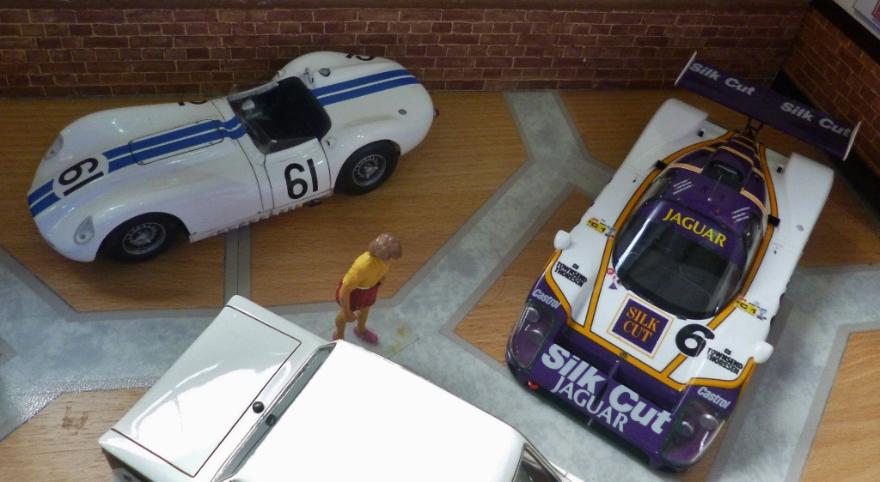 Built in September 2012 this model kit from "Roaring Replicars" marked the first kit produced by Richie Griffiths. It has some nice features and can be built into a lovely model. Richie refined the kit to make it easier to build and has sold many kits across the world.
Being a resin kit Cyanoacrylate, or Super Glue, is the main adhesive of choice. The finish is from Halfords Appliance white but this may actually be a little too white. I has been suggested that putting Appliance white over a flesh coloured primer rather than a white primer might help tone the whiteness down a little.
Ian had to make a few alterations to match the photo references for this particular car but one can hardly expect a small concern to provide lots of individually different kits for all the variations, official and unofficial, that occurred amongst the Lister Knobbly users. Overall it is a nice kit which builds well once you have the bodywork sorted out and fitting nicely. I is a very different model for the display and has quite a lot of history tied up in the lives of it's drivers engineers and designers.
RETURN TO :-