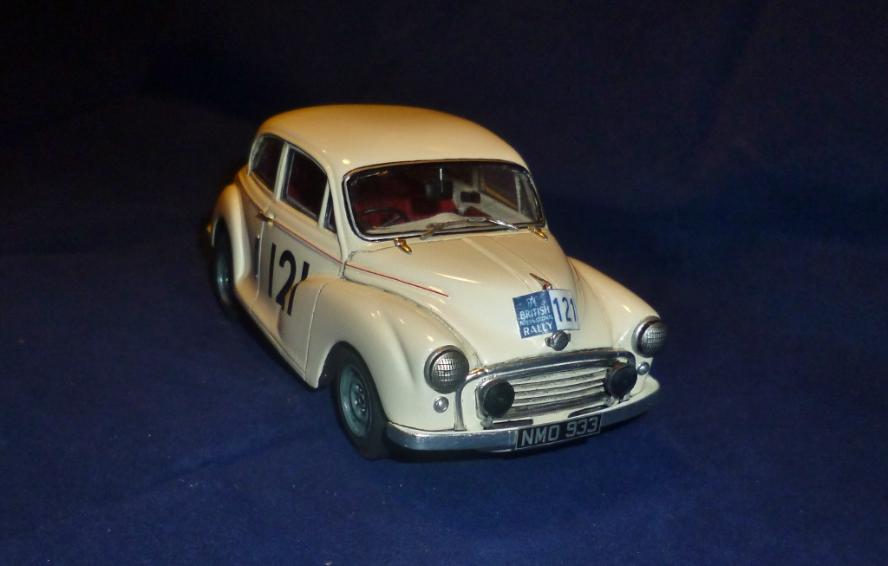 The Morris Minor wasn't envisaged as a racing car, but it was endowed with excellent handling characteristics. They were piloted by several well-known drivers on the Morris works team including John Gott, who was the first driver of "NMO 933" before Pat Moss took on the car.
Patricia Ann Moss was the fiercely competitive younger sister of Stirling Moss. Their Parents were Alfred and Aileen (née Craufurd) Moss had been involved in motor sports themselves and cautioned both Stirling and Ann against it, promoting show jumping instead, and both youngsters were successful in that area of endeavour winning many cups and rosettes each. Both would really make their names as racing drivers.
Pat started competing with a Morris Minor convertible in the home rallies of the UK, but this was very much a secondary activity to her equine interests. However, as her interest in rallying grew Pat was to use some of her show jumping winnings to purchase a Triumph TR2 in 1954, this would give her a greater chance of climbing the rally rankings. Triumph themselves were not so interested in Pat's racing abilities but MG were, and the financially astute young lady signed to drive with them. This situation brought MG more valuable publicity and as part of the British Motor Corporation Pat got to drive a whole range of BMC cars in rallies across Europe. Apparently, everyone at BMC loved Pat the team mechanics had great respect for her driving abilities; abilities that would net Pat five European Ladies' Rally Championships (1958, 1960, 1962, 1964–65).
The Morris Minor was under-powered to compete effectively in international rallies, but BMC was careful to choose events where the car had an opportunity to perform well. After a good result for Pat and the Morris Minor, 23rd place overall in the 1957 Liege-Rome-Liege-Rally, the breakthrough for when Pat, and co-driver Ann Wisdom (who's own parents had been a very successful rallying partnership themselves), drove NMO 933, carrying #201, to 4th place overall on the 1958 RAC Rally.
1959's RAC British International Rally was a really hard affair resulting in very few classified finishers. Pat Moss, Ann Wisdom and "NMO 933" had to retire, a fate shared by many big names including Graham Hill.
NMO 933 was to become one of the most remarkable cars on the rally circuit still going strong four years after John Gott first took it into competition. Pat took it over, after the Chief Constable of Northamptonshire's one and only outing in the car, and had a close call in the car overtaking a Mercedes. As Pat loved her cars like her horses she gave them names so MNO 933 became the "Mercedes Minor". Another close call overtaking a minibus had the name lengthened to the "Mercedes Minor Minibus", usually shortened to "Mini". When the 'real' Minis hit the market, Pat was one of those who really didn't like them at all. Not wanting her car associated with them in any way she re-christened NMO 933 as "Granny"; a mark of respect for her advancing years.
"Granny" was seen out in town when Pat when shopping and she was still raving about the car years later. It was, according to her, more fun to drive than any other car. Pat Moss-Carlsson was one of the most outstanding female rally drivers recorded in the sports history to date. Her tenacious spirit took her to three outright wins and seven podium finishes in international rallies, beating the men too, on her way to those five European titles. Even in her later years Pat was driving her daughter's horse-box when Susie Rawding (née Moss-Carlsson) went show jumping, and she even got a speeding ticket when driving that!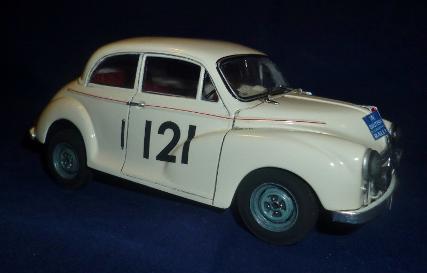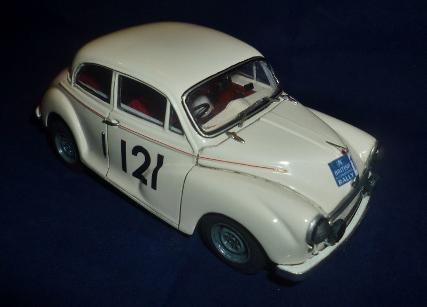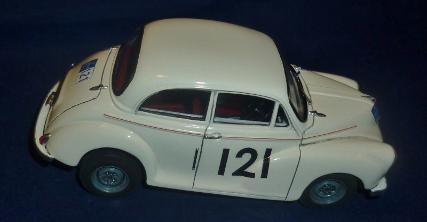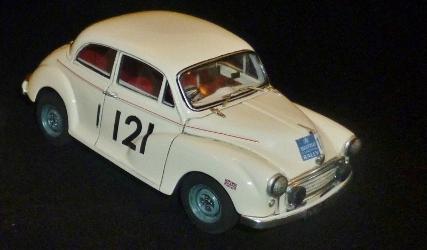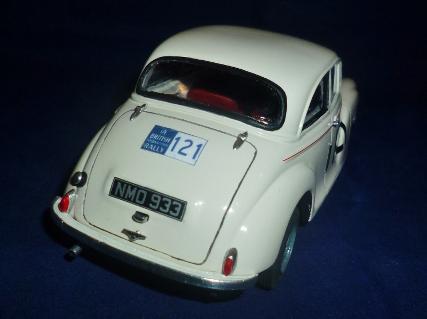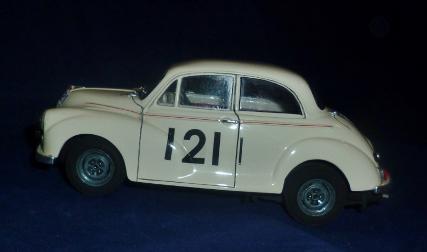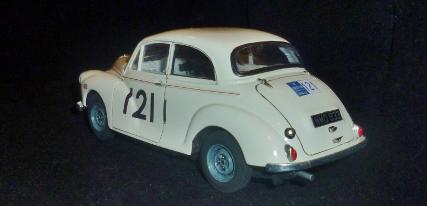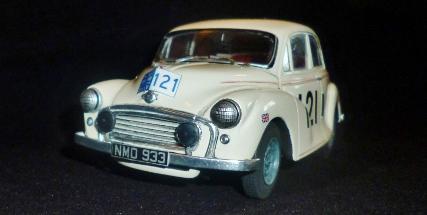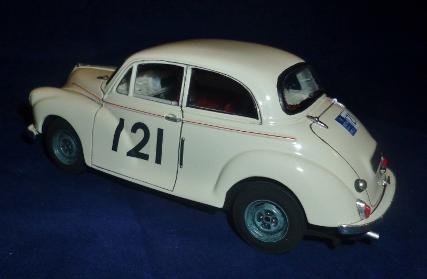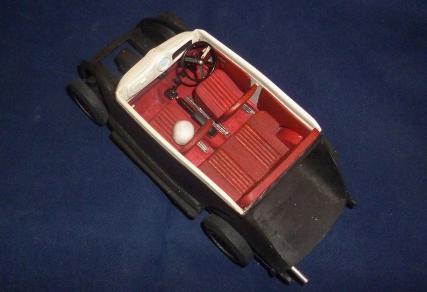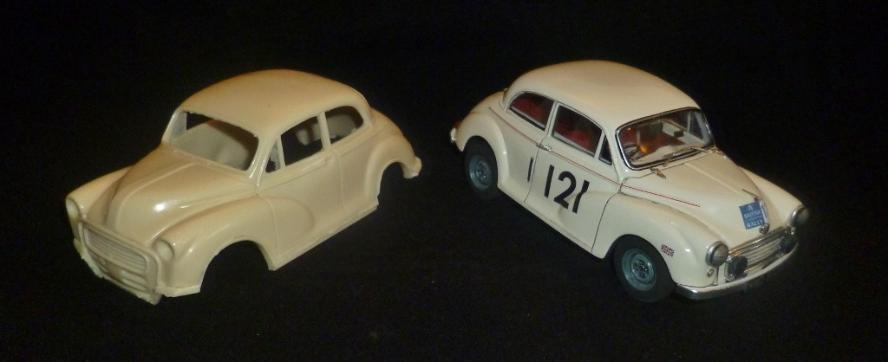 This model started as just a resin body shell purchased by Ian for Rod in 2015. It disappeared into his collection but resurfaced during 2017. Rod then did a lot of scratch building and between Rod and Ian the body was totally reworked and a full resin model produced. This is a the first prototype model from the moulds and like all prototypes has highlights areas for improvement.
The model is finished with Zero Paints racing white, Humbrol enamels and acrylic paints from Citadel and Deco-Art. Bare metal foil has been used on the chrome work along with Molotow liquid chrome pens for the smaller parts. Number plate decals are sourced from ebay and the rally plates produced by Ian.
RETURN TO :-