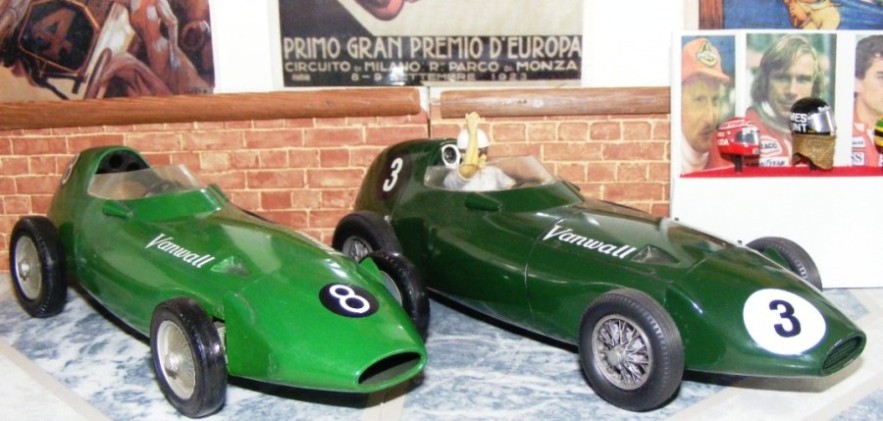 Guy Anthony Vandervell supported the early BRM endeavours but could not stand the committee-minded bureaucracy or the element of gentlemanly amateurism. He was intensely driven to beat "those bloody red cars" and wanted a professional British outfit to beat the world. So he set one up himself. For me the interesting thing is that the desire to beat "those bloody red cars" was more important than being wholly patriotic, so the use of Bosch fuel injection and other foreign items that were better than British units was easily glossed over.
The new teams first car was a Ferrari to which he had his own companies "thinwall" shell bearings fitted and christened it the Thin Wall Special. Eventually a car of their own design came along. It had surface mounted radiators and some BRM style chassis ideas. However it still wasn't reliable and competitive enough. Vandervell needed new fresh ideas.
Drafting in the up and coming chassis specialist Colin Chapman, and his associate, an aerodynamicist called Frank Costin, was the first step on the road to success. Working along side former Norton engine engineer Leo Kusmicki a new car came into being. Clearly Vandervell was intent on finding any advantage he could in all the areas of the cars design, handling-chassis set up-suspension geometry-power to weigh ratios-reliability-aerodynamics. Everything had to be covered and improved were possible. The end result looked big and bulky but that was all that could be said to be wrong. It was fairly well handling, aerodynamically stable and quick. Its Achilles heal was engine vibration which shook the Bosch fuel injection system to bits. Once that problem was over come these big cars were very competitive and in the hands of Moss, Brooks and Lewis-Evans, became all that Tony Vandervell had dreamed off. Vanwall won the inaugural F1 constructors championship in 1958, losing the drivers that same year by a solitary point.
The new VW10 made its debut at the Silverstone International Trophy race in the May of 1956. Stirling Moss was contracted to drive for Maserati but as they weren't entering this race he was persuaded to try the new Vanwall. Moss was backed up by works driver Harry Schell and together they made the Lancia Ferrari D50's cars look ordinary. Moss won convincingly from the Lancia of Fangio. Schell retired after engine problems. This debut victory for the new car impressed many people, and Moss himself who agreed to continue to drive for the team whenever he wasn't contracted to Maserati.
A much quicker success story than that of B.R.M. but all too brief. The loss of Stuart Lewis-Evans while driving one of his cars, and his own ill health, led Vandervell to withdraw his team from racing. The most successful British team of the fledgling F1 era was gone.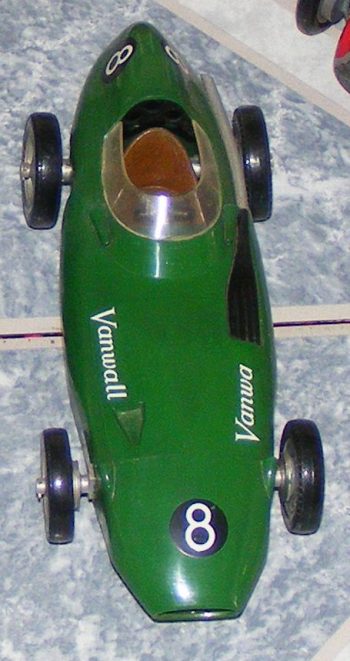 1/24th scale kit/Conv'.
no.8 built by Ro
no.3 built by Ian.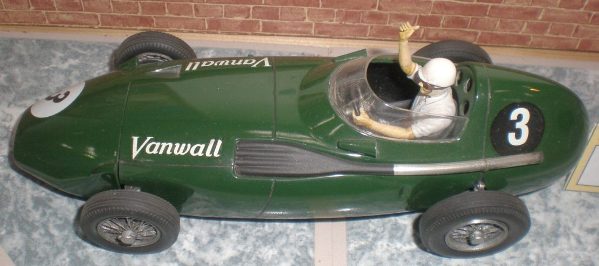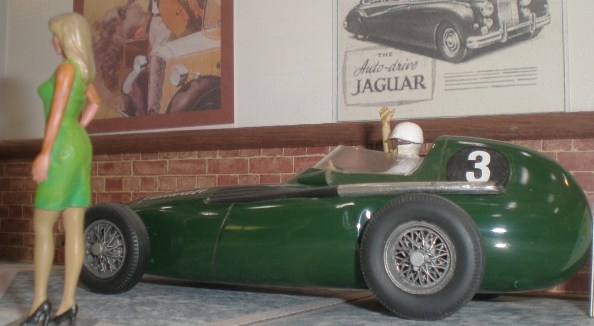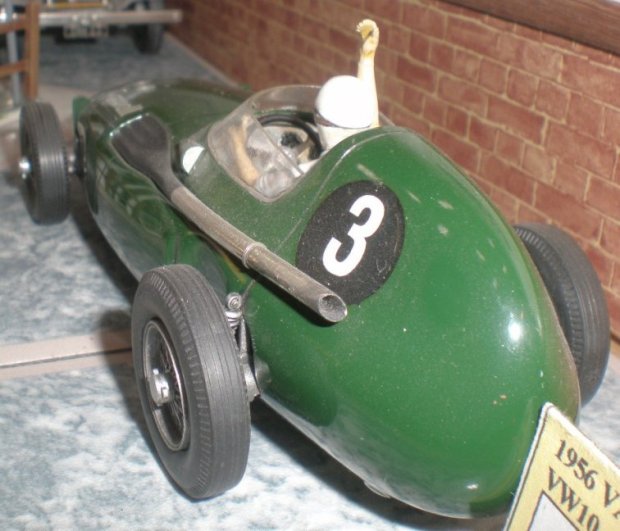 J & L Randall Ltd was a British toy manufacturer from Potters Bar, Hertfordshire. Merit was the company's brand for general plastic toys and it's plastic model kit range flourished in the 1950s and 1960s. Merit kits of aeroplanes and ships were also available and the company was heavily into plastic railway accessories. But the the racing cars range is now considered classic and highly sought after today. The range consisted of 14 cars from the 1940s and '50s, two of them (the Alfa 158 and the Talbot-Lago), were sold as 'superkits' and had engine detail.
Rod built his Merit Vanwall (no.8) straight from the box around 1960. Randall and co. who produced to Merit range always seemed to capture the lines of these cars and for the time the kits were of average detail levels. Although the Alfa-Romeo and Talbot-Lago kits were super kits and had engines. Painted with Humbrol enamels it is a good example of the modelling levels at that time.
Ian's version built from the same kit shows how things have changed. Painted with Halfords car paints and fitted with wheels and tyres from South Eastern Finecast. A radiator was put in the nose and the nose opening protected with a grill, improved the exhaust with bare metal foil, added disc brakes at the front, chassis details in the cockpit and a driver figure converted from the Fujimi range.
RETURN TO -