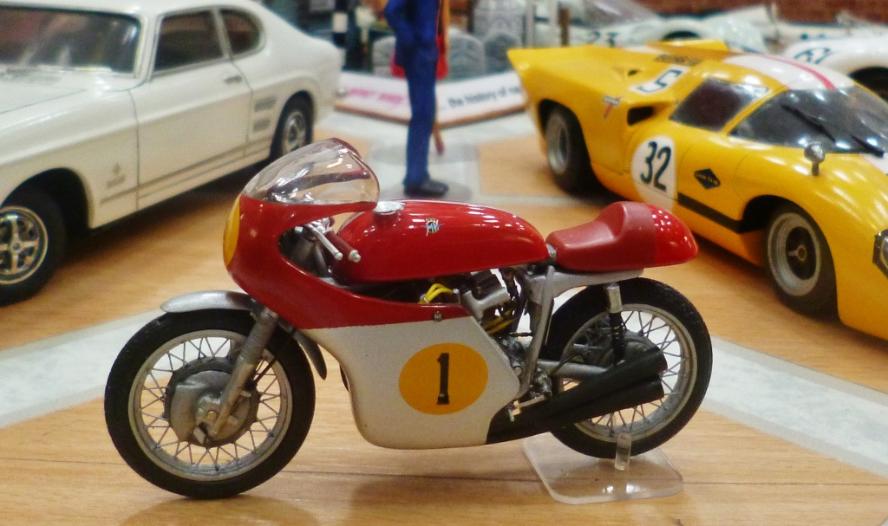 1956 MV Agusta 500cc World Champion, John Surtees.
The MV Agusta story starts with Count Giovanni Agusta, born on the 4th of October 1879. The Count title was a hereditary title going back to his family's history in Sicily. His passion was flying so MV Agusta, like many other automotive companies started with aeronautics. He acquired his experience in aviation mechanics in France and Belgium, the then world leaders in powered flight and the fledgling aviation industry. In 1907, Agusta designed and built a biplane glider called the AG-1. "AG" represented the first of the "Agusta Giovanni" designs built in a small facility in Padua. An improved second glider was built during 1908 called the "AG-1bis". On the 14th and 15th of February 1910 this machine was demonstrated on the Capua Piazza d'Armi being towed by a motor car. It took a few attempts but Agusta got his glider off the ground and "soared for about seventy meters". However, the hoped-for funding didn't materialise and Agusta's efforts to install a motor into his glider had to be shelved. One doubts if this pioneer of the fledgling Italian aeronautics industry would have believed his company would become multiple world motorcycle champions and be manufacturing the then "fantastical", helicopters today.
From September 29, 1911, to October 18, 1912 the Kingdom of Italy fought the Ottoman Empire in North Africa to gain the Turkish provinces of Tripolitana and Cyrenaica (now Libya). Augusta volunteered for the embryonic Italian Royal Air Force during which time he invented the paraphrene, a special type of parachute to save an aircraft in the result of an engine failure. Today these types of parachute are still used to stabilise falling items (from flares to space re-entry vehicles) and as air brakes on aircraft, gliders and even competition drag cars.
In 1913 he was hired by Caproni as an inspector and technical-administrative director. Giovanni Agusta not only held his job at Caproni but utilised his business skills to open his own workshops to repair and maintain aeronautical and mechanical equipment. When WWI erupted Agusta was recalled to military service but back at Caproni. He was put in charge of delivering bombers from the Caproni factories in Vizzola Ticino, on the edge of the Malpensa Airport, to the battlefront. Augusta was also able to continue his experimentation with the paraphrene and parachutes.
After the war ended Agusta left Caproni and founded "Construzioni Aeronautiche Giovanni Agusta Spa" in 1919. His company had 40 employees and grew to run facilities for the repair and maintenance of aircraft at Malpensa, Foggia, Agusta even had workshops as far away as Tripoli and Bengasi. Largely thanks to the connections made during his military service in the war Agusta also won the contract of December 1923 to service aircraft at the military airfield of "Gaspare Bolla" in Parma and to manage the airfield in return for a 20% discount on military aircraft repairs and an annual payment of L.5,000. Aircraft there included the Caproni "trimotori".
The count and his family, wife Giuseppina, and young sons, Domenico, Vincenzo, Mario and Corrado, moved to Cascina Costa that year. This was to transform the old Cascina Costa airfield, which had deteriorated and become little more than a storage depot, by constructing a runway and proper aircraft hangars.
Count Giovanni Agusta died prematurely on the 27th of November 1927. This passed control of the business to his wife and sons, effectively his wife until his eldest son Domenico could take an active role. The small Ag2 prototype monoplane for entertaining tourists, which had been shown at the Milan Air Show and flown in '27, now fell by the wayside, but the repair and maintenance business continued. "Costruzioni Aeronautiche Giovanni Agusta Spa" had busy order books producing biplanes for the Italian Air Force to train pilots with. By the time of the Second World War the company was producing around 800 aircraft a year under licence from FIAT, Breda, IMAM and AVIA.
One of the products that the company started to work toward was motorcycles and they had a 98cc two-stroke motorcycle engine with three-port timing system, a primary gear transmission, oil-bath clutch and a two-speed gearbox in development when the Germans arrived in 1943 and occupied Cascina Costa.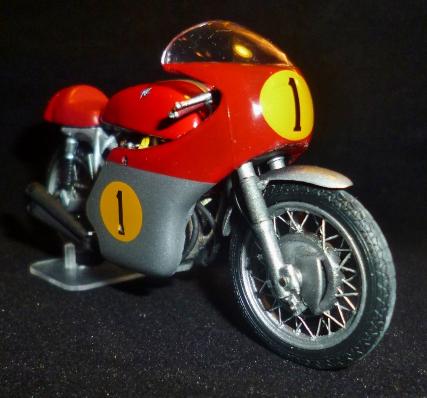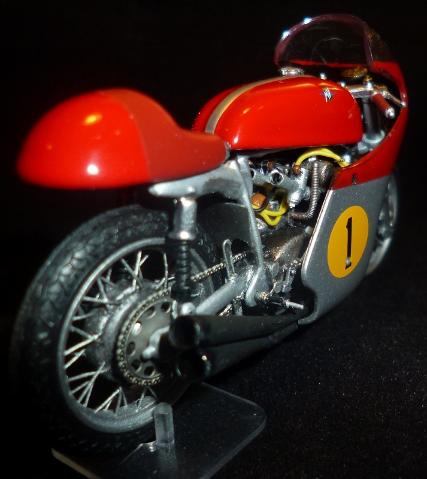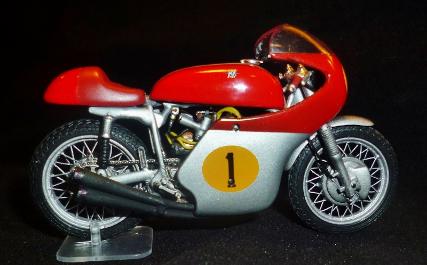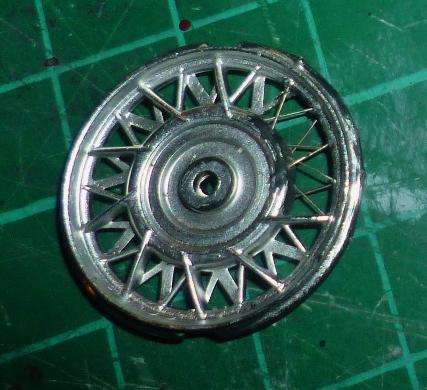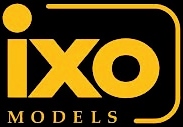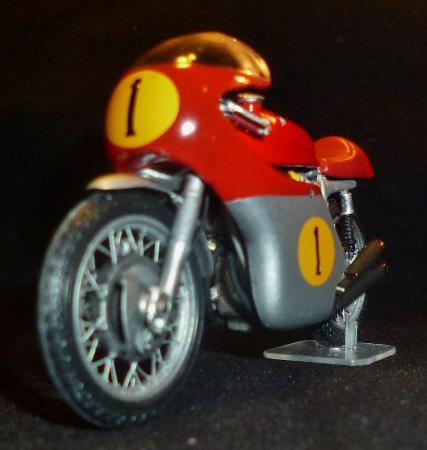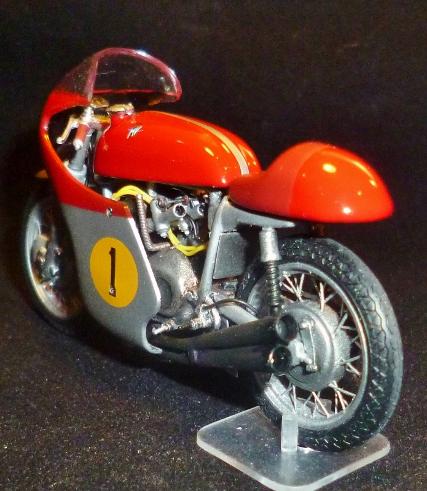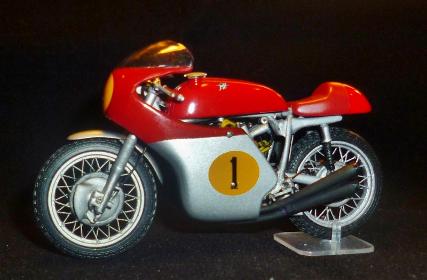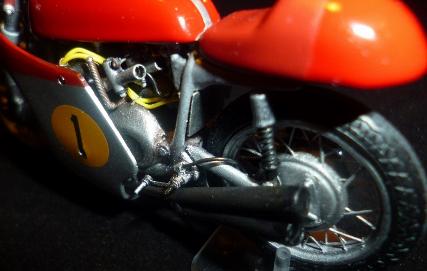 MV Agusta
When the fighting finished the victorious Allies imposed a ban on Italy, and Germany, stopping the production of aircraft in those countries. Agusta aviation company obviously had to look elsewhere for a market. Italy needed mechanised transport for business, logistics and individuals making motorcycles and scooters became the fastest growing engineering sector in Italy.
Agusta's eldest son Domenico decided to use the companies engineering heritage and market knowledge in this area and on the 12th of February 1945, Meccanica Verghera Agusta was set up, under Domenico Agusta's direction, as an offshoot of the parent company; MV Agusta was born. The little 98cc motorcycle already on the drawing boards from before 1943 was inexpensive to produce, and run, so it was an obvious choice for the company to save the jobs of its workers, promote transportation with an affordable machine and make money; all of which was of benefit to Italy, so everyone was a winner.
With the lifting of the various construction bans by the Allies at the Paris Peace Treaties of 1947 the Parent Agusta company could return to making aircraft. In 1951 former engineer and design expert from Breda, Filippo Zappata was employed as a technical manager and put in charge of the technical department. In 1952 Augusta signed an agreement with Bell Helicopters of America and was able to produce the Bell 47 Helicopter under license in Europe.
Dominico Agusta had a passion for mechanical things and a keen interest in motorcycle racing. Now free to concentrate on the motorcycle project in Cascina Costa, near Milan, Meccanica Verghera not only produced small-displacement scooters and motorcycles but started turning out 125 and 150 cc 'café' style racing motorcycles. Piero Remor was recruited as chief designer in 1950 alongside renowned mechanic Arturo Magni, such notable people on the staff promised much for the future of the company. In fact, when you mention the name Agusta to most people today their mind goes to the motorcycles before the aircraft.
This response is down to the activities of the 'Reparto Corse', the Racing Department. MV entered international motorcycle competition in a similar vain to Ferrari had with his motor cars. Lots of Italian passion and flair using the sales of road machines to fund the racing department where no expense was spared in the pursuit of perfection. The "Race on Sunday, sell on Monday" philosophy that had prevailed since the dawn of automotive manufacturing and competition was very much in evidence. Early on MV struggled to gain success against Gilera and Norton due to problems like stiffness in the chassis which adversely affected handling and rider feedback. But the biggest issue holding the team back was their lack of talented riders in comparison to the star names Gilera was fielding.
From 1952 the racing department forced its way to the front of the starting grids. Initial success came the new MV 125 being ridden to victory in the 1952 Isle of Man TT by Cecil Sandford, a feat he then exceeded by claiming the 125cc World Championship. But through the late 1950s and early 1960s sales of small motorcycles declined so MV started to produce larger machines, but in smaller numbers. A 250cc and 350cc twin cylinder motorcycle was followed by the four-cylinder 600cc and 750cc 'bikes. These designs became the unbeatable racing machines from which Arturo Magni conjured 270 world championship counting victories, bestowing 76 world titles, across every class, over a 25-year period. MV Agusta became even more dominant in motor cycle racing than Mercedes had been in motor car racing, having total domination over international road racing for a full decade!
The list of MV Agusta team riders reads as a virtual who's who of motor cycle racing, Cecil Sanford, Leslie Graham, Carlo Ubbiali, Tarquinio Provini, Phil Read, Mike Hailwood and Gary Hocking, not to mention the incomparable pair of John Surtees and Giacomo Agostini.
While MV Agusta was a massive success in motor cycle racing the parent company was struggling going into the 1970s. As the motor cycle and Helicopter markets fell away so did the funds to go racing. In 1977 competition racing was suspended and with diminishing returns for the motor cycle business continued MV Agusta closed the motorcycle business completely. More like a comet than bright star MV Agusta had risen to the highest of glories then fallen to earth burning itself away as it did so.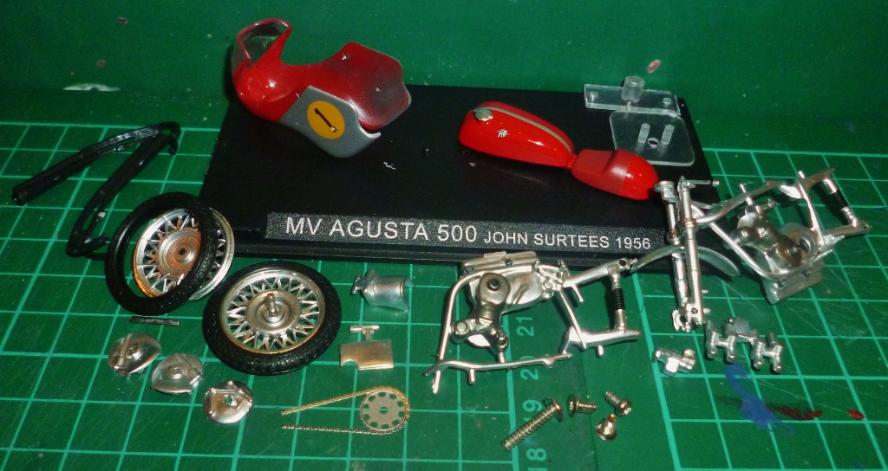 The Racing Machine
Originally an idea for a luxury street bike in 1949, using shaft drive and torsion bar suspension, Piero Remor refined the MV design for racing using his years of engineering experience gained at OPRA (Officine Romane di Precisione Autoveicole) O.M. and Gilera, where had also designed the Gilera four-cylinder racing motorcycle. In 1952 the racing machine was redesigned and became the basis of the later larger capacity machines. Just when things looked all set for a winning season in 1953 British star Leslie Graham was killed in the season opener and MV Agusta lost its star rider.
The 1956 MV 500 FOUR was a development of the smaller capacity racing machines ideology but benefiting from four years of racing experience gained in the previous racing seasons. MV Agusta hand-built a tubular duplex cradle frame, a pivoting-fork rear suspension unit with twin Girling shocks and 38mm telescopic forks for the front suspension. The geometry set the wheelbase at 59 inches and proved to give the 'bike great handling characteristics.
The heart of the machine was the transversely mounted, 496.5cc, air-cooled, in-line four-cylinder d.o.h.c engine. Drive for the cams was taken by gears off the centre of the unit, between the inner cylinders. Four 28mm Dell'Orto carburettors, in two pairs, provided the fuel mixture which was ignited by sparks from a Lucas magneto. Power output from the engine is thought to have been as high as 67 bhp @ 10,500 rpm. Primary drive gears fed a five-speed gearbox with final drive by chain. Together this combination was enough to propel the machine, and its rider, at speeds as fast as 145mph.
If you are going fast you also want to stop fast. Braking for the 'bike was manufactured by MV Agusta themselves, 230mm, four-shoe, 4LS drum brake at the front and a 220mm, SLS drum brake at the rear. The MV Agusta racing department was dedicated to building the best racing motorcycle of its time. The bike was so good that it raced until 1960 needing only minor development of the frame and the usual ongoing streamlined fairing alterations. The Red and Silver MVs would win almost every notable race between 1958 and 1960, including IoM TTs in senior and Junior classes and three consecutive championship winning years in both the 500cc and 350cc classes.
This success was built on the back of great riding talent and the subject of our model is one of the of those great rider/machine combinations. John Surtees remains the only man ever to be crowned World Champion on two and four wheels. He left Norton to join MV Agusta in 1956, aged 22 years old, and took his first IoM senior TT victory on the MV Agusta 500 that year. Like Sandford before him Surtees also claimed the world championship the same year. Although he was side-lined with a broken arm midway through the season Surtees had already won the first three races of the season and had sufficient points to stay ahead of his rivals.
The demanding Count Domenico Agusta, unpredictable and moody, sometimes considered ruthless, had, by force of will brought together all the ingredients needed to grasp that illusive first 500cc World championship. Instantly an irrevocable link was forged between the two parties, and more than that, Surtees was becoming an Italian superstar. Surtees was surely one of an extremely small number of people who could extract the maximum performance, and perhaps a little bit more, out of the MV Quattro; much as he had earlier been in a league of his own with the Norton "Singles". When he moved away from motorcycle racing to a career on four wheels it was of some comfort to the Italian fans that he ended up at Ferrari, his 1964 F1 world championship for Ferrari cemented his position in Italian folklore, ahead of automotive immortality.
John Surtees passed away on the 10th of March 2017, rarely getting the recognition and praise his achievements deserve. Three times 350cc World Champion and four times 500cc World Champion on Motorcycles capped off with 1964 F1 World Drivers Championship; unmatchable?
Other MV Agusta team riders not mentioned included Franco Bertoni, Carlo Bandirola, Nello Pagani, Dickie Dale, Bill Lomas, Umberto Masetti, Ray Amm, Micheal O'Rourke, Derek Minter, and Bob Keeler.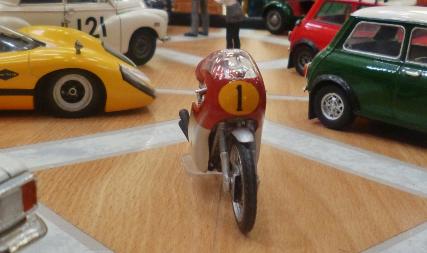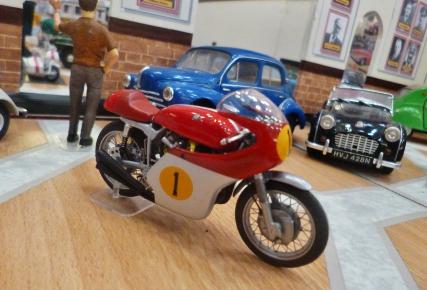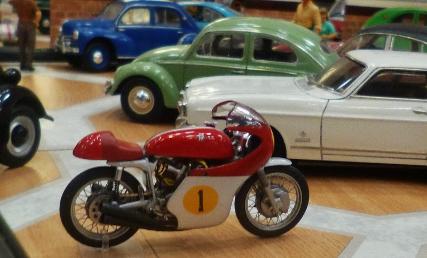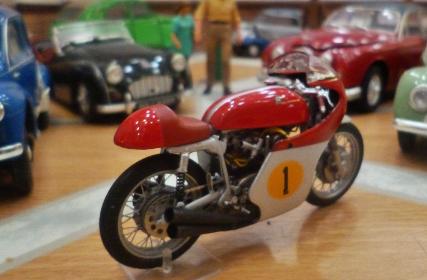 Our model is representative of the machine as it was raced by Surtees at the 1956 Belgian 500cc motorcycle grand prix. Held at the Circuit de Spa-Francorchamps this race was the third round of the six round season and run on the 8th July 1956. Surtees won the race in a time of 1h09m02.2sec's, 39 seconds ahead of second place Walter Zeller riding for BMW. Third place was taken by Pierre Monneret, on a Gilera, 1m28.5secs behind the winner.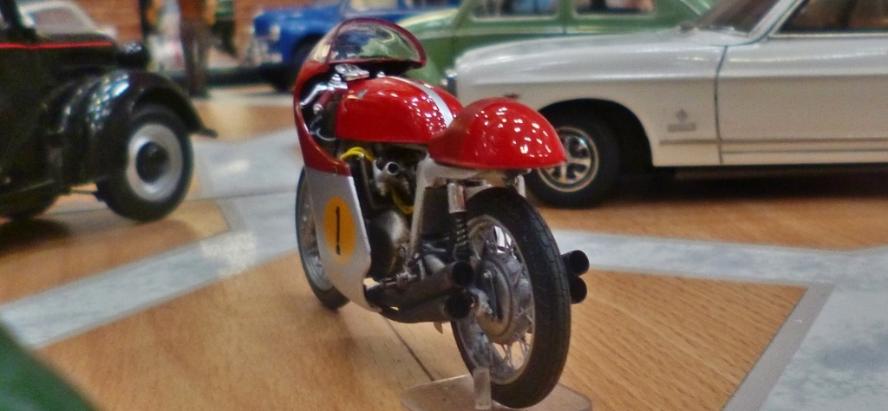 Originally produced around 2005 and sold in collaboration with the Altaya Editions (Planeta DeAgostini) magazine series "CHAMPION RACING BIKES COLLECTION" Ixo produced thousands of these bikes, product number is 02-036, and those that didn't sell with the magazines, or directly from Ixo, made their way onto the market in other ways. Collectors will be looking for the official Ixo boxed versions rather than the magazine style unboxed ones but this does mean the models can be found for very reasonable prices. Our model came from the latter source. Ian bought this one from a charity shop in mid-2017, along with a couple of other historic racing 'bikes. These models are clearly designed for quick mass production and an achievable level of detail rather than full scale accuracy but they do job as a representation of the motorcycle.
Renovated during Feb-Mar. 2018 this model has been completely stripped down to its constituent parts and rebuilt with lots of new scratch-built parts. The wheels had new wire spokes fitted to replace the overly thick plastic ones, new foot pegs and controls were made and connected to the rear brake and the gear changer, wiring and plumbing was added along with many other details. The rest of the parts were re-worked as needed to make the model more realistic. Neither the Carb's or exhausts actually touched the cylinders on the model, clearly this would need to be amended. After a fair amount of measuring and trimming Ian got the spacing corrected, fitted them to the cylinders, He then detailed the carb's with a reasonable facsimile of the throttle linkages. Fuel taps and lines were also fitted and plumbed into the carb's.
Little work was needed on the tank, seat and fairing and leaving them mostly in the original state has maintained something of the source heritage too. Some careful brush painting with Humbrol enamels was all that was needed.
Alclad II primer was used throughout with Alclad II white aluminium airbrushed for the frame and swinging arm. The way the model is moulded means there is a lot of brush painting needed to get the right sorts of colours into the engine area. A mixture of Citadel and Deco-Art acrylic paints were used for this as well as Humbrol enamel paints. Using Humbol silver, metalcote aluminium and gunmetal created different metal colours for the frame to giving a more realistic appearance all over.
RETURN TO :-