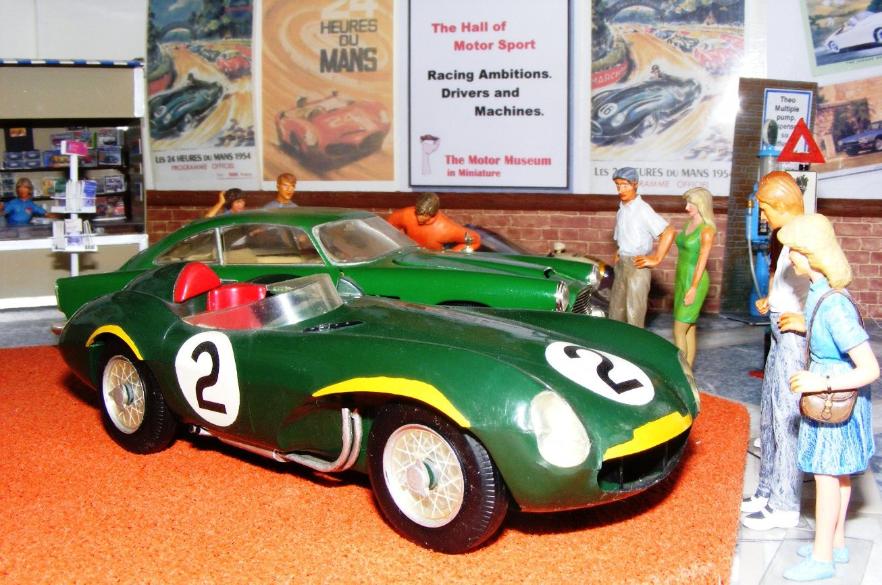 The DB3s was Aston Martin's replacement for their rather heavy and DB3. Although largely based on the DB3 the DB3s prototype was debuted at Charterhill in May 1953 were Reg Parnell drove the DB3S to overall victory beating an Ecurie Escosse C-Type on the way. In fact the car was so successful in 1953 the only race it didn't win was the le Mans 24hrs!
The DB3s had a lighter, twin-tubular, space frame chassis, suspended by Torsion bars and trailing arms, with the addition of a De Dion tube and central slide at the rear. A.G. Watson was in charge of the overall engineering which saw suspension geometry changes over the DB3, an aluminium body penned by Frank Feely, a new David Brown spiral-bevel final drive gearing and a Lagonda 2,992 cc Straight six, Twin OHC engine, with triple twin-choke Weber 35 DCO carburettors.
11 works cars and 20 customer cars were built making a total 31 DB3s cars. This includes the two works fixed head coupés DB3S made for le Mans 1954 where it was felt the enclosed body work would be more aerodynamic. Unfortunately they were actually less stable than the open cars and both of them crashed out of le Mans, later both the coupé's were converted to open body form, although three customer coupés remained unchanged. 1954 wasn't such a good year to the Aston Martin team but in 1955 Peter Collins-Paul Frère #23 DB3s came second at le Mans splitting two 'D' type Jaguars and giving Britain a 1-2-3 success at the great race.
By 1956 the DB3s was losing it's edge but still capable of good results in the hands of drivers like Stirling Moss. Aston Martin was turning its attention to the DBR1 and development of the DB3s stalled.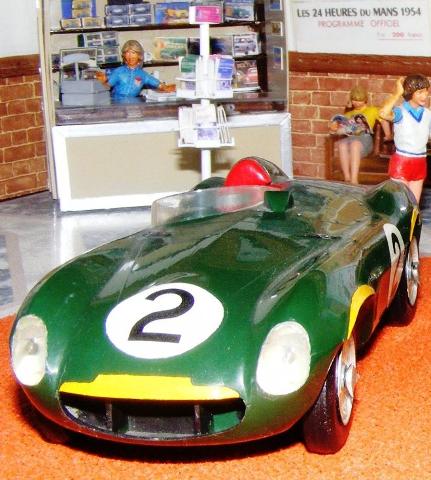 1/24th scale Kit.
Built by Rod.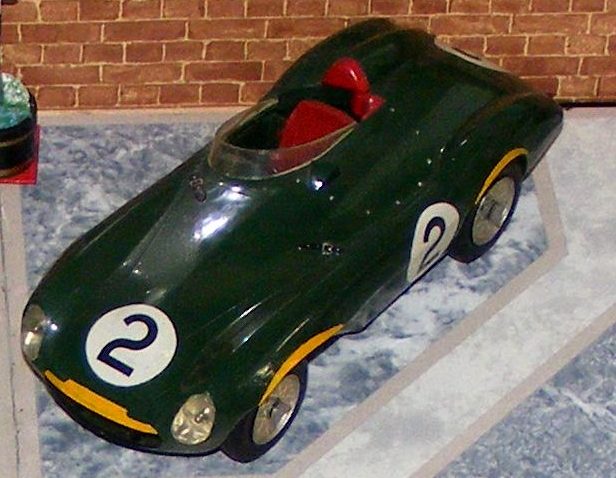 One of the earliest kits Rod ever made. Merit, by J. & L. Randall of Potters Bar, was the name used for general toys in the Randall production range so can be linked to many other plastic products as well as model kits. The kits are low in detail by today's standards but they generally capture the look of their subjects very well and are now much sought after model kits for collectors and builders alike.
Rod built this model in the late 1950s so it is straight from the box and painted in Humbrol enamel paints. The early decals on clear discs for wire spoked wheels is reasonably effective for that era but today modellers would want to add after market wheels and tyres. The model has clearly stood the test of time and still looks great today, a testament to the times of tube glue and brush applied enamel paints.
RETURN TO :-