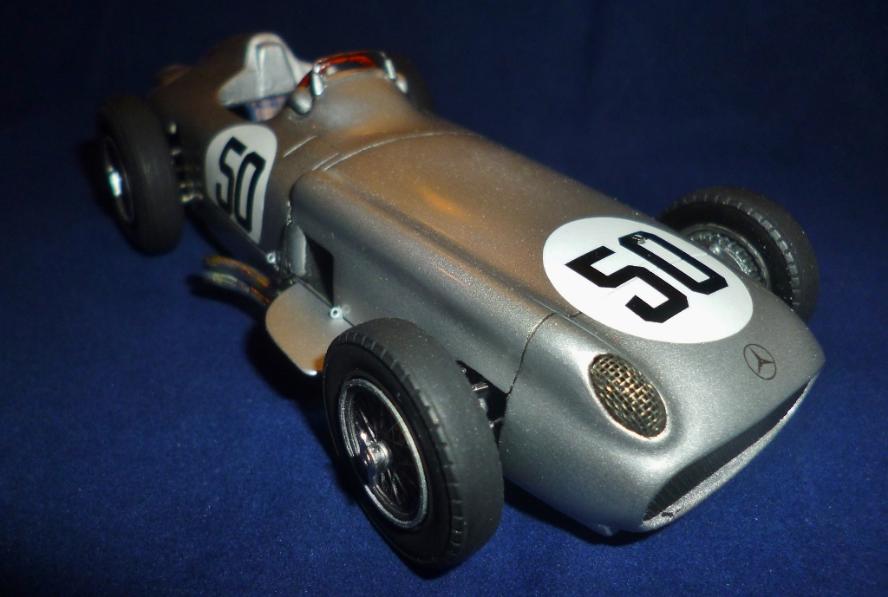 1955 Mercedes-Benz W196 of Piero Tarrufi
The W196 F1 design was as cutting edge as it could be in 1954 but Rudolf Úhlenhaut and his talented group of engineers, Hans Scherenberg, Ludwig Kraus, Manfred Lorscheidt, Hans Gassmann, and Karl-Heinz Göschel, continually pushed the boundaries in upgrading and evolving the W196. Alfred Neubauer and Mercedes were also applying pressure to have the car make a second consecutive the F1 World Championship a reality. The engine remained well ahead of anything any other Grand Prix team had and the chassis was improved. The inboard front brake drums moved back to a more conventional position which aided cooling and reduced brake fade at high braking circuits. The reduction in weight from the removal of the drive shafts must have helped too. The wheels were changed for '55 and a variety of sizes and tyre types were made available. All in line with Mercedes age old system of adjusting the cars not only to the circuits needs but to the drivers' preferences too. In total 14 W196 chassis were produced in a varying wheelbases and forms.
The result was a two-season run of success easily as dominant as any Mercedes enjoyed in the 1930s. In 12 races the W196 took nine wins, nine fastest laps and eight pole positions. With the technology transferred to the 300SLR and evolution of the 300SL Mercedes romped to success in all three world championships it competed in during 1955.
While Fangio and Moss were clearly capable winning mechanical problems could rob either of them of victory and podium places. Mercedes ran several other drivers to back up their stars, usually Karl Kling and Hermann Lang, but for some races it was politically expedient to have local stars on the books. One of these drivers was Pierro Taruffi.
Piero Taruffi
Taruffi shouldn't be looked upon purely as a "stand in" or "safe pair of hands". He was 1932 European Champion 500cc champion for Norton and held a Motor cycle land speed record of 279.503km/h (173.68mph) set in 1937. Following his motor cycle career, he moved to cars driving for Ferrari, Lancia and Mercedes, to name a just few manufacturers.
At the 1951 Carrera Panamericana Taruffi drove a Ferrari 212 Inter Vignale to victory and in 1953 was second to Fangio, both driving Lancia D24s. Taruffi's endurance racing credentials are further enhanced by victory in a Lancia 3300 at the 1,080km (670mile) Tour of Sicily in April 1954 and again in 1955 for Ferrari. His crowning achievement in this field was victory in the 1957 Mille Miglia, driving a Ferrari 315S. Having promised his wife he would never race again the 50 year old retired immediately after the race. He remained in racing circles writing a book "The Technique of Motor Racing", first published in 1959, and for newspapers. His motor racing life must have been very alluring as his daughter, Prisca Taruffi, also became a racing driver.
During his career Piero Taruffi also added motor car records to motor cycle achievements. In January 1952 a new world record time for cars of 1.3 cubic inch capacity over 50 miles (80 km) was set by Taruffi who later set a Class E world record covering 100miles (160km) in 46m27.2 sec's; an average of 129.9 miles per hour (209.04 km/h) in June 1956. He also set a new 200km record 53m14.5sec's and a one-hour distance of 212.543km (132.074miles).
Taruffi's ability to adapt to driving other types of vehicles in a racing environment was demonstrated when Taruffi & Bob Feurchelm drove a stock Ford 6, #331 (owned by Los Angelino, Floyd Clymer), in the 1954 Carrera Pan-Americana. Their time of 23h15m51s only was 34th, some 10hrs behind the winners, but high up amongst the "stock" competitors.
In open wheel racing Taruffi won the F2 Grand Prix de France at Autodrome of Linas-Montlhéry in 1952 driving for Ferrari and drove for Ferrari in F1 from 3rd of September 1950 taking part in 18 championship races and many more non-championship F1 races. In F1 Taruffi was often let-down by mechanical failures but did win the Swiss Grand Prix in May 1952 and amassed a total points hall of 41 championship points.
1952 was Taruffi's best year in the Driver's championship. Driving a Ferrari 500 Straight-4 F2 car for Scuderia Ferrari his Swiss GP win and three other points paying finishes earned him 3rd place in the driver's championship with a total of 22 points. In 1955 Piero Taruffi was 2nd at the Italian GP and 4th in the British GP which is the subject of this model.
Another side to Taruffi was his mechanical understanding. Patent 2,608,264 was Taruffi's design for an ingenious racing car. It had three parallel torpedo-shaped nacelles the outer two housing the wheels were connected to a higher, smaller, central part section where the driver sat. The idea was to reduce wind resistance and lower the centre of gravity.
In the central Italian town of Bagnoregio, between Viterbo and Orvieto you can visit "the Piero Taruffi museum". On display a vintage cars and motorbikes of his racing era.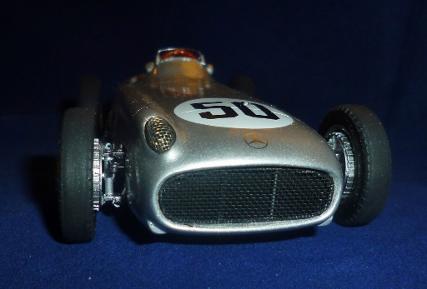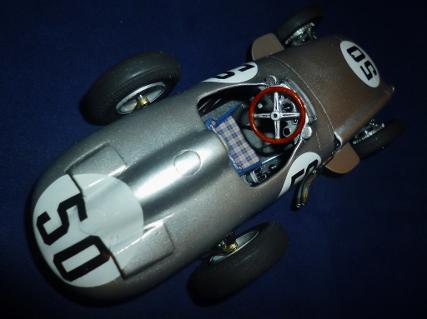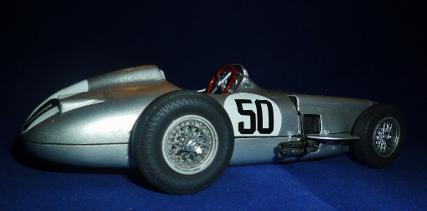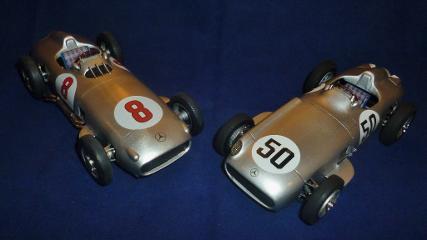 1/24th scale conv'.
Built by Ian.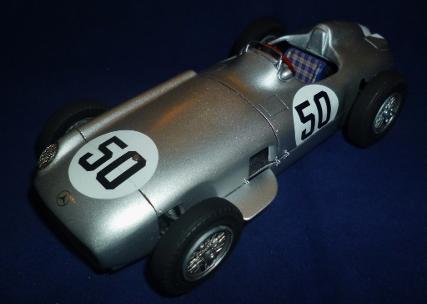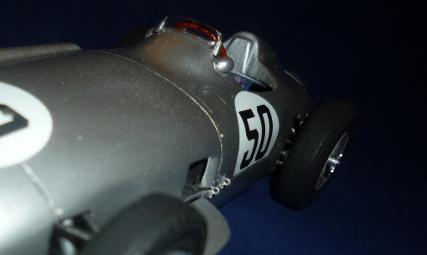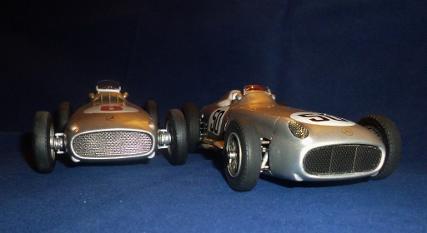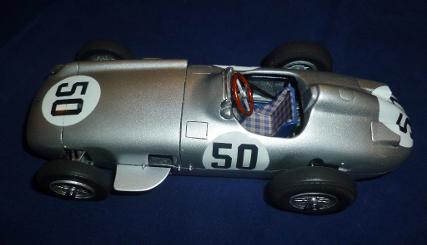 Built in September 2017 this model is a combination of the best parts of the Merit and Protar Mercedes W196 kits; and a fair amount of scratch building. The two kits come from different eras of the plastic model industries production and show how methods and customer expectations had changed. The 1950's Merit kit, #4635, is supposed to be a 1955 car but doesn't have the engine air intake adopted later in the 1954 season. It also lacks detail beyond the basic exterior and what can be seen from a viewing perspective. The clear spoke disc wheels are really out of place in the 2000s. The Protar kit #219, does have the air intake and very nice wheels but there are plenty of other errors in the body shape of this model. The Protar kit does have much more detail than the as you would expect of a later 1970s kit but it is nowhere near as crisp as the Tamiya kits of that era.
Using the body from the Merit kit, some parts from the Protar kit, throwing in some after-market bits and scratch built parts it becomes possible to build a more detailed and better looking model than either kit can produce on its own.
Ian actually started this conversion back in the 1990s but never got any further than the basic exterior bodywork conversion. On recommencing this build Ian had to add the rear vents, scribe in the cockpit cooling vents drill a hole for the filler caps (front and rear) and do more reshaping of the suspension openings. The cockpit chassis frames and liquid containers are scratch built as is the basic transmission tunnel and foot pedals. Also scratch built is most of the front
suspension details and the rear brake drum set up that is merged with the Protar rear axle and suspension. The front grill, and that of the engine air intake were made using metal mesh from the spares box.
The model was painted with AlcladII black primer and PlamoUK silver covered in Zero paints clear gloss. Other AlcladII metal colours, Bare Metal Foil and Mr. Hobby metal colours to give different shades of the alloys used in the construction of the actual car. Molotow liquid chrome pens were used for the hub knockoffs and other brightwork.
The final touch is the racing numbers and decals. The numbers were unusual for the British GP; not that they were black, this had been used at other races, but that they are more angular than we expect to see on a Mercedes. Fortunately
BVH have a black numbers sheet with the a very close design on. Dashboard decals came from the Protar kit and the Mercedes three pointed star came from Vintage Racing Miniatures 300SLR decal set.The seat decals are home made but effective enough.
In many ways this was a learning exercise for a full detail model of the 1955 W196 that Stirling Moss won the British GP with.
RETURN TO :-