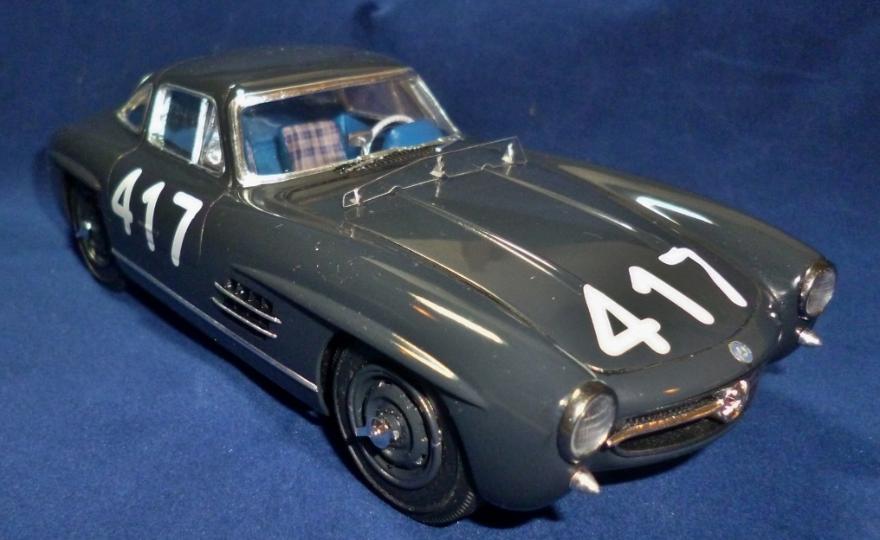 Mercedes-Benz 300 SL Fitch Mille Miglia '417'
The large and luxurious type 300 series was a trademark series for Mercedes-Benz through the 1950s. Elegant, expansive, exclusive and elite, these cars bore the name of the then German Chancellor Konrad Adenauer; Adenauer even used six of them himself and to own an Adenauer Coupe set you apart from everyone else. But they weren't racing cars, not even sports cars, despite the fact that they did have more than enough power. Alfred Neubauer, Rudolf Uhlenhaut and Hermann Lang wanted back into racing and in 1951 the permission they wanted was finally given by Chairmen of the Daimler-Benz board Dr. Willhelm Haspel, but the permission came with some strings. The racing department came up with the 1952 W194 300 series sports racers, which were very successful in competition. Although there was never any plan to market that car as a road going sports car the American imported of Mercedes cars, one Max Hoffman, had different ideas.
Daimler-Benz AG's road going W198 design was the suggestion of Max Hoffman, the Austrian born U.S. importer of considerable reputation and influence, and Daimler-Benz's official importer, who had seen a niche in the booming post-war American market and intended to supply the car for his customers, in the end more than 80% of the 1400 vehicles built were sold in the U.S. The Mercedes 300SL (3 litre "Sport Leicht" or Sport Light), two-seat sports coupe was introduced in 1954 at that years New York Auto Show. Best known for its distinctive "gull wing" doors and direct fuel injection system it was the fastest production car of its day, capable of 161mph. It's design is loosely built upon the W194 racing sports car designed by Rudolf Uhlenhart.
It has a similar tubular metal spaceframe chassis to be strong but also light weight. This meant part of the chassis ran high along the sides leaving a high sill and doors only half the size of more conventional designs, Ulenharts answer was the upward opening "gullwing" doors. The high sill and gullwing doors became iconic but the cars hidden new feature was a tilt away steering column. The gull wing version was only available from 1955 to 1957 but production of the roadster continued until 1963 when the 230SL was introduced.
If the 300S had been a sporty version of the 300 series cars the SL, meaning 'Sport Leicht', was an all new lightweight sports car. It may have had some of the 'ordinary' Mercedes 300 series parts on board but it was anything but ordinary. It would single handedly re-establish Mercedes-Benz not only in racing but in the exotic sports car market around the world. It was, without doubt, a thoroughbred road racing vehicle made for the rich and famous and loved by them too. Being race bred and having exceptional handling qualities in its own right the 300SL was also used by many private racers in sporting competitions. One particular car, the subject of our model, was used by the American John Cooper Fitch and his co-driver Kurt Gesell at the 22nd Mille Miglia. It arrived fresh from the production line just a couple of days before the race so Fitch and his co-driver Gesell, who was actually a German journalist, had to do all their reconnaissance in an older and much slower Mercedes road car.
Contrary to popular myth it was Stirling Moss and John Fitch who came up with the idea of the roller pace notes. They had originally been partnered to drive together, and when Mercedes decided to support the 300sl entries Alfred Neubauer moved Fitch over to drive one of the new 300sl entries. While Jenks jumped at the chance to ride along with Moss and built himself the roller box for the pace notes roll, Fitch happened on Kurt Gesell. Although Gesell had never taken part in racing before he was invited to ride along and together Fitch and Gesell set about their reconnoitre of the circuit. They only had time to create a book style pace note set. Their system centred around a simple series of Xs' as danger ratings. One X for mildly dangerous, in that it could cause minor damage to the car, up three X meaning serious damage that would cost time for repairs to be made. Four X was actually for dangers to their own lives rather than to the car. Poor Kurt Gesell spent most of the race in a state of terror; the 300sl was meteoric compared to the old road car they had used for the exploratory runs. Fitch received his warning notices interspersed with regular utterances of "Mein Gott" as Gesell repeatedly felt sure they were about to die.
The XXII Mille Miglia, held over the 30th April-1st May 1955, has gone down in history for the astounding drive by Stirling Moss and Dennis Jenkinson, but what is often forgotten is that John Fitch was only 84 minutes behind Moss' racing sports car in what was simply a road car with the bumpers taken off. Moss smashed the race record in the 300slr and Fitch was only three minutes off the race winning time of the 1954 Mille Miglia race winner, Alberto Ascari, who had driven a thoroughbred racing Lancia D24 to a time of 11hr 26:10.
Of the 534 starters, of which 279 classified finishers.
1st overall was Moss/Jenks 300 SLR 10:07:48.00 1st in class S+2.0
2nd overall was Fangio 300 SLR 10:39:33.00 2nd in class S+2.0
5th overall was Fitch/Gesell 300 SL 11:29:21.00 1st in class GT+1.3
7th overall was Gendebien/Washer 300 SL 11:36:00.00 2nd in class GT+1.3
10th overall was Salvatore Casetella 300 SL 12:55:08.00 3rd in class GT+1.3
Yes, five of the top ten finishers overall were driving Mercedes cars, an astonishing result for Daimler-Benz and a show of utter domination which astonished the Italians, and the rest of the world alike. From that day on the success of the 300sl range was assured.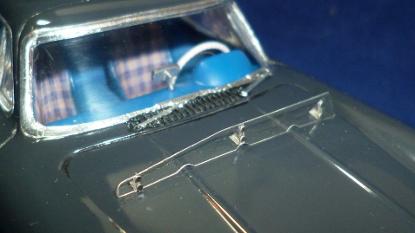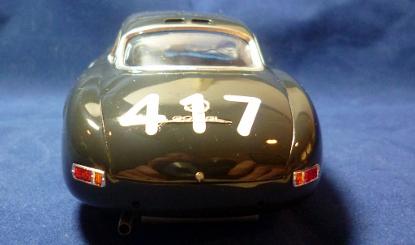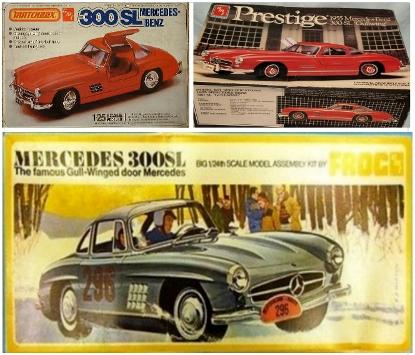 1/24th scale kit.
Built by Ian.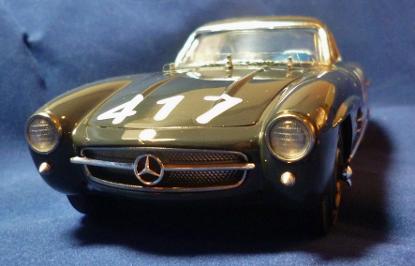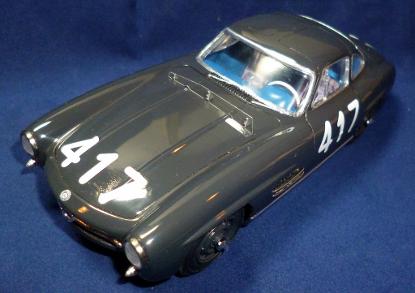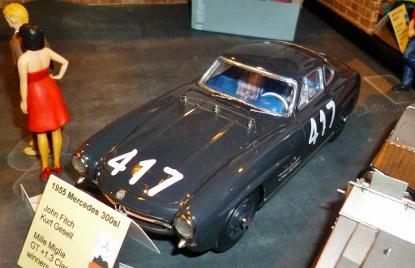 Ian built this model in September/October 2015. The chassis and engine have been omitted for use in other projects and the opening doors, bonnet and boot have been sealed down. Otherwise the model is straight from the box with the only real form of upgrade being the side vents, which are completely scratch built to make it possible to see into the wing cavity, the simple bonnet airdam, scratchbuilt as it appeared on the original photo's and the decals. On the outside Bare Metal Foil has been used for the window frames.
The body paint is a custom mix of Plamo UK gloss black and gloss off white, which is a rather creamy colour. It took a lot of research to settle on this shade of grey as many manufacturers over the years have made models in black. Obviously because very few period colour photo's are available. Study of the B&W photo's does confirm the body colour as something lighter than a black. The interior colour has also been the subject of much discussion as the historic cars running around are not only black but have red interiors. Mercedes Museum car rolled out for the launch of the limited edition 417 sports car in 2015 is clearly grey and has a blue interior, much more in keeping with Mercedes racing interiors. Ian created his own racing plaid decals for the seats, applied over a pale grey base colour and softened with DACO strong decal softener to get them to settle into the pleats nicely.
Frog models history kit #F705
Charles Wilmot and Joe Mansour founded International Model Aircraft Ltd. (IMA) in 1931 and chose Frog as it's brand name, reportedly standing for "Flies Right Off the Ground". 1932 saw a marketing partnership with Lines Bros Ltd. toy company and the Frog brand flying models started to grow. In 1936, a range of 1:72 scale aircraft kits was launched in the then new medium of cellulose acetate and these kits constitute the world's first plastic model construction kits. As they were static display models the brand name was slightly altered to the "Frog Penguin" range, suggestive of the non-flying nature of these models.
The Penguin range was dropped in 1949 as Polystyrene was becoming the more popular choice for plastic products. In 1955 Frog introduced world's first Polystyrene model kits in a range that included not only aircraft but ships and cars too. Throughout the 1960s and on into the 1970s Frog issued many kits and their own range was bolstered by an association with Hasegawa that saw an additional 30 Japanese model kits added.
Frog had a great range of lesser known aircraft types in their catalogue but times were hard for the plastic model hobby industry and this diversity wasn't enough to save Frog. IMA's parent company went into receivership in 1971 being acquired by Dunbee-Combex-Marx in 1972 and the die was cast. The last Frog-branded kits were produced in 1976. Some of the moulds have survived though and the kits have been seen on the Market from companies as far apart as Revell and AMT in the United States and Novo in Russia.
This 1960s release has exceptional detail for the era. AMT actually released the kit under the heading of "Prestige" which shows how highly the kit was thought of even in the 1980s. Also released under AMT, Matchbox/AMT and AMT/Ertl logos in the 1970s. The parts are the same but some later versions have chrome plated parts. Interestingly they don't agree on the scale with some companies stating 1/25th while Frog stated it was 1/24th scale.
Until Revell released their version of the 300SL this was the only 1/24th scale kit of the legendary 300SL. Italeri also released a 300SL this around the same which we believe to be the same kit. Both Revell and Italeri released the roadster versions too. In all cases the kits have been reissued in alternative box art schemes too. Interestingly there several aftermarket sets listed as appropriate for this kit. Acu-Stion 5 detail upgrade sets, Le Mans Miniatures have released resin figures of Alfred Neubauer & Mechanic (Nr. COFTM502401) and the racing number decals for the 1955 Mille Miglia Hiroboy. Another source of additional and replacement decals is Vintage racing Miniatures whose set for the Revell 300SLR le Mans conversion also include decals for the 300SL
Tamiya 2014 release of the famous Gullwing is sure to put all others in the shade which is a shame as both the Frog and Revell releases have great merit for their respective eras. Of course technology moves on and it is always interesting to compare kits. In due course a Tamiya 300SL may grace our collection which already features the Revell version.
RETURN TO :-