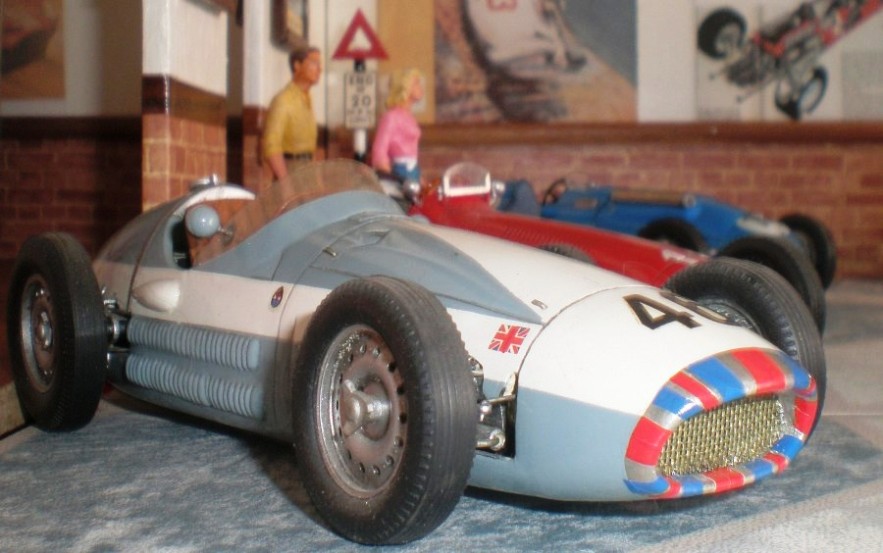 Competition seemed to drive many of the Italian manufacturers and Maserati were no exception, in fact they produced many of the finest 'customer' race cars there have been. When people tell you that F1 today is boring because all the cars look the same remind them that in the good old days of F1 in the mid 1950's half the cars on the grid often were the same...........Maserati 250F's!
A new car for 1954 the 250F1 car was fast but rather unreliable at times. Stirling Moss had been bought a 250F in order to convince the Mercedes team that he was not just a good driver in an uncompetitive car but could handle the best cars on the grid too. He did just that, but his season was not all plain sailing with several retirements due to mechanical maladies.
Using a space frame chassis and straight six 2.5Ltr engine the car was basically very good. Independent front suspension and rear de Dion system gave a suspension with good handling characteristics. The drum brakes were swapped for Dunlop discs (& Dunlop wheels) by several customers and Maserati themselves switched for '55. the early cooling louvers disappeared and a smoother look came along by 56, even a steam lined body for faster circuits was developed. Then the longer nose for '57.
The 250F became one of the most enduring F1 cars ever, being constantly revised and updated year on year and extending it's racing life into the 1960s.
Our model
In 1953 Stirling Moss' father and his Manager Ken Gregory approached Mercedes sounding out the possibility of Stirling driving for Mercedes in their new team for 1954. Alfred Neubauer the Mercedes team manager was not sure of Stirlings credentials. Admitting that he had done well in under powered cars but really needed to prove himself in a competitive F1 machine, and suggested they get Stirling a Maserati 250F, the best privately available customer car and see how he did in that.
Through the '54 season Stirling impressed. If the car held together he invariably got a good result, more than once giving the dominant Mercedes cars a run for their money. It was enough to secure him the second seat in Mercedes F1 team for 1955. But what about the car? Well Moss's 250F went back to Maserati for the latest upgrades, got some white stripes added to the previously all grey body work and was entered privately in motor races for British drivers, including Mike Hawthorne, to get a drive.
Lance Macklin was born in Kensington the son of Noel Macklin, founder of both the Invicta and Railton car companies, as well as Fairmile Marine. After serving in the Royal Navy during WW2 he decided to follow his dream of becoming a racing driver.
During his Formula One career, Macklin was rather patriotic and like Stirling Moss drove british cars. Most notably the HWM's, again like Stirling he found this garnered little reward but he did well enough to keep going in motor sport and even get drives at the 24hr du Mans.
It was In the 1955 24 Hours of Le Mans that the first seeds of his retirement occurred when he was caught up in the accident which killed Pierre Levegh and 80 spectators. He had made a defensive move to avoid hitting Mike Hawthorn, and moved into the path of Levegh's car causing it to launch over him. Macklin was uninjured though his car crashed.
Later that year in the Tourist Trophy at Dundrod, another incident occurred in which Macklin crashed his Austin-Healey 100S avoiding an accident which saw Jim Mayers and William T Smith killed. Disturbed by these events and at the urging of his then girlfriend Macklin retired from motor sport. His last race being this British Grand Prix at Aintree.
It was not a sparkling day for Lance with reliability problems meaning he could only finish 8th, 11 laps down on the Winner Stirling Moss in his Mercedes. While everyone was overjoyed at the first win for a British driver at the British Grand Prix, Macklin quietly bowed out of the sport.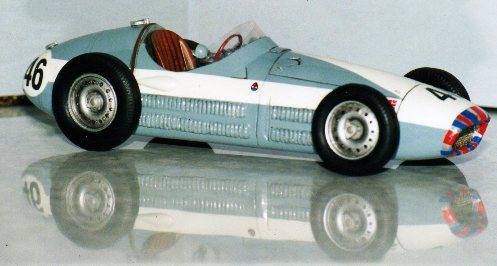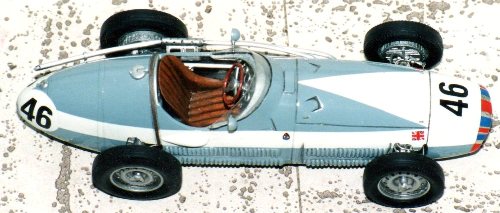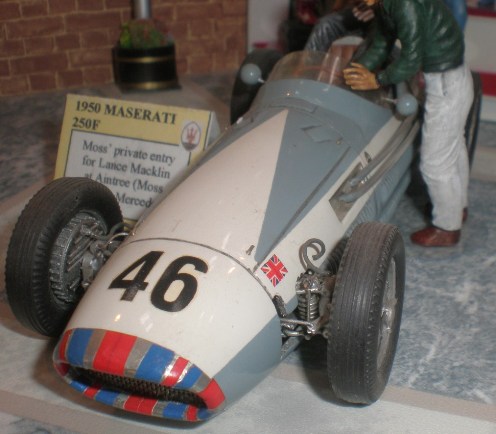 Scratch built 1/24th scale model.
model Built by Ian.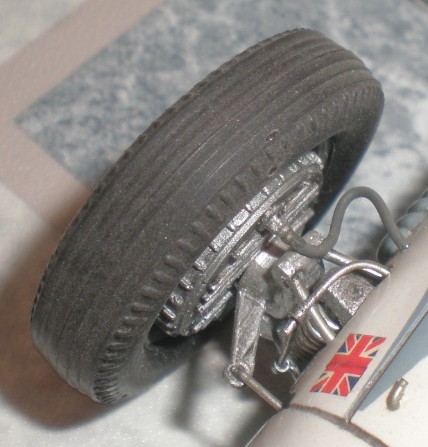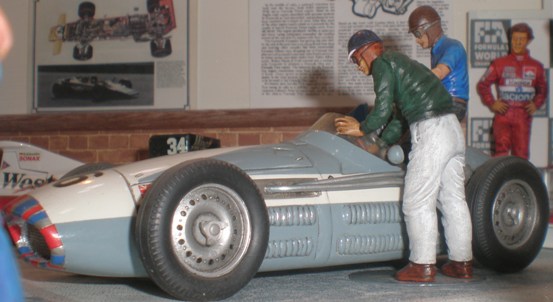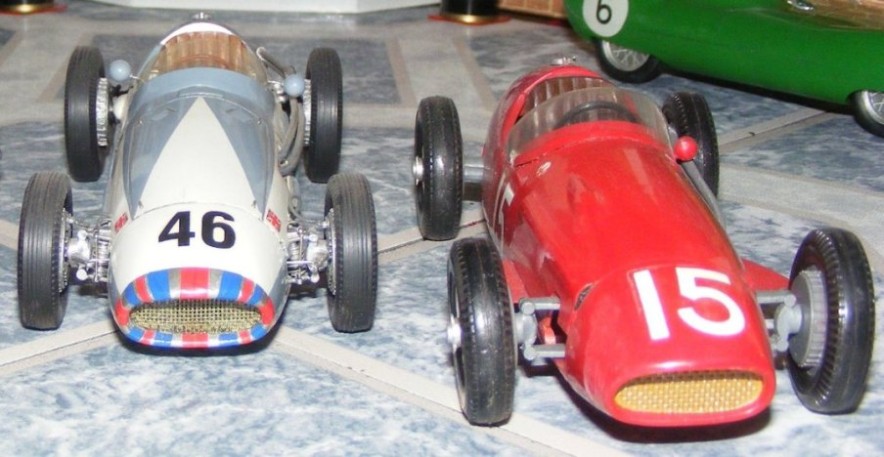 Rod built the red 1956 car straight from the Merit kit way back around 1960. It is all brush painted with Humbrol enamels. This is a good example of the all the modelling know how of the day, be it kit manufacturing technology, modelling products or general level of assembly skills.
Ian built the grey '55 car from a picture in Doug Nye's book about the 250F (from the Donnington Collections Monomarques series) and demonstrates a less well known side of motor racing. In the era from the '50s to the '80s cars didn't just disappear off to museums after a year in service, they were very often bought and sold, developed and repainted many times while continuing to race on circuits all around the world.
Having raced his car so competitively in the 1955 season Moss moved on to the Mercedes team but his all grey 1954 250F didn't go back in the garage and sit there. It went back to Maserati, was given all the latest upgrades and returned to Britain where it was entered by Moss for other British drivers (hence the new colour scheme clearly deferential to the Union flag).
This meant Ian had to back date the Merit 1956 body to an upgraded '54 version. To do this Ian took a mould of the Merit body and cast several body sets in resin, sanded it all down and added hundreds of louvers along each side. The model also called for several new vents to be cut and some modifications to the cockpit and windscreen areas. He also added a scratch built exhaust, super detailed suspension, brake lines and Dunlop wheels with South Eastern Finecast tyres.
Painted with Halfords car paints and requiring some careful masking the white was sprayed overall then masked so the smoke grey could be sprayed.
Built in 1996 the one thing Ian got wrong was the brakes. These should have been of discs not drums, but they were not visible in the pictures available in those pre-internet days.
RETURN TO -