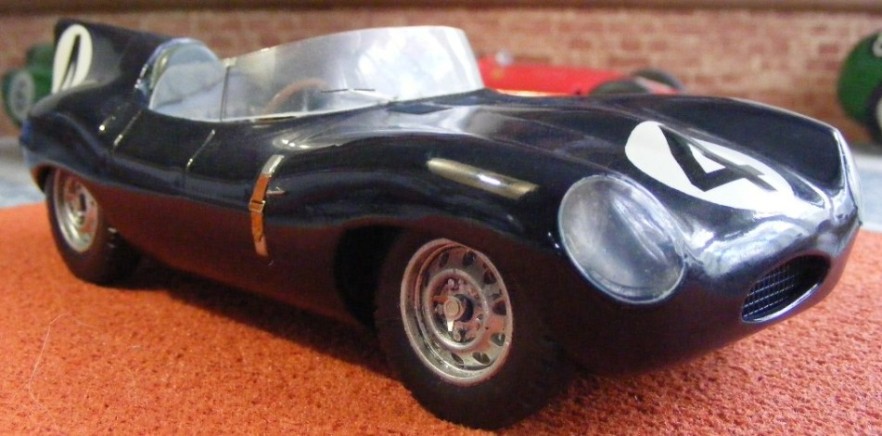 20 years after Bentley had dominated at Le Mans Jaguar were again giving Britain honours at the historic race, and it was an old 'Bentley Boy', Walter Hassan who was running the Jaguar sports car development programme. Hassan and Jaguar founder William Lyons started taking race wins with the XK120 and developed it for Le Mans as the XK120C, (one of the first cars to feature disc brakes) or C-type Jaguar. C-Types won Le Mans in 1951 and 1953, but something new would be needed for 1954.
Enter the D-type.
The D-Type borrowed heavily from contemporary aircraft construction. A space frame chassis construction was dropped in favour of a central stressed skin aluminium monocoque chassis (8 years before the Lotus 25) with a tubular front sub-frame to which was bolted the engine, steering gear and front suspension. This sub-frame was initially welded to the monocoque, but later was bolted on for easy removal.
Jaguar stylist Malcolm Sayer designed the D-Type bodywork using an aeronautical understanding of aerodynamics so at the prototypes first test at Jabbeke, Belgium, in 1953 it reached a top speed of 178.3 mph. Jaguar continued developing the XK engine (initially 3.4 ltr and up-rated to 3.8 ltr later on) but in order to reduce frontal area on the body work the engine was modified quite extensively. The height of the sump was halved by changing to dry sump lubrication, The engine was mounted at an 8 degree angle and a new head with larger valves.
Six cars were built in 1954 all retaining the disc brakes which proved so good on the XK120C, but the high speeds of Le Mans caused some stability problems. During their racing careers D-Types regularly achieved 180mph on the Mulsanne straight. Front end lift was cured by creating a longer nose and the straight line stability was improved by adding a large fin to the headrest. Unfortunately while these enhancements were great for the high speeds of Le Mans they did little to provide down force on the slower, more twisty, tracks!
The works long nose D-Types took the marque's third victory at Le Mans in 1955, in the hands of Mike Hawthorn and Ivor Bueb. In 1956 the works cars crashed out but Jaguars honour was upheld by the Ecurie Ecosse team who won that year, and again in 1957 after Jaguar works had given up on racing.
Dozens of short-nose production D-Types were sold to privateers, and were successfully raced on both sides of the Atlantic. The remaining unfinished race chassis were equipped for road use and sold as the XKSS model. Modifications included an extra seat, a passenger door, a full-width windshield and a primitive folding top.
Production is thought to be 53 customer D-Types, 18 factory team cars, and 16 XKSS cars. This is less than might have been built as a fire at the Browns Lane plant, on the evening of 12 February 1957 destroyed nine cars.
This car is now one of the most desirable Jaguars, whether in racing D-Type, or road going XKSS form.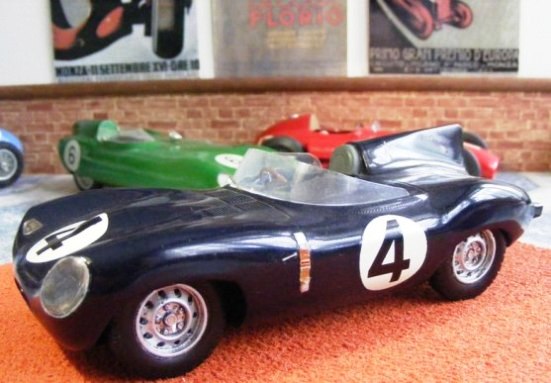 1/24th scale kit.
Built by Rod.
Rod built this model in August 2000. The finish is by Halfords car paints with Humbrol enamels and acrylics for the detail work. This is not the best kit of a D-type but, although rare itself, is a fraction of the price of the Merit version. There are much better resin kits available these days but again the price is considerably more than either of these two plastic versions. If you like a bit of a challenge then converting Revell's lovely XKSS kit is also a possibility, but that kit is also rare and to be honest it's really nice as the XKSS itself.
Amongst the many problems of this kit are the use of a pre-55 short nose front end with a post-56 headrest/fin rear end. I suppose one could argue that a privateer shortnose owner copied the rear fin later in the '50s? Anyway the kit is also a product of it's era so it is short on detail, and what there is cannot be described as 'sharp'. Sink marks abound and the fit of the parts is, well, less than ideal.
So, bearing all this in mind Rod had a job on his hands. First off he needed to get new wheels, secondly plan how to build and detail the cockpit a bit and at the same time close in the body of the car so light doesn't show through all the wheel arches and cockpit opening. Rod actually built in a cockpit interior from scratch working from photo references. New fire walls and transmission tunnel, dashboard and gear lever were put in place. This tub was then augmented by using plasticard 'baffles' to stop light shining through from one side to the other in the wheel arches. .
For wheels Ian moulded some Merit kit wheels and cast them in resin. These wheels were much more accurately shaped and did not have moulded on hub knock offs! White metal ones from Ian's spares box took care of them. Final details were scratchbuilt bonnet straps and photo-etch turn clips. A photo-etch windscreen wiper and bare metal foil clip to secure the door window to the main screen.
RETURN TO -