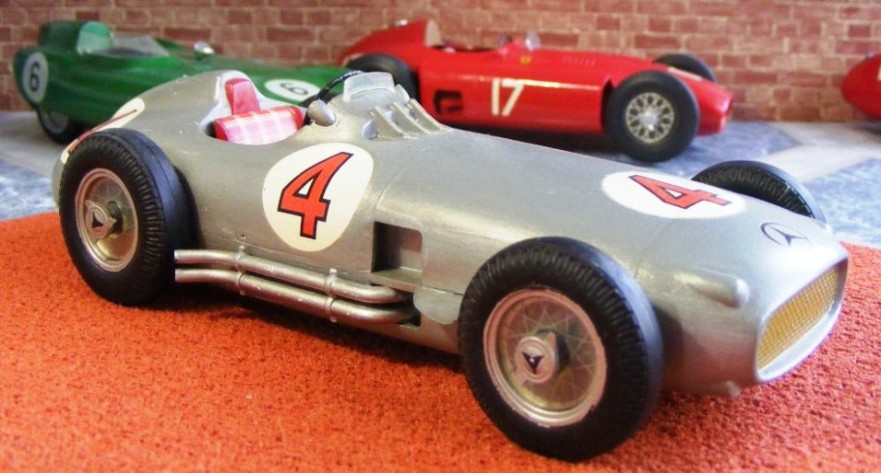 The sensation of 1954 was the return of Mercedes-Benz to Grand Prix racing after a 15 year absence.
Typically, Mercedes had been thorough in the preparation of it's cars. It's W196 looked more like a sports car with its wheels enclosed in the a streamlined body. It had also been innovative: the engine was a straight eight, but it was inclined 20 degrees to the horizontal, so that the general layout of the car could be kept as low as possible; it had fuel injection and desmodromic valve operation (Instead of a cam to open and a spring to return it, the valve is opened and closed by positive action of mechanical lnkage). This enabled Mercedes to go to 8000 rpm giving 260 bhp. The eclosed body work was great on the fast circuits but proved a hinderence on the more twisty tracks. Open wheel versions soon became available and were much prefered by the drivers.
Mercedes attracted the worlds best driver, in Juan Manuel Fangio, to drive along side Karl Kling and Hans Herrmann. Although the young Stirling Moss had tried to get a drive He was put off by Alfred Neubauer who wasn't convinced Moss could handle a competitive car and suggested he try a Maseratti and come back next year. Moss did just that and gave Mercedes enough of a worrying that they decided it would be better to have him on their side rather than the oppositions for 1955.
The W196 car also directly related to the 300SLR sports car which ran at le Mans and with which Moss won the Mille Miglia in a record time, ably assisted by "Jenks" with his roll of pace notes.
The time and place of the unveiling of the W196 was chosen with care. It was the French Grand Prix at Reims on 4th July 1954 - 40 years and one day after Mercedes had humiliated Peugeot in 1914. Fangio went on to win the Drivers world championship in both '54 and '55 but 1955, was a sad year. A Mercedes 300SLR sports car crashed at Le Mans killing it's driver and over 80 spectators. In a sombre ceremony at the end of the year the company withdrew from racing.
Moss went to back Maserati; Fangio went to Ferrari where in 1956 he won his fourth World title driving the Lancia Ferrari D50.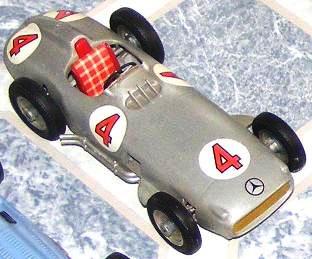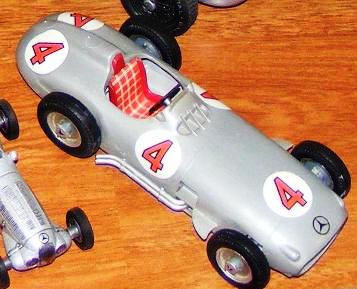 1/24th scale kit.
Built by Rod.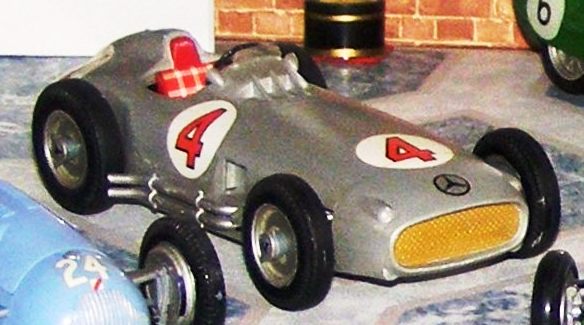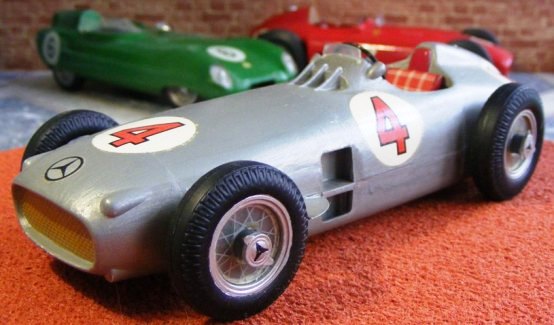 One of Rod's earliest models this one was built in the late 1950s. Many of the kits features are crude by today's standards but the manufacturers seemed to get the proportions right and these kits are highly sort after today. Ian has one and in due course it will be built with te benefit of modern paints, decals and aftermarket parts. The comparison shoud make interesting viewing.
Built straight from the box and painted with Humbrol enamel paints, this model reflects the modelling standards of the day in so many ways. The kit itself has little detail and although it is better than average for the time no kit had rubber tyres. One of the features of the day are the clear plastic discs with the psokes on. Not very impressive by todays standards but state of the art 60 years ago!
The only adhesives were tube glues and the only paints were enamels. There was no aftermarket parts of any sort, there wasn't even a dedicated plastic kit filler so wood filler and plastic padding were used. If you did want to detail a car in those days you used house hold items, wood, card, paper, wire and cotton thread.
We don't know we're born!
RETURN TO -