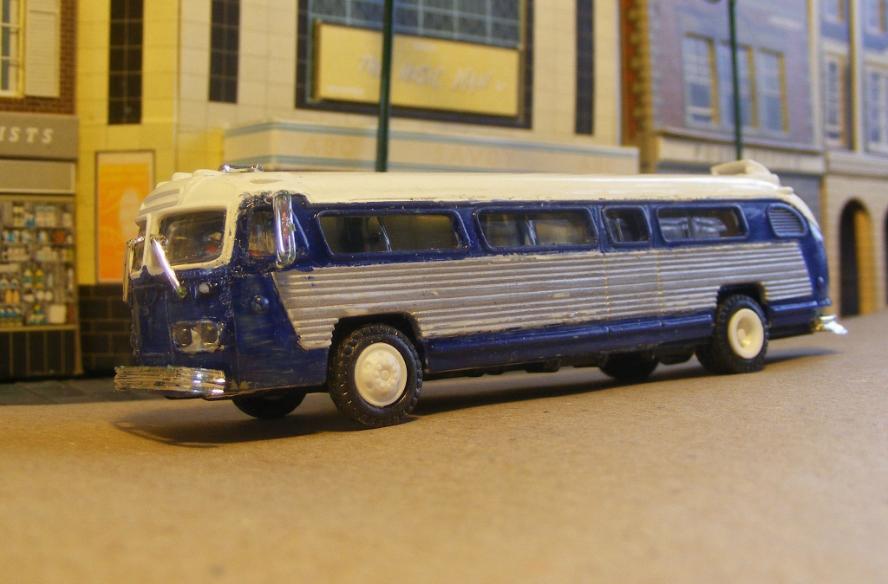 1951 Flxible Visicoach Intercity,
In 1913, Hugo H. Young and Carl F. Dudte founded the Flexible Side Car Company in Loudonville, Ohio, to manufacture motorcycle sidecars with a flexible mounting to the motor cycle. The flexible mounting allowed the sidecar to lean on corners along with the motorcycle, and was based on a design patented by Young. In 1919, the company dropped the first "E" in "flexible" changing its name to the Flxible Company as the business looked for new opportunities to expand.
After low-priced automobiles became available in the 1920s, the motorcycle sidecar demand dropped and in 1924, Flxible turned to production of funeral cars (hearses), and ambulances, which were primarily manufactured on Buick chassis, but also occasionally on Studebaker, Cadillac and REO chassis. During the 1930s and early 1940s Flxible also started to produce intercity buses, initially built on GMC truck chassis, and powered with Buick Straight 8 engines.
In 1953, Flxible absorbed the bus-manufacturing portion of the Fageol Twin Coach Company, and accepted its first order for transit buses from the Chicago Transit Authority. In 1964, Flxible purchased Southern Coach Manufacturing Co. of Evergreen, Alabama, and built small transit buses at the former Southern Coach factory until 1976. Flxible was purchased by Rohr Industries in 1970, and a new factory and corporate headquarters were built in Delaware, Ohio, in 1974, with the original factory in Loudonville, Ohio, being used to manufacture parts and sub-assemblies. Flxible was sold to Grumman in 1978 and became known as Grumman Flxible. The company reverted to the Flxible name when Grumman sold the company to General Automotive Corporation in 1983. In 1996, Flxible declared bankruptcy and its assets were auctioned, the last Flxible vehicles being produced in 1995.

1/87th scale kit.
Built by Rod.
Ian found this unusual kit in around 2017 and bought it as a present for Rod. It is from a short-lived American company from the early 1990s which mainly focused on diecast buses but also produced some as kits.
Built in late 2019 Rod was well into his 80s by then and such a small scale was a challenge. The main painting has been done using Halfords acrylic car spray paints. The interior and detail painting was all done by brush using enamel paints from Humbrol, and acrylic paints from the citadel, Revell and Deco-Art ranges.
RETURN TO :-